Never miss a bite! Sign up here to receive new recipes and reviews straight to your inbox.
Italian food is easy to come by. There are those yummy little Mom and Pop hole-in-the-walls with homemade pasta and a red sauce that you want to swim in, the mall chains like Olive Garden that really aren't anything special, and of course the chef-owned, straight-outta-Italy–oh-my-god-carb-overload-but-I-don't-care restaurants that cost a pretty penny. Every so often you do find an Italian place that doesn't fit into any of those three categories, but is still a freaking good one. Case in Point: Vic & Angelo's.
I headed over to Vic & Angelo's in Delray Beach (there is also a location in Palm Beach Gardens) for dinner with my friend Kathryn, who is a huge V&A fan. I had to bring a regular to my first dining experience there so she could steer me in the right direction. As always, I looked at the menu days in advance and there are so many amazing-sounding items that I really had no idea what I was going to order!
The good thing about reviewing a restaurant is that it's basically an excuse to order a bunch of different things so you can get a good variety to taste. Our waiter at Vic & Angelo's asked us to call him G (his name was super hard to pronounce) and was really great throughout the evening. First he recommended a nice Monrosso Chianti to go with our meal and then he brought out their signature garlic bread topping with parmesan cheese. Bread = the devil. Especially at an Italian restaurant! One bite and I was hooked…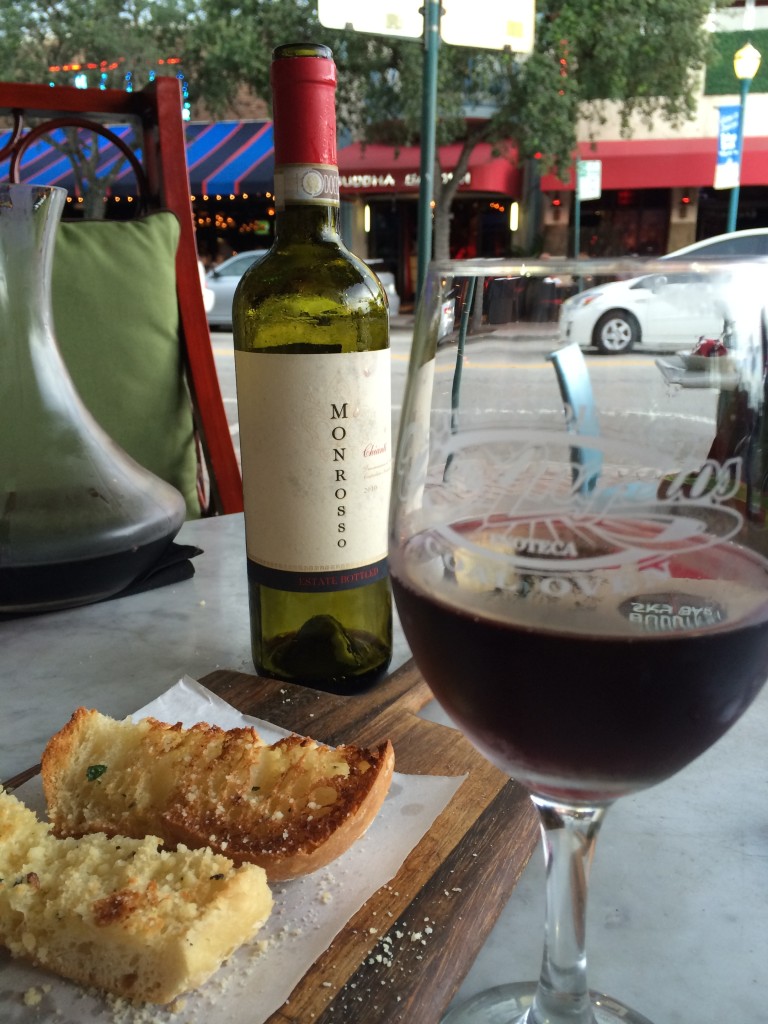 We even made sure we had another plate sent out to us with the mussels appetizer we ordered. Extra bread is crucial when you order mussels in a delicate and luscious white wine sauce flavored with lots of garlic and Italian parsley. This sauce was a little thicker than white sauces I've had before with mussels; not a bad thing though, it made it an even better sauce for that amazing bread.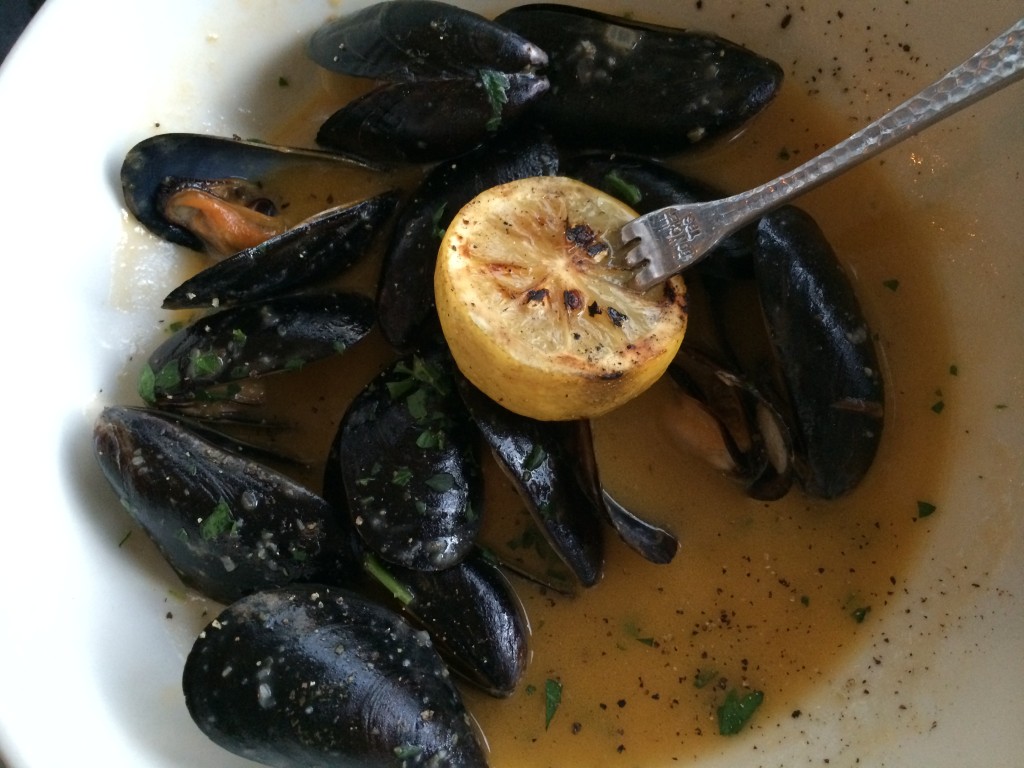 We also ordered the grilled calamari salad with olives, capers, peppers, and arugula tossed in a lemon vinaigrette. I love this preparation of calamari. Grilled is the way to go. When you get fried calamari, all you taste is the breading — the fresh taste of calamari is lost and the chewy, tender texture is taken over by a crispy, crumbly fried coating. Obviously this is the healthier option too. These grilled calamari were particularly tasty; they're cooked on a wood-fire grill until they are perfectly charred and release a deep, smokey flavor. Bright lemony flavor dressing enhanced the smokiness even further. I seriously could not stop popping these little rings of calamari in my mouth. Hey, at least it wasn't the bread!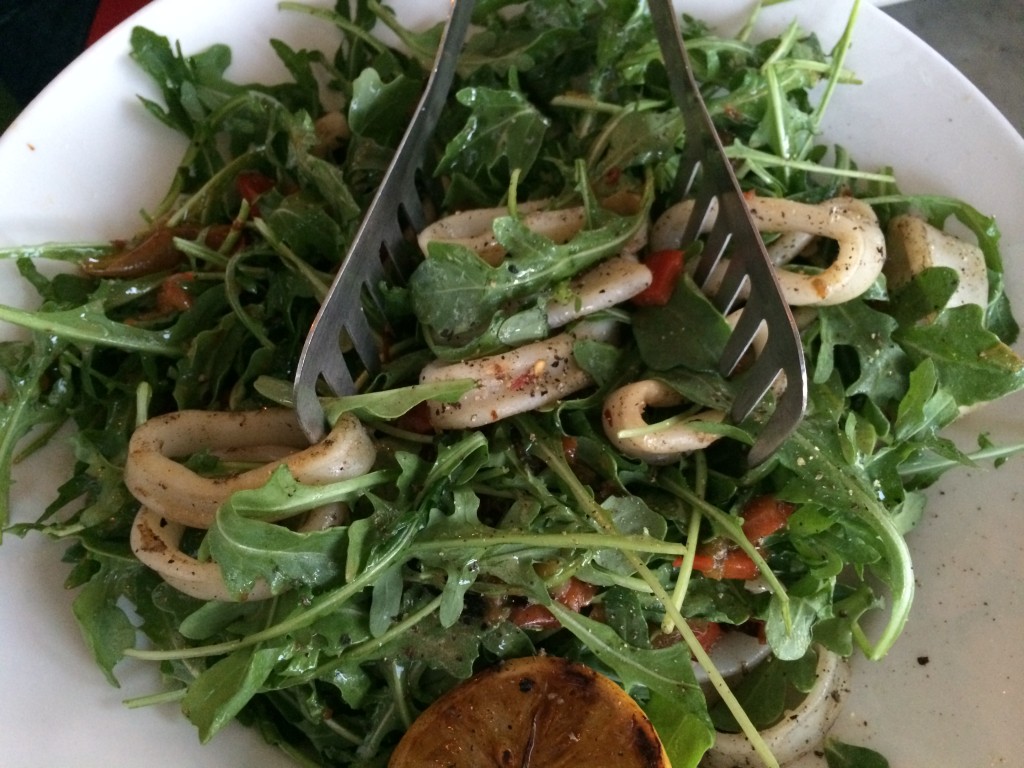 Kathryn and I both took forever to decide what entrees we wanted. We kept going back and forth between a few select dishes before finally coming to a conclusion — she would order the Whole Wheat Tagliatelle with Shrimp, Asparagus, Garlic and Crushed Red Pepper and I would order the Ricotta Gnocchi with Herb Pesto, Pine Nuts and Ricotta Salata and of course we would share. This way we had a range of different flavors and types of food. At first bite, the gnocchi dish tasted a little one note, but then the bright flavors of herb pesto started to shine through. It hit just a moment after that first bite and lingered around for each one after. I did add a lot of parmesan cheese to the dish, because well, I'm kind of obsessed with the stuff. I loved those light, creamy ricotta gnocchi generously covered with that herb-a-licious pesto sauce. The consistency was amazing. I can never get mine that smooth!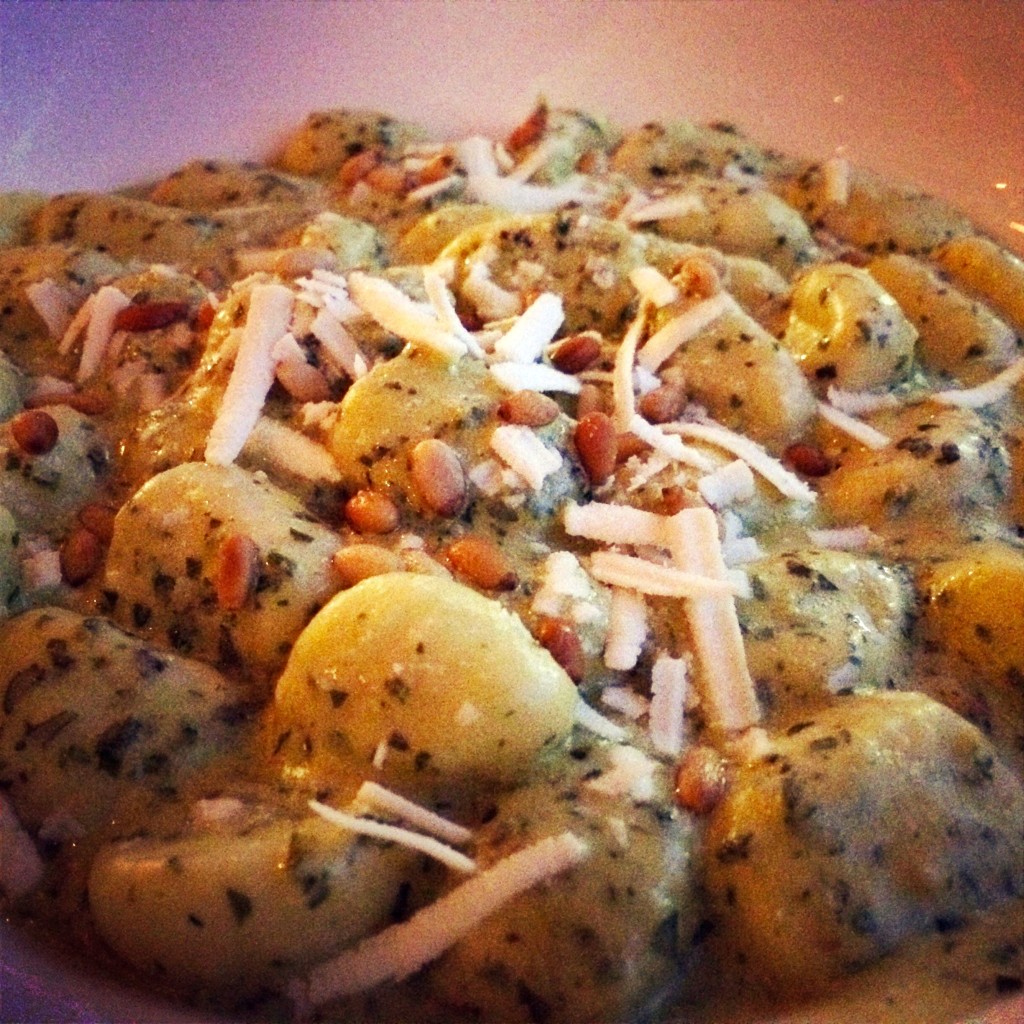 The tagliatelle dish was really yummy. It was tossed in a garlicky red sauce that really complimented the veggies and shrimp. Tagliatelle is kind of like a wider fettuccine noodle, which I like. That and pappardelle are probably my favorites. I'm not big on angel hair or spaghetti. This pasta dish was full of a great combination of ingredients that all blended really well together. We doused her dish in parmesan cheese too, of course, and chowed down!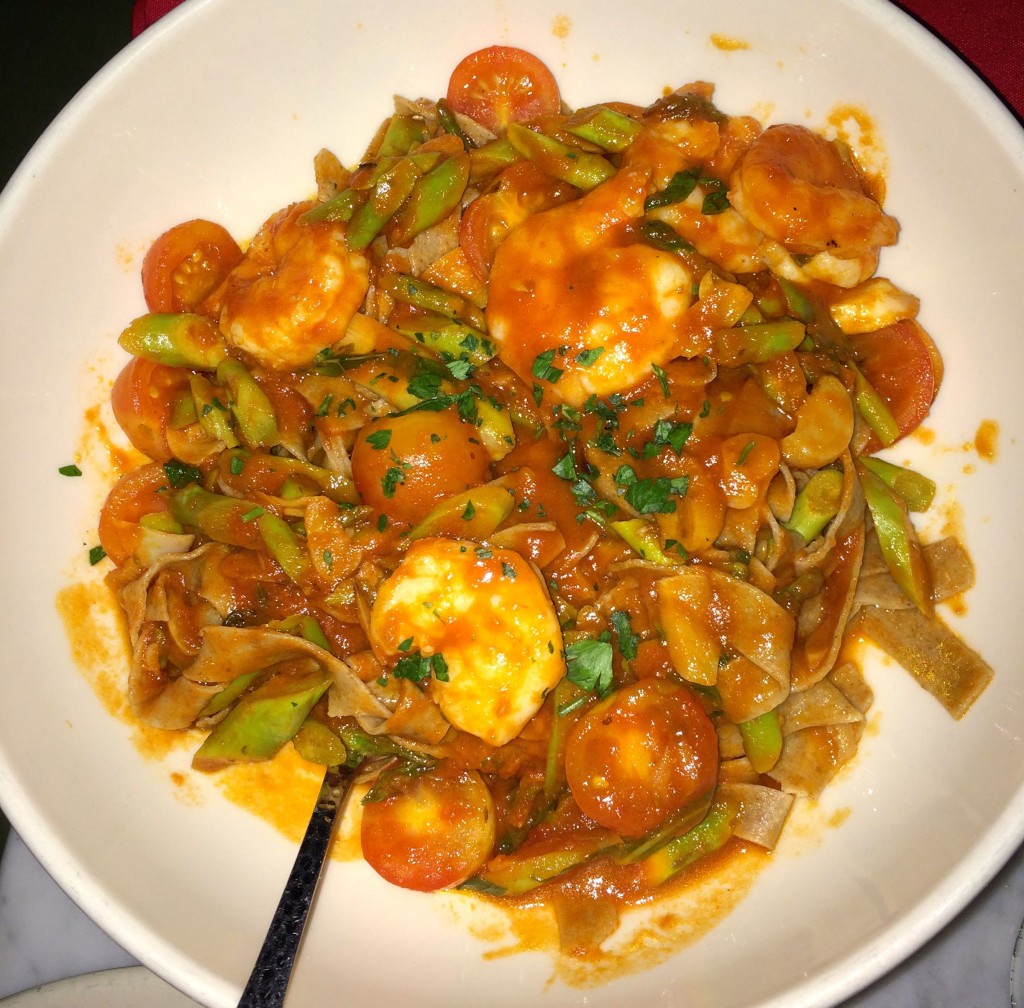 For dessert, we decided on a drink rather than a slice of Italian cheesecake or bowl of gelato. We ordered chocolate espresso martinis — can you say YUM!? These were quite the treat. I always want to order dessert drinks but usually opt for a real food dessert, this time I wanted to switch it up. This was just as rich and decadent as any slice of cake or pie we could have ordered.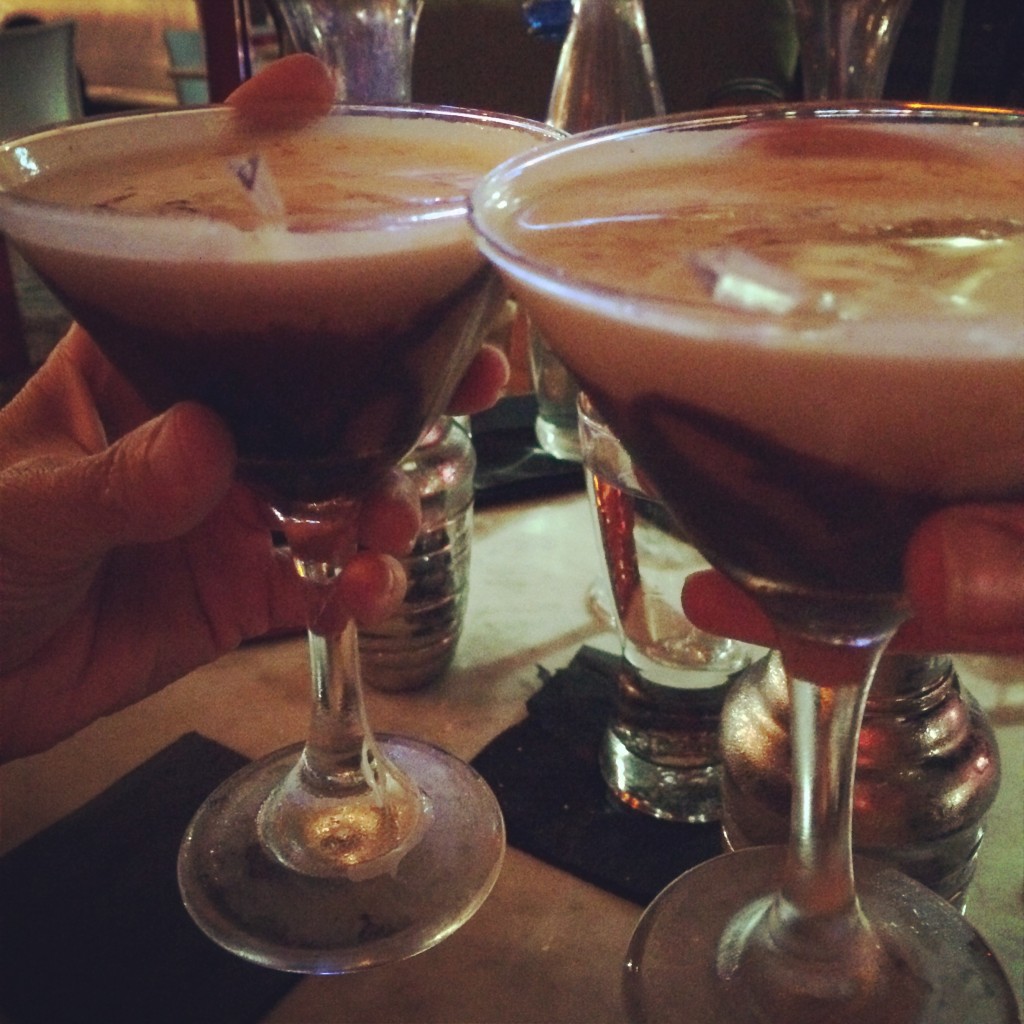 Thank you so much to Vic & Angelo of Delray's manager Donnie, Chef Phil, and our waiter, G, for a really great meal. This may have been my first V&A visit, but it definitely won't be my last.
Disclaimer: I was provided with a complimentary meal for myself and a guest on behalf of Vic & Angelo's of Delray Beach. All opinions are my own.