Never miss a bite! Sign up here to receive new recipes and reviews straight to your inbox.
Disclosure: I was invited to dine as a guest of the restaurant. No monetary compensation has been received for this post. As always, all opinions are 100% my own.
When good Italian food and wine calls my name, you can bet I come running. Acclaimed Italian-born chef/restaurateur, Angelo Elia, is known for his dining establishment, Casa D'Angelo (locations in Fort Lauderdale, Boca Raton, and Paradise Island/Bahamas), as well as a growing chain of wildly popular small plate Italian restaurants, Angelo Elia Pizza, Bar and Tapas. I recently had the opportunity to check out the Delray Beach location of this low-key Italian spot with one of my favorite local bloggers, Heather, from Local Mom Scoop, for a girls-night-out-style media dinner.
Chef Angelo hails from Salerno, Italy and came to the U.S. as a teenager, where he worked his way through some of New York's most prestigious kitchens, including the Four Seasons and family-operated La Cisterna. He moved to South Florida with his wife and opened his first restaurant, Casa D'Angelo, in Fort Lauderdale in 1998. With a traditional Tuscan menu with only the finest, freshest ingredients and just about everything made from scratch, it quickly became popular among those looking for ultimate Italian fine dining.
Angelo Elia Pizza, Bar and Tapas is like Casa D'Angelo's fun little sister, where the atmosphere is a little more casual, the pizza is plentiful, and the wine list is long but approachable. Speaking of which, most of the time I'll go with a nice and smooth Montepulciano when at an Italian restaurant.
To kick off our evening, we were brought a couple signature appetizers. My favorite was the grilled calamari served with a warm cannellini salad and a tomato battuto, which is basically a mixture of finely chopped Italian herbs. The calamari was perfect, and the salad was light, fresh, and bursting with bright flavor. Note to self: this appetizer + a glass of Montepulciano = heaven. You all know how much I love octopus — and no, calamari is not the same thing, but I do like a grilled calamari dish almost as much as a grilled octopus dish.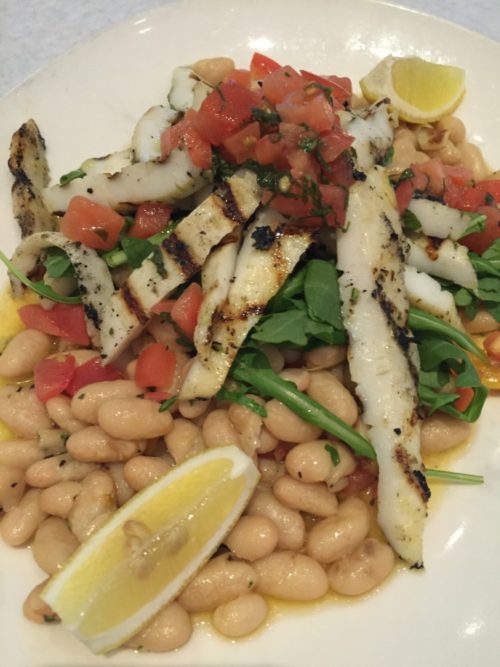 A must-have for me at just about every restaurant is the burrata, so it's no surprise that when I noticed it under Angelo Elia's list of tapas, I just had to try it. This creamy, dreamy ball of cheese is served with arugula, dried figs, and a sweet and savory fig balsamic. It also comes with thinly sliced Parma prosciutto, which we had put on the side for Heather to enjoy. Burrata tends to be served with tomatoes, but the figs in this dish were a welcomed change-up from the norm and paired wonderfully.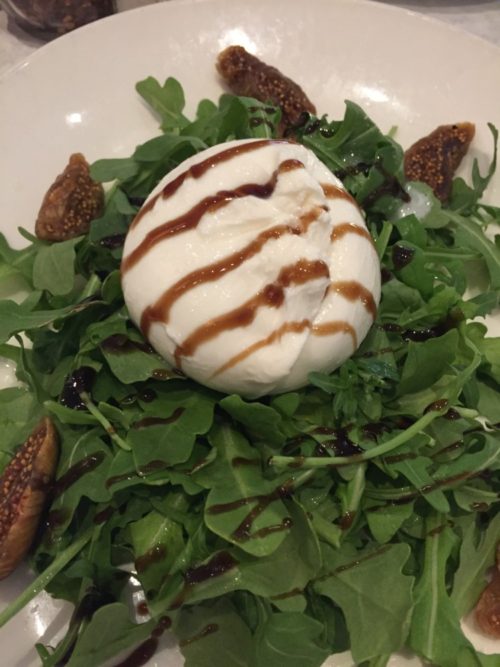 Another yummy appetizer was the crispy tempura zucchini flowers stuffed with mozzarella cheese. Much to my delight, we were informed that the zucchini used was locally sourced — always a good thing to hear. There is an an abundance of farms in South Florida and it's great when restaurants do their best to support them. Plus, getting your produce close to home always makes for a fresher, tastier dish.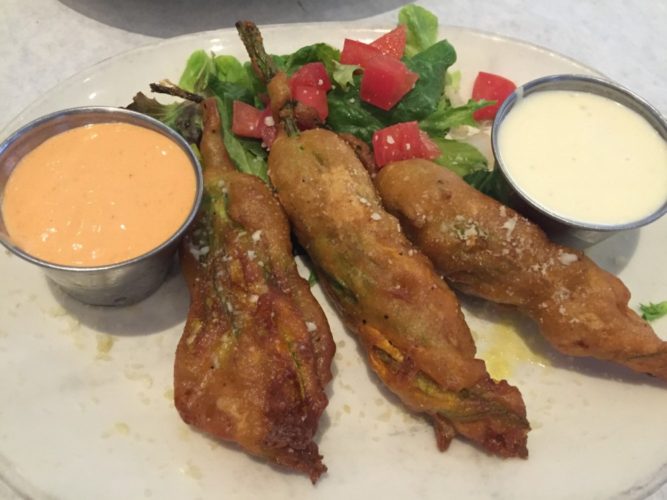 But wait… there's more! Heather loved the eggplant rollatini and practically ate the entire dish herself. I found it to be a little too heavy on the cheese and sauce for me, so I was happy to let her eat to her heart's content. I, on the other hand, made quite a dent in that grilled calamari…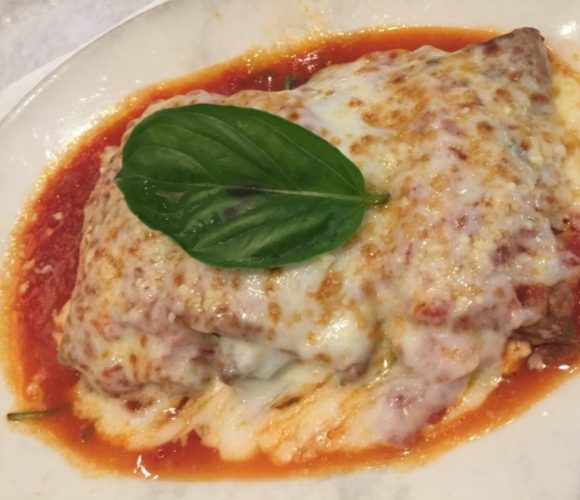 Being that we were at Angelo Elia PIZZA, Bar and Tapas, we knew there had to be pizza coming! I was excited to see that it wasn't the typical Margherita, and instead a gorgeous, colorful wood-oven baked crust topped with allllllll the veggies! The Primavera Pizza has tomato sauce and mozzarella, and lots of oak-roasted vegetables including zucchini, squash, broccoli, and tomatoes. There are so many types of pizzas to choose from at Angelo Elia, but this one definitely stands out, as most of the others include meat. Vegetarians, this one's for you!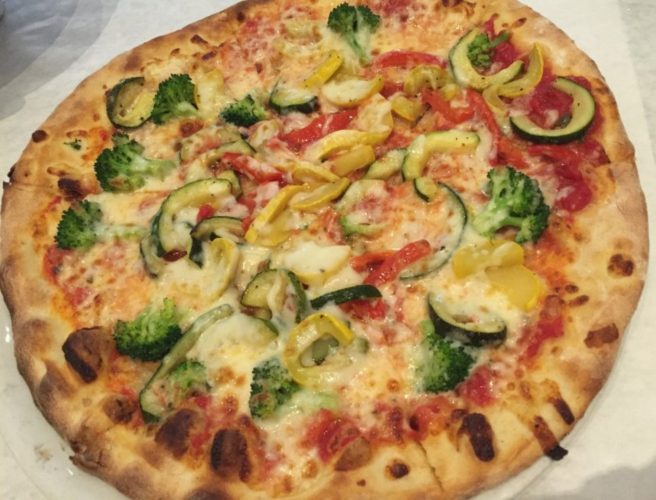 There are few Italian dishes that I enjoy more than a simple Linguine Vongole (linguine with clams). White wine, garlic, olive oil, parsley, pasta and clams — six ingredients, no frills, nothing crazy, absolutely delicious. Heather and I practically licked the plate clean. Everything about this dish made me so happy. It's comfort food at its finest, and definitely lived up to all expectations.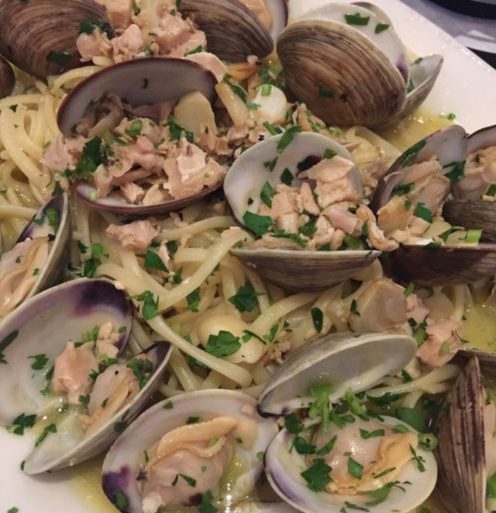 Dinner was impressive, but it was the dessert that stole the show. Two words. Nutella. Stromboli. Crisp pastry sheets filled to the brim with warm, melted Nutella, even more Nutella drizzled over top, finished off with a sprinkling of powdered sugar. It was every bit of indulgent as it sounds. An incredible sense of satisfaction came over me with each bite — and there were many, many bites, so you can only imagine how satisfied I was.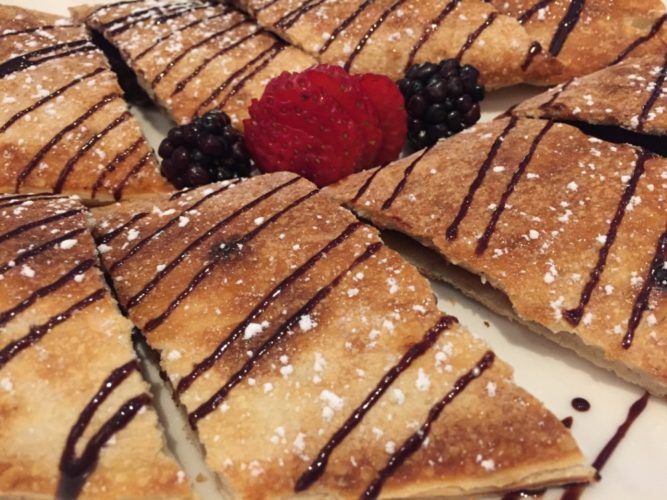 Ugh…now I'm craving Nutella.
Angelo Elia Pizza, Bar and Tapas has locations in Delray Beach, Fort Lauderdale, Weston, and Coral Springs. I visited the Delray Beach location at 16950 Jog Road.