Never miss a bite! Sign up here to receive new recipes and reviews straight to your inbox.
Disclosure: I was invited to try the menu at Habit Burger as a guest of the restaurant. There has been no monetary compensation for this review, and as always, all opinions are my own.
The Habit Burger Grill recently opened its doors in Delray Beach and I was invited to come check out the menu — I can never say no to an invitation for food! I brought along my good friend and local photographer, Emiliano Brooks, who took these great photos of our lunch that you see here. (Thanks, Emiliano!)
The Habit Burger hails all the way from California, where there are a zillion locations all over the state. There are also locations in Utah and New Jersey, and here in Florida we've got one in Miami and now Delray. They are all about their Charburgers, made with 100% fresh ground beef and char-grilled over an open flame. Grab an original charburger or make it a double like Emiliano did. This double-decker burger comes with mayonnaise, pickles, tomato, lettuce and caramelized onions, with options to add on cheese, bacon, avocado or mushrooms for an additional cost.  Other variations of the charburger include mushroom, teriyaki, BBQ bacon, Santa Barbara style (includes avocado) and the brand new tempura jalapeno. So what was Emiliano's take on his Double Charburger? He says it was a little salty, but that could have just been the bacon. However, that didn't deter him from saying he'd go back for a burger again.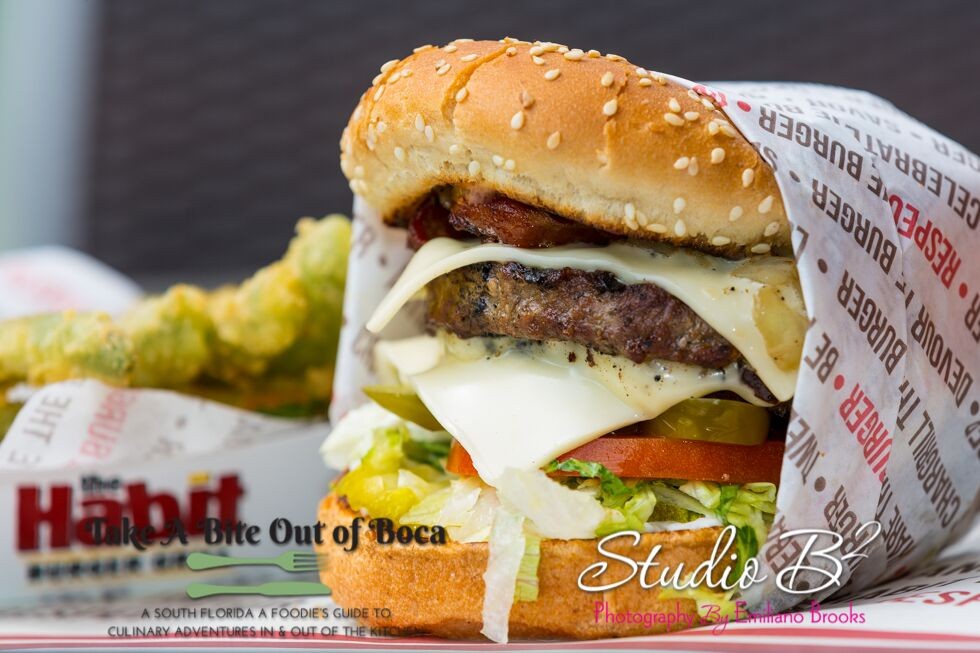 Beef-based burgers aren't the only thing Habit Burger does well — obviously there had to be something I could eat! I tried the Veggie Burger, which comes with lettuce, tomato, cucumbers and a deeeeelicious honey dijon dressing. You can have grilled or raw onions too, but note that the grilled onions are not vegetarian — they are cooked on the same grill as the meat. I enjoyed the veggie burger, but felt that it was a bit dense. I chose not to eat my veggie burger as a sandwich, omitting the bun, and using a knife and fork to cut pieces and dip into the honey dijon dressing. That dressing was SO good. I dipped the tomato and cucumbers in it — and yes, I did rip off little pieces of the bun to dip too… As much as I try to stay away from carbs when I can, I can never do it 100%! The veggie burger was good, but just a little too dense for my liking. I did, however, really love the flavor and found that the honey dijon dressing complements it very well.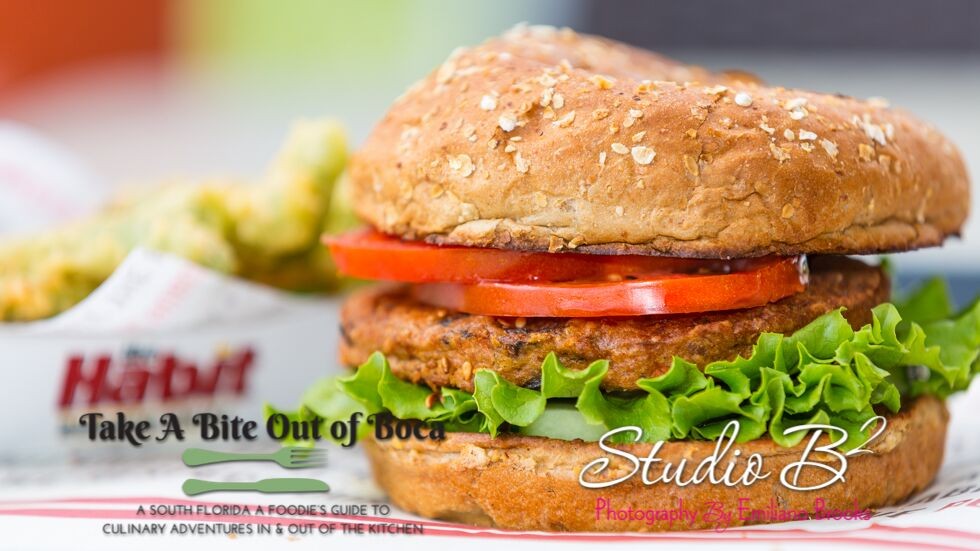 Char-grilled chicken, tri-tip steak, chicken club, and albacore tuna filet sandwiches are also available. Add cheese, avocado or mushrooms for an additional cost and choose between a toasted French roll, grilled sourdough or wheat bun.
Still hungry? Habit Burger offers salads and side dishes, as well as their oh-so-creamy and delicious malts and shakes, sundaes and ice cream cones. We ordered the tempura green beans and sweet potato fries — because obviously every burger needs a side of fries! The tempura green beans might be my new favorite snack! I have got to try making these at home. The perfect amount of saltiness and a great little crunch in every bite — they didn't even need a dipping sauce! When it comes to fries, I love 'em crispy. That's hard to achieve with sweet potato fries, which I love anyway, so I just have to make do. These were good, but I would choose the tempura green beans as my side over the fries any day!
Emiliano couldn't leave without trying one of the hand-spindled, made-to-order milkshakes. He chose strawberry, but other options include chocolate, vanilla, mocha, and coffee. When I tell you these shakes are thick, I mean thick! BUT, not too thick to sip through a straw. It was definitely a good, classic strawberry shake. Super creamy, super delicious, and super satisfying.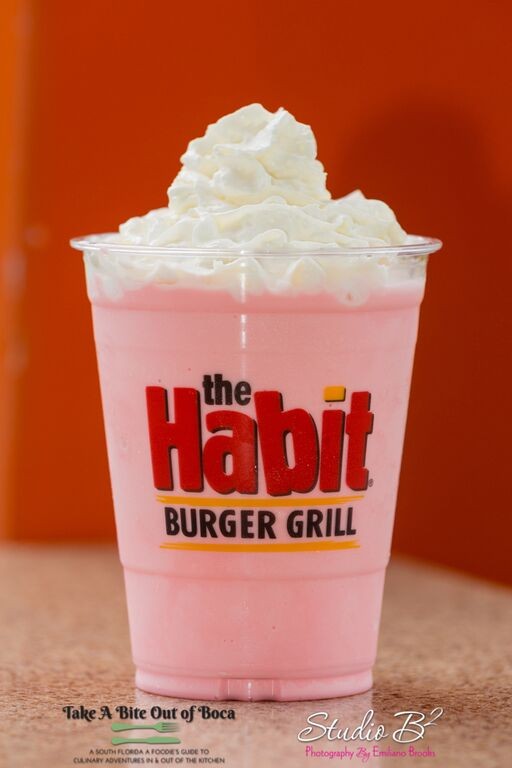 Delray Beach's Habit Burger Grill is located at 1801 South Federal Highway in the new Delray Plaza.