Never miss a bite! Sign up here to receive new recipes and reviews straight to your inbox.
Disclosure: I received complimentary product from DERMA E. All product claims and information have been supplied by the sponsor. As always, all opinions are 100% my own.
Dry Scalp Treatment: DERMA E Clean Hair Care
Good hair products aren't just for those with long, luscious locks — short hair needs love too! Even better if it's a brand with products that are non-GMO, cruelty-free, 100% vegan, and environmentally conscious, like DERMA E.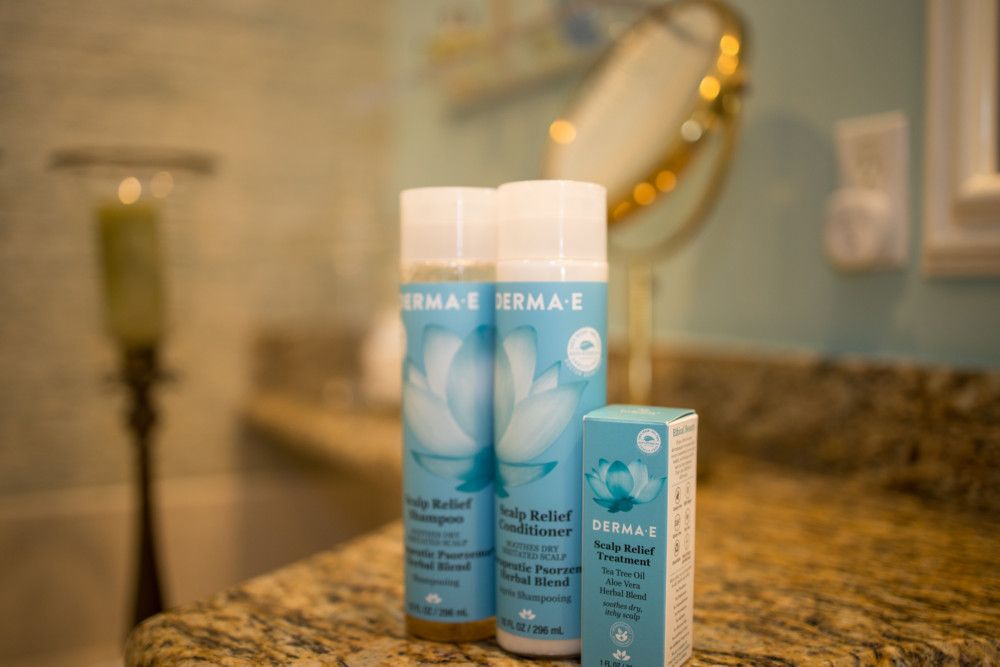 I've been using DERMA E skincare products for quite some time now, and really love what the brand stands for. DERMA E created a Refuse to Use™ List that includes over 2,700 common ingredients that research has found to be toxic to people and the environment. These ingredients include things like parabens, phthalates, formaldehyde donors, animal ingredients, synthetics fragrances, and more — and they are banned in every single one of the brand's products. A lot of the products from this list are also banned in the European Union and other countries, but many products in the U.S. still have them.
I was recently invited to try DERMA E's new Scalp Relief hair care line, and I was anxious to do so. Many of you may not know, but a couple years ago, I suffered really badly from Seborrheic Dermatitis. It's essentially eczema of the scalp, or super intense dandruff.
My particular case went beyond my scalp, however, and spread down my neck and around my ears. It was a struggle, and I tried countless products only to find no real relief. Ultimately, I discovered that it was due to a chemical allergic reaction. As a result, I am incredibly picky about the skin and hair products I use — all natural and chemical-free is where it's at!
DERMA E checks off all the boxes and has become my new go-to! Although I no longer have Seborrheic Dermatitis, I do experience a dry scalp and dandruff every once in a while, so this new hair care line really appealed to me. 
DERMA E Scalp Relief Shampoo and Conditioner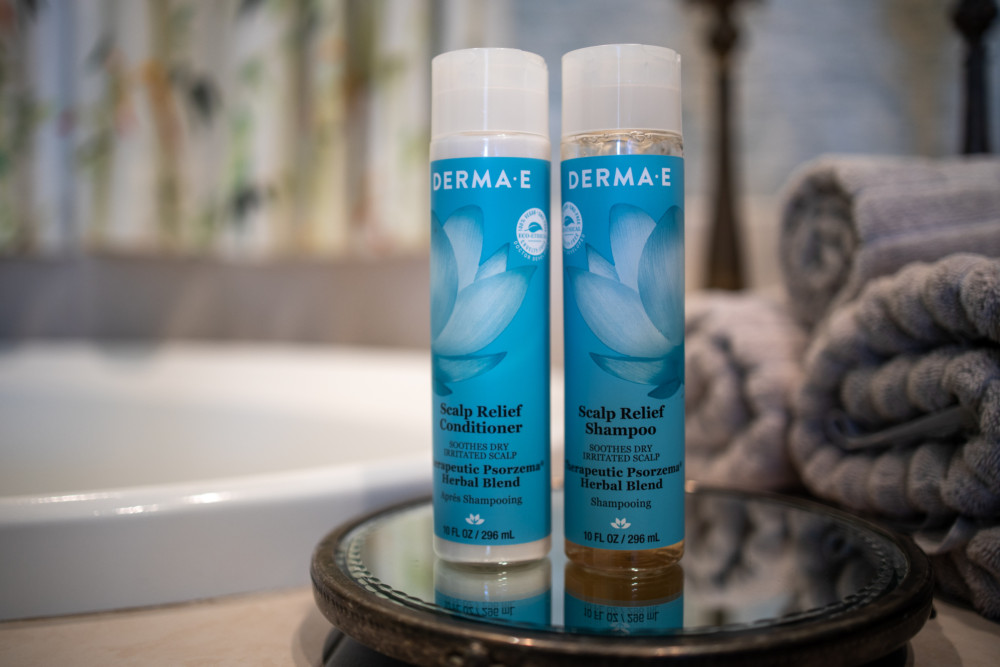 The doctor-developed shampoo and conditioner gently cleanse and detangle, de-flake, soothe and nourish the scalp and hair to alleviate symptoms associated with a dry, irritated scalp.
Check out these ingredients they are fortified with:
Therapeutic Psorzema® Herbal Blend (Neem, Burdock and Bearberry): Replenishes a dry, irritated, scaling scalp, helping to promote optimum scalp and hair health.
Tea Tree and Menthol:

Helps calm and cool itch on contact and maintains scalp purity over time.

Salicylic Acid

: Penetrates to lift away excess flakes and surface buildup.

White Willow Bark Extract: 

Works to support scalp health.

Aloe Vera Extract: 

Contains enzymes that calm trouble areas by helping soothe, moisturize and promote the scalp's blood circulation.

Vitamins A & E: 

Rich in antioxidants, these vitamins help replenish the scalp and hair to promote manageability and shine for a healthier look.

Provitamin B5 (Panthenol): 

Works to deeply hydrate and nourish the scalp and hair follicles for noticeably shiny, stronger hair.
I love how these products feel on my head when I wash my hair. The tea tree and menthol is so soothing! I was experiencing a little bit of dandruff recently and using these products has 100% helped improve that condition.
Scalp Relief Treatment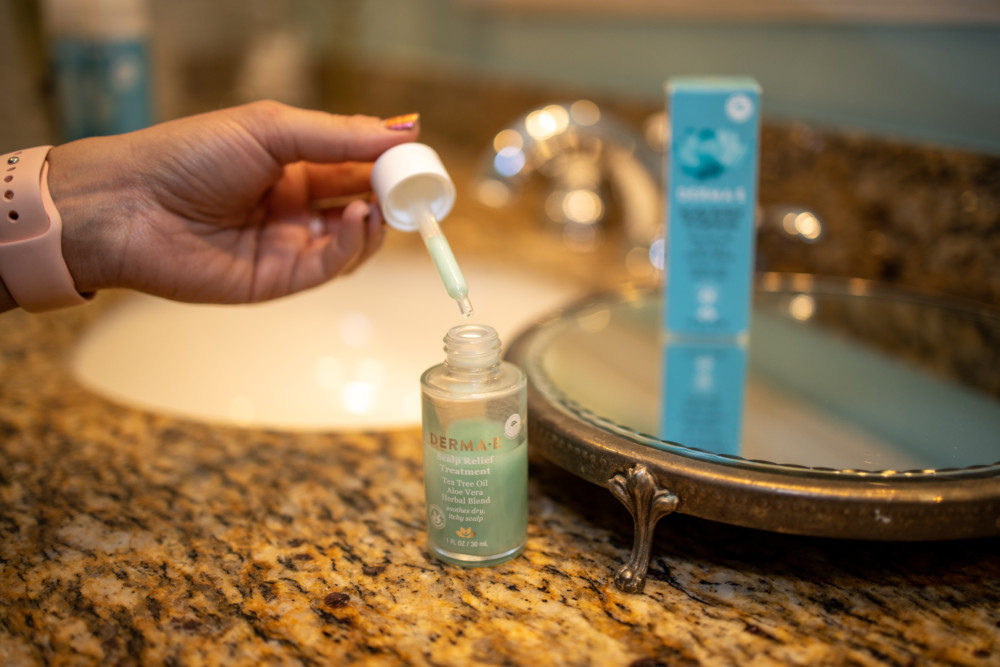 This has quickly become my new favorite hair product. The Scalp Relief Treatment is a water-based serum that calms and nourishes to promote a balanced and hydrated scalp for optimal health. Warning: your head might feel super cold once you've massaged it into your scalp, but it also is incredibly soothing and feels great!
Here's what its enriched with:
Tea Tree Oil: This essential oil works to cleanse the scalp while improving scalp health.
Sea Kelp Extract: Rich in vitamins, this

 moisturizing 

algae helps to promote a healthier scalp and stronger hair.

Blue Algae: Works to moisturize

.

Amla Oil: This nutrient-rich moisturizing oil helps to promote hair thickness and

 health.

 
Nourish Your Hair with DERMA E
There is also a new thickening line that includes a Keratin Spray to give hair instant volume and height; shampoo to increases body, volume, and growth; and a conditioner to stimulate growth, reduce thinning and rejuvenate hair strands.
DERMA E products can be found at Sprouts, Ulta, Target and Whole Foods Market. If you use the products and love them like I do, drop me a line at takeabiteoutofboca@gmail.com, or tag me on social media!