One of the things I miss most about New Jersey are all the great diners. Whether you're there after a late night out packed in the booth with your friends, or waking up early for breakfast and a steaming hot cup of coffee better than any Starbucks or Dunkin' Donuts you get on-the-go, it's always an experience. Sure, Florida may have some "diners," but none come close to what we have in Jersey. One of my all-time favorite diner foods is a staple among the best: the tuna melt. A heaping pile of tuna with melted cheese over top toasted rye, and of course, a mound of french fries on the side. This is NOT a healthy meal by all means, and I don't think I've had one in years because of the nutritional facts that I really don't want to know.
Somehow diner food and tuna melts came up at work one day — one of the girls I work with is from the Philly area, so she understands my affinity with diners and feels the same. We thought it would be fun to have dinner together one night and make a healthier version of our favorite diner meal. So I started looking for ways to make tuna without mayonnaise, which I hate anyway. I had a great wrap a couple summers ago at CJ's, a cute little restaurant in Somers Point, NJ, where my best friend Leanne works. It was Italian tuna with provolone on a spinach wrap. Italian tuna is a great mayo-less tuna preparation. There are probably a million different ways to make it, but the idea remains the same: use spices, olive oil and balsamic vinegar for a much lighter, yet deeper flavor than you get by simply using a glob of creamy, fatty mayonnaise. 
Instead of frying up potatoes as our side dish, we chose to make baked sweet potato fries. I used a recipe I found a while back on Skinnytaste that uses chipotle and garlic powders for a spicy kick.
So my friends Lindsey, Lindsay, and I headed to Publix after work to pick up all of our ingredients. We put our cooking chops to the test before settling down to watch "Pretty Little Liars." Yes, I am obsessed with this show. We had such a good time preparing the meal and it really came out good. I finally got to use my Le Cruset panini grill, too! I won this at the Food Blog Forum in Orlando back in March and never even took it out of the box until I moved. It was nice to finally put it to use. This meal definitely brought back memories from the diners back home, enjoying a delicious tuna melt and fries, without all the calorie-laden guilt! The sweet potato fries were really good. Just enough spice and just enough crisp — and they tasted great dipped in a little tzatziki sauce, too. Everything really does taste better when you make it yourself. 
Head over to Skinnytaste for her recipe for the chipotle baked sweet potatos fries. Inspired by the Italian Tuna wrap I had at CJ's, here is my own version of this mayo-less tuna dish.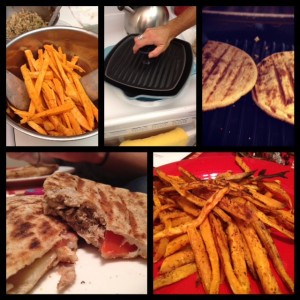 Italian Tuna Panini
2 cans Albacore tuna fish, drained
6-8 fresh basil leaves, chopped
1 1/2 tbsp. balsamic vinegar 
1 1/2 tbsp. red wine vinegar
Thinly sliced provolone cheese
Mix tuna, basil, celery, oregano and black pepper in a bowl. Add in the oil and vinegars and combine well. Spray the panini grill and heat on low. Put together your sandwich: line the pita pockets with 1 slice provolone in each pocket and diced tomatoes, stuff the pockets with the tuna mixture and place on the grill. Place the lid on for about 3-4 minutes or until you see nice, golden brown grill marks. Flip the sandwich and repeat.