Never miss a bite! Sign up here to receive new recipes and reviews straight to your inbox.
Disclosure: I was invited to dine as a guest of Galley at the Hilton West Palm Beach. No monetary compensation has been received for this post. As always, all opinions are 100% my own.
When visiting Palm Beach, there is only one place to consider, especially if Downtown West Palm Beach will be your main playground during your stay, and that's the Hilton West Palm Beach.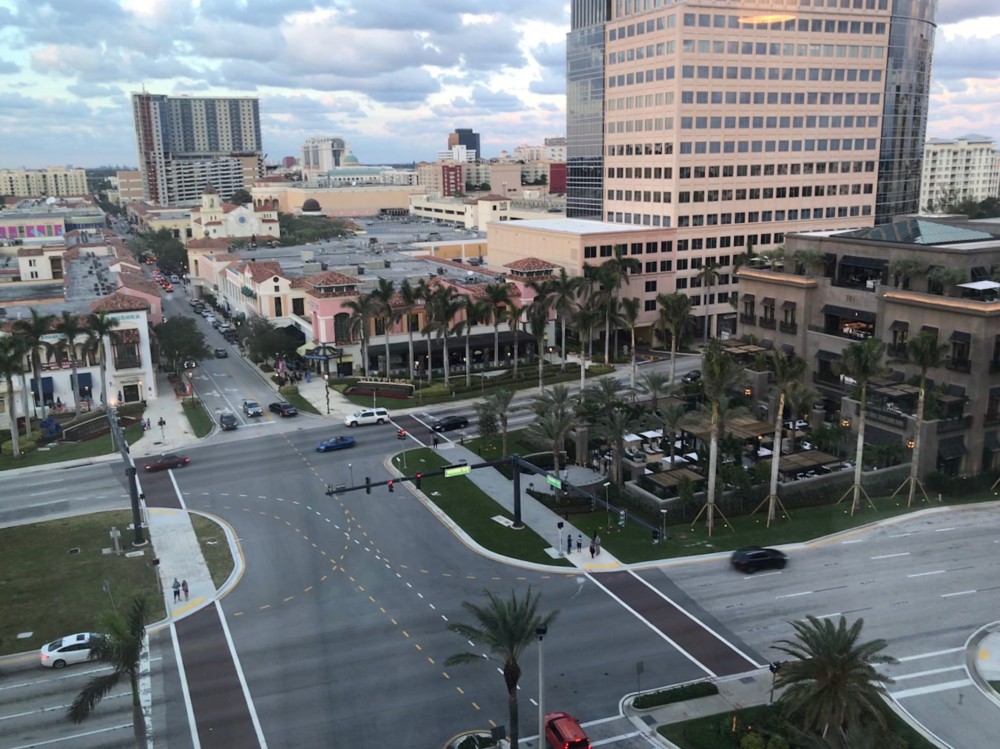 In early 2016, a new hotel sprung up across the street from West Palm Beach's premiere shopping and dining destination, CityPlace, and not even a mile down the road from the Okeechobee Boulevard exit off of I-95. The AAA Four Diamond Award-Winning Hilton West Palm Beach is everything you'd want in a hotel — spacious accommodations, exclusive conference facilities, a gorgeous swimming pool with private cabanas and a poolside bar, modern lounges, a spacious fitness facility complete with a variety of cardio and weight lifting equipment, and, of course, delicious dining options.
The Hilton West Palm Beach has a bevy of benefits — it's connected to the Palm Beach Convention Center by an enclosed walkway; a short walk to CityPlace and the Kravis Center for the Performing Arts; and it's just three miles away from the Palm Beach International Airport and several of Palm Beach's best golf courses. There's even a complimentary airport shuttle to take you to and fro. Palm Beach is only two miles away, where you can enjoy sightseeing along the Atlantic Ocean shoreline or explore the Henry Morrison Flagler Museum. There's plenty to see and do in the area surrounding the Hilton West Palm Beach — but there's also lots to see right inside the hotel. Starting with its lobby-bar-turned-full restaurant, Galley. About one month ago, Galley was expanded from its previous bar-only atmosphere and is now a full-fledged restaurant under the team of Executive Chef Miguel Santiago and Chef Ricky Cruz.
The best seat in the house for dinner is outside by the fire pit, overlooking the luxurious pool area — well, maybe not during the summer, but I was there in December so it was perfect at that time. The palm-tree lined atmosphere almost made me forget what I was there for — a dining experience at Galley prepared by Chef Ricky, alongside my friend, fellow food-lover, and Instagram maven, Soozie the Foodie.
But before Chef began bringing out our dishes, we met our server and bartender extraordinaire, Hauk, who dazzled us with a little mixology. His renditions of classic cocktails were a sight to see (although not quite my taste — Suzy loved 'em though!) and he turned out to be an integral part of making our evening so enjoyable. Suggestion: ask for Hauk when you visit Galley, or the Hilton West Palm Beach in general, as he sometimes can be found outside at the pool bar as well.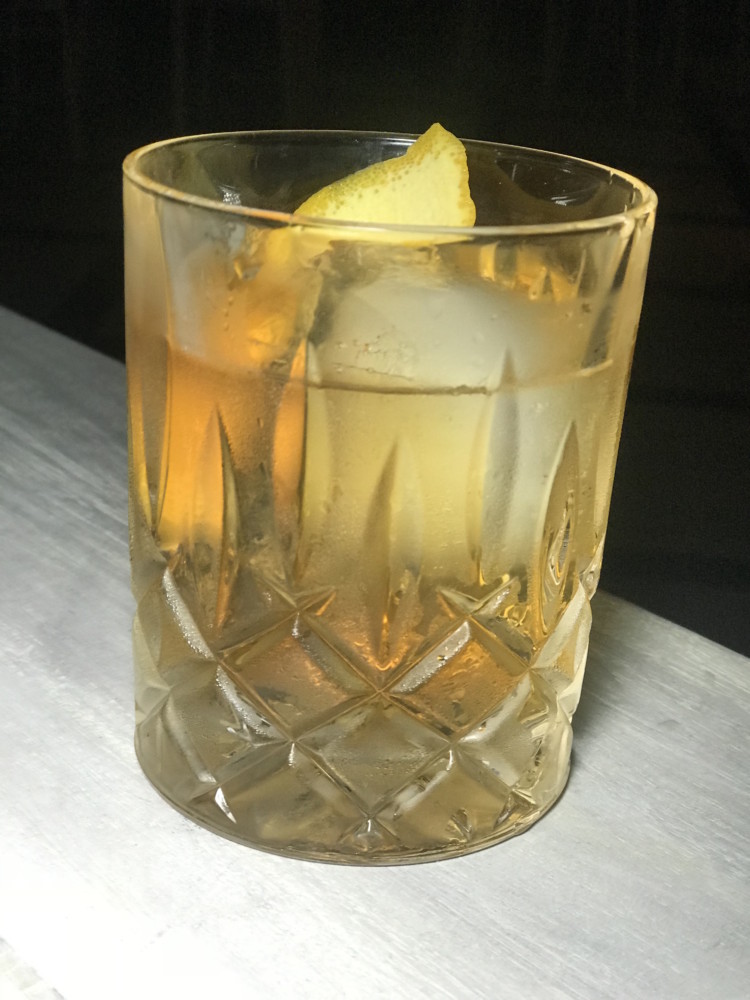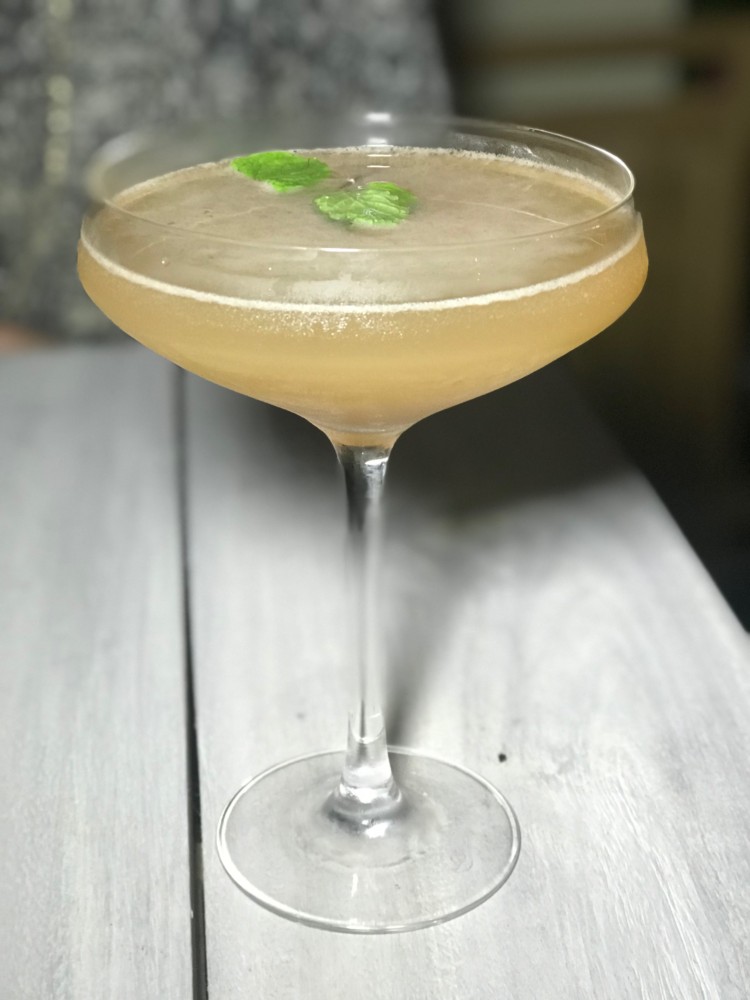 Then the food started coming — oven-roasted cauliflower and smokey eggplant meatballs to start. The cauliflower craze is one I'm not mad about at all. Sure, it's coming off of the long-haul of Brussels sprouts dishes that still seem to make their way onto every menu, but cauliflower is different — Chefs are using it to mimic things like rice, mashed potatoes, and even chicken wings. This particular dish let the cauliflower shine. No other ingredients except that cauliflower, dusted in an absolutely delicious harissa rub and drizzled with a preserved lemon vinaigrette. The cauliflower was, just as its title suggests, roasted to perfection with a beautiful char, and intense with flavor. Despite knowing there was probably a lot more food coming, Suzy and I didn't hesitate to finish the entire appetizer. There was no way we were leaving any of that cauliflower on the plate.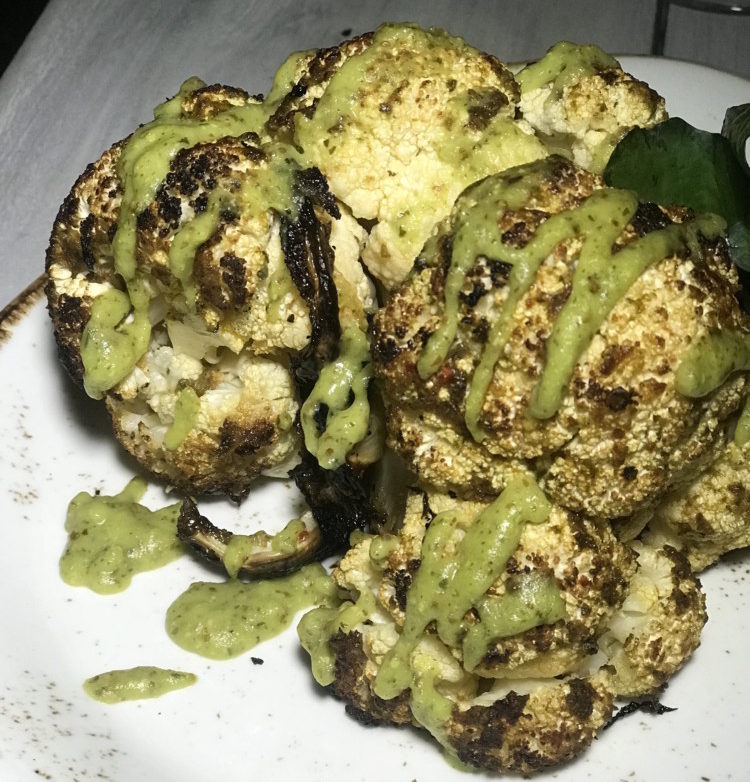 The eggplant meatballs were a bit on the dry side, but the flavor was there. Four perfectly portioned meatballs sat on a bed of a roasted vegetable hummus and jalapeño corn relish. While everything tasted great, I would have liked a bit more hummus, and maybe some kind of sauce to bring a little more life into the meatballs. It's ok though, there were eight more (yes, eight) more dishes that made up for the fact that I wasn't too crazy about these vegetarian meatballs.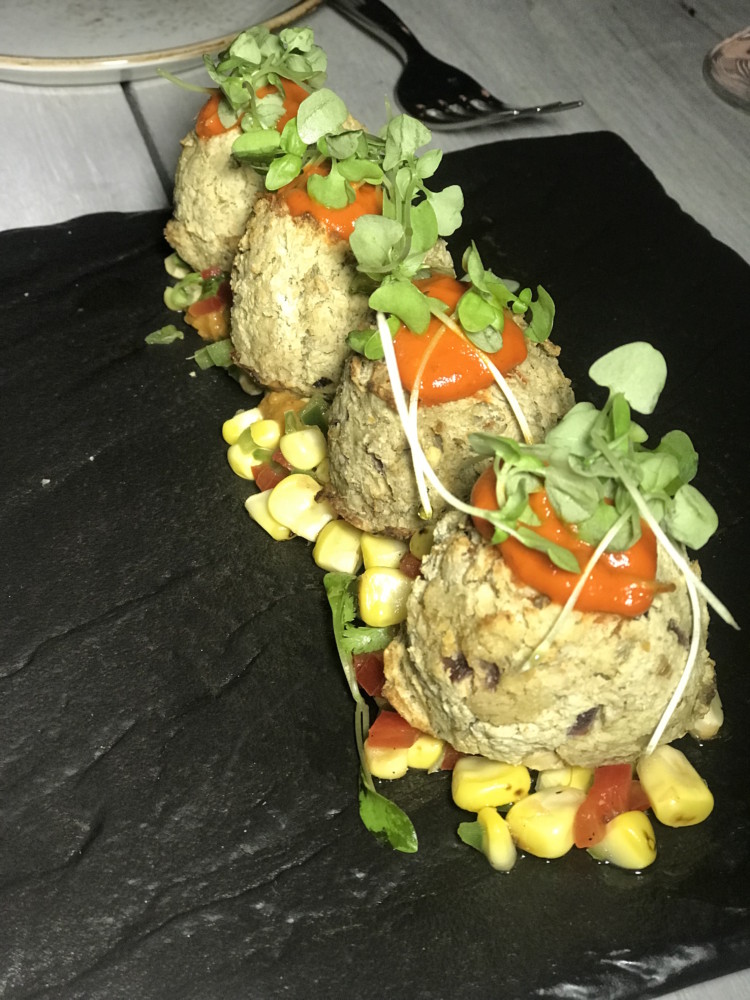 Like the next dish. Along with the cauliflower, the Ahi tuna poke was another favorite of the night. It takes a good chef to make a poke that can stand out among the zillion other pokes in South Florida — and Chef Ricky nailed it. It's a simple preparation — diced tuna mixed with seaweed and topped with a luscious avocado mousse and paired with lotus chips — but in that simplicity lies the beauty of the dish. I wouldn't have it any other way. Plus, those lotus chips made all the difference — thin, crispy, and just the right amount of saltiness. Looking back, I don't know why we didn't ask for a whole basket of these babies.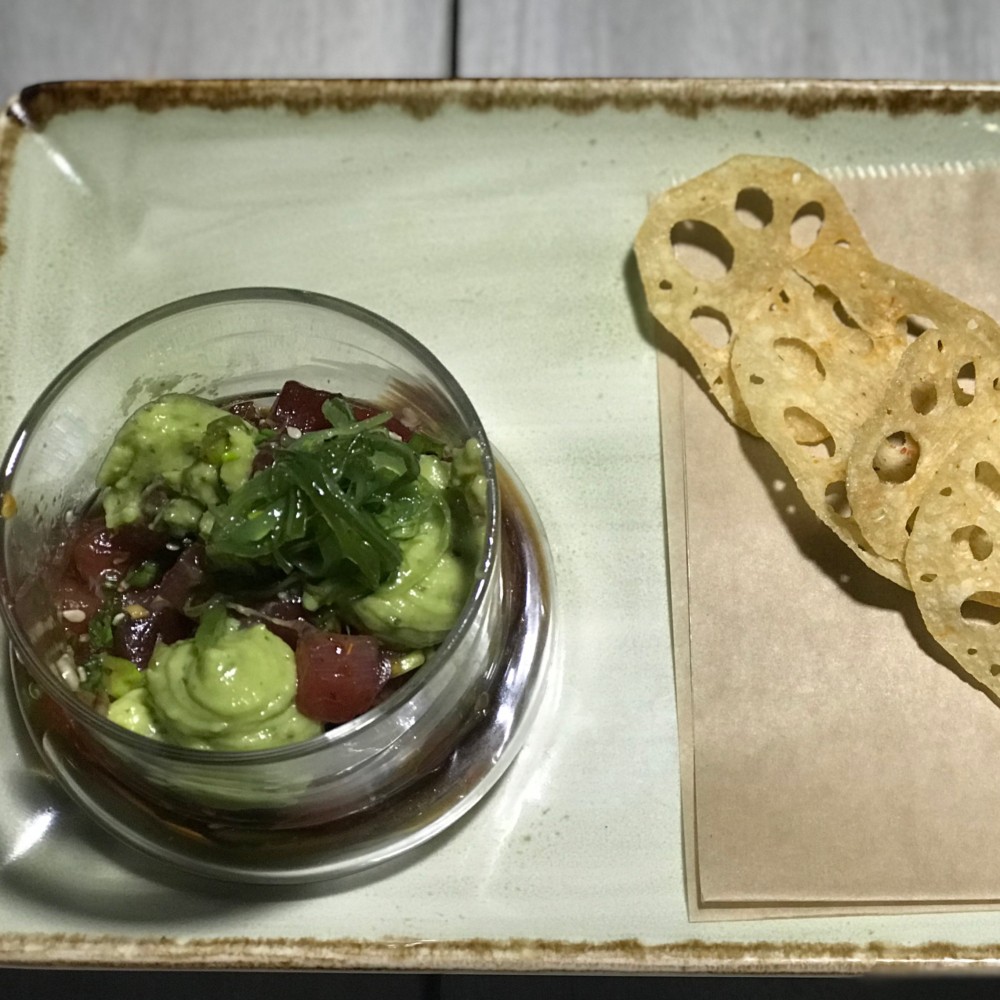 Oh wait, yes I do — because there was way more food coming. I can never say no to octopus, and Galley was no exception. Two perfectly cooked octopus tentacles sat atop a bright orange romesco sauce with crispy purple potatoes on the side. This Spanish-style dish is exactly how I remember my very first octopus experience, which turned into an octopus obsession, so obviously you know I liked it. The octopus was tender, yet still held a nice char that had a great texture to contrast the creamy sauce.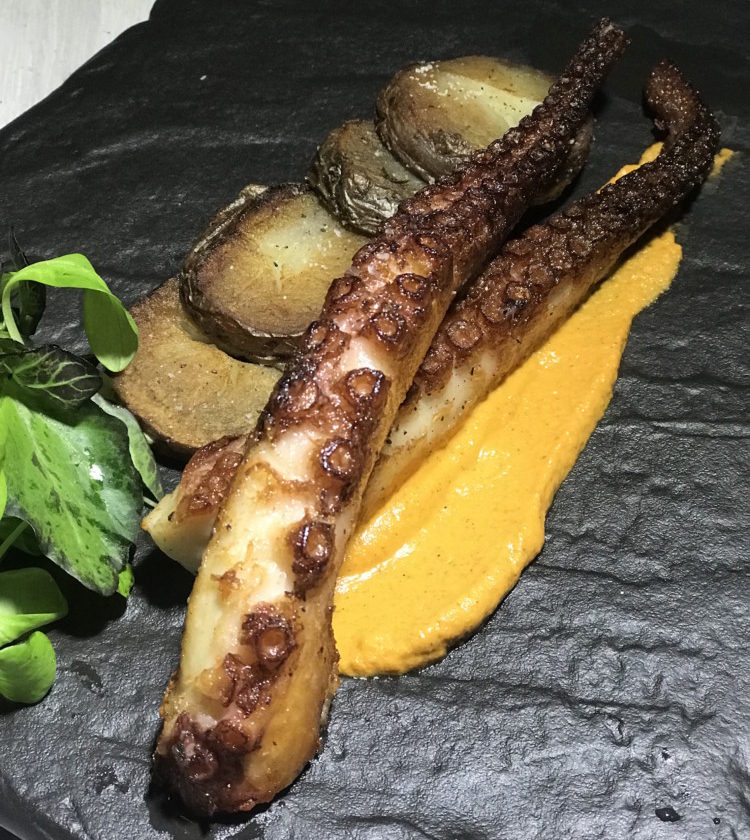 When two girls from the Northeast, who know what it takes to make a good crab cake, hear the words "Maryland-Style," there is no hesitation. Galley's crab cake was full of beautiful lump crab meat with all the delicious flavor and none of that obnoxious, useless filler. It's served on top of a hushpuppy with a piquillo pepper coulis. Although corn is one of the things I've cut out of my diet, I still had to have a little taste of that hushpuppy — and I'm so glad I did. Pillow-soft in the middle with a crisp exterior and super flavorful. I've never seen this combination before — crab cake and hushpuppy — but I think it should definitely become a thing. Galley, of course, gets all the credit for this winning combo.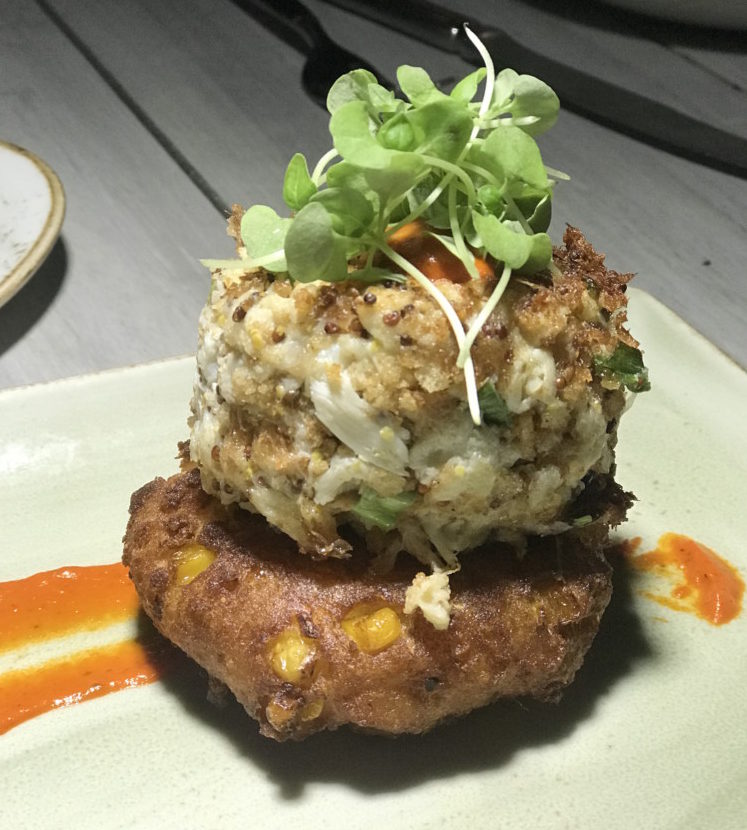 It was finally time to move from the appetizer course onto the salad. Galley's Farmhouse Chop is a gorgeous, colorful presentation of locally sourced vegetables tossed in an herb dressing, made in-house. The rainbow carrots were my favorite part. Their bright beautiful color really pops on the plate and makes any dish that much prettier. Tomatoes, cucumber and fava beans round out the dish.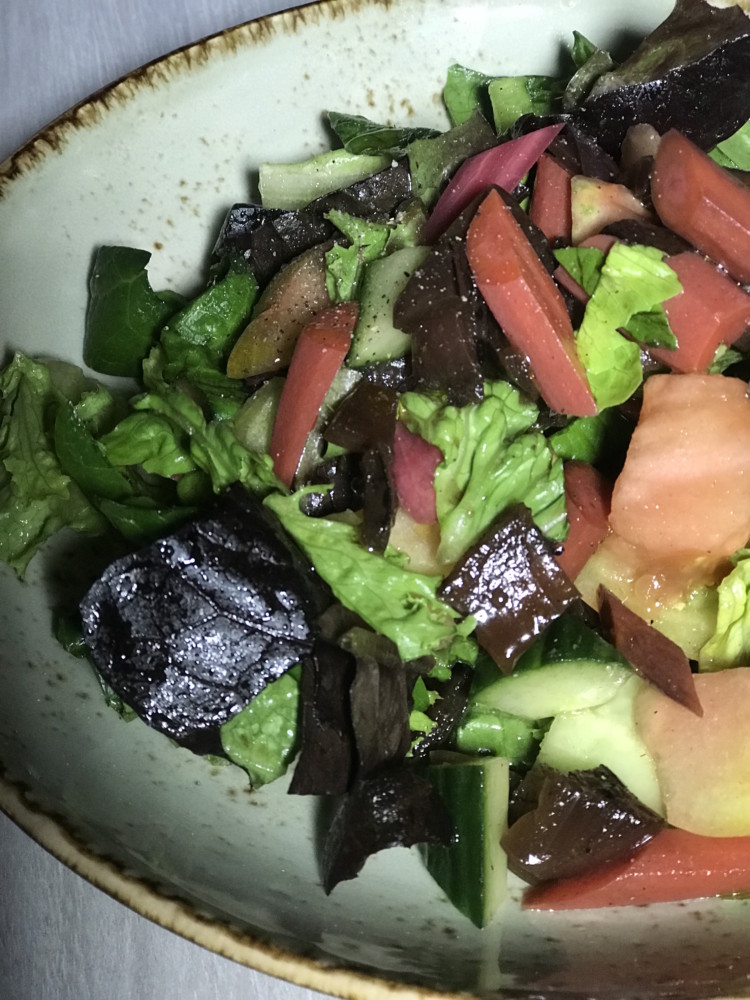 For my entree, Chef Ricky went off-menu and prepared me a cioppino with swordfish, clams, mussels and one huge prawn. Head-on prawns kind of freak me out, but thankfully, Suzy's a pro and beheaded it for me so I could enjoy its deliciousness without eyeballs staring back at me. Swordfish is actually one of my favorite fish. It's meaty texture can be challenging for some, but Chef Ricky did an excellent job. The broth provided stunning flavor and was as smooth as can be. Despite being full from basically eating the entire appetizer section of the menu, I happily dug right in. Sometimes I think I have two stomachs at these media dinners…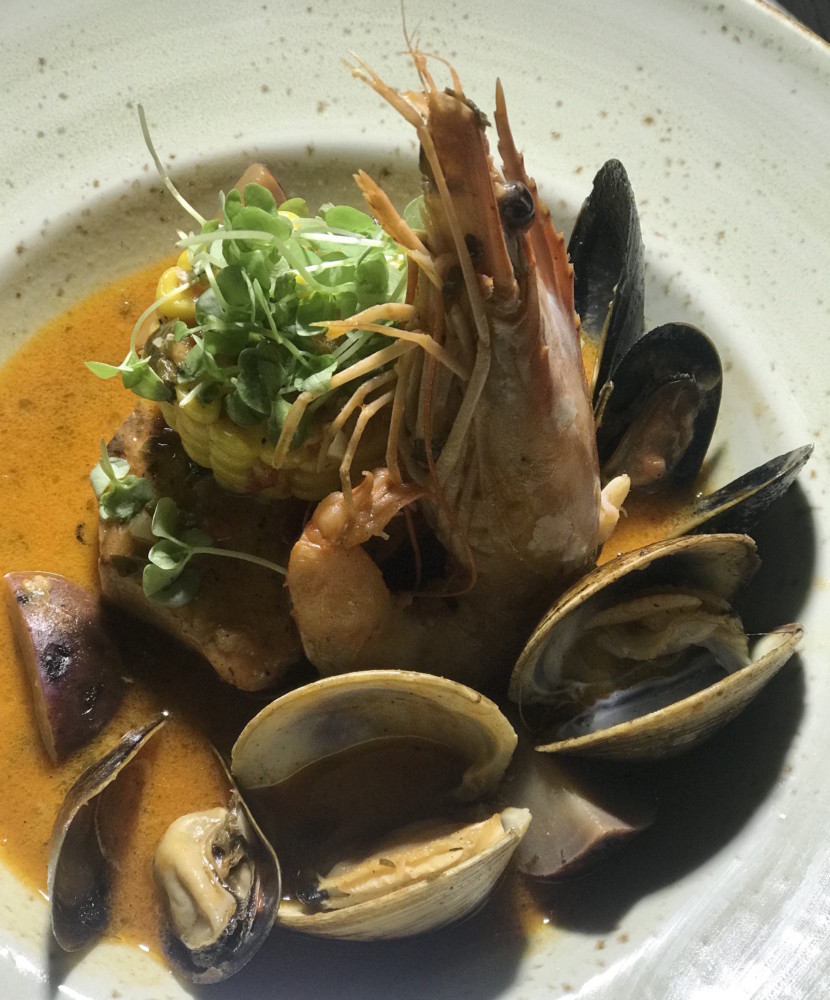 You didn't think that was it, did you? We're only up to dish number seven and if you remember correctly, there were nine dishes served. Chef Ricky couldn't let us leave without dessert! First, he brought out the wood-fired s'mores, featuring their house-made marshmallows. Instead of using regular chocolate, Galley uses TWIX bars. Major brownie points for that one! Or would they be s'mores points…?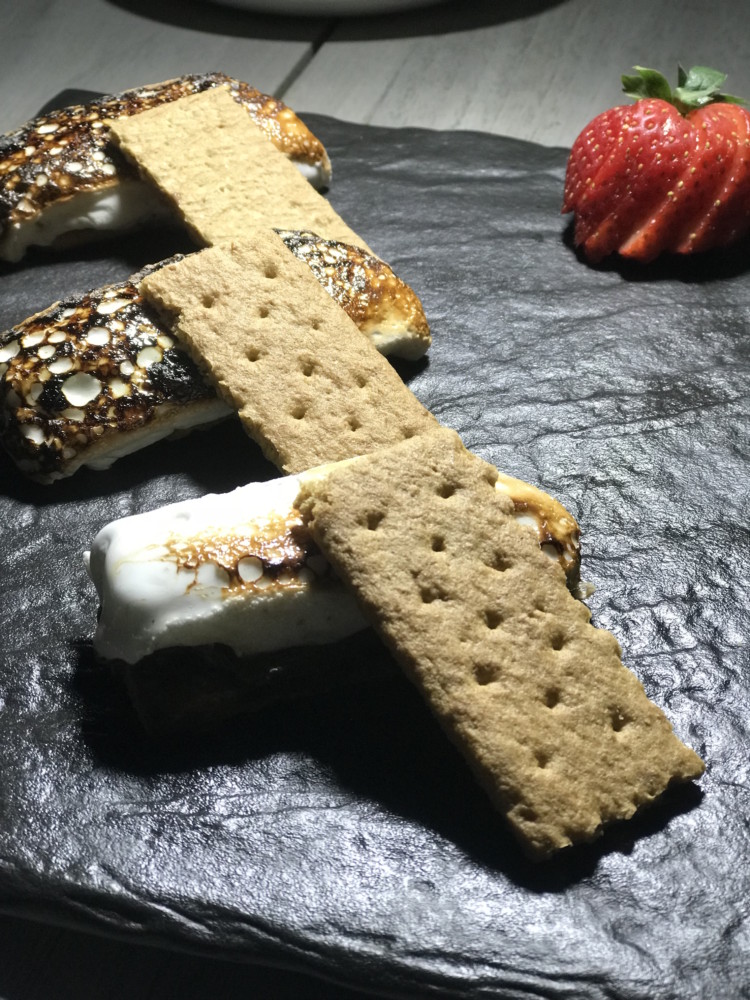 The s'mores were delish, but the real sweets star at Galley has to be their oven-baked chocolate chip cookie. It's cooked and served in a cast iron skillet, which lends to the most magnificent ooey-gooey texture with crisp edges all around. Topped with a scoop of house-made vanilla ice cream and served with a side of caramel sauce, this cookie is the definition of indulgence. There was no way I wasn't tasting this. And by taste, I mean pretty much devour.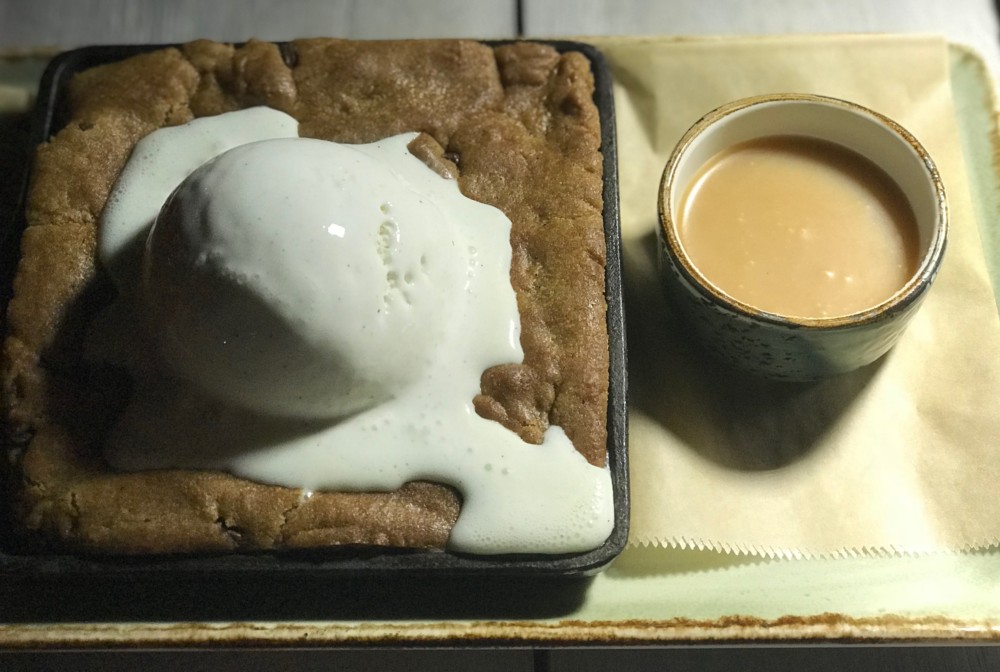 To say we were satisfied is an understatement. Chef Ricky, Food and Beverage Director, Rabie, and Hauk did an incredible job at giving us a truly unforgettable experience during our stay at the Hilton West Palm Beach — and I will definitely be back soon. There's a Saturday poolside brunch party with bottomless drinks, yoga and DJ entertainment that I must check out!
The Hilton West Palm Beach is located at 600 Okeechobee Boulevard in West Palm Beach.