Never miss a bite! Sign up here to receive new recipes and reviews straight to your inbox.
Imagine being escorted through a restaurant outside to its herb garden, where you are immediately met with a refreshing cocktail made by Master Mixologist Adam Seger, treated to an impressive spread of appetizers and then led back inside for a 5-course meal prepared by chef Sherry Yard — yes, THE Sherry Yard, who has two James Beard Awards and worked alongside Wolfgang Puck for some 20 years.
You can imagine it. But I lived it! Tanzy, the sleek and modern restaurant located inside iPic Theatres, recently hosted an outstanding media dinner featuring signature items on the menu. Local bloggers and media had a one-of-kind experience with Adam and Sherry, who really exceeded all expectations. Chef Sherry is the Vice President of Culinary Direction and Adam is the Master Mixologist and Advanced Sommelier for iPic Entertainment, which includes the theatre and its restaurants, Tanzy, City Perch Kitchen + Bar and Big Daddy's Brew + Que. Both boast pretty impressive resumes — I was quite honored to be in their presence for the evening!
As I mentioned, the night started in the garden where Adam crafted up a cocktail called a Pestato, which means "crush" in Italian and refers to Tanzy's signature mojito made with a blend of sweet basil, mint and coriander. This particular Pestato had fresh raspberries and was so good. I could easily see drinking this by the pool on a hot summer day — it was super refreshing and full of flavor without much alcohol taste at all. The fresh herbs and raspberries totally take over, in a very good way.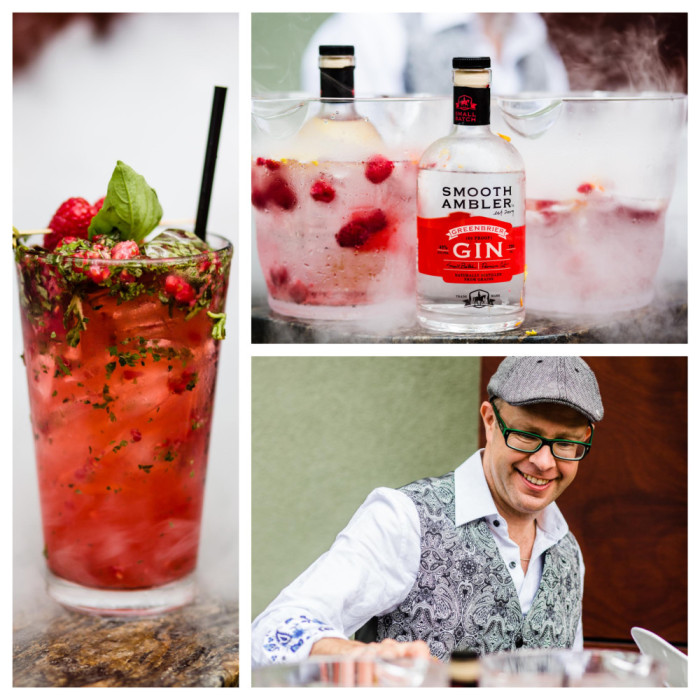 We sat down for a little al fresco snacking on a variety of antipasto platters. The Mozza and Parma Tastings included Bufala mozzarella, gorgonzola dolce, Parmesan Reggiano, smoked gouda, arugula salad, maple glazed pecans, fresh berries, fig spread, coppa, prosciutto, salami, cornichons, rosemary mustard, marinated olives and grilled bread.
We also got to enjoy some of Tanzy's Starter items — the Tuna Crudo with heirloom tomatoes, hass avocado, yellowfin tuna and Calabrian chili pesto, the Sicilian Skillet (eggplant parmesan), Beef Carpaccio with mushroom corserva, garden arugula and pecorino romano, and Grilled Calamari with lemon marinated artichoke hearts, capers and roasted tomatoes — my favorite! I could have eaten a lot more of this than I did, but I knew there was much more to come, so I saved my appetite.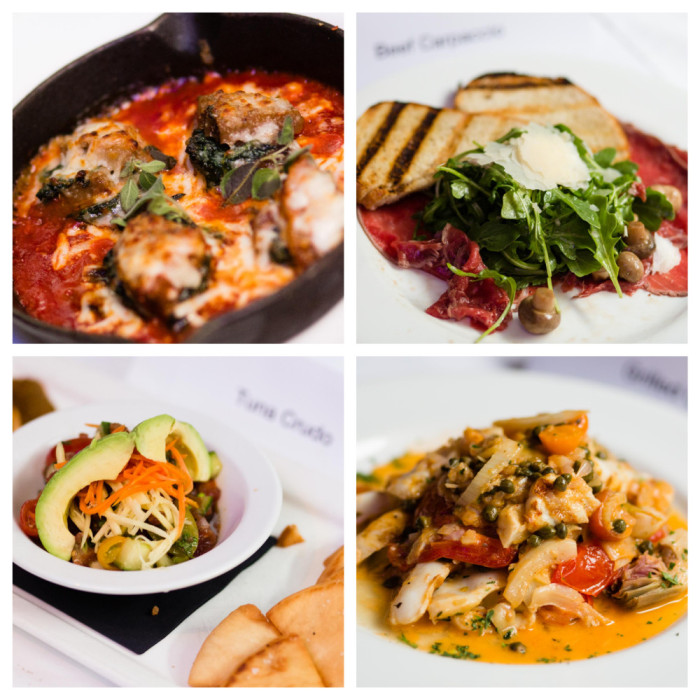 Pretty soon we were all being led into the dining room where we were met with another one of Adam's original concoctions — a sparkling drink made with yellow tomatoes straight from the garden, lemon verbena, stevia, mint and groppo, topped with prosecco. I've never had a cocktail made with tomatoes before — it was interesting and actually really good!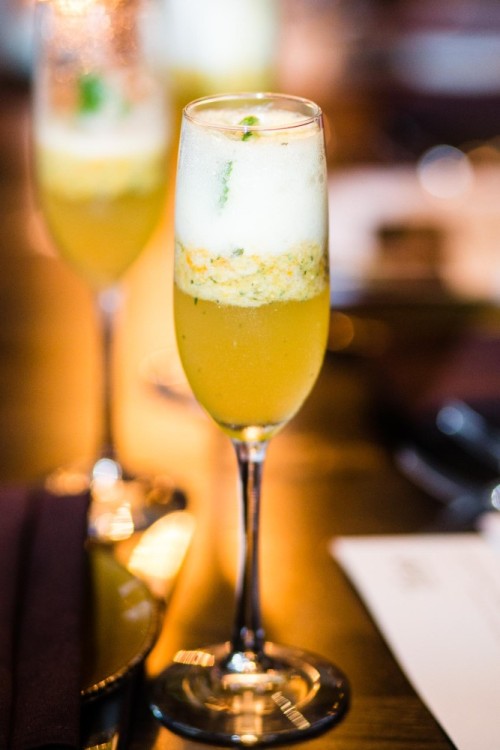 I glanced over the menu and knew there was some serious eating about to happen. What else is new?! It's a good thing I like wearing loose-fitting dresses to these events!
All of the dishes were served family style, which makes for much better photographs! With this group, everyone knows better than to touch anything until everyone is done snapping away. I had my good friend, Julia Duresky, with me on this night to do the dirty work! Julia is a fantastic photographer and offered to be my right hand woman for the night. She certainly delivered with a gorgeous portfolio of pictures!
First up were the salads — the Pork Belly and Spinach Salad with white wine poached pears, braised radish and a mustard seed vinaigrette, the Tuscan Kale Salad with navel oranges, pine nuts, pickled red onion, black currants and a citrus vinaigrette, and a third salad with goat cheese and beets. This one was not originally noted on our menu for the night but happened to be my favorite.
Now for the pasta! Three beautiful plates of food were served to the table and we all dug in! Linguine and gulf shrimp scampi with sweet tomatoes and Calabrian chili pesto, Orecchiette with spiced turkey sausage and wilted swiss chard, and the Quattro Gormaggio Fiocchi with spiced pear. I had a taste of each, careful not to get any of the turkey sausage with my orecchiette, and really enjoyed each in their own way. The spice from the sausage translated very well into the sauce that enveloped the little ear-shaped pasta and the chard was super tasty. The fiocchi dish is just to-die-for delicious with its oh-so-creamy sauce, and the shrimp scampi was a simple and straightforward dish with a lot of flavor.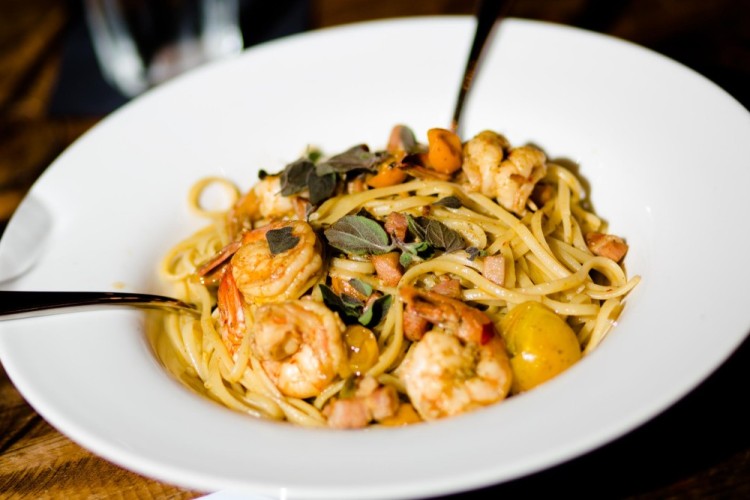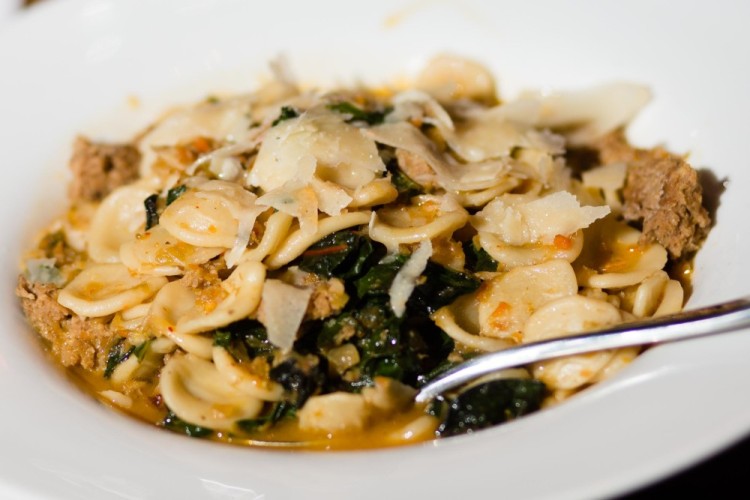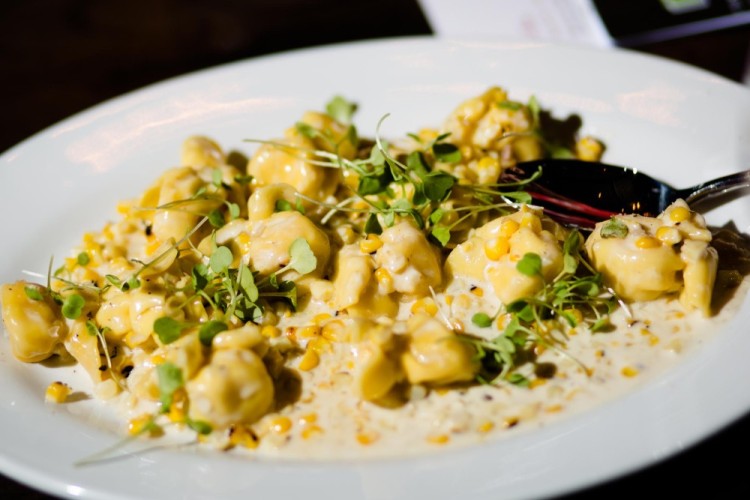 I made sure to keep my pasta portions small — seafood was up next! The scallop dish had roasted Brussels sprouts with bacon, thyme and a veal jous so Chef Sherry brought me out my very own perfectly seared jumbo scallop — that was very much appreciated. Scallops are one of my favorites, so I would have been pretty upset if I couldn't try it!
There was also a huge platter of Pan Roasted Atlantic Salmon, PEI mussels, manila clams, gulf shrimp in a melted leek and tomato broth and Yellowtail Snapper with wilted escarole and beans, capers and preserved lemon in a vermentino white wine sauce. Both of these dishes were right up my alley, but the snapper was my favorite. I couldn't get enough of the beans in the dish! After everyone took their share, I pretty much hoarded the rest for myself — the next course was meat and I knew I wouldn't be eating any of it!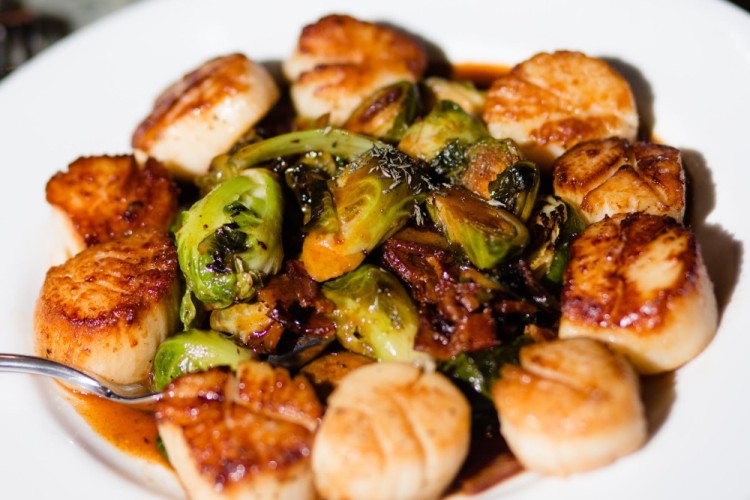 The meat course included Braised Angus Beef Short Rib and Lamb Chops, both of which were plated and presented beautifully — well, as beautiful as meat can look!
For dessert, Adam brought around three house made "cellos" — the traditional Limoncello as well as a Chocolate-Cello and a Basil-Cello. I opted for chocolate… and I definitely chose well. Smooth, creamy, and perfectly balanced — it's the sweet ending that every meal should have.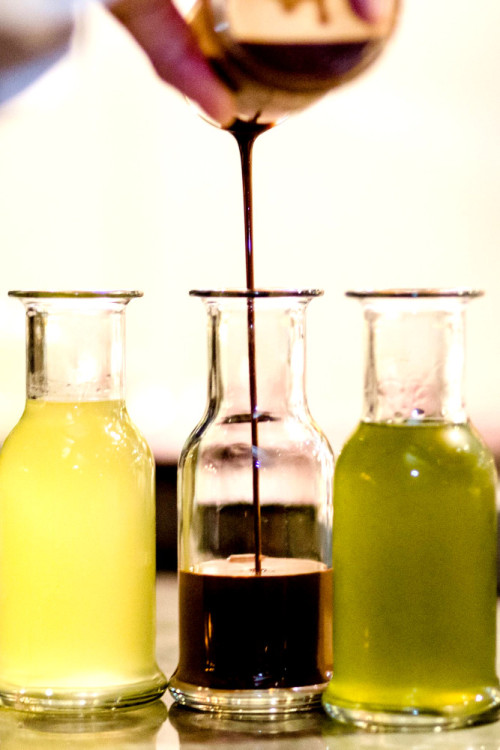 Except that this wasn't the end! Sherry is known for her pastries, so of course she had some fun with our dessert platter, aptly called "Chef Sherry's Extravaganza." It included a slice of cherry pie, chocolate bread pudding with toasted meringue and a peach fritter. Simple, beautiful and so so so yummy!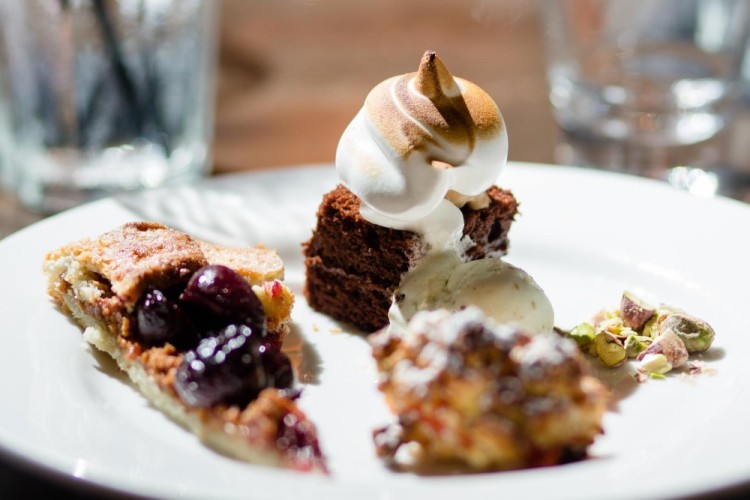 The night was memorable in more ways than one — not only were the food and cocktails incredible, but the company was even better! It really is great to be surrounded by so much culinary talent, foodies, bloggers and local media who all have a shared love — food.
Tanzy is located at 301 Plaza Real in Mizner Park in Boca Raton. It has just announced a new $12 Lunch Club and new menu items which have been overseen by Chef Sherry.
Disclosure: I was invited to dine at Tanzy by The Gab Group as a guest of the restaurant. No monetary compensation has been received for this review. As always, all opinions are my own. Photos courtesy of Julia Duresky.