Never miss a bite! Sign up here to receive new recipes and reviews straight to your inbox.
Bogart's Bar & Grille is conveniently located inside the Cinemark Theatre on Airport Road in Boca Raton, making your next Dinner and a Movie night super easy to plan. Denise and I recently were invited to have our own Girls Night Out at Bogart's, complete with a delicious meal prepared by executive chef Aaron Goldberg, followed by the first movie both of us had seen in theatre in a loooong time. I honestly don't even remember the last time I went to the movies! I had been dying to see the new Cinderella and couldn't wait to sit down and relax in front of the big screen. But first…Dinner. Little did we know that we were in for quite the treat.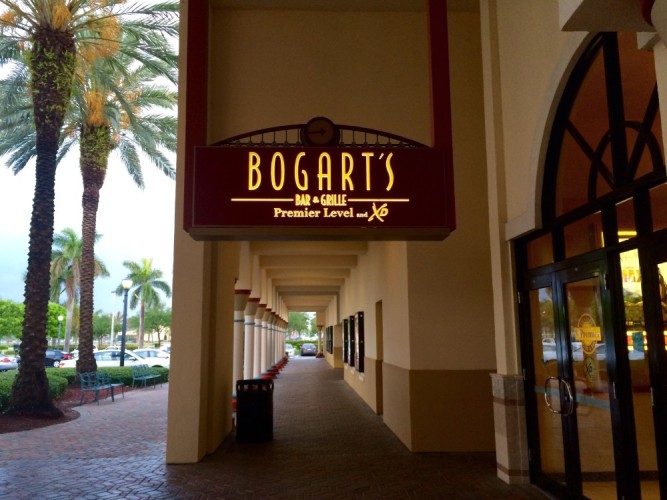 In order to get to Bogart's, you enter the movie theatre and go up the steep escalator. Once we arrived and were seated, we were met by the restaurant manager, David, and had a surprise visit from our friend Eric Clark, the Director of Operations for Rapoport's Restaurant Group (of which Bogart's is a part). Later on during our meal, Chef Aaron came out as well. We love getting to know the people associated with the restaurants at which we're dining — it makes our experience that much more pleasurable.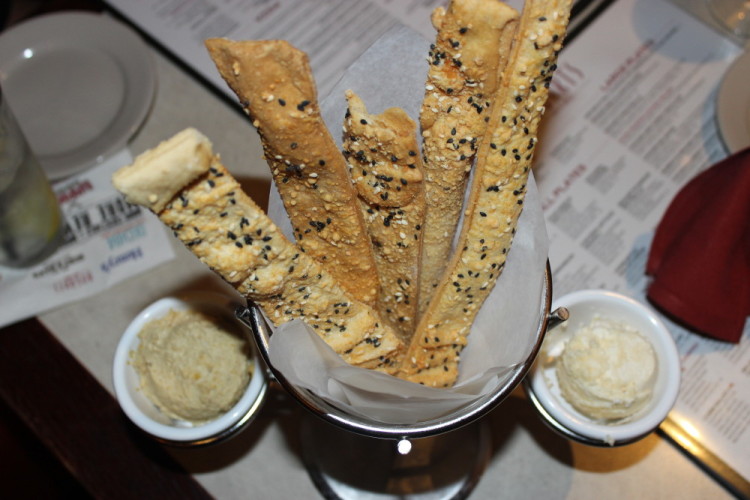 Speaking of pleasurable experiences, our dinner was just that. We started with a refreshing class of Pinot Gris from Oregon and went on to order one of the salads on the menu — the Wasabi Tuna Salad. This option features the "Fresh from Florida" icon which means it features fresh ingredients from Florida's land and waters, including produce from local farmers and seafood harvested off of Florida's coast. The salad consisted of romaine  lettuce, shaved Napa cabbage, carrots, radish, wakami, pea tendrils, micro cilantro and pickled ginger all tossed in a light and refreshing miso-ginger vinaigrette. The tuna was coated in a wasabi crust, but was easy on the palate. Wasabi is one of those things that I can only handle in small doses, and I was afraid this may be overwhelming — but it was surprisingly very mild and insanely delicious. Denise and I scraped the plate clean — not even a drop of dressing was left!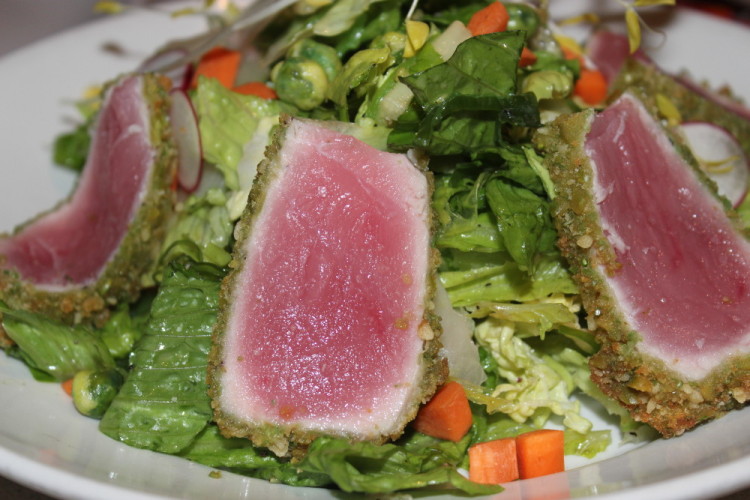 We both ordered new entree dishes as well. I went with the Coconut-Carrot Crusted Mahi with curried sweet potato mash, sautéed spinach and a salt-roasted beet coulis with a hint of truffle — which I detected the SECOND that plate hit the table! I can sniff out that stuff anywhere! Now, I may not be able to handle too much wasabi, but I can handle curry and this sweet potato mash was full of it. It had a definite kick to it that complemented the fish just perfectly. If you aren't a spicy food-lover like Denise, you may want to steer clear of this dish. But if you can handle the heat, go for it! Denise ordered the Dijon Crusted Chicken Milano with sautéed spinach and sweet potato ravioli in a maple-dijon cream sauce. I just had to try a bite of that ravioli in the cream sauce and it was good.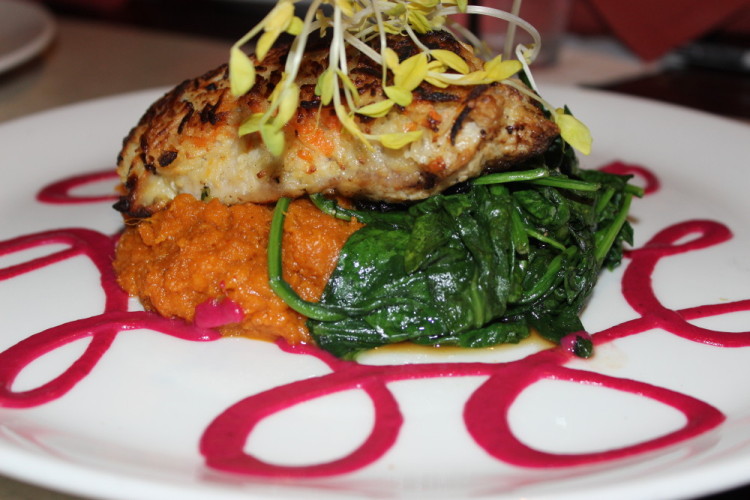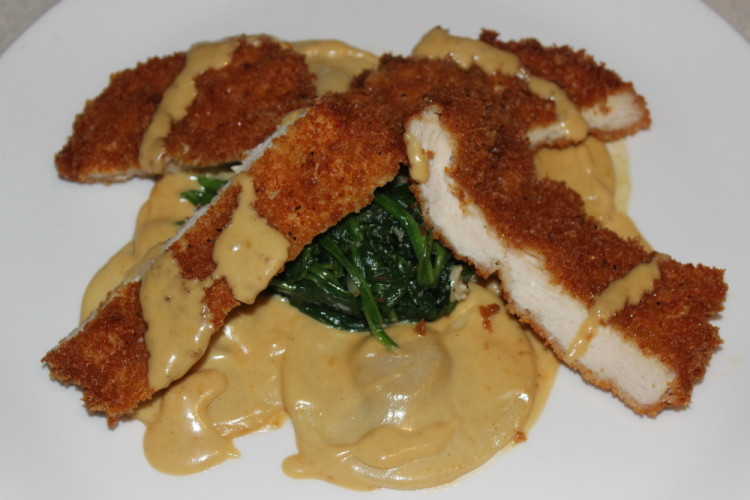 Bogart's offers a nice variety of side dishes that you can order to accompany your entrees if you please. We decided to give the roasted mushrooms a try and they were cooked just the way I like them — tender enough that they just about melt in your mouth without being too soft or mushy. It was rather large for a side dish, however, so take note that these can definitely be shared among the table.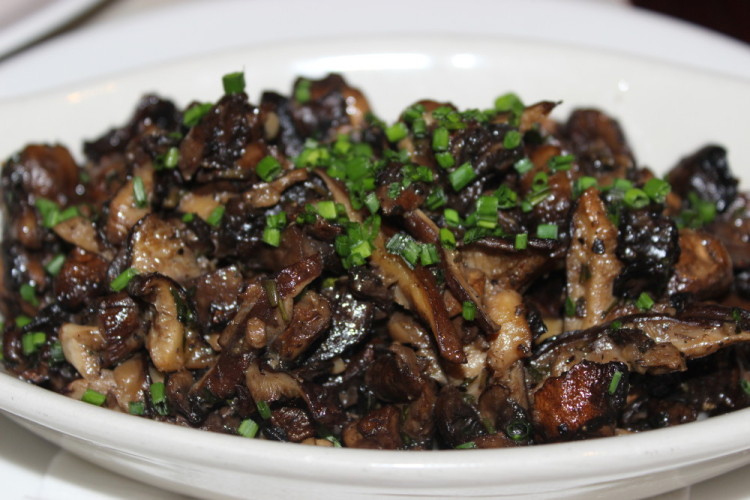 We could have stopped there and gotten some sweet treats to bring into the movie, but as our waiter started to tell us about their signature desserts, we were sold immediately. It was as if life came to a screeching halt as soon as he described the Turtle Ice Cream Sandwich. There was no need to even let him continue; we just wanted that now. However, we were not prepared for what was served. His words did not do this baby justice. A towering display of house-made vanilla gelato sandwiched between moist, dense chocolate cake much like the cake of a traditional ice cream sandwich, topped with hot fudge, caramel, marshmallow whipped cream and Heath bar crumbles. Heaven doesn't even begin to describe this gorgeous plate of indulgence that stood there between us. As much as I would have loved to devour the entire thing, I know better, and simply savored just what my tummy allowed. But boy, oh boy, it really wanted more! We were nearing movie time though, so I had to part ways with my new lover and head downstairs into the theatre.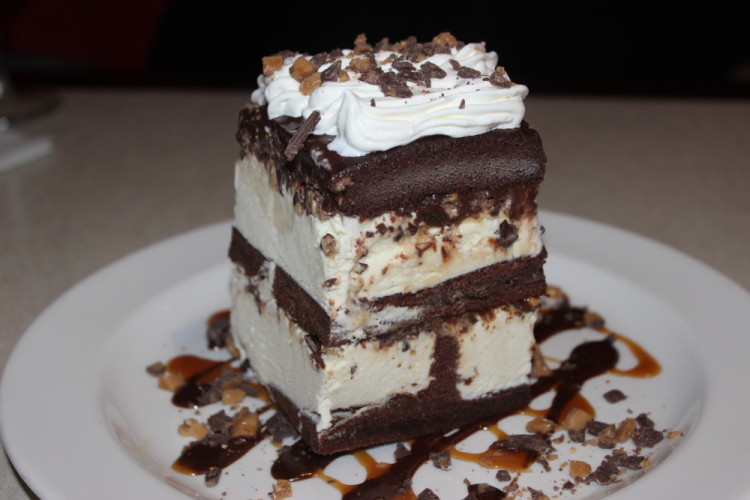 Cinemark is huge — there's an option to see movies in the downstairs theatre, much like any other movie theatre you'd find, or in The Premier which is located upstairs near the restaurant. The Premier features reserved seating, large, luxurious love seats and you have the option to order food and drink from Bogarts. Your Premier tickets also include free popcorn and free valet parking. But be aware that not every movie is available in The Premier, so you'll have to check the listings. Unfortunately, Cinderella was not playing in The Premier that evening so we didn't get to experience this upscale viewing opportunity, but luckily I have been there before and loved the extra amenities! We absolutely, positively LOVED Cinderella. It stayed true to the classic fairytale with a few fun twists and turns, and was wonderfully cast — Prince Charming was especially easy on the eyes. I'm pretty sure we both dreamt of glass slippers and ballroom dancing in the castle that night.
Plan your next movie outing along with a meal at Bogart's Bar & Grill. Whether for lunch or dinner, you'll be satisfied with a tasty meal and have a fun time at the movies! Bogart's/Cinemark is located at 3200 Airport Road in Boca Raton.