As you can tell, my boyfriend and I tend to eat out a lot. In an attempt to save our waistlines and wallets, we've decided to cook dinner home more often. We've cooked for each other before, but never actually together. My kitchen is kind of small and he's so freaking tall, so it was rough for the two of us to be in there working at the same time, haha. But it was still fun and resulted in an absolutely delicious and healthy dinner for two.
I found a salad on Pinterest from Cookie and Kate that I really wanted to try — warm roasted Brussels sprouts and broccoli, bittery arugula, and a tangy lemon dijon vinaigrette. The recipe also called for black lentils, but we subbed them for some sprouts instead. I loved, loved, loved that vinaigrette and would definitely use it again for any kind of salad, or even a marinade for chicken or fish. It's made with olive oil, lemon juice, honey, Dijon mustard and red pepper flakes. There was just enough of a kick to spice up the salad. McKenzie handled the protein — jumbo shrimp! He coated them in red pepper flakes and garlic powder and sautéed them to perfection. Dinner was served and we were pretty impressed with ourselves.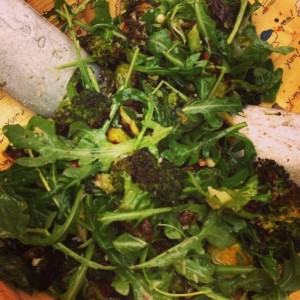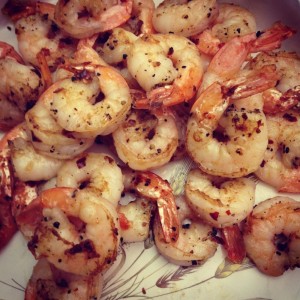 It's always satisfying to cook your own dinner, and more fun when you're doing it with people you enjoy being around. A lot of my fellow food bloggers talk about their significant others in their posts — some are simply a taste tester and others are actually collaborators in the kitchen. It shows how cooking really isn't a solo act. Though sometimes we may prepare and eat the food by ourselves, we always share the experience with others. That's the best part about being a food blogger — our love of food is projected onto anyone and everyone we meet. Pretty soon, the whole world will appreciate good food and cooking as much as we do!