I consume an awfully large amount of seafood. If you were to ask me what kind of seafood I eat most, I would definitely say fish. I used to barely eat it at all. I was so picky — I think the only fish I liked was flounder or tilapia, something totally bland and ordinary. Then I expanded my palette to include salmon, but that was pretty much the extent of it. Now, ask me if there's a fish I haven't tried! Yeah, there are a few I don't much care for, but for the most part I'll try any piece of fish you put down in front of me.
Last weekend I tried a new fish, Pompano, at Oceans 234. I tried clams for the first time, too. Oceans 234 is in Deerfield Beach, right on the beach. The location of this beautiful restaurant is beyond perfect. It's next to JB's, which is more on the casual dining side of things, but both of them sit directly on the sand and have a great outdoor seating area. It's definitely an ideal place to go during the day — you can spend the day at the beach and get lunch and never have to move more than a few feet.
I had heard really good things about Oceans 234, but had yet to try it. I was pretty excited when Ken, who I had met at the Flavors of Boca event earlier this month, invited me to go check it out so I would have a new restaurant to blog about. He taught me a lot about tasting wines, what to look for when you're reviewing a restaurant, and how to really evaluate the food and service.
We tasted a few different wines before squashing the idea to order a bottle and just get separate glasses. We couldn't agree on one. I preferred the citrus-y Sauvignon Blanc and he liked the Chardonnay, which I thought was a little too oaky for my liking. We got the "heaping bowl of clams" which came with a tomato, garlic, herbs and white wine broth. We asked the waitress to make sure she brought lots of the parmesan crostini for us so we could soak up all of that delicious broth. The clams were cooked perfectly; each of them was opened beautifully and had so much flavor. BTW, our waitress was super nice — and she was from Jersey too!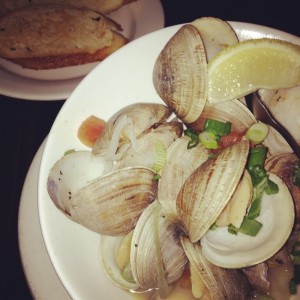 Bowl of clams
For dinner, I got the shrimp and corn crusted local-caught snapper with yukon mashed potatoes and julienne cut vegetables (squash, zucchini, carrots) in a lemon-butter sauce. I had them put the sauce on the side and I didn't even use a drop of it. There was way more than enough flavor already packed into that fish, it didn't need any kind of sauce at all. It was absolutely delicious. Ken got the dinner special of the night, which is where the pompano came in. It was grilled and came with the same julienne-cut vegetables as well as little potatoes. I had to try some of it — SO good! Now I can add pompano to the (rather long) list of fish I've tried and liked. My favorite part about the dish was how simple it was. Just a slight char with perfect grill marks, no heavy cream or sauce, and very delicate. Every seafood place needs something like this — a simple yet really flavorful dish without all the fancy-schmancy fixings. Another thing I liked about both dishes was the presentation. See how they kept the tail on? Very cool looking.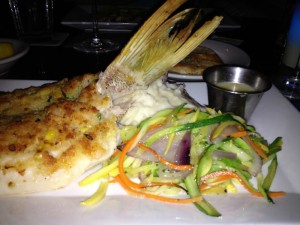 Local caught snapper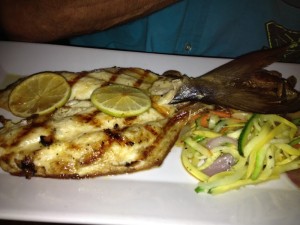 Local caught pompano
My expectations of Oceans 234 were met, and I would definitely go back. They've got a nice sushi menu with a few things I want to try, and there are some other options on the regular menu that caught my eye too. It's funny, I don't think I ever leave a restaurant without some kind of idea about what to order on my return visit. Ah, the life of a foodie.