NOTE: This restaurant has since closed.
Dad's visit was the perfect excuse to go out for a good dinner. After much deliberation on what kind of food we were all in the mood for, the cuisine chosen was seafood. The destination? Wave 2700. Bubby, Aunt Patty and I went here a while back when it first opened, and really enjoyed our meal, so I was automatically looking forward to it.
The restaurant is beautifully decorated inside and has a real nice outdoor 
dining area as well. It was a little too muggy to eat outside, but if you have the chance to do so, I highly recommend it. Our waitress, Lauri, was really friendly and accommodating and made some good suggestions. I started out with a drink, the dragon berry mojito, which Lauri assured me I would love, and love it I did. Mojitos are one of my favorite drinks. I'm a fan of the cool, refreshing taste of mint and in this particular drink, the sweet taste of dragon berry rum really made it the perfect summer cocktail.
As for the menu, there is certainly a lot to choose from. Everything looked so 
good that making a decision, at least for me, wasn't easy. Everything from chilled shellfish to various fish entrees to chicken and steak to pasta. There is something for everyone. They even have a vegan and vegetarian menu.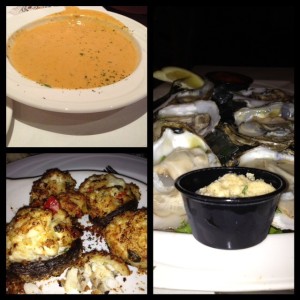 We decided to stick to appetizers since none of us were hungry enough to 
indulge in a full meal. Besides, we knew the freshly baked garlic rolls on the table would be a nice filler-upper before our food came. The rolls were crisp on the outside, soft and warm on the inside and dripping in garlic and olive oil — just as a garlic roll should be. They were so good that my dad even asked for another basket once we had finished the first! Surprisingly, I wasn't too wishy washy when it came to figuring out what I wanted. I chose the first appetizer that jumped out at me: crab stuffed mushrooms. This was honestly one of the best seafood appetizers I've ever had. When the plate was set down in front of me, I was pleased to see the heaping pile of jumbo lump crab meat pouring out of  each of the six small mushroom caps. I couldn't wait to dig in. Dad started with a bowl of the lobster and crab bisque, a natural choice for most seafood lovers, and Bubby got her signature dish, oysters on the half shell. She made a big deal about the size of the oysters and said she would be sending them back if they weren't as big as she was hoping for. Luckily, she was happy with their size and even happier with their taste! Both of them each got the jumbo lump crab cake, as well.
Everything was presented beautifully and tasted great. I would definitely go 
back to Wave, whether just for appetizers and drinks or for an entire meal. The array of seafood options on the menu made me anxious to get back there for a return visit. There is plenty on it that I would like to try. The crab, hearts of palm & avocado salad, the coconut and almond shrimp combo, and the best sounding entree on the menu, in my opinion: the seafood risotto with halibut shrimp and scallops.
As someone who loves a great seafood meal and is always scoping out good 
places to find them, Wave 2700 is definitely on my list. If you haven't been to Wave yet and you are a seafood fanatic, you must try this restaurant.