In my opinion, spending time in the kitchen with people you love is one of the most rewarding things you can do. Cooking or baking together, or even cooking and baking for one another — either way, it's a low-key, fun thing to do with friends and family. I love making food and desserts for people in my life, but I definitely like when others do the cooking too! When I was still living at Bubby's, I was often on the receiving end of some delicious meals and didn't really have to cook much on my own. Now that I live by myself, cooking is something I have to do on a regular basis. I still go over to Bub's for dinner and we still have our dinner dates at least once a week. Recently, Kristy and Val invited me over for a home-cooked meal.  Of course, I couldn't come empty-handed, so I offered to make dessert. Knowing how much of a Nutella-nut Val is, I had to incorporate this spread into whatever I decided to make.
Kristy made a beautiful salad to start the evening with. Mixed greens, chopped Granny Smith apples, pecans, Craisins and goat cheese tossed in a homemade poppyseed dressing. I love the smooth, creamy texture and amazing flavor of goat cheese — especially in salads. It was perfectly paired with all the other flavors: the salt from of the pecans, the sweet from the Craisins and the tart from the apple. For dinner, she made chicken piccatta and Val made a mushroom risotto. Both dishes were really good. I could have eaten the entire pot of risotto if given the chance! So many baby bella and shiitake mushrooms and lots and lots of parmesan…it was awesome. Kristy's chicken was cooked really well too. I can't begin to explain the smell of the kitchen while it was cooking in the sauce she made. I was getting antsy waiting for the food to be ready so I could dig in. After a freaking awesome dinner, we definitely had to wait and digest a little before breaking my dessert…
I saw this recipe for Frozen Yogurt Peanut Butter Banana Cream Pie recently from my blogger friend Katie at Dashing Dish. Not only does it look amazing, but it sounds absolutely delicious (and healthy, too!). I found a winner — I could easily swap Nutella for the peanut butter in the recipe. I also changed the crust, since I had no vanilla wafers on hand. I did, however, have some reduced fat Oreos and Pretzel Crisps. I decided to make two versions of the dessert: one to bring to dinner and the other to bring to work. I had only 10 Oreos left, so I used those to make individual pies in my pretty little ramekins to bring to the dinner party, and made one big pie with pretzel crust for my co-workers. 
The ramekins were the best part about this dessert! They are too cute. When I was packing up to move, Bubby asked if I wanted them and I was hesitant because in all seriousness, I had no idea if I would ever use them. But this was the perfect opportunity! Topped with banana slices, cool whip and dark chocolate chips, it was a very eye-catching little dish. I love my ramekins now and will probably start using them way more often. 
I have to say, this dessert — both crust versions — was really, really good. The creamy, sweet texture with the salty crunchy pretzel crust was a great mixture, and the Oreos were a great complement as well. 
Here is my own Frozen Yogurt Nutella Banana Cream Pie recipe, inspired by Dashing Dish.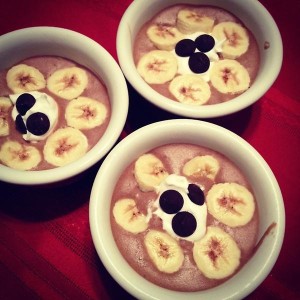 For the crust:
2 cups crushed pretzels/Oreo cookies
6 oz. fat-free Greek yogurt
1 8 oz. container of fat-free whipped topping
1 tsp unsweetened cocoa powder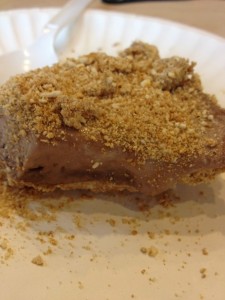 To make the crush, put the pretzels/Oreos, melted butter and Splenda in a food processor or blender (I used a blender) and pulse until the pretzels/Oreos are crushed up and everything is mixed well. Press the mixture into the bottom of a pie pan (or ramekin!) and put into the freezer to harden while you prepare the pie filling.
For the filling, put everything into a blender and mix until smooth and creamy. Take the crust out of the freezer and pour the filling over top. Put back into the freezer for 4-6 hours or overnight.