Never miss a bite! Sign up here to receive new recipes and reviews straight to your inbox.
Disclosure: I was invited to dine as a guest of Diplomat Prime and received a complimentary meal in exchange for this post. As always, all opinions are 100% my own.
Known for its signature dry-aged steaks and local, seasonal seafood dishes, Diplomat Prime is a must-try in Hollywood, FL. You don't have to be a guest of The Diplomat to enjoy a fine dining experience at this establishment — but if you are staying at the hotel, this restaurant needs to be at the top of your agenda.
At the helm of the kitchen is newly appointment Executive Chef Rashaad Abdool, who comes from a pretty impressive culinary background. He got his degree from Le Cordon Bleu College of Culinary Arts, and has worked in some of South Florida's best restaurants, most recently Stephen Starr's Steak 954, where he was the Executive Sous Chef.
The Diplomat might just be my favorite resort in all of South Florida — and after writing this blog and sending it to my dad to proofread, he did a little research and found out that our family actually has somewhat of a personal connection to the hotel.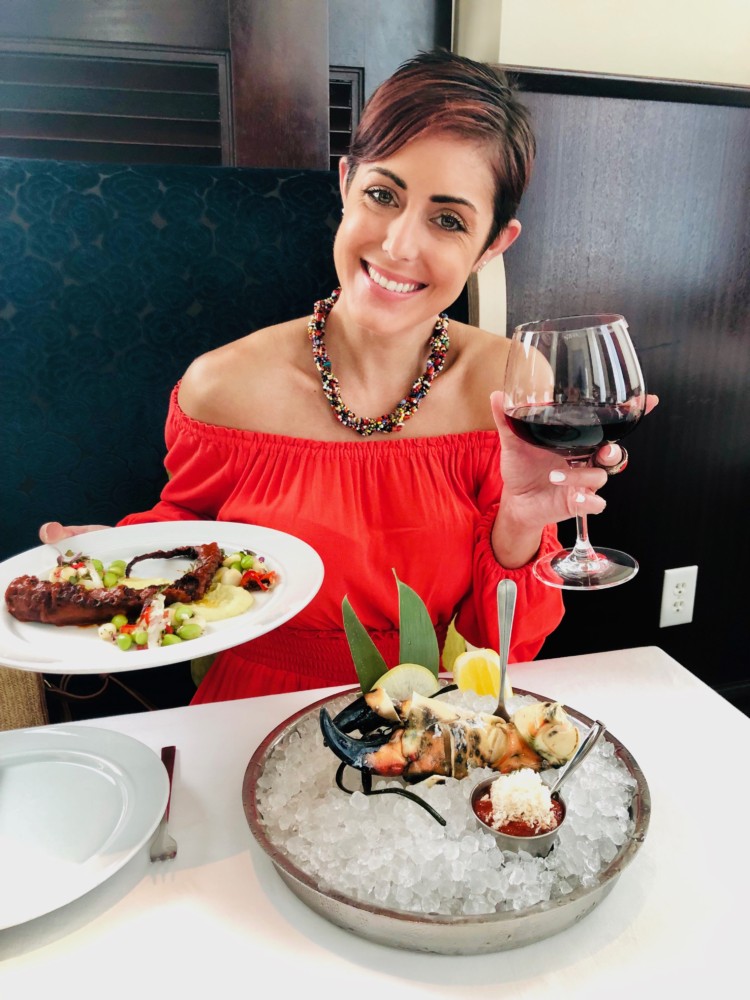 The original building was opened as "The Envoy" by supermarket tycoon Samuel Friedland in 1958. Later, he expanded it and renamed it "The Diplomat." There were some financials issues that caused it to close and later be demolished, and then eventually it came to be what it is today. Going back to that man who first opened the building, his brother was named Morris Friedland, who was a very close friend of my dad's parents (my grandparents), and lived in the Philadelphia area. My dad knew him well, too. So technically, The Wizov's are sorta-kinda connected to the original owner of The Diplomat! Pretty cool, huh?
ANYWAY—
I've been lucky enough to experience all three incredible restaurants (Diplomat Prime, Monkitail and Point Royal, and even attended the huge Re-Grand Opening party after its huge renovation a few years ago. The lobby area is wide open and spacious, with huge windows that let that South Florida sun shine right through and allow guests to see the beach and ocean that are mere footsteps away. The decor is bright and colorful. There's no way you won't smile the moment you walk through the doors of The Diplomat Beach Resort.
It has instant aesthetic appeal. But then you taste the food offered at its signature restaurants and you learn that its aesthetics run much, much deeper.
Diplomat Prime is what I envision a steakhouse to be like — superb service from multiple servers who are attentive to your every need and want; wines poured to perfectly pair with each course; steaks and seafood that melt in your mouth and are rich with flavor. I've been impressed with Diplomat Prime every time I've eaten there, and I imagine it can only get better from here.
This particular dining experience started off with stone crab claws. Because when it's stone crab season, you always get stoned. This colossal-sized crab claw was so fresh, so flavorful, and so meaty! I couldn't believe how much crab meat was actually inside of that thing. One claw was more than enough for two to start with, especially when you know there is much more deliciousness to come.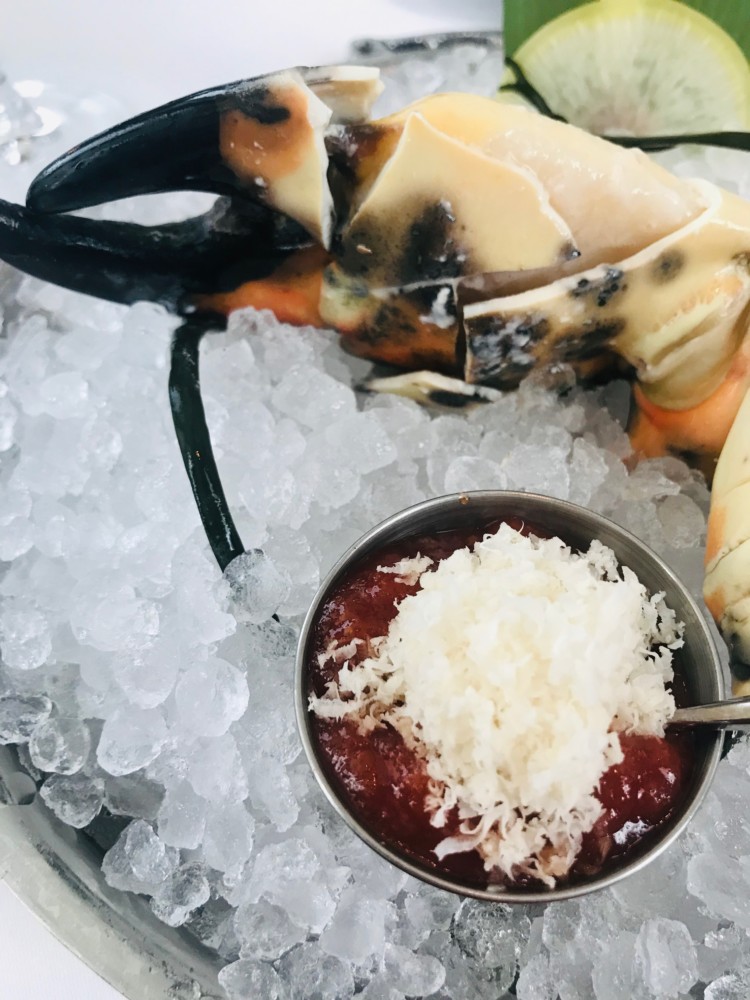 One of the most popular starters at Diplomat Prime has got to be the sweet corn bisque. The bright, beautiful yellow-hued soup is poured tableside on top of a cluster of blue crab, black truffle, crème fraîche and caviar. It's really a sight to see. Although I couldn't taste it, it's well known to be a crowd-pleaser in both presentation and palate.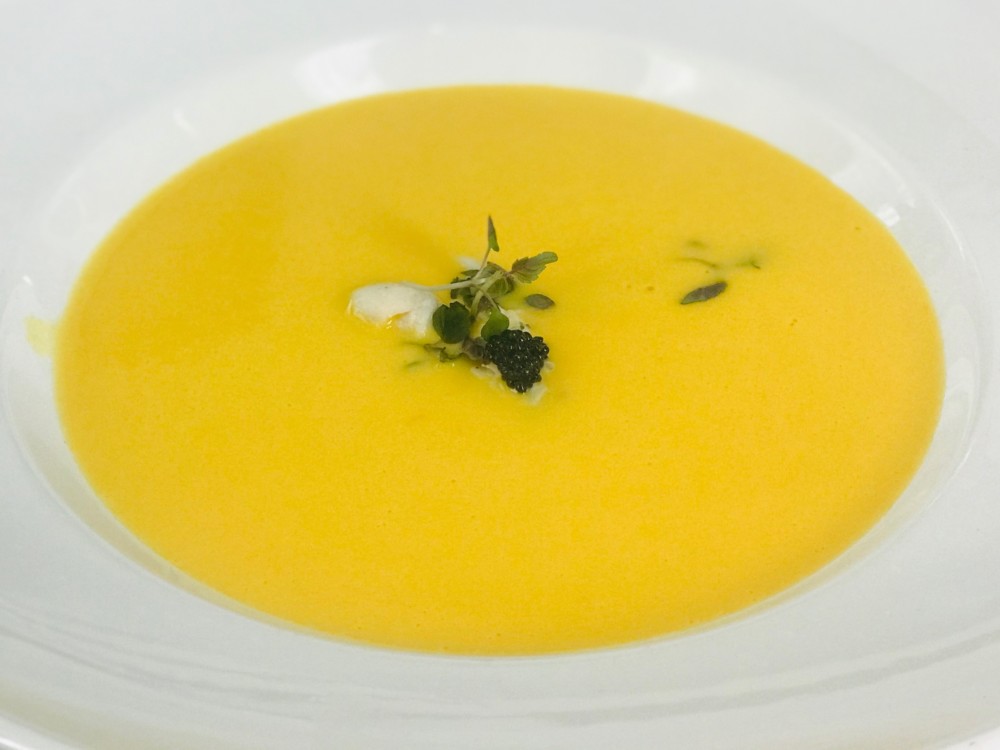 The Diplomat's octopus is one of the most unique I've seen on a menu. Its accompanying ingredients include edamame hummus, black olives, french feta, and daikon radish. It literally looked like art on a plate — and it tasted just as good as it looked. Surprisingly, the olive flavor was very subtle. So much so, that I could barely even tell there were olives on the plate. Olives can easily ruin a dish for me, so I was happy to find that they weren't as overpowering and apparent as they usually are.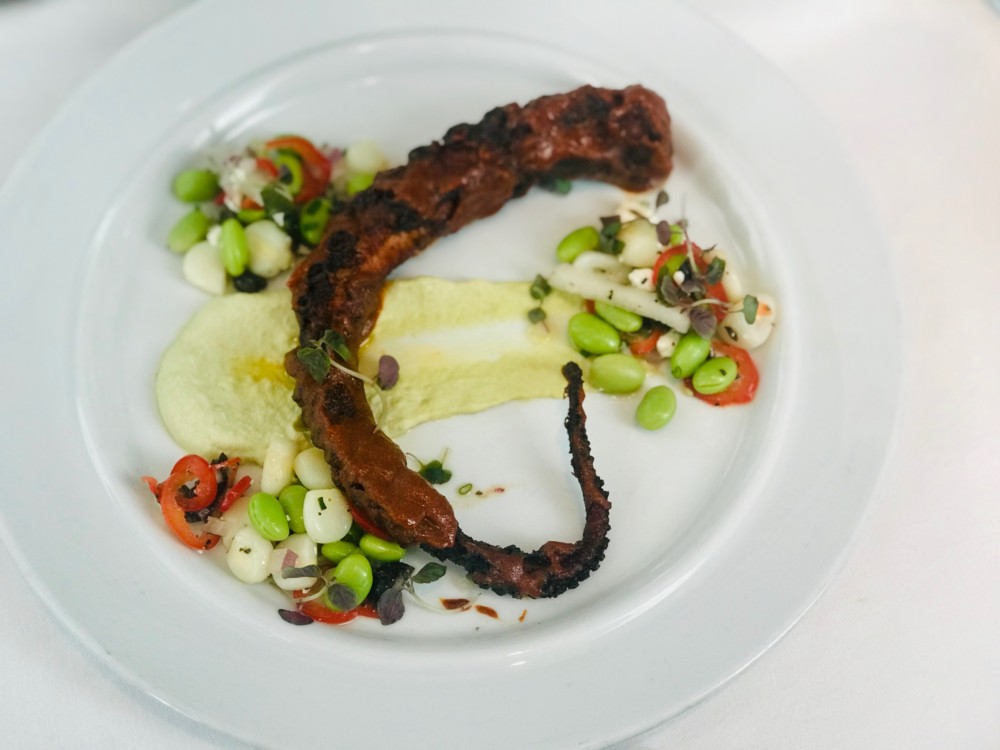 Then it came time for our entrées. It's crucial to try both the steaks and the seafood at Diplomat Prime, because Chef Rashaad puts equal amounts of love into each, and you can taste just how much dedication goes into the preparation. We chose the seafood special of the night, the pan-seared Chilean sea bass paired with a simple mix of roasted vegetables that were perfectly cooked and seasoned. The sea bass was smooth, and had a crisp exterior thanks to a great sear.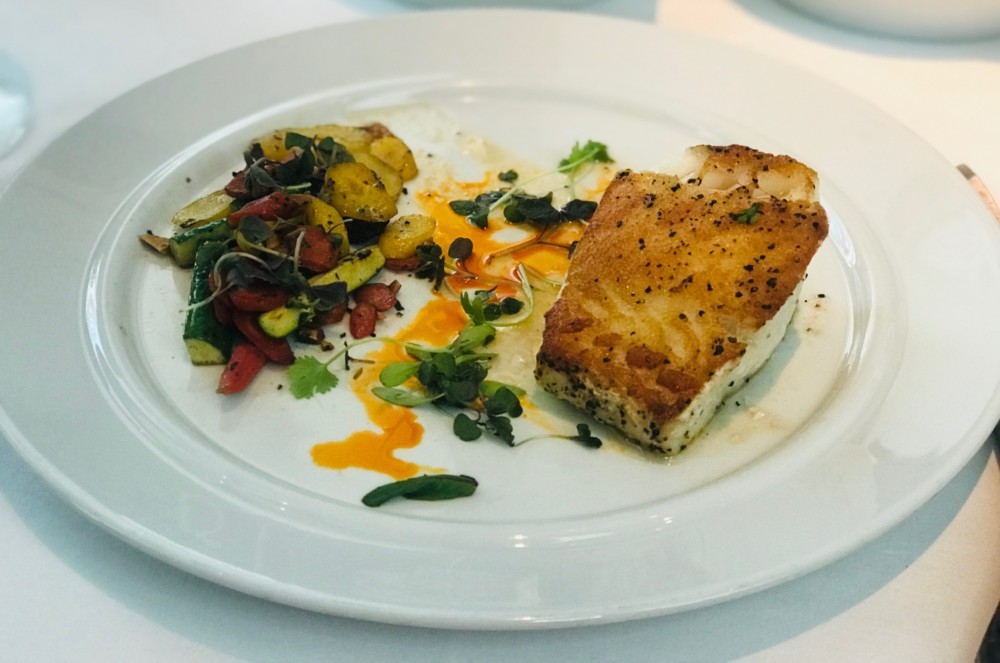 For our meat dish, we chose the 10 oz. Wagyu skirt steak served with chimichurri sauce. The meat cut like butter; its tender middle the perfect medium rare. Everyone knows that a good steakhouse always kills it with the side dishes, and Diplomat Prime definitely represents.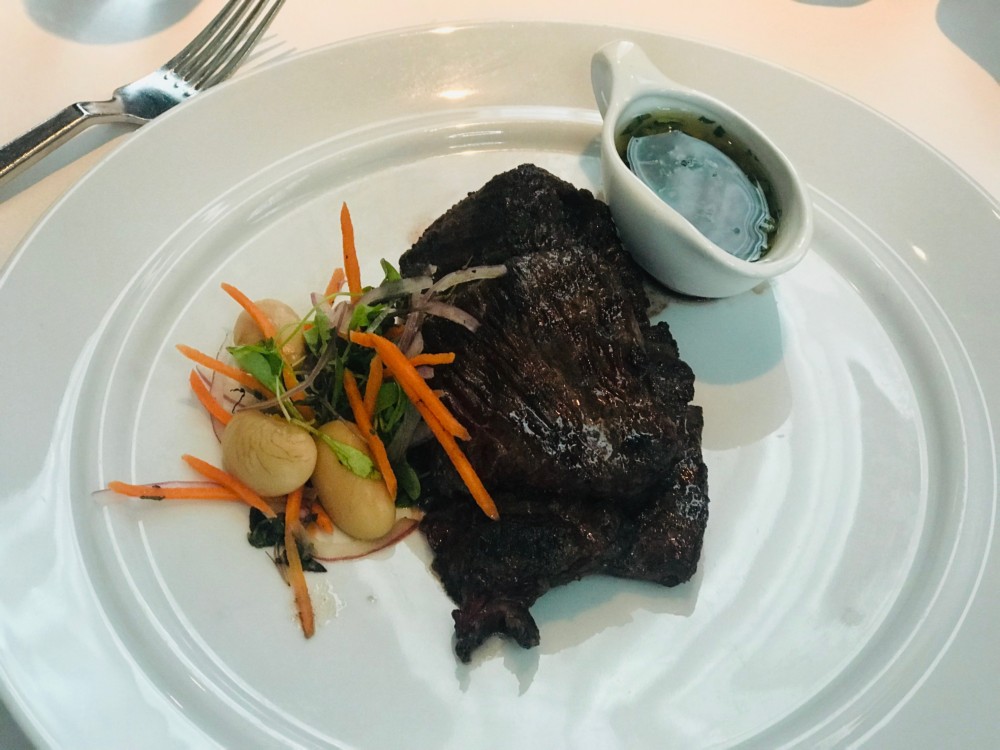 The roasted cauliflower comes tossed with thick, crispy chunks of bacon to add extra saltiness and texture, and the roasted mushrooms are deep and earthy; both were great complements to our steak. (I should also note that it was no problem at all for Chef Rashaad to cook these sides without butter so they could be Shaina-friendly.)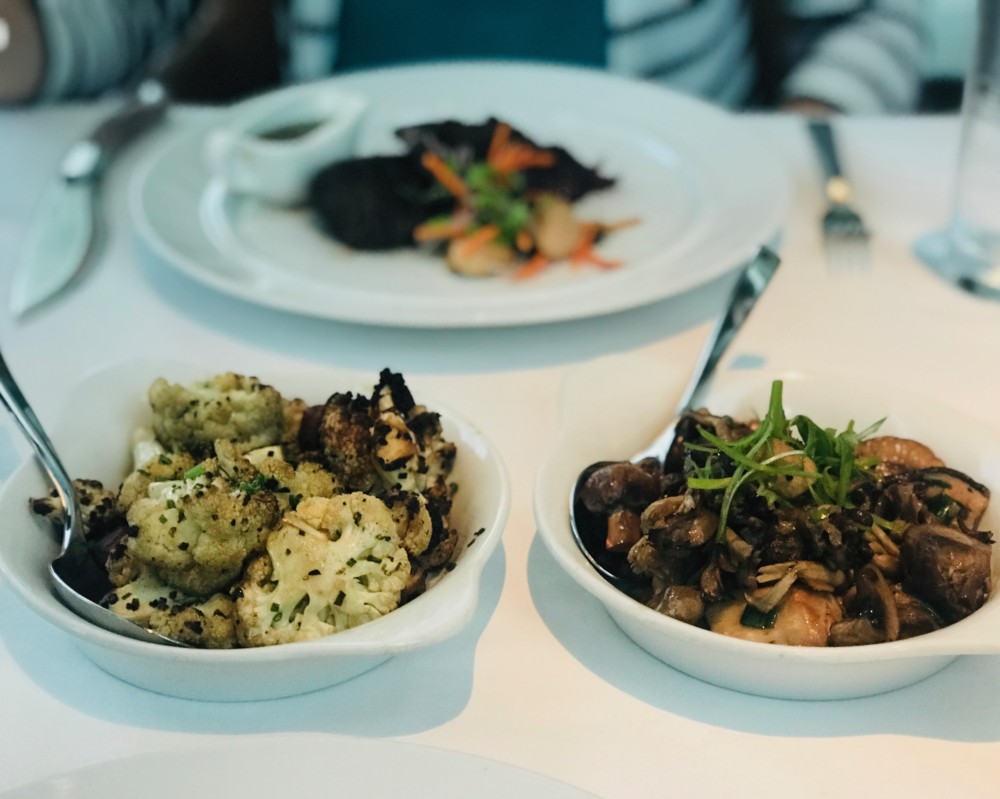 Diplomat Prime sets high standards for the steak and seafood restaurants of South Florida. It's an ideal location for date night or a special occasion, but also draws a lot of people who are simply looking for a good piece of high-quality steak.
Diplomat Prime is located at The Diplomat Beach Resort at 3555 South Ocean Drive in Hollywood. The restaurant is open for dinner daily from 5:30-10:30pm. It is also available for private dining events. To inquire, contact restaurantsales@diplomatresort.com.