Never miss a bite! Sign up here to receive new recipes and reviews straight to your inbox.
Disclosure: I was invited to dine as a guest of the restaurant. No monetary compensation was received for this post. As always, all opinions are 100% my own.
West Boca, say hello to Ditmas, a Kosher, chophouse concept from Top Chef alum and restauranteur Alex Reznik. He couldn't have picked a better spot for the second location of the dairy-free restaurant (the original is in LA) for two reasons: 1) Ditmas is named after the street he grew up on in Brooklyn, NY, and Boca is basically the sixth borough of New York; and 2) West Boca is heavily populated by Jewish residents, many of whom follow a Kosher diet.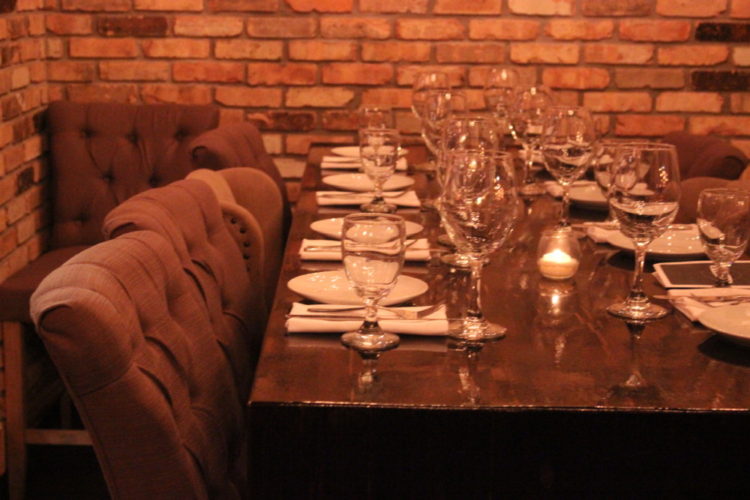 I'll admit, I was skeptical about a night of dining without my beloved cheese, but Executive Chef Aaron Goldberg totally made it all okay. He's in charge of the kitchen here at the West Boca location of Ditmas, and takes great pride in keeping things fresh and modern, changing ingredients based on what's available, and providing guests with a whole new view of Kosher cooking.
Instead of bread, sit down and you'll be met with maple-glazed chickpeas and pickled veggies. These chickpeas are the things dreams are made of. Roasted chickpeas are already one of my favorite snacks, but I've always kept them pretty savory. Never would I think to go sweet, but man — these are GOOD. If you've never tried this style of chickpeas before, you're in for a treat.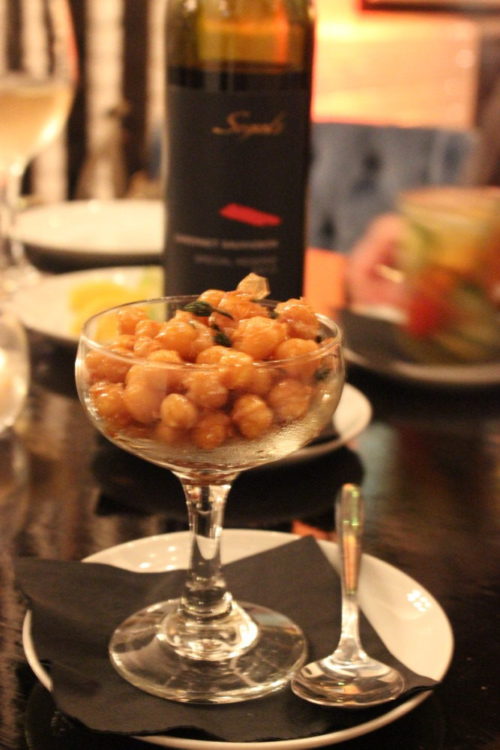 Speaking of treats, Chef Aaron brought us out a refreshing bite to whet our palates — a beautiful display of compressed watermelon topped with Ahi tuna, thinly sliced radish, micro greens and sesame seeds. Though there was only one piece per person, it was enough to make our mouths do a happy dance and get excited for what else was to come.
The menu is quirky and non-traditional with things like "Dirty Pico Tacos," "Mystery Meat Flatbread" and the "Obligatory Caesar" — which is anything but. Instead of romaine hearts and anchovies, you'll find hearty kale and lemon confit, diced apples, horseradish "snow," and garlic croutons.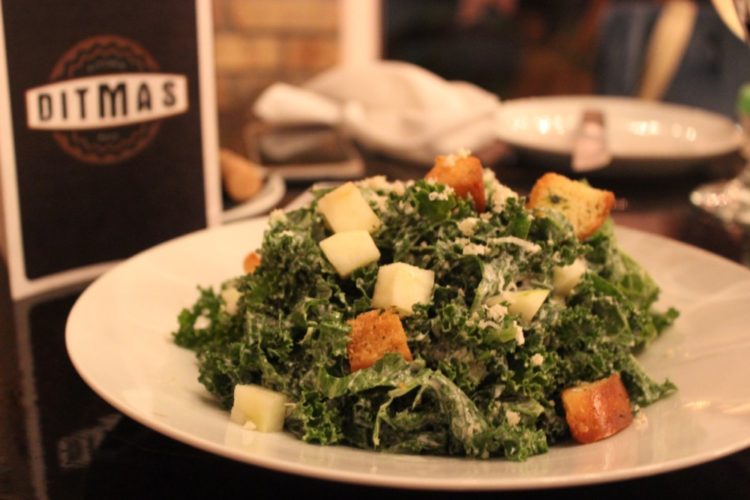 The Big Hawaiian Poke is another fun and interesting item you'll find at Ditmas. I've had my fair share of poke dishes, but never ever have I had smoked tuna.The poke is presented in a mason jar, allowing the smoke to completely infuse the tuna with its intensity. The flavors are big and bold, with a sweet soy to mellow out the smokiness, avocado and orange segments to keep things cool and refreshing, and crispy black rice to add a pop of texture — that was my favorite part.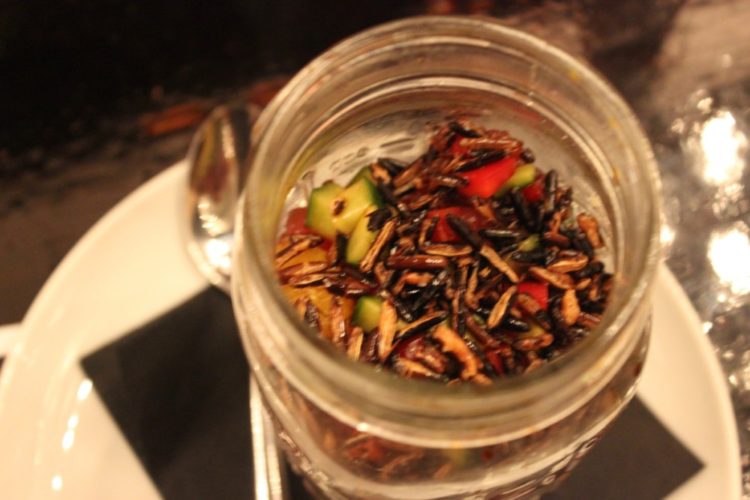 Of course, whenever I'm dining with Fashionably French Fried, the crispy spuds obviously make an appearance, but I think we would have gone for this dish even if Jill wasn't with us. Friends, meet the Tony Fries, a crazy concoction of flavors that will at first confuse you, but keep you going back for fry after fry, until you realize you've devoured the entire thing and thoroughly enjoyed every bite. The flavors are Asian meets Mexico, with pico and guacamole, Sriracha and togarashi, and a citrus aioli to add a pop. All of that is piled on to perfectly crispy French fries that have also been topped with shredded macacha chicken (dried meat that has been rehydrated). It's a sight to be seen — and a dish to be eaten. Thankfully, I was able to maneuver around the chicken and totally got my fry on. There were about three different times when the waiter tried to take away the plate with fries still on it, and we quickly shooed him away. Don't touch our french fries. Ever.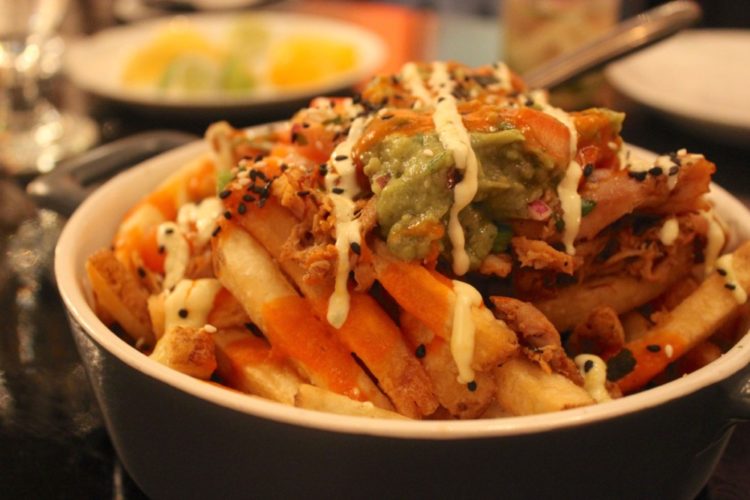 There is a lot to choose from when it comes to entrees. Expect Chef Aaron's out-of-the-box creations like short rib with butternut squash polenta, pickled Fresno chilis, crispy leeks and shaved horseradish, or the pan-roasted salmon with forbidden black rice and pear slaw. Sometimes he'll even surprise you with a 3 lb whole roasted snapper stuffed with aromatics and filleted table-side.  Well, maybe that was just for us…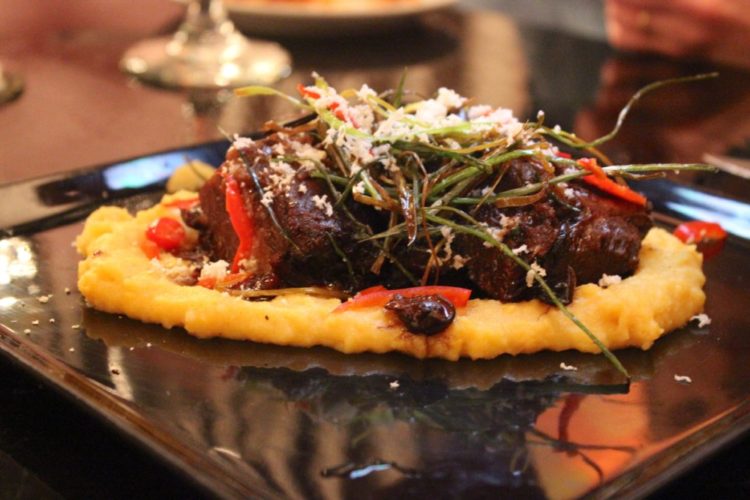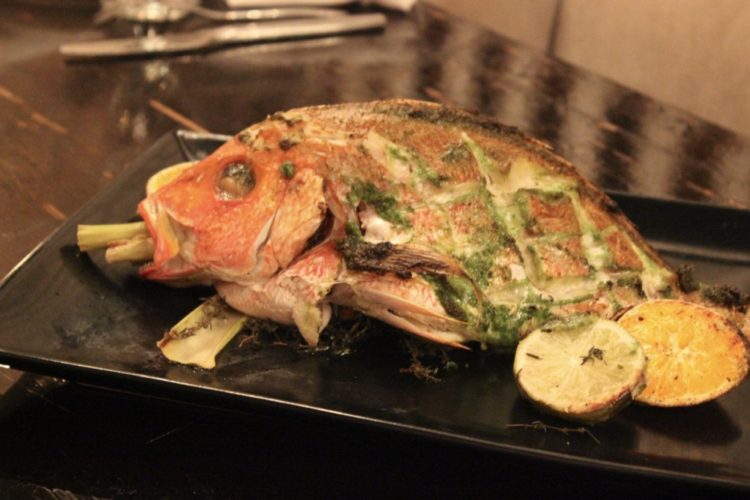 Surprises in the form of seafood with eyes staring back at you can be nice (or daunting depending on who you're talking to — a.k.a me six years ago), but surprises in the form of dessert are even better. When it came time for our final course, our jaws dropped as the cutting board filled with sweet treats came to the table. There were scoops of mango and strawberry sorbet; a mason jar filled with chocolate-avocado mousse, salted caramel custard, toasted marshmallow fluff and graham cracker crumble; a super rich and chewy chocolate chip brownie with perfectly crisp edges loaded with caramel sauce and marshmallow; a tropical take on bread pudding with mango, coconut milk and lime; and the most tender carrot cake made with olive oil and topped with a citrus whipped cream that was good enough to eat by the spoonful. My stomach is growling at me as I think about how insane these desserts were. Every single one of them was perfect — and for the girl over here who's supposed to limit her sugar-intake, the struggle was real. But I still dove in head first without a care in the world because after one bite, I could not resist going back for just a few more… and then maybe another… Oops.
Did I mention the decor? Brick walls, dimly lit, quaint and inviting bar, beautiful outdoor patio… it really did give me the feeling of being in Brooklyn. Don't let the West Boca address scare you away — Ditmas is worth the drive, and well worth the visit.
Ditmas is located at 21077 Powerline Road in Boca Raton.