Never miss a bite! Sign up here to receive new recipes and reviews straight to your inbox.
Camilla must know how much I love pumpkin because today she's teaching us all how to make our own pumpkin puree — no more of that canned stuff, this is the real deal!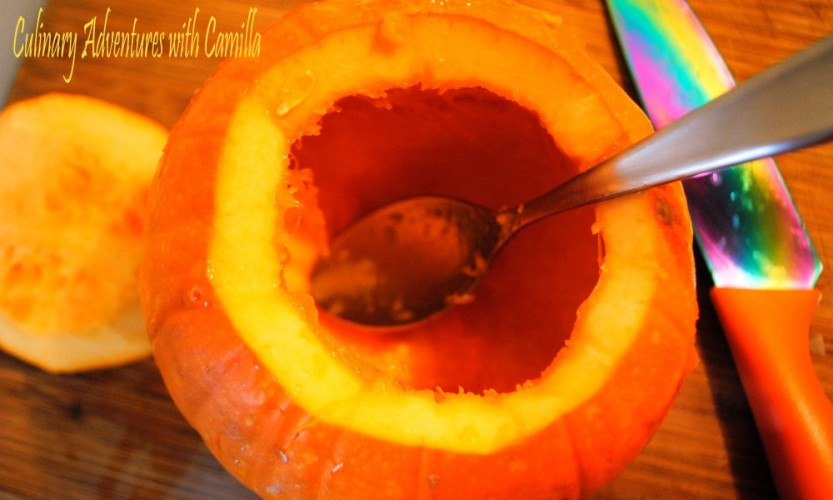 If you're anything like me, October is the advent of pumpkin season. It's the time of year when "pumpkin spice" gets tossed into everything from a four dollar coffee confection to scratch-and-sniff stickers, and from every baked good imaginable to seasonal ales.
Don't get me wrong, I am right there on the pumpkin wagon. One year I ate so much pumpkin that I had an allergic reaction. Dead serious. So, now, during pumpkin season, I limit my pumpkin culinary creations to one per week.
Almost all of my pumpkin creations begin with pumpkin puree. Don't buy it in a can, please. If you can wield a knife and turn on your oven, you can make your own pumpkin puree.
Get a pumpkin. Cut a hole in the top of the pumpkin and scoop out the seeds – just like you would start a jack o'lantern. Fill the pumpkin half-way with water; you can add in lemon wedges or orange wedge, if you like. Bake in a 350 degree oven for 1-1/2 to 2 hours. It's finished when you can easily press your thumb into the pumpkin flesh; it might take longer – or shorter – depending on the size and variety of pumpkin.
Let cool.
Now the fun begins. Scrape the flesh out and make a puree, using a potato masher.
Now you're ready for creating some pumpkin goodness.