Never miss a bite! Sign up here to receive new recipes and reviews straight to your inbox.
NOTE: This restaurant has since closed.
Disclosure: I was invited to dine as a guest of Domus Italian Restaurant and Lounge. No monetary compensation has been received for this post. As always, all opinions are 100% my own.
Italian food lovers, there's a new place in Downtown Boca Raton ready and waiting for you with open arms…
Boca certainly isn't aching for new places to go for good Italian food, however…Domus Italian Restaurant and Lounge is definitely worth checking out. The fine dining restaurant is located in Royal Palm Place, in the heart of Boca Raton. While this particular area offers plenty of dining options, Domus offers guests a relaxing environment with an upscale feel sans any notions of stuffiness. The menu includes lots of traditional Italian dishes, modern twists on the classics, and an extensive wine list featuring Italian favorites like Super Tuscan, Chianti, and my personal choice when I'm out for Italian cuisine, Montepulciano.
On crisp, cool nights, the outdoor patio is the perfect place to kick back and enjoy a delicious meal with excellent people-watching opportunities — Royal Palm Place is always buzzing during season. Walk inside and find a spot at the spacious bar or dine in comfort in one of the many tables and booths. There is room for intimate gatherings, or even larger parties looking for a place to eat. The atmosphere is extremely chic and contemporary, with floor to ceiling neutrals and chandelier lights. After you've decided on a glass of wine, it's time to look through the menu…
We were told about the featured specials of the night, which included a burrata appetizer and seafood entrée that I could not leave without trying. The burrata — a ball of mozzarella filled with a smooth and creamy center — is served with red and yellow heirloom tomatoes, arugula, fresh basil and a drizzling of aged balsamic (prosciutto was also offered with this particular dish, so we got it on the side). The balsamic is always what does it for me in this type of dish. If it's a good one, it's full of flavor and really helps to bring out the sweetness of the tomatoes and balance the bitter arugula. The burrata, of course, was a solid four thumbs up from my dining partner and me. You really can't go wrong with an ooey-gooey ball of cheese, now can you?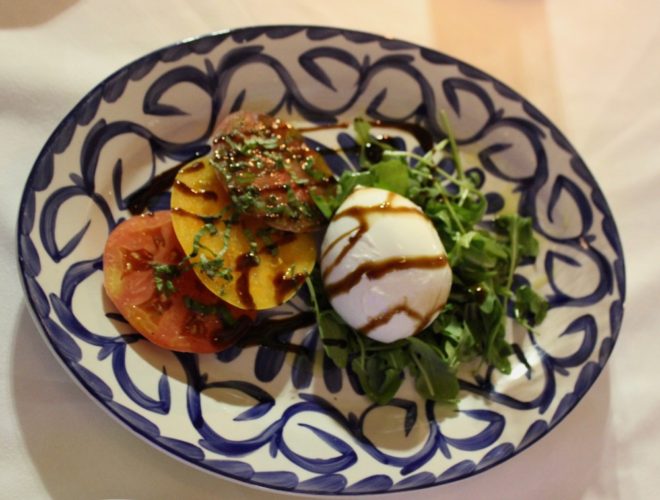 A classic Italian side dish, served as an appetizer at Domus, is escarole and beans. It's nothing fancy — a simple combination of sautéed escarole and white beans, seasoned with a generous amount of garlic, olive oil and parmesan. The first time I tried this dish, I absolutely loved it. Needless the say, Domus didn't disappoint, and my love for escarole and beans still runs deep. One thought though… there is a lot of garlic in this dish, so it's probably not the best appetizer to order on a first date.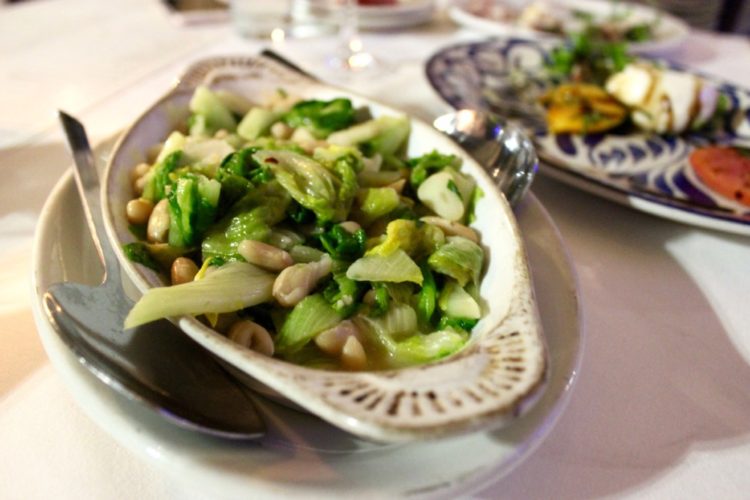 I had brought along a meat-eater for this dinner, and she was as excited about her entrée choice as I was about the seafood special I ordered. Although it's not the most photographable plate of food, the pappardelle bolognese seemed to be a hit. It was, after all, recommended by our server. The dish is made of slow-cooked beef and veal with a house-made bolognese sauce and garnished with fresh mint. Domus makes all of its pasta in-house. Other dishes include their "Best Spaghetti and Meatballs Ever," gnocchi caprese, lobster ravioli, penne a la vodka, and more.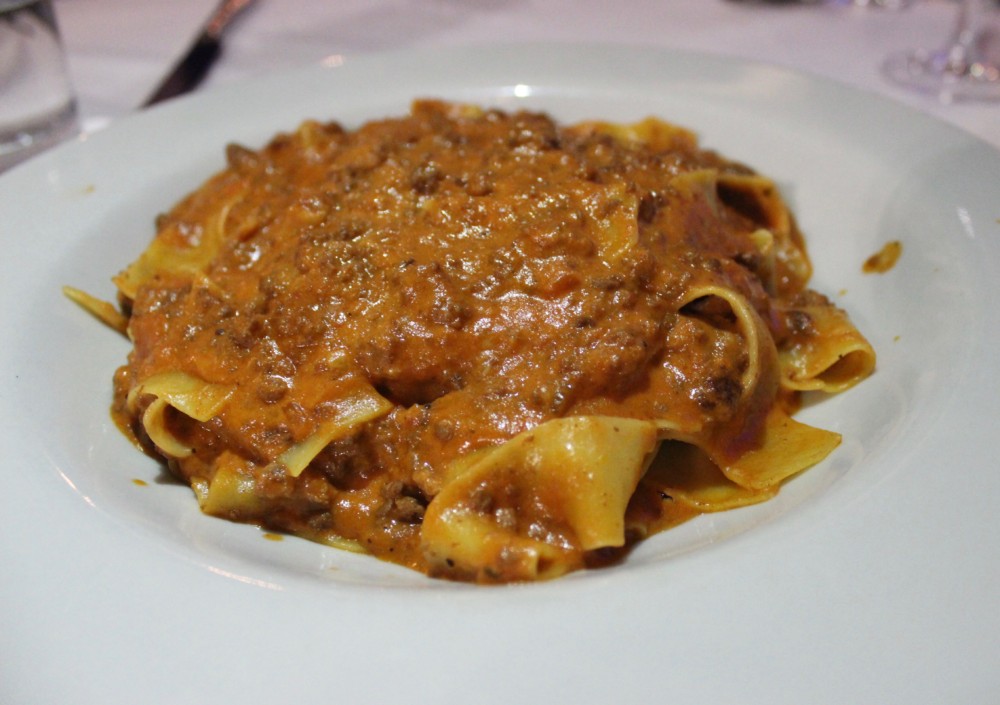 As mentioned, I could not turn down the seafood special of the night — Yellowtail Snapper in a tomato, garlic and white wine sauce with mussels, clams and shrimp. Domus offers a Catch of the Day special every night, so make sure to find out about it from your server! This had my name written all over it. Fresh fish, cooked perfectly, surrounded by some of my favorite shellfish, swimming in a light, delicate flavorful sauce.
I could have easily polished off the plate, but I had also ordered a side of parmesan-roasted Brussels sprouts — because, well, duh — and those were also screaming at me to finish them. These were cooked just right, and the flavor was on point.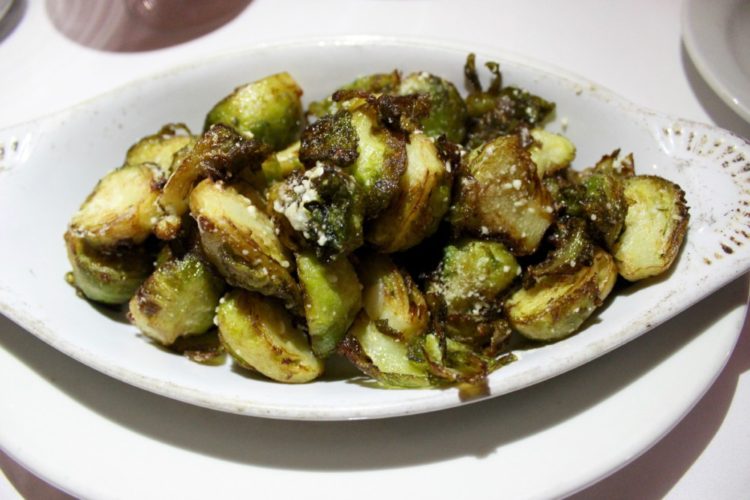 No one will leave hungry after dining at Domus Italian Restaurant and Lounge, that's for sure. The portions are totally shareable, and there is a great variety of meat, seafood, poultry and pasta to choose from.
Domus Italian Restaurant and Lounge is open for dinner from 5-10pm Tuesday to Sunday, and closed on Monday. Happy hour is Monday through Thursday at the bar from 5-7pm and features half-priced drinks. Domus is located at 187 SE Mizner Blvd., in Boca Raton.