Never miss a bite! Sign up here to receive new recipes and reviews straight to your inbox.
Disclosure: I was invited to dine as a guest of Rose's Daughter on behalf of the Delray Beach Downtown Development Authority for Downtown Delray Beach Restaurant Month. As always, all opinions are 100% my own.
There's Still Time To Enjoy Downtown Delray Beach Restaurant Month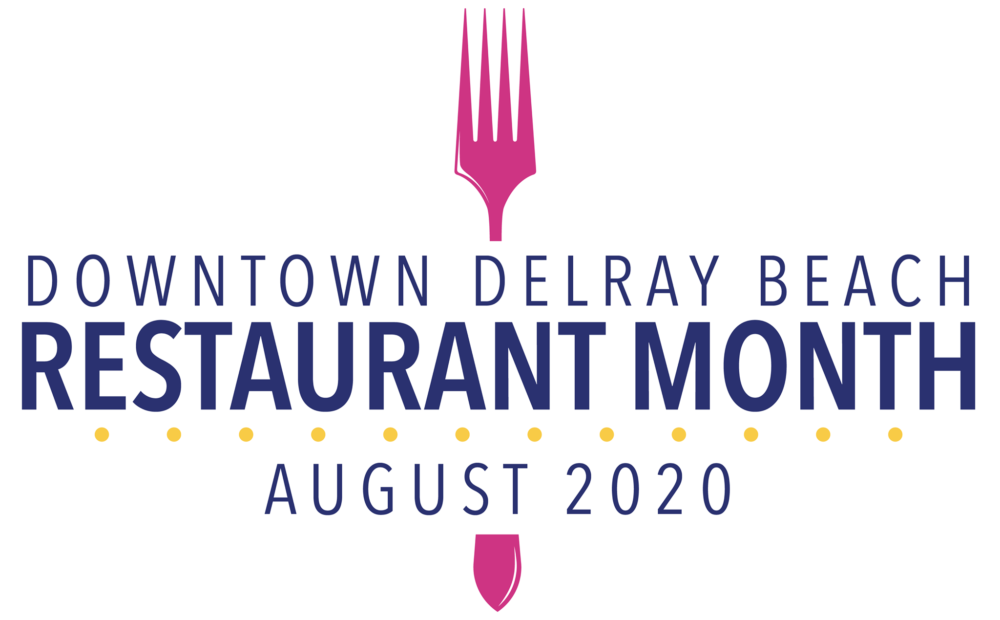 What used to last a short-winded seven days has turned into a month-long celebration, and I can only hope this trend continues every year! Downtown Delray Beach Restaurant Month is still going strong through August 31st, with incredible dining deals all along the Avenue that you do not want to miss out on.
Participating restaurants are offering three- or four-course prix-fixe menus and/or specials, many of which are also available for take-out and delivery.
Downtown Delray Beach Restaurant Month Culinary Events
There are also a few culinary events happening, in-person and virtually. My friends over at Craft Food Tours have teamed up with some of Downtown Delray's finest to bring locals some very unique opportunities to enjoy Restaurant Month and support the local scene.
Check out the Socially Distanced Havana Nights, their collaboration with one of Delray's oldest and most loved family-owned restaurants, Cabana El Rey, on Thursday, August 20th starting at 6:30pm. This four-course menu will feature Latin-inspired drinks and all guests will be seated outside, with the proper distance between each party. Ticket price is $95/person and it is first come, first served.
The following evening, Friday August 21st at 6pm, Craft Food Tours and Wine House Social will partner up for a socially distanced, sommelier-led Italian wine pairing event, complete with the ultimate cheese and charcuterie board. The cost is $30/person and is first come, first served.
Rounding out the weekend on Saturday, August 22nd at 3pm, Craft Food Tours brings together Hopportunities and The Original Popcorn House for a virtual, interactive Gourmet Beer & Popcorn Tasting. For $35, participants will receive a four-pack of Hopportunities beer, each paired with a different flavor of popcorn from The Original Popcorn House. Once you RSVP and register for the event, you'll receive the Zoom link to participate in all the fun.
To RSVP for any of these events, please contact anthony@craftfoodtours.com.
Dining Out, Restaurant Month Style
I had the pleasure of getting to experience the Restaurant Month menu at one of my favorite Downtown Delray restaurants, Rose's Daughter. Chef/owner Suzanne does wonders in the kitchen — she also owns another local favorite, Brulé Bistro (also a Restaurant Month participant.) Rose's Daughter's menu is inspired by Chef Suzanne's family restaurant in New York, and features many of her mother's original Italian recipes, handmade pastas, and Neopolitan-style pizzas.
The Restaurant Month menu is a four-course tasting menu that will seriously blow your mind. It features three courses of off-menu items, which is not always the case for these prix-fixe specials, and a Chef's choice dessert, so you never know what you're going to get. The entire meal is $58/person — and these are not tasting portions.
You start out with a prosciutto and cantaloupe carpaccio appetizer — ribbons of prosciutto and cantaloupe plated with spiced honeydew gelée, toasted pine nut, arugula, whipped mascarpone (this was left off for me), honey, and balsamic. I'd be lying if I said I didn't immediately go out and purchase prosciutto and cantaloupe the next day to try and recreate this deliciousness at home. A++ for Course #1.
The second course is all about the handmade pasta. A carbonara-style dish featuring squid ink tagliatelle, sous vide pork belly, crispy prosciutto, and topped with fried parsley. Roger loved the tagliatelle and practically licked his plate clean. For me, the pasta was swapped out for zucchini noodles (and perhaps a few other minor changes to ensure it was gluten- and dairy-free) but it was perfection nonetheless, . I had to use serious willpower not to eat every last bite. I needed room for the sea bass…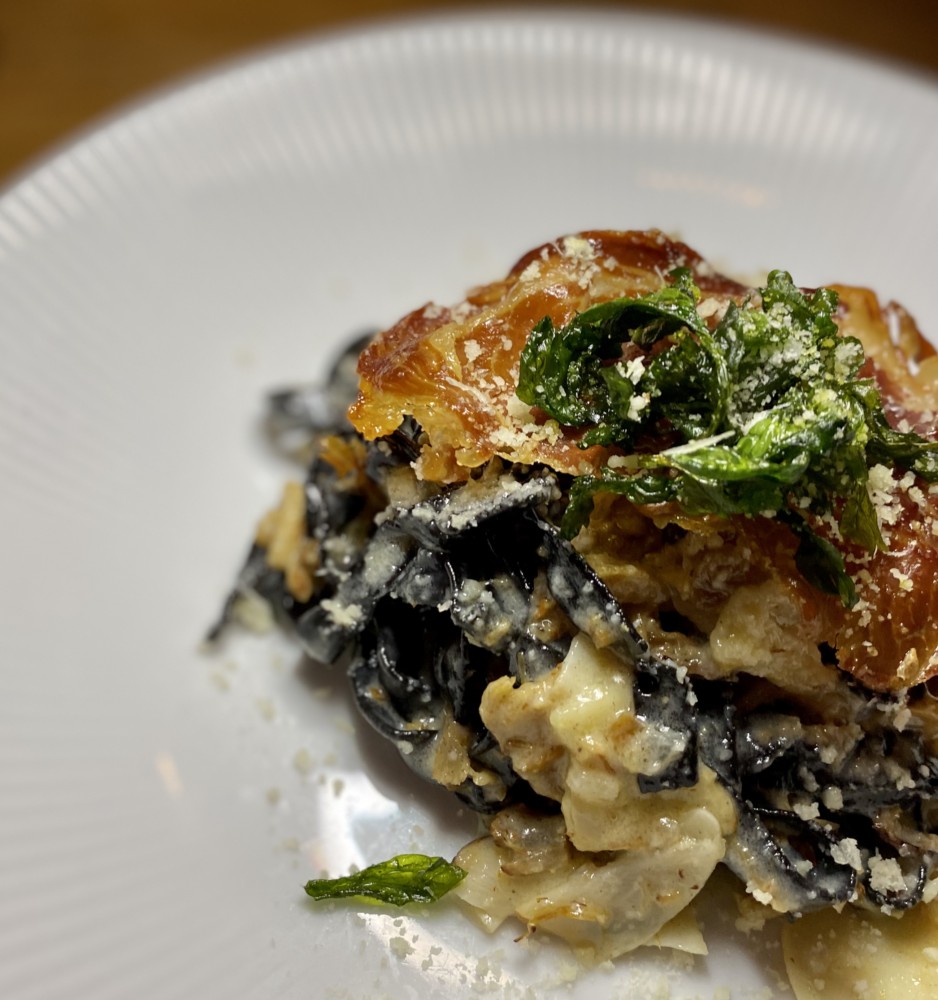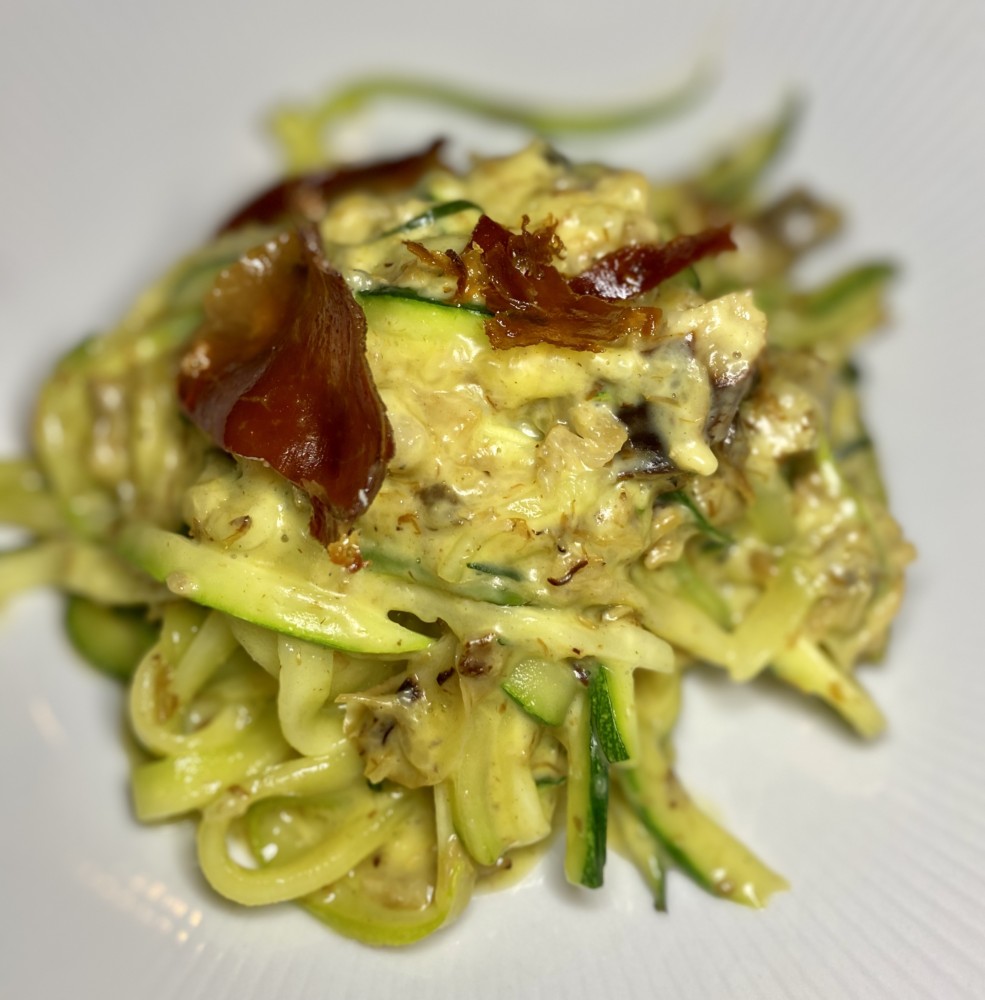 The main plate is a pomegranate and fennel pollen-marinated sea bass served with warm roasted summer squash, and a pine nut and farro risotto. It was an easy swap to make this gluten-free for me — simply substitute the farro for regular rice. This was a beautiful dish, both in presentation and taste. The somewhat bitter fennel balanced the sweetness of the pomegranate, and the flavors were a total palatable match.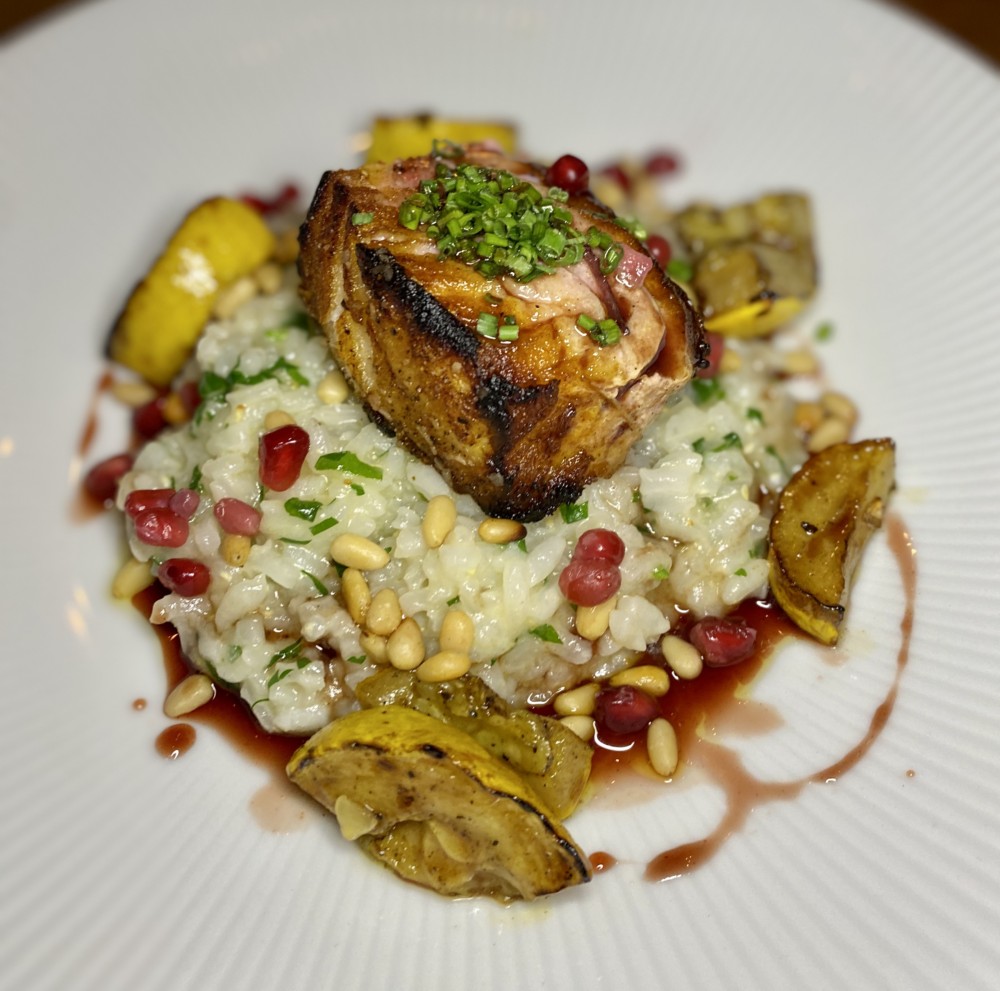 Dessert came out for Roger — a trio of classic Italian delicacies: tiramisu, house made gelato, and a pistachio cannoli. I so wished I could have dug into all of them, but then a major stunner came out for me. A specially prepared watermelon granita with toasted pine nut and grapefruit, and spun sugar elegantly decorating the dish. It was the definition of 'food is art.'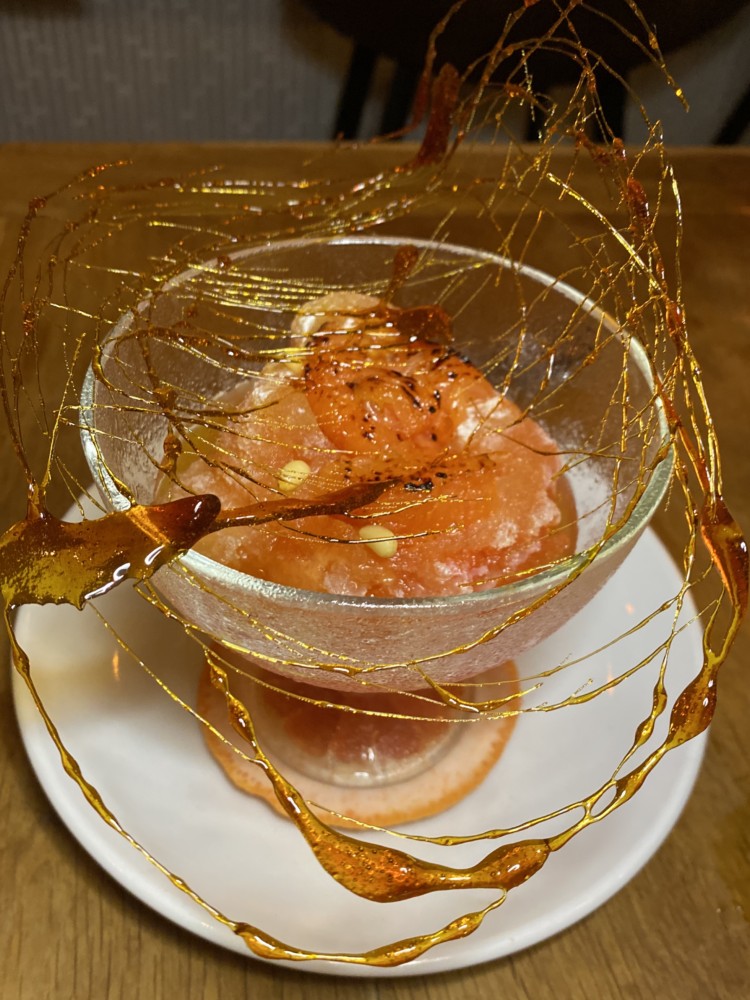 So, that's a large appetizer, pasta course, seafood entree, and dessert for less than $60. It's a steal, if you ask me — especially because of the quality of the ingredients you're getting.
Although drinks aren't included, I highly recommend checking out the creative cocktail menu, specifically the Valerie Rosella, created by one of the restaurant's top bartenders, Valerie (duh). It uses Gin Lane 1751 'Victoria Pink Gin,' St. Germain, fresh lime, and rose water, and it is absolutely delicious. If you like things a little sweeter, order the La Passione featuring Zacapa rum, Chinola passionfruit liqueur, and fresh basil.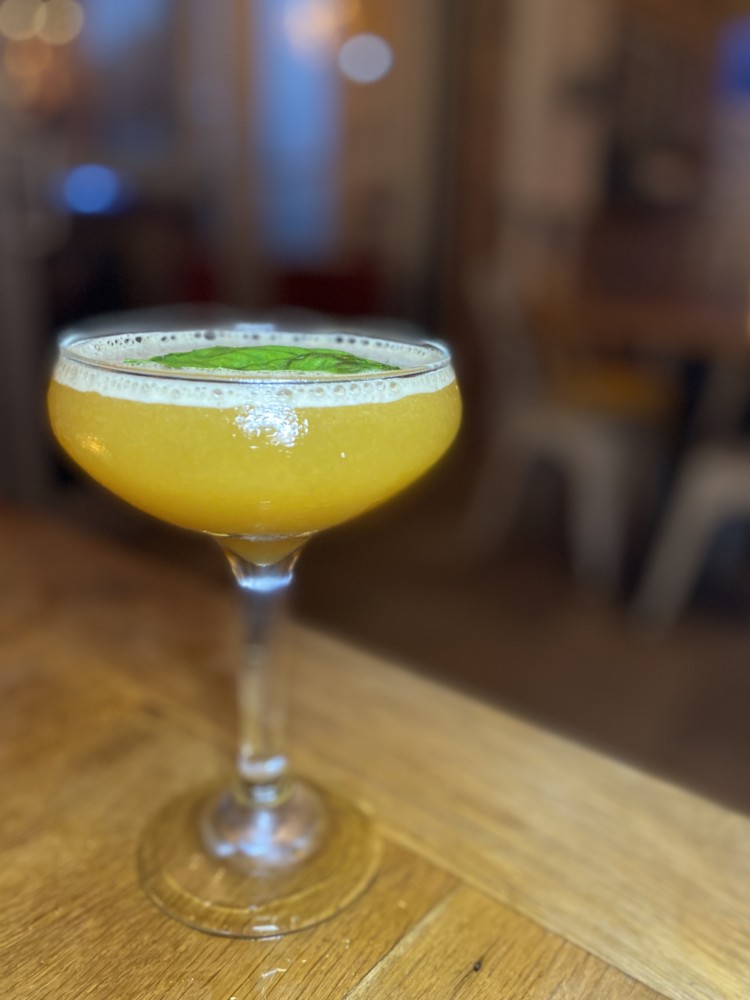 Downtown Delray Beach Restaurant Month is the perfect opportunity to check out a restaurant you've been wanting to try or show some love and support for your favorite spots. Take advantage of these incredible deals while you can. Remember — Downtown Delray Beach Restaurant Month specials are here until August 31st! Visit the Downtown Delray website for all the participating restaurant menus and details.