I make it my job to be at just about every food and wine event in and around Boca, so when I was invited to join the ABZs of South Florida for their monthly Networking Crawl, you know I jumped at the opportunity! I had met the founder, Shana, at Palm Beach Food and Wine Festival in November and we reconnected again recently at one of the events for the American Fine Wine Competition. Obviously we have a lot in common, so we instantly hit it off. Shana runs a site called Boca Locals. She takes all of the best events in the area and puts them onto one local spot for you to find. Galas, festivals, cooking classes, wine dinners, and all kinds of business networking, music, entertainment and sports events… Anything you want to find in Boca, it's all right here.
ABZs of South Florida is a networking group that takes people on a business networking "crawl" throughout a specific area. Last week we visited Downtown Delray and enjoyed free tapas and drink specials at SoLita, The Office, and Prime. I had such a great time hanging out with Shana again and got to meet a lot of other locals, including one of my new colleagues…the assistant art director from Boca Mag, Nancy!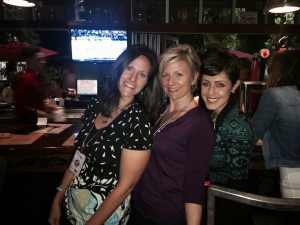 Shana, Nancy and I enjoying ourselves at The Office
The three hosting restaurants were so accommodating to our group in providing us with some delicious bites to nosh on while we sipped on yummy cocktails. I had never been to SoLita before and was actually blown away by how beautiful it is inside — definitely not what I imagined it to be. It has a very upscale Italian vibe, but still could be considered a casual place to hang out. There's a really nice outdoor area in the front, and a giant bar and lounge area that wasa perfect hangout for our group. They filled the long high-top table with plates and plates of Tomato Bruschetta on crostini, their "Old School Meatballs," and cheese ravioli. A classic Italian start to the evening!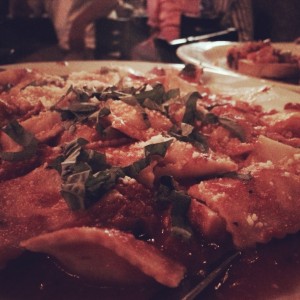 We took a short stroll to our next stop, The Office, and were greeted immediately upon arrival by the very eager and excited manager. He made sure the bartenders knew who we were and to take good care of us. We were able to try their handcrafted cocktails for half off, so I got the first one to catch my eye: The White Blossom made with vodka, St. Germain elderflower liquer, pear, sweet gomme, fresh lemon juice, and sage. This was incredibly good… Really bright and flavorful without being overly sweet; everything you want in a refreshing cocktail. They really spoiled us with lots of fun appetizers from their menu, too: chicken wings, fish dip, baked pretzel bread, pulled pork, seafood dumplings. Nancy kept raving about their fried green tomatoes so we got an order of those for ourselves too. She wasn't kidding; they were so good! I've never had this southern staple before and I'm really glad she suggested we get it.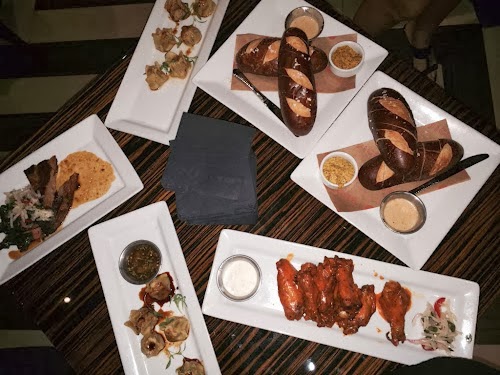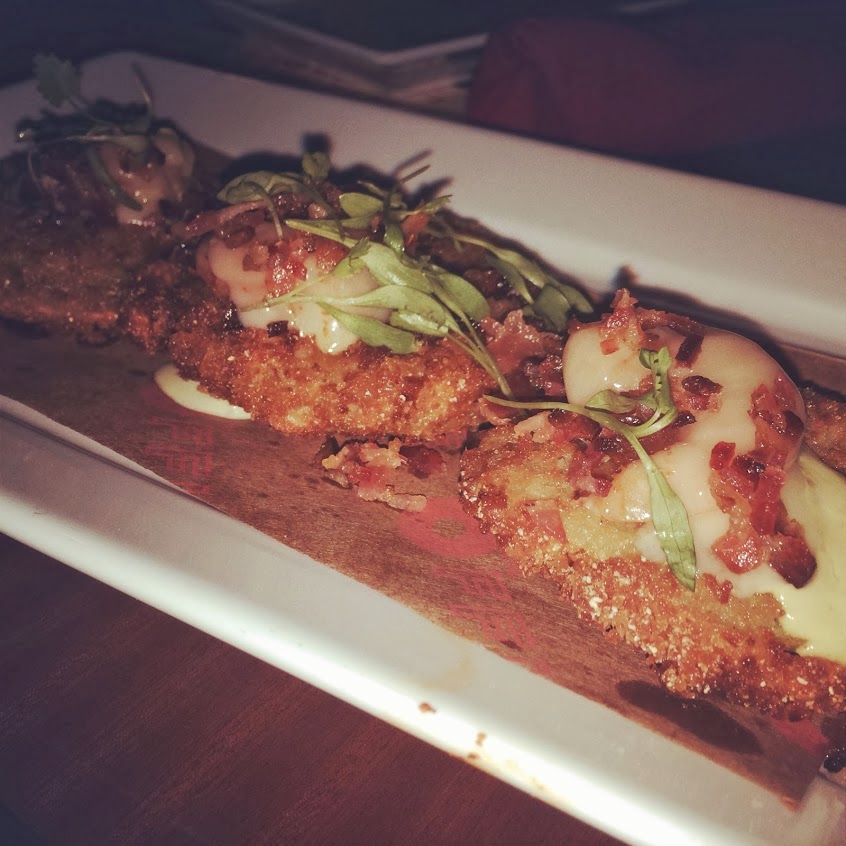 Our ending point of the night was at Prime. This is another spot I haven't been to, mostly because I tend to shy away from steakhouses. But Prime actually has a big selection of seafood and sushi, so I'll have to keep it in mind. They put out an array of dishes for us including crab dip with crostini, meatballs in marinara sauce, and a beautiful display of sushi.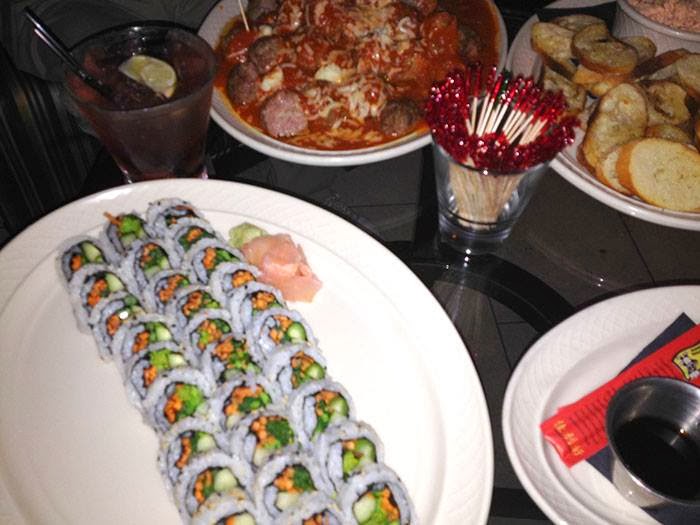 Photo courtesy of Shana Overhulser & ABZs of South Florida
I really enjoy events like this when you get to visit different places and try a good variety of foods. It makes for a fun night out. It's better than sitting in one spot for the whole night and eating a one-note dish. That just doesn't sound all that enjoyable, especially when you're with a networking group. You want to get up, walk around, and talk to everyone. ABZs next event is going to be in Mizner Park on March 19th. They run from 6-9pm and are really reasonable in price. This one was only $12 if you prepaid and $15 at the door. AND for prepaying, you could also bring a guest for free! Not too shabby. I'll be there in March. To all my local readers, I hope to see you too! Follow the group on Facebook to stay up to date!