Never miss a bite! Sign up here to receive new recipes and reviews straight to your inbox.
Disclosure: This is a sponsored post by West Palm Beach Downtown Development Authority. As always, all opinions are 100% my own.
Socially Distanced Girls Daycation in Downtown West Palm Beach  

Have you had to cancel travel plans because of COVID-19? Don't sweat it — take this time to explore the places in your own backyard and plan a local Daycation!
With the help of the West Palm Beach Downtown Development Authority, I planned a full day's activities with two of my best girlfriends — all social distancing friendly — in Downtown West Palm Beach. Unlike a Staycation, where you stay overnight at a hotel or resort not too far from home, a Daycation consists of multiple activities in a nearby area that you wouldn't normally do back-to-back in one day. Next time you're looking for something fun to do with your girlfriends, family, or significant other, planning a Daycation is a great way to get out and explore all the great things to do in and around your hometown.
If you live in South Palm Beach, Broward, or Miami-Dade Counties and are looking to venture up north for a day full of fun, here are a few suggestions for your Downtown West Palm Beach Daycation.
Fuel Up at Johan's Jöe West Palm Beach

Our Girls Daycation started off with coffee and pastries at Johan's Jöe West Palm Beach. This Swedish coffeehouse and cafe is absolutely adorable, and incredibly spacious. I wasn't expecting to walk into a brightly lit room with floor-to-ceiling windows, chandeliers, jewel-tone purple plush chairs, and enough space to sit at a safe distance from other visitors, both indoors and out. Its decor is chic, modern, and sophisticated — not so much the quintessential coffee shop vibe, but we absolutely loved it.
Johan's Jöe serves organic, fair trade and Rainforest Alliance-certified coffee and tea from the award-winning Swedish coffee roasters, Löfbergs. There is also a variety of authentic Scandinavian baked goods, as well as croissants, pastries, muffins, bagels, hand-made gourmet sandwiches, salads, soups, and breakfast options too. Check out the decadent chocolate peanut butter brownie with rich ganache topping, or the Budapest Roll, a traditional Swedish pastry made from hazelnut meringue, and filled with whipped cream and mandarin oranges.

Although I wasn't able to taste these delicious-looking delicacies, I did really enjoy my craft cold brew latte with almond milk. It was just what I needed to fuel the long day ahead.
Johan's Jöe West Palm Beach is located at 401 South Dixie Highway, Suite 3. It is open daily from 7am-2pm.
Get A Taste of Local History at the Flagler Museum
The Henry Morrison Flagler Museum is a sight to see. It's no wonder the New York Herald called it "more wonderful than any palace in Europe, grander and more magnificent than any other private dwelling in the world" back in 1902 when it was completed.

This is a must-see for those visiting the Palm Beach area, and something that every local resident should familiarize themselves with too. Each room holds within it a meaningful story that contributes to Palm Beach County history. There are 75 rooms in the 100,000-square-foot Gilded Age mansion, dubbed Whitehall. Flagler built the mansion as a wedding present for his wife, and it was used as their winter home from its inception in 1902 until he passed in 1913. It established Palm Beach as the place to be for the wealthy during the winter season.
This was my first time visiting the museum, and I will definitely be back. Due to COVID-19, group and docent-led tours aren't available, but guests can take themselves on a self-guided tour through the home with the help of an app that can easily be downloaded to your phone. The self-guided tour was very interesting and informative, but I would love the experience of having a tour guide who can dive even deeper into the history of the home and its inhabitants.

The museum was closed for a while during COVID-19. It reopened in June, and is following all social distancing guidelines. Admission is spaced out so each party is on their own as they walk through the museum. There is hand sanitizer everywhere, and floor decals are properly placed to ensure social distancing, and to point you in the right direction. Masks are required while inside, and don't forget to bring a pair of earbuds or headphones so you can listen to the information provided on the museum app!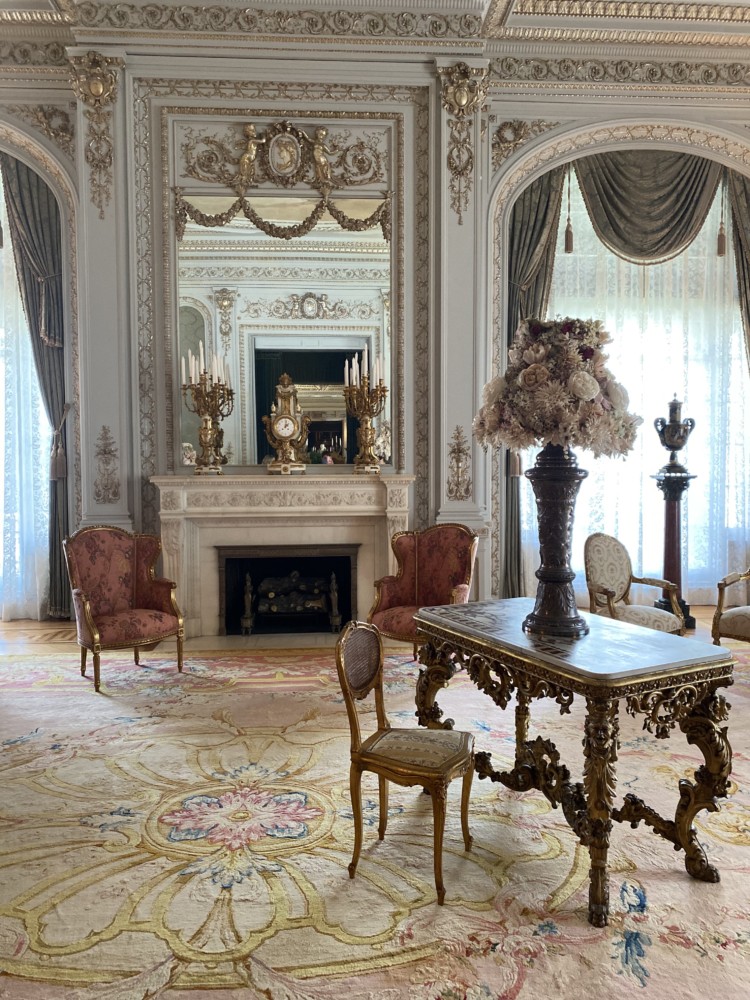 The Flagler Museum is located at 1 Whitehall Way in Palm Beach. Its current hours are Tuesday through Saturday from 10am-5pm. Admission is free for Flagler Museum members. Tickets are $18 for adults ages 18+, $10 for youth ages 13-17, and $3 for children ages 6-12. Children ages 5 and under are free. All youth and children must be accompanied by an adult.
For the time being, walk-up ticket sales are not permitted. All tickets much be pre-purchased, and sales are limited to (4) tickets per purchase.
Indulge in a Lunchtime Feast at The Butcher Shop Beer Garden & Grill
This may have been a Girls Day Out, but this was certainly no Ladies Who Lunch meal. Our visit to The Butcher Shop was one for the books. Owner Rick treated us to a taste of just about everything on the menu. He went above and beyond to ensure I knew what I could and could not have by sticking toothpicks in all of the non-Shaina-friendly items. So smart!
We kicked things off with a cocktail from their extensive drink menu while we waited for the feast to arrive. The menu has great cocktail options, but also a large variety of craft beers, many of which are brewed right here in Florida. Amber went the refreshing route and chose the Harbour Breeze, with local Lost Harbour gin, St. Germain, fresh lime juice and cucumber, topped with a splash of prosecco. Destiny and I chose two fruitier cocktails — she had the Passionfruit Margarita with Herradura tequila, passion fruit puree, lemon juice, and simple syrup, and I opted for the Raspberry Relaxer with Milagro reposado tequila, muddled raspberries, Chambord, lime juice, and club soda.

Then it arrived… Two huge boards filled with all of this:
Brisket pierogies: handmade and filled with smoked brisket, served with a beer demi-glace, caramelized onions and house-made sour cream sauce
Polish pierogies: handmade and filled with potato and cheese, served with house-made sour cream sauce
Mustard BBQ Confit Chicken Wings: additional available sauces include buffalo, Thai chili, and Mongolian
Signature Butcher Shop burger: hand ground brisket, short rib, sirloin with secret sauce topped with charred onions, tomato, arugula and melted cheddar cheese, served on a brioche bun
Jalapeño-cheddar burger: house ground Angus sirloin blended with fresh jalapeño and aged sharp Vermont cheddar, served on a brioche bun
Beer bratwurst, smoked Polish kielbasa, chicken brat, and jalapeño-cheddar sausage
All-natural smoked chicken breast: halved and brined before going into the smoker
Smoked beef brisket: hand seasoned and smoked slow and low over cherry and hickory wood
Smoked pulled pork: shredded, slow-smoked pork shoulder mixed with signature BBQ sauce
St. Louis-style ribs: hand seasoned with signature dry rub and smoked over cherry and hickory wood
Sides: Brussels sprouts, bacon mac and cheese, baked beans, sweet potato fries, pretzel bread


The three of us agreed that while everything was amazing, our favorites were the insanely flavorful pulled pork and the fall-off-the-bone-tender ribs. All of the meats are prepared in house — the team cuts their own steaks, makes their own sausages and pierogies, grinds their own burgers, and of course, everything is smoked right on the premises in a huge smoker outside behind the signature Beer Garden.
On top of being a full-service restaurant, The Butcher Shop is also a full-service retail butcher, so you can bring all of your favorite cuts home to enjoy! The inside dining area is huge, and there are two outside patio areas — one completely covered, and the other (the Beer Garden) has umbrellas, making it ideal for socially distanced dining. The Butcher Shop offers specials throughout the weekend, including their Brews & Bites platters on Thursdays, and Happy Hour on Friday from 4-7pm.
The Butcher Shop Beer Garden & Grill is located at 209 6th Street in West Palm Beach. The restaurant's current hours are Wednesday, Thursday, and Sunday from noon-10pm, and Friday and Saturday from noon-11pm. The retail shop is open Wednesday-Sunday from 10am-6pm.
Plan Your Downtown West Palm Beach Daycation
For more ideas and inspiration for your Downtown West Palm Beach Daycation, visit https://downtownwpb.com/. There is so much to do, see, and EAT — and with so many places having outdoor seating available, you should have no problem feeling safe and comfortable during your visit. If you plan a Daycation, I'd love to see how it goes. Be sure to tag @takeabiteoutofboca in all of your social media posts so I can follow along!