Never miss a bite! Sign up here to receive new recipes and reviews straight to your inbox.
Disclosure: Thank you to Stonyfield and prAna for sponsoring this post. As always, all opinions are 100% my own. 
If you follow me on social media, you know that I attend various media events throughout the year. Media dinners, wine pairings, festivals, menu launches, etc… And there is definitely a code to follow when dressing for food and wine-centered events if you plan to experience it to the fullest. No belts, nothing super tight around the mid-section, and something comfortable to walk around in or stand in for long periods of time. My go-to is a forgiving dress, whether long and flowy or short and hugging (or not hugging) in all the right places. Remember back in November when I introduced you guys to the sustainable, eco-friendly clothing line made with organic cotton, prAna, and all of their super comfy, chic clothing? Welp, it's time to praise 'em again, this time for a sustainably made dress that is absolutely perfect for summertime fun — and perfect for wearing to a food and wine event!
I love my plain black Quinn Dress and have already worn it out to an event only to receive multiple compliments throughout the night. It's not flashy in the least, but that's what we all like about it. You can shake it up a bit with some funky jewelry, bright colored shoes, or even a fun patterned purse. The options are endless when you start with something simple. The fabric is stretchy, which is so important for food events (or even your holiday dinners when you know there's going to be a lot of food). The scoop-neck design, unique double strap racerback, and internal shelf bra give the dress extra appeal. Even the colored patterns of the Quinn Dress are on the simpler side, giving you tons of room to amp up your look. While you can certainly dress up the Quinn for an event, it's super versatile and could totally be worn for errand-runnings, lunch dates with friends, and even lounging around the house watching movies.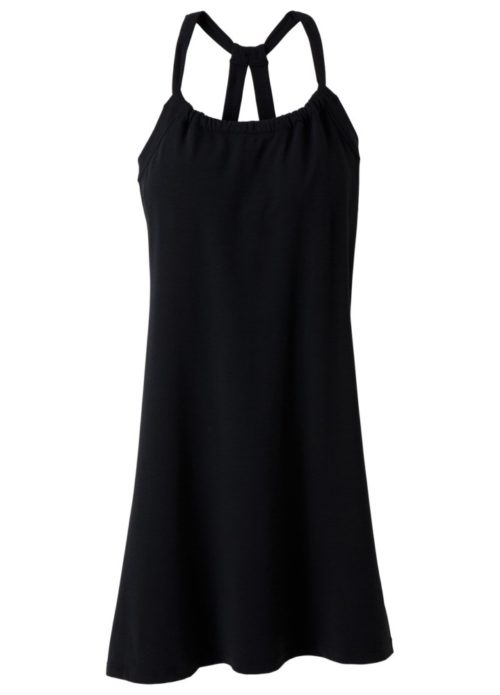 Summer in South Florida is hot, and I often find myself at events that take place outside. A cool, breezy dress like the Quinn is exactly what I need to stay comfortable and look good — all while indulging in good food and drinks.
Want to win your own comfy, chic Quinn Dress? Just enter the giveaway below! This contest is open to US residents only. The winner will be chosen on Friday, July 1st.
a Rafflecopter giveaway