Never miss a bite! Sign up here to receive new recipes and reviews straight to your inbox.
Disclosure: I was invited to dine as a guest of Driftwood. No monetary compensation has been received for this post. As always, all opinions are 100% my own. 
Boynton Beach has welcomed a new restaurant on the scene, with high quality, responsibly sourced ingredients, hand-crafted cocktails, craft beers, a dog-friendly patio and a beachy, relaxed atmosphere. Welcome to the neighborhood, Driftwood!
What comes to mind when you hear the word Driftwood? For me, I think of the ocean breeze… Waves crashing… Seagulls, seashells, and seahorses… Fresh fish caught off the dock… Boardwalks and boats. When I walked into Driftwood, all of those thoughts came rushing to my mind, and I could immediately tell what this place was all about. Driftwood chef/owner Jimmy Everett and manager/co-owner Ilia Gonzalez Colon are most concerned with keeping the menu filled with high-quality, locally sourced ingredients and giving guests an experience that shows just how much passion and love goes into each dish that comes out of the kitchen and each drink that comes from behind the bar.
The menu, as expected, does have a lot of seafood options, but there is plenty of variety. Before anything, however, check out the unique list of cocktails, ranging from Driftwood's version of an Old Fashion or a Dark and Story crafted with its own house-made ginger beer — or be basic like me and order prosecco. Because let's be real — you can't go wrong with a little bit of bubbly.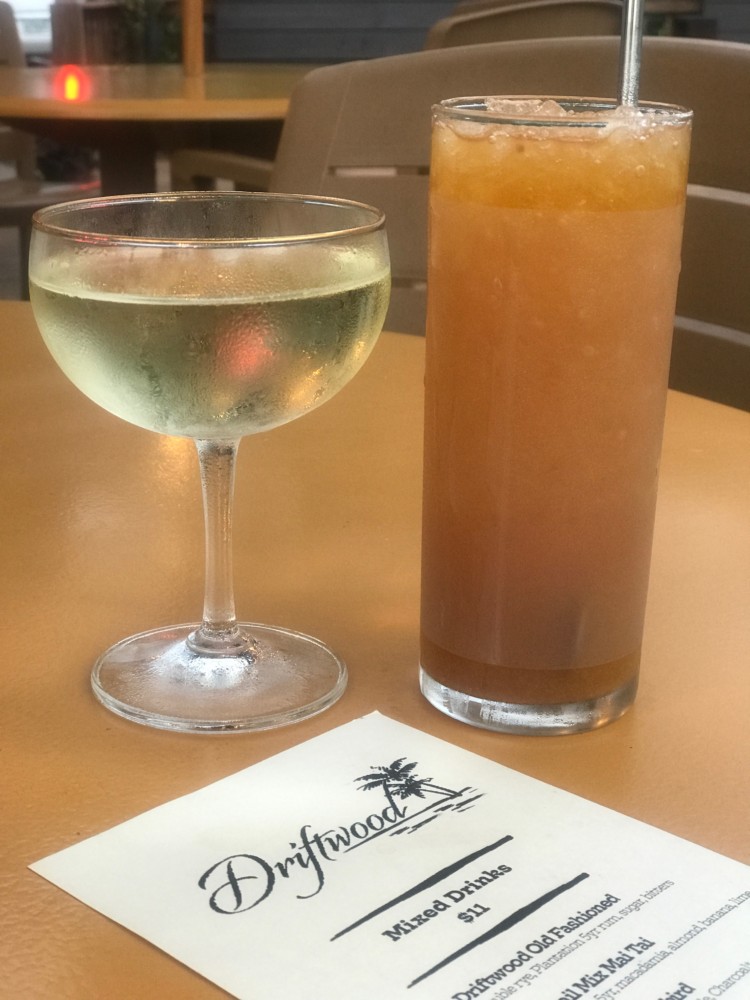 As for appetizers, Driftwood apparently knows what they're doing when it comes to wings. I brought along a meat-eating dinner date, who was all but too eager to taste the dry-rub wings. They come sprinkled with queso fresco and drizzled with a lime crema, and from the way he demolished each and every wing in the bowl, I would assume he liked 'em. One thing I noticed was how much easier and less of a mess it is to eat wings that are completely smothered in a spice mixture versus a sauce that gets all over the place. Ladies, that means Driftwood's wings are a solid choice for a first date appetizer!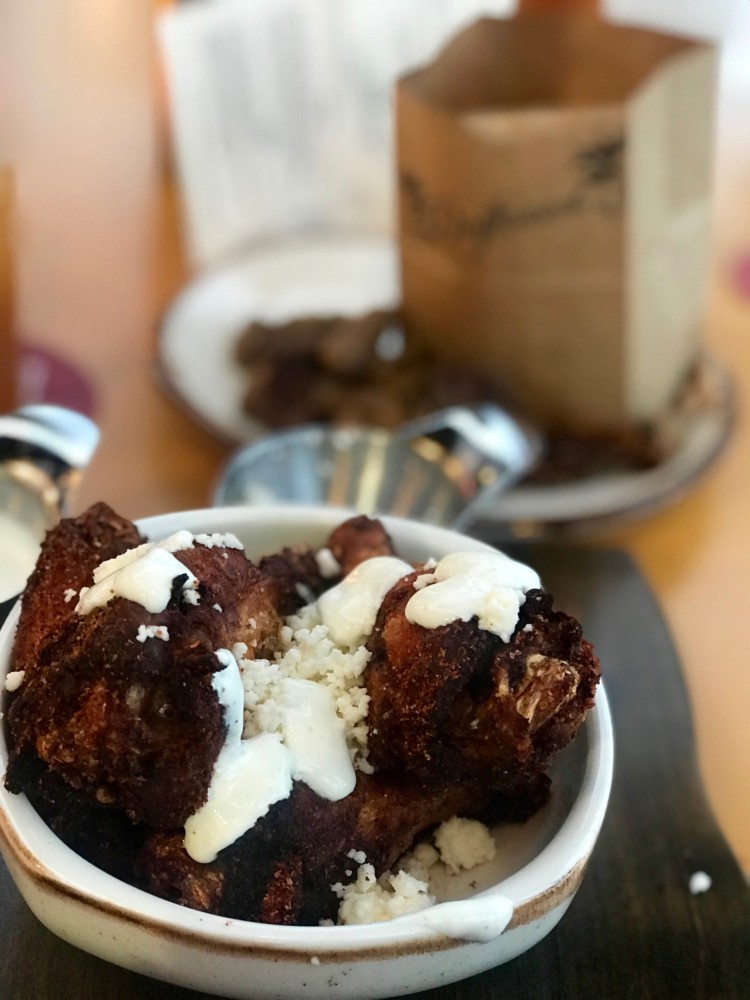 Another must-have appetizer is the yucca tots. Major bonus points go out to my date who was so content with his wings that he let me pretty much devour these all by myself. The tots come with a yellow pepper sauce, but those with gluten intolerances, beware — it has soy sauce in it, so steer clear. No worries though, they are good enough on their own! Yucca is commonly seen in caribbean cuisine, and can sometimes have a very starchy taste and texture. But when cooked properly, especially in "french fry" or "tater tot" form, it's absolutely delicious.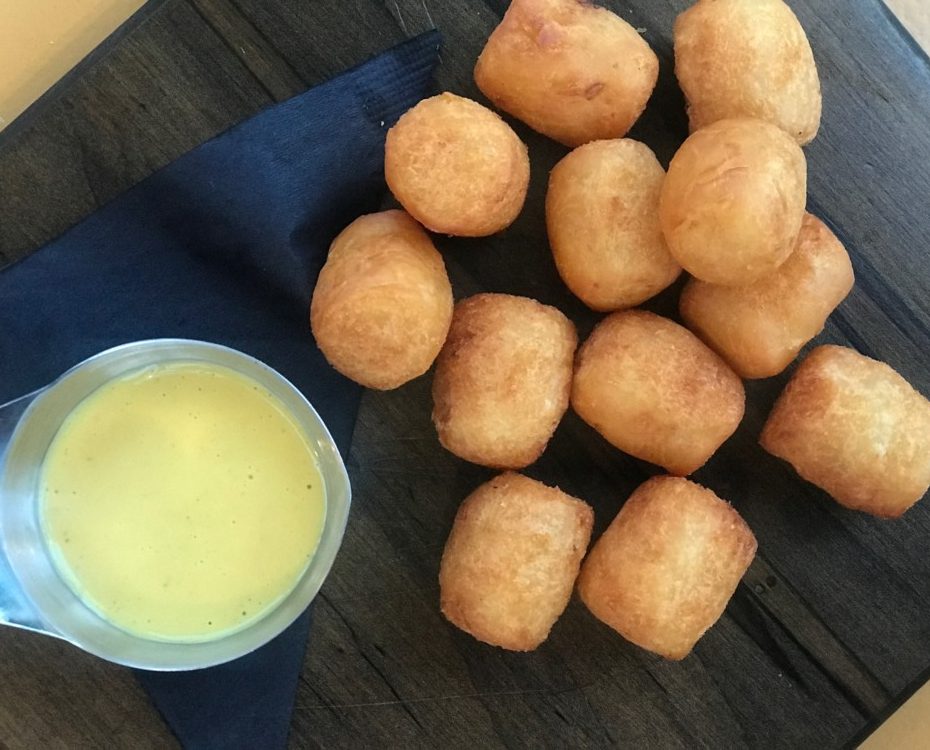 The menu splits itself into "Smaller" and "Bigger" columns, with tapas-style plates on the left and main course entrées on the right. The small plates include lots of yummy options such as conch salad with hearts of palm, chiles and pork rinds; local tuna crudo with rhubarb, saffron, trout caviar and coriander; and fluke ceviche with watermelon, cucumber, charred avocado and chilis. Without even consulting me, Chef Jimmy prepared the grilled octopus for us, complete with roasted garlic and potatoes, watercress, and watermelon radish for a little extra added crunch and color. A salsa-verde-type sauce lay beneath the perfectly charred tentacles and tender potatoes with a perfect crispy exterior. That sauce was so good. It was a good thing I still had a couple tots left to smother with it — it was a winning combination.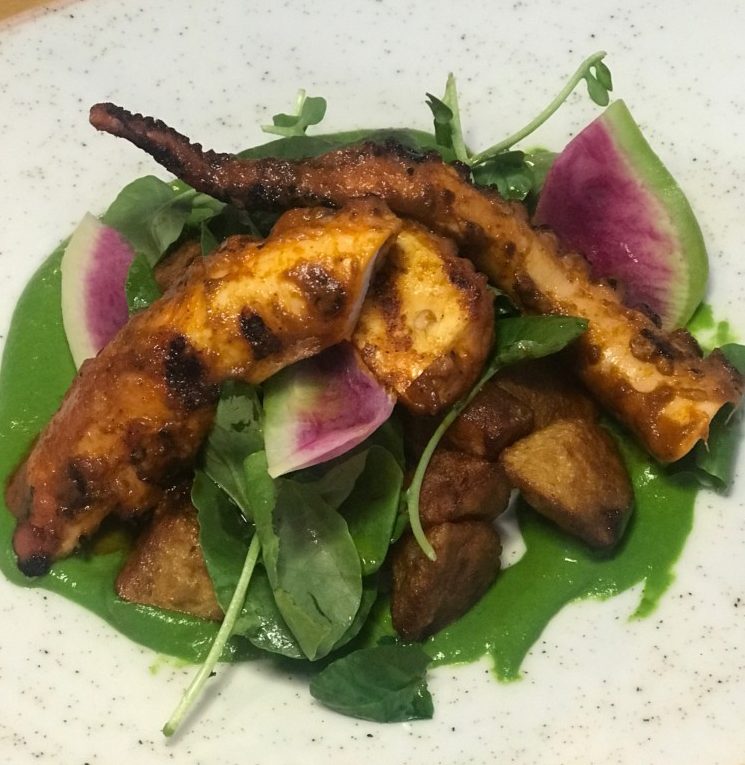 Along with the seafood theme, there's also a bit of a southern-comfort vibe in Driftwood's menu, which can be seen in the smoked deviled eggs with green tomato relish and chicken skin; roasted pork belly with collards, black eyed peas and watermelon rind; and shrimp 'n grits with n'duja, cheddar grits and scallion. But for me, it's all about the locally and sustainably sourced fish. I was super excited when Chef prepared the swordfish for us. Two thick and meaty pieces of fish, seared beautifully, sat atop a silky smooth purée of cauliflower and alongside a blackened cauliflower steak. Although I would have liked a bit more texture on the plate — maybe pistachios or crispy garlic — it was still abso-freaking-lutely delicious. Driftwood's daily fish offerings are subject to change, based on what's locally available, but I really hope for your sake that when you visit, you're able to try the swordfish.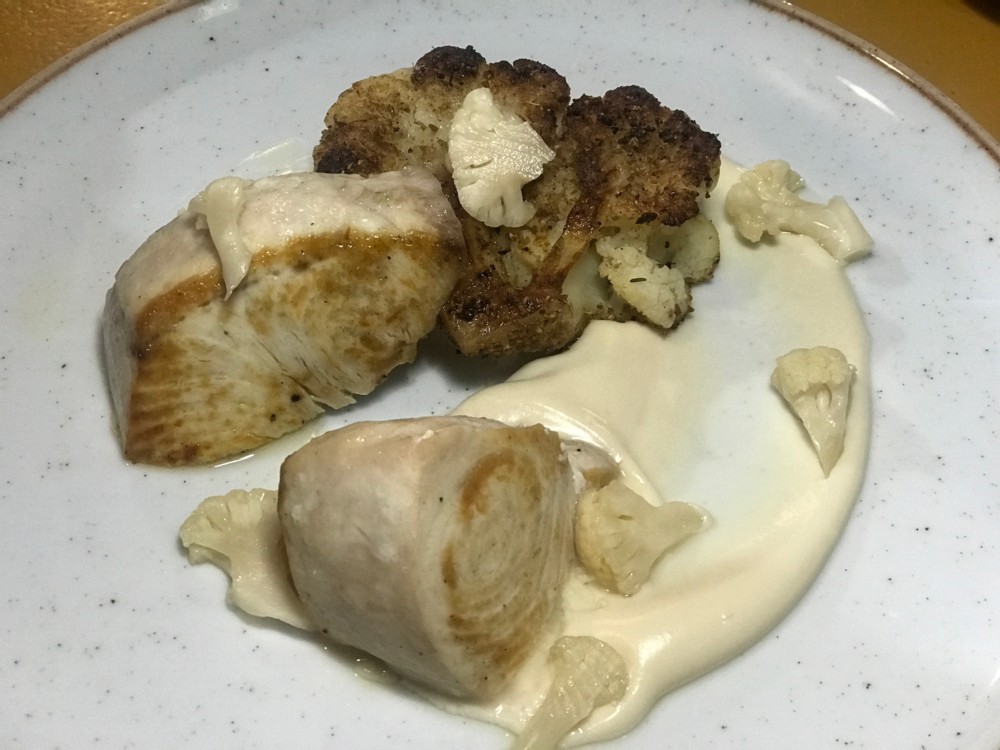 Driftwood
is located at 2005 South Federal Highway in Boynton Beach. The restaurant is closed on Mondays, but open Tuesday through Saturday from 11am to 2am (kitchen closes at midnight), and Sunday from 11am to 4pm. Driftwood serves weekend brunch, lunch and dinner, and offers happy hour from 3-6pm and 10-12am daily featuring food and drink specials.