Never miss a bite! Sign up here to receive new recipes and reviews straight to your inbox.
Disclosure: This post contains affiliate links. Shopping through these links helps support my small business. As always, all opinions are 100% my own.
This recipe for gluten- and dairy-free crab cakes takes no more than 15 minutes to make and makes 6 regular-sized cakes or 12 mini cakes. Whip up a tasty salad and roast some of your favorite veggies for a quick and easy meal at home, or a fantastic appetizer for a small gathering.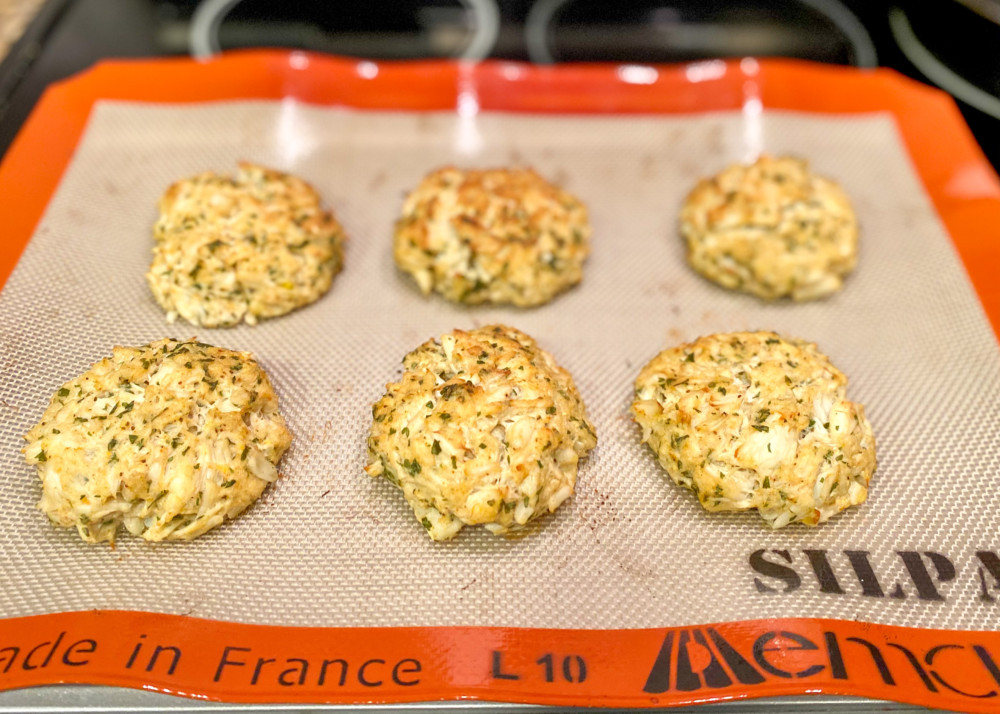 Growing up in New Jersey, you could bet you'd find crab cakes on the menu at almost any seafood restaurant, especially if you lived near the water. But there is one very important, discerning factor that makes one crab cake stand out more than others: the amount of filler!
A true crab cake is not filled to the brim with breadcrumbs — it's a simple mixture of quality lump crab meat, mayonnaise, Dijon mustard, Old Bay Seasoning, and some herbs sprinkled in for good measure. You can certainly sub the mayo for a vegan alternative, or Greek yogurt if you so choose. I haven't tried either of these, but as long as its texture is about as thick and creamy as mayo, I don't see how it wouldn't work. You need the Dijon for that pop of tangy flavor, and you most certainly need that Old Bay! Crab cakes are not crab cakes without Old Bay!
It pains me to know that so many restaurants add filler to their crab cakes…for two reasons: 1) Just…ugh. 2) It means they aren't gluten-free! I'd also bet a lot of places add some kind of dairy as well. The point is that I never get to enjoy crab cakes when dining out, which is why I needed to make them from scratch at home!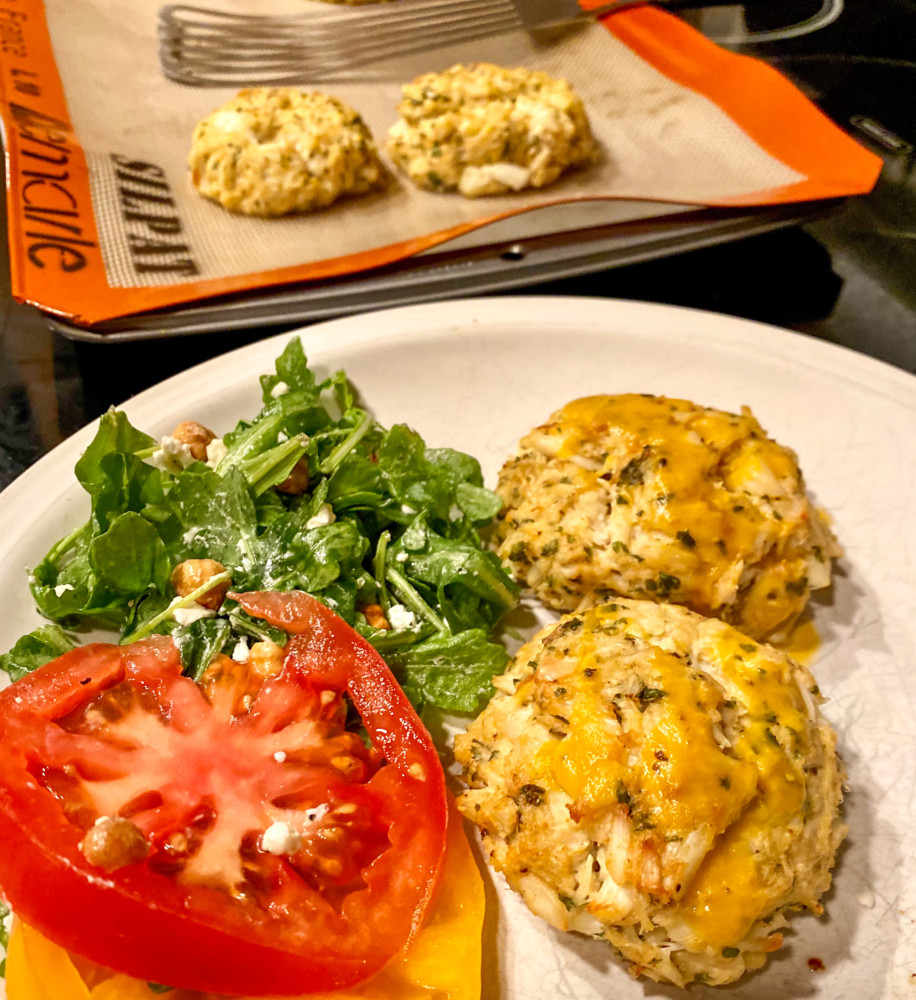 This is seriously one of the easiest recipes ever. All you need is five ingredients and access to a broiler — or you could use an Airfryer! If you want to enhance your crab cakes even more, mix up an aioli to drizzle over top. Don't get scared by the word aioli. It's really just a fancy word for flavored mayonnaise. Garlic or roasted red pepper would be great choices! Just scoop a spoonful or two of mayo into a food processor with whatever ingredients you for flavor, and give it a whirl. In 30 seconds, you'll have a beautiful sauce to accompany your homemade crab cakes.
I didn't make my own sauce because I had just found this low-calorie, low-fat, low-carb, sugar-free Carrot Ginger Dressing and Marinade that I thought would be so good — and it was. Side dish options are endless for these homemade gluten- and dairy-free crab cakes. Roasted veggies, sweet potato mash, balsamic braised red cabbage, arugula and tomato salad… Whatever your heart desires!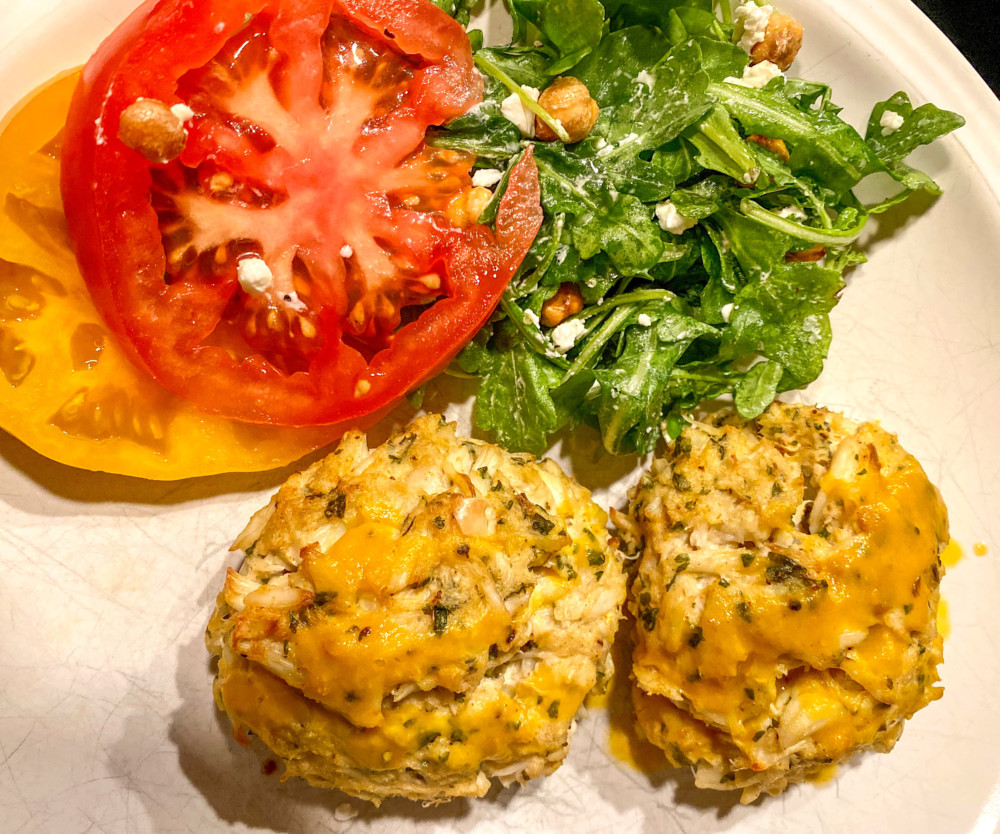 Ready to make some crab cakes? Let's do this!
Gluten and Dairy Free Crab Cakes
Author:
This recipe for gluten- and dairy-free crab cakes takes no more than 15 minutes to make and makes 6 regular-sized cakes or 12 mini cakes.
Ingredients
1 lb. jumbo lump crab meat
1/3 cup mayonnaise
1 tablespoon water
1 tablespoon Dijon mustard
1 teaspoon Old Bay seasoning
1 tablespoon dried parsley
Salt and pepper to taste
Instructions
Preheat the broiler to 500 degrees F. My broiler has two different settings, Maxi and Econo. I used Econo.
Add the crab meat to a large bowl and fold in the mayonnaise.
Add the rest of the ingredients and mix well, but don't break up the crab meat too much. You still want those big chunks!
Season with salt and pepper.
Line a baking sheet pan with foil, parchment paper or a Silpat mat.
Use your hands to form the patties and arrange on the pan. You should have enough to make 6-12 regular-sized cakes, or 16-18 mini ones.
Broil in the oven for about 10 minutes, or until the tops have browned.
*Alternatively, you could use an air fryer for about 12-15 minutes at 375 degrees.