Never miss a bite! Sign up here to receive new recipes and reviews straight to your inbox.
I am guilty of throwing various ingredients into a bowl with some kind of grain, topping it with cheese and calling it dinner. It's so easy it's almost mindless, and as an added plus, it's pretty healthy. For something that requires such little work, this is probably one of my favorite kinds of meals. It's also pretty convenient when you just want to use up what you've got in the kitchen.
But what happens if you are craving one of these super quick dinners, but you don't have much on hand? Introducing a new product from Betty Crocker's Suddenly Pasta Salad mixes — Suddenly Salad Grain Mixes! Each variety contains a wholesome grain such as brown rice or quinoa paired with lots of herbs and spices, dried fruit, veggies or nuts, and a dressing packet. The grains come in a microwave-friendly bag for even easier cooking, and the mix-ins and dressing are packaged separately so you can choose how much of each you want to use. Does it get any easier?!
These Suddenly Salad Grain Mixes are the perfect thing for me to keep tucked in my cabinets for nights when I just don't feel like breaking a sweat in the kitchen, orrr I've slacked on my grocery shopping that week and barely have anything in the house.
What I like best about Suddenly Salad Grain Mixes is how easily customizable they are. Since the mix-ins are separate, you don't necessarily have to use what comes in the box, or you can use what's given and also add in other ingredients to give it your own twist.
How about the Harvest Grains with brown, wild, and red rice, dried cranberries and almonds, and a sweet blush vinaigrette — how yummy would this be with some sliced apples and a little crumbled goat cheese on top?
Or the Southwest Grains with brown rice, quinoa, red peppers, corn, and black beans, and a chipotle vinaigrette… I added a little cilantro to the dressing mix for a little pop of flavor and some shredded parmesan cheese on top. You can also add some guacamole too!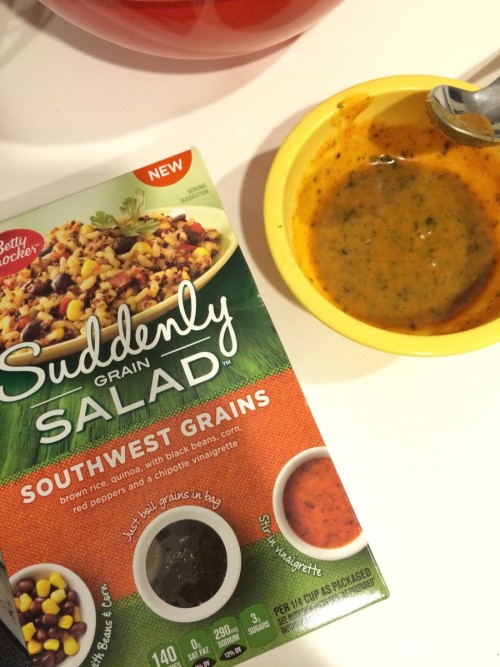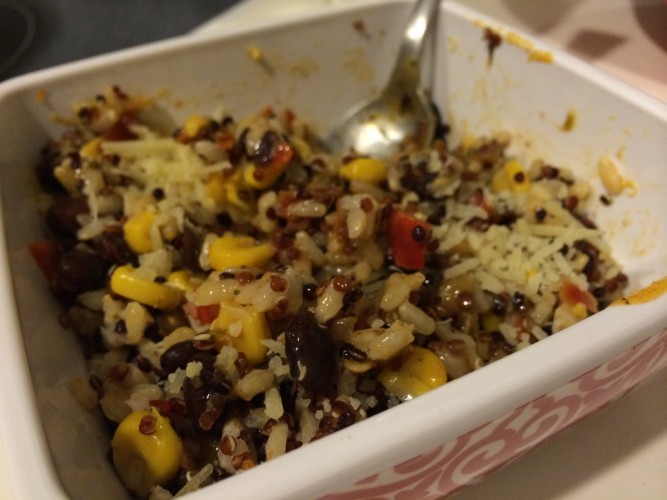 There are so many options for these kinds of meals — I think that's why I enjoy them so much. They are never boring since you can change up the ingredients every single time!
You can find Suddenly Salad Grain Mixes in the rice/grains/pasta aisle of your grocery store, or check them out online at SuddenlySalad.com.