Never miss a bite! Sign up here to receive new recipes and reviews straight to your inbox.
Disclosure: This is a sponsored post by WTSO – Wines 'Til Sold Out. Use discount code TAKEABITE20 to save $10 on your purchase of $50 or more. This post also contains affiliate links. Shopping through these links helps support my small business. As always, all opinions are 100% my own.
Sip on Rosé With These Easy Summer Snacks
Summer is here and that means it's officially Rosé Season! Pour a glass of your favorite rosé, and whip up one of these super easy, sweet and savory summer snacks to pair it with!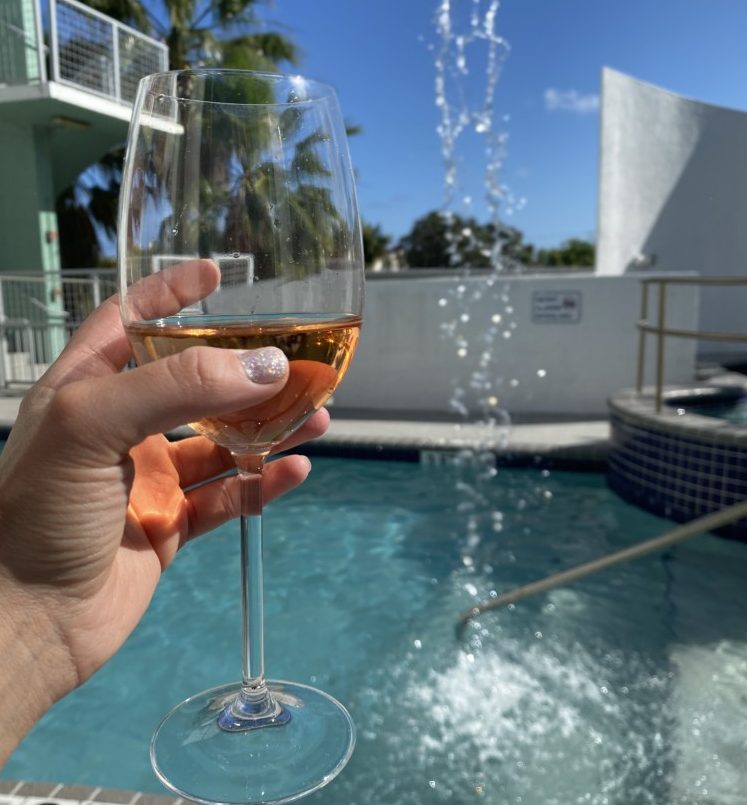 I love a good rosé wine, preferably dry, and I'll never say no to a sparkling varietal! Rosé is light and easy drinking, especially during the summer. It's perfect for sipping during the afternoon by the pool, but also translates well to a sit-down dinner as a pairing for pork, turkey or salmon dishes, as well as BBQ chicken or ribs.
There are a lot of different kinds of rosé wine made all over the world. The French variety is probably what you are most familiar with, but Italy is also a big up-and-comer in the rosé world. In September of 2018, I was invited on a press trip to Italy with a group of wine writers from the U.S. and Canada, and we were introduced to a variety of rosé wine called Chiaretto. It was one of the most incredible experiences of my life, and a huge moment in my professional career. I was there on behalf of The Daily Meal and wrote this article when I returned from the trip.
Anyway — the point is, I definitely have an appreciation for rosé and the process of making it. Rosé wine is made from the same grapes that are used for red wine, except they are harvested a bit sooner. The skin of those red grapes is known to contain antioxidants, and so, when consumed in moderation, rosé wine has a lot of potential health benefits! Another fun fact — the darker the rosé, the more potential benefits, and the more depth of flavor. An important thing to remember is that rosé is not meant to be aged — it should be enjoyed while it's young, fresh, and vibrant. So break out your favorite bottle, and let's make some super yummy, incredibly easy, sweet and savory snacks to pair with your favorite glass of rosé!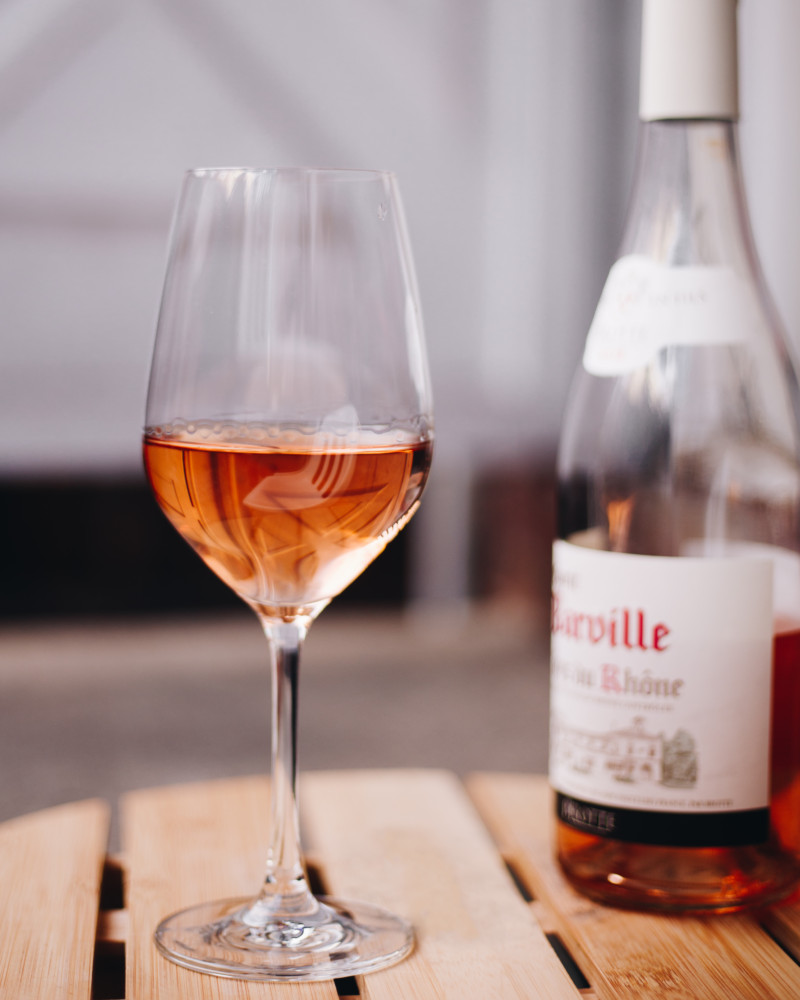 I can't even really call these recipes — they are that easy. All you need are four ingredients and about ten minutes to throw together these fan-favorites, and you'll be whetting everyone's appetite in no time.
I love fresh melon during the summer. Watermelon, cantaloupe, honeydew… It's all so sweet and refreshing. The best part about these hydrating fruits is that they make a perfect pairing with savory ingredients. If you're a fan of the sweet and savory combination, you are going to fall in love with these summer snacks!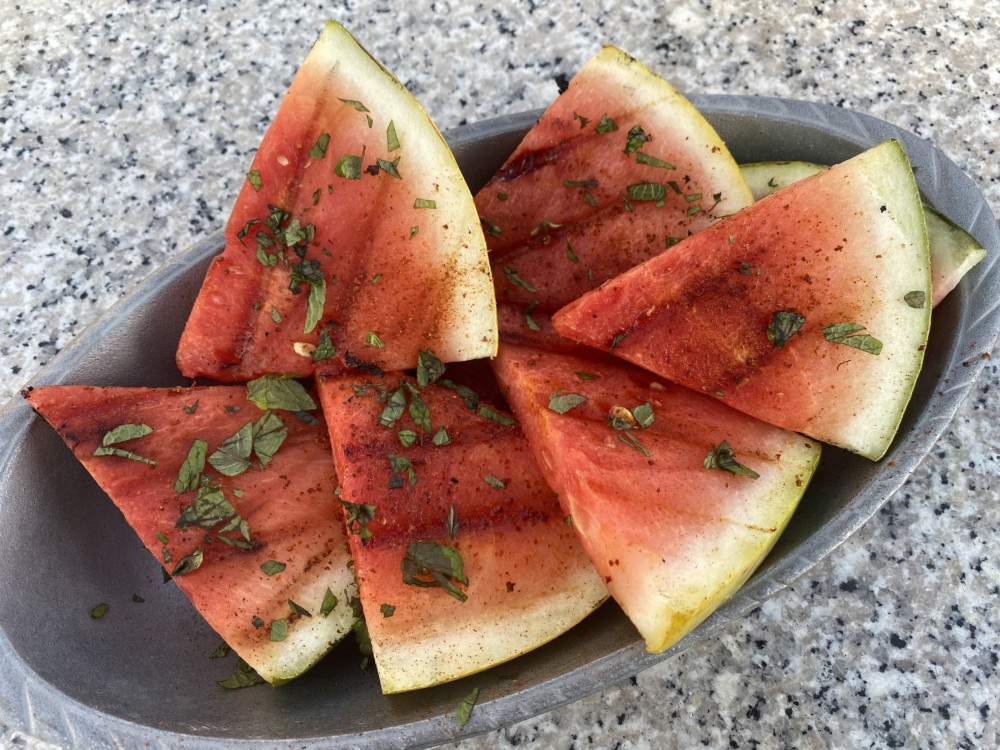 How To Make Spiced Grilled Watermelon
Watermelon is delicious on its own, but when sprinkled with a little bit of seasoning and thrown on the grill, it's a million times better!
Slice your watermelon into 1/2-inch thick triangles and pat each side dry.
Sprinkle with your preferred spice mixture. I used Trader Joe's Chili Lime Seasoning, but options are endless here!
Place the slices on the grill and cover for 3-5 minutes. Once grill marks are formed, flip the slices and grill for another 2-4 minutes or until done.
That's it. If you aren't comfortable using the grill and don't have someone to help you, these are still perfectly delicious served cold without grilling. Next time you're outside grilling or hosting a BBQ, you need to make this as a starter or side dish. It's too easy not to!
How To Make Prosciutto-Wrapped Melon
Ok, this shouldn't really need an explanation, but I'll walk you through it step-by-step. Cut up cantaloupe or honeydew into medium-sized cubes (or purchase pre-cut melon if you prefer). It makes things so much easier. Depending on the thickness and length of the prosciutto you purchase, you may have to slice it in half. I usually buy this brand. Wrap the prosciutto around the melon cube and secure it in place with a toothpick. Optional add-ons include fresh mozzarella,  fresh basil or mint leaves, and cherry tomatoes.
Rosé Cocktails
I love making simple cocktails with sparkling rosé — a splash of elderflower liquor or Chambord can really add a burst of flavor to an already delicious summer drink. One of the most popular cocktails using rosé, though, is its frozen counterpart, frosé. My favorite online wine retailer, WTSO — Wines 'Til Sold Out, shared a blog about this pink drink that has gained so much in popularity within the last few years, including a recipe for this delicious frozen rosé cocktail that is sure to cool you down during the hot summer months.
If you haven't yet joined as a WTSO member, now's the time to stock up on wines for the summer. It's free to join, and once you do, you'll have access to tons of great wine at great prices, including weekly rotating tasting packs and flash wine sales. Plus, you can always save $10 on purchases of $50 or more with the code TAKEABITE20!
Click here to visit WTSO now and shop!