Never miss a bite! Sign up here to receive new recipes and reviews straight to your inbox.
Disclosure: I was invited to dine as a guest of the restaurant. No monetary compensation has been received for this post. As always, all opinions are 100% my own.
With successful locations in Tampa, St. Petersburg and Sarasota, the FK team is bringing it's build-your-own-bowl concept to the east coast of Florida right here in Boca Raton.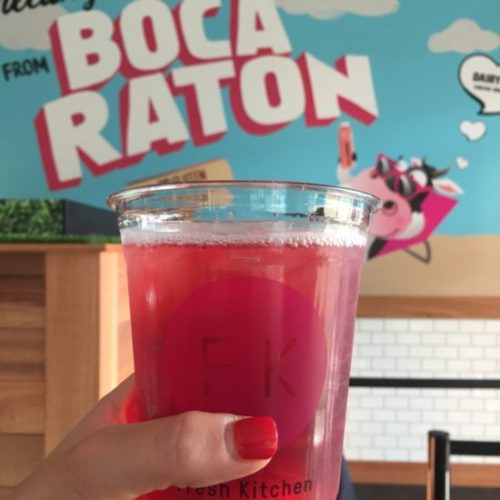 Yes, Boca welcomes yet another build-your-own-bowl concept — but this one is different from the rest. Fresh Kitchen shouts loudly and proudly from the rooftops, telling you to #GiveAFK about what you're putting in your body. The team at Fresh Kitchen believes in serving fresh, high quality ingredients that nourish and energize your body, because what we eat shapes our health, affects our appearance, and determines our disposition. Their chef-inspired ingredients are all made from scratch — including their cold pressed juices, teas and frescas. The entire menu is 100% gluten-free, all meats are antibiotic-free, and most ingredients are dairy- and sugar-free, unless otherwise indicated. Sugar-free = happy Shaina.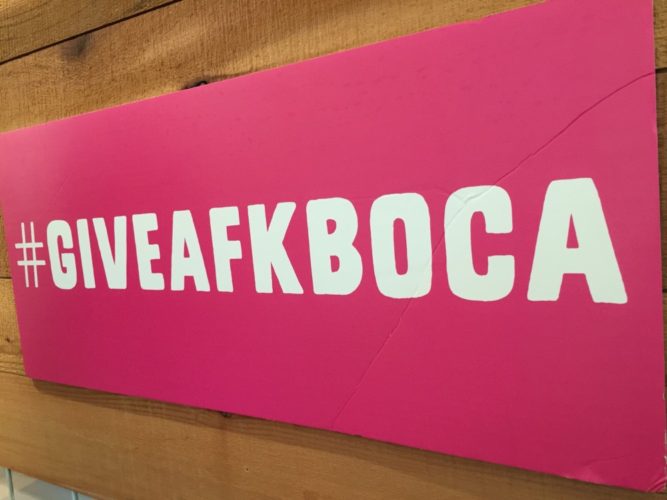 There are countless variations of bowls you can create, making each and every one of your visits to Fresh Kitchen unique — but always yummy! When I first walked into Fresh Kitchen, located in the brand new Park Place plaza in Boca Raton, I was immediately in love with everything about it. The decor is bright pink and turquoise and puts a huge smile on your face with its cheeky artwork, fun catchphrases on the walls, and inviting, spacious seating area. As you wait in line to order, you'll be enticed by their homemade paleo chocolate chip cookies and zucchini brownies. Don't shy away — they are insanely delicious. The cookies are soft and chewy. If you're scared off by the word "paleo," don't be — it pretty much just means they are high in protein, dairy-free, and of course compliant with a paleo diet for those who follow.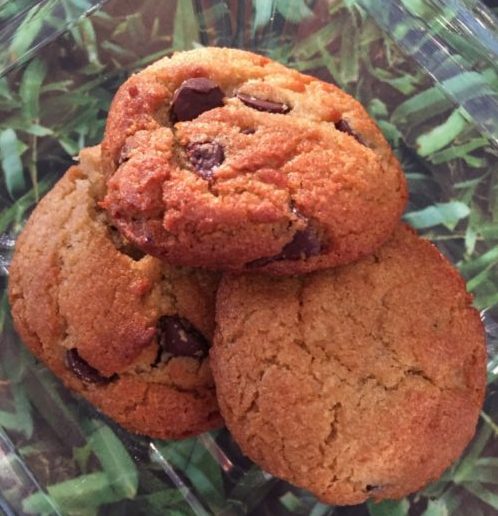 The cookies were good, but the brownies were even better. I've made desserts with zucchini before and know just how tender and moist it makes most baked goods, and these brownies were the perfect example of that. Don't leave Fresh Kitchen without grabbing a container of either of these bite-size treats.
Nothing like starting with dessert, right? Let's backtrack to the main reason I came to visit Fresh Kitchen — to build my own bowl of deliciousness! So how does it work? You choose a Four ($7.95) or Six bowl ($9.95) — the Four includes two bases, one vegetable, one protein and one sauce; the Six includes two bases, two vegetables, two proteins and one sauce. There's also a kids' bowl ($6.45) available that includes one base, one vegetable, one protein and one sauce. You can add on other ingredients as well, including kale pesto tomatoes, feta or parmesan cheese, bean and corn salsa, citrus avocado, extra sauce, veggies or protein for an additional cost.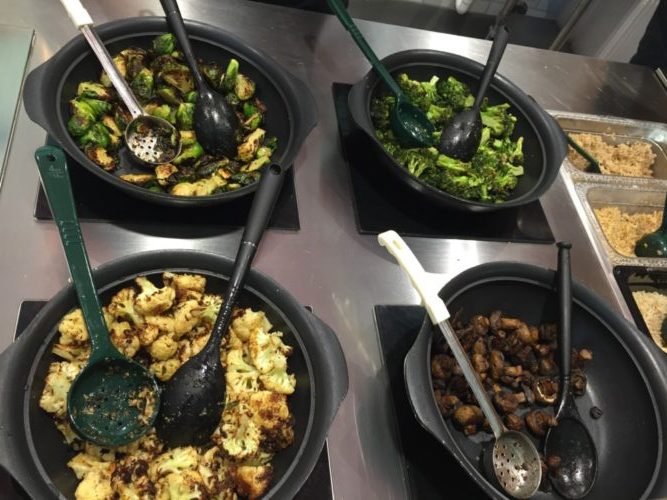 Owners David and Steven were gracious enough to let my friend and me each try whatever we wanted in our bowls. I started out with kale slaw and sweet potato noodles as my bases, followed by roasted Brussels sprouts and parmesan broccoli, chia seed tuna poke, and topped it all off with kale pesto tomatoes and citrus avocado. The full list of bases also includes brown rice, romaine salad, coconut ginger rice, sweet potato mash, perfect spice rice, vegetable quinoa and chef's choice; the vegetable options also include sesame green beans, roasted mushrooms and a seasonal special; and the proteins include grilled citrus, BBQ or baked almond chicken, chia seed teriyaki tofu, herb grilled steak and chef's choice.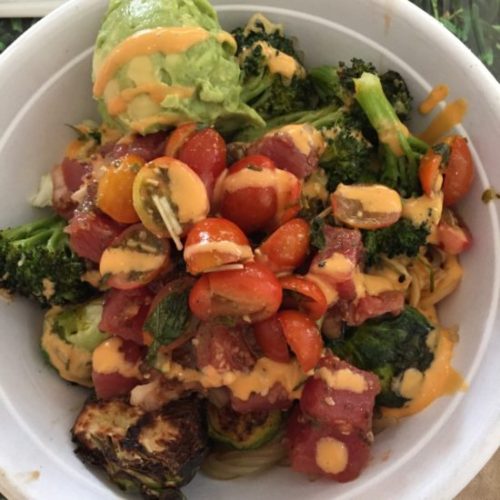 My bowl was filled to the brim and bursting with top-notch, fresh flavor. I never wanted it to end! Although I couldn't really tell the noodles were made from sweet potato, they had great texture and practically slid right into my mouth. The Brussels sprouts were roasted to perfection and the tuna was as fresh as fresh can be. I loved the addition of citrus to the avocado — it brought a refreshing zing to the bowl. Fresh Kitchen offers five different sauces, and since I couldn't choose just one, we had to try them all: creamy white ginger, cucumber jalapeño, holy kale, herb balsamic vinaigrette and coconut Sriracha. Every single one of these is made in-house and they are all gluten-, dairy- and sugar-free. Those are some pretty impressive stats for thick and creamy sauces that taste incredibly decadent. I'd seriously put that coconut Sriracha on everything. Each sauce had a super distinct flavor. I dipped components of my bowl into each of the sauces to try them all, but then I ended up pouring the rest of the coconut Sriracha right over top of everything. It's just toooooo good!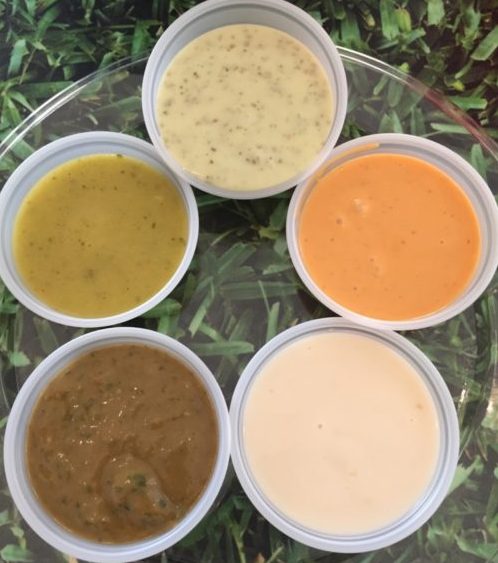 After writing this, I am craving Fresh Kitchen like crazy — and I bet you are too!
Fresh Kitchen is located at 5550 N. Military Trail, Suite 214, inside Park Place in Boca Raton.