Never miss a bite! Sign up here to receive new recipes and reviews straight to your inbox.
I have attended three conferences thus far in my blogging career, and all three have been in Florida — two in Orlando and one in Miami. Last weekend, I had the opportunity to travel outside of the Sunshine State to attend Eat Write Retreat, a hands-on weekend of learning, networking and of course — eating! It's a smaller conference with only about 50 of us food bloggers in attendance, which makes it a lot more intimate than other larger conferences that can sometimes feel overwhelming. And guess where it was?! CHICAGO!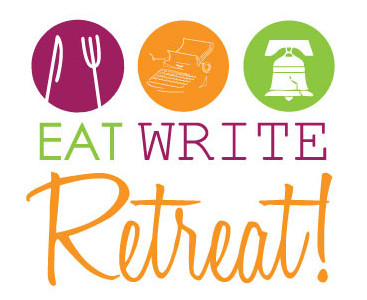 Food bloggers in Chicago — could there be a better match? It was an incredible weekend from the moment I checked into my hotel until I boarded my flight home. It was so much fun to see the friends that I have met at previous conferences and even more fun to make many new ones.
Thank you so much to Casey Benedict and Robyn Webb for going above and beyond to make Eat Write Retreat something we'll all never forget. These ladies truly deserve an award for all they have done!
Friday night kicked off with a Meet & Greet at Frontier Restaurant. This gave all of the bloggers an opportunity to mingle with one another as well as some of the conference sponsors, Gourmet Garden, Dreamfields Pasta, HBF International, Calphalon and Prosciutto di Parma. We noshed on yummy appetizers provided by the restaurant — Ahi tuna sliders, shrimp and corn fritters, white bean hummus, tri-colored roasted cauliflower, crispy chicken wings, bacon-wrapped peppadew peppers, kale and apple salad — and sipped on cocktails, wine and beer while having a great time mixing and mingling. Oh, and we can't forget the sweets — super creamy and tangy goat cheese cheesecake bars!
Things started out on a positive note Saturday morning as we walked into the conference venue, Catalyst Ranch. I have never seen anything more cheerful, colorful and unique than this place. There is no way you cannot feel creative and inspired when you walk through the doors. I'm sure we all felt that way, but it only got better after listening to Lorrie Thomas Ross give her super motivating keynote speech about developing your brand. She had an infectious personality which made listening to her speak even more invigorating.
One of the coolest things we got to do (if we chose to) at Eat Write Retreat was participate in a Food Swap sponsored by Davidson's Safest Choice Eggs. I actually did one of these very recently in Florida, so I was familiar with the concept and really excited to do another one — especially with a bunch of bloggers! A lot more people got involved than I expected. There were so many things to choose from during the swap, but I ended up getting some pretty awesome stuff — s'mores cookies, chocolate cherry challah, rainier cherry liqueur, candied ginger, sweet and spicy chex mix, coconut macadamia nut bars, granola, white cheddar, provolone and rosemary crackers, kefir and lemon grass jam, and even non-food items like lip balm and sugar scrubs. My swap items were rosemary and thyme roasted nuts, dried apricot with cinnamon and agave, and red velvet chess bars. It was a total success! If you'd like to look for a Food Swap in your area, check out foodswapnetwork.com.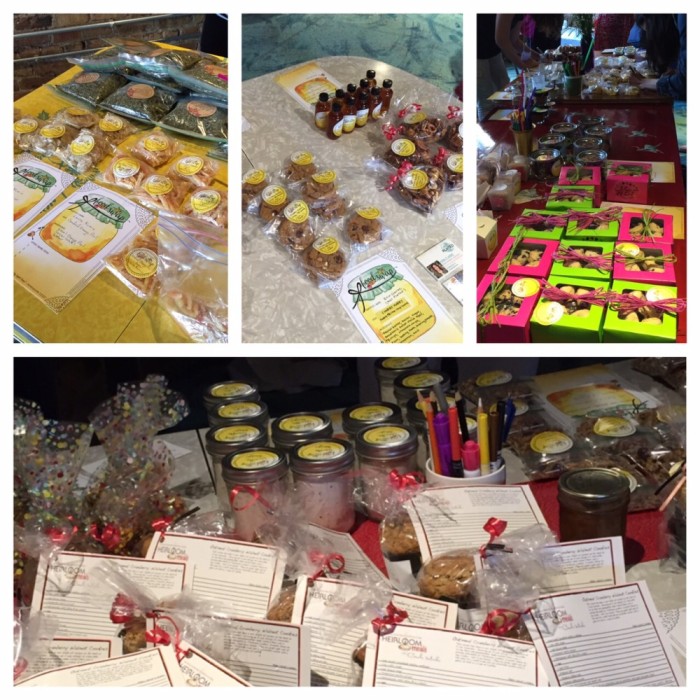 We headed over to this huge market, Mariano's, for a tour and a presentation from Prosciutto di Parma, and then we could break off on our own and get lunch from any of the many options available in the market. I passed by the hot bar and saw roasted Brussels sprouts the size of my head that just looked too good to pass up. I piled 'em into a container and made my way over to the oyster bar for a little shrimp and crab cocktail action. The seafood was so fresh and delicious — it totally hit the spot. The options at Mariano's were pretty awesome. Aside from the hot bar and oyster bar, there was also an olive bar, salad bar, sushi, a grilling station, pizza, sandwiches and a huge bakery. I actually went back the next morning to check out the juice and smoothie bar for breakfast and grabbed one made with apple, green grapes, cucumber, ginger, pineapple, strawberries, lemon, coconut water and cinnamon. Mariano's isn't just somewhere you can eat — you can shop there too. If I lived in Chicago, this is where I'd be doing my food shopping!
The afternoon was filled with informative sessions on wrangling your social media accounts and consumer trends in the gourmet market, and a snack break sponsored by Dreamfields Pasta. A variety of pasta salads were up for us to taste — Lemony Peas & Pasta Salad, Fruit & Yogurt Elbow Salad and Spanish Charcuterie Pasta Salad.
Dinner that night was held at Seven Lions down on Michigan Avenue. The downstairs event space was set up beautifully for us and we were treated to a very nice sit-down dinner sponsored by Davidson's Safest Choice Eggs. An array of tasty appetizers, including a delicious plate of octopus carpaccio, were already at the table when we arrived.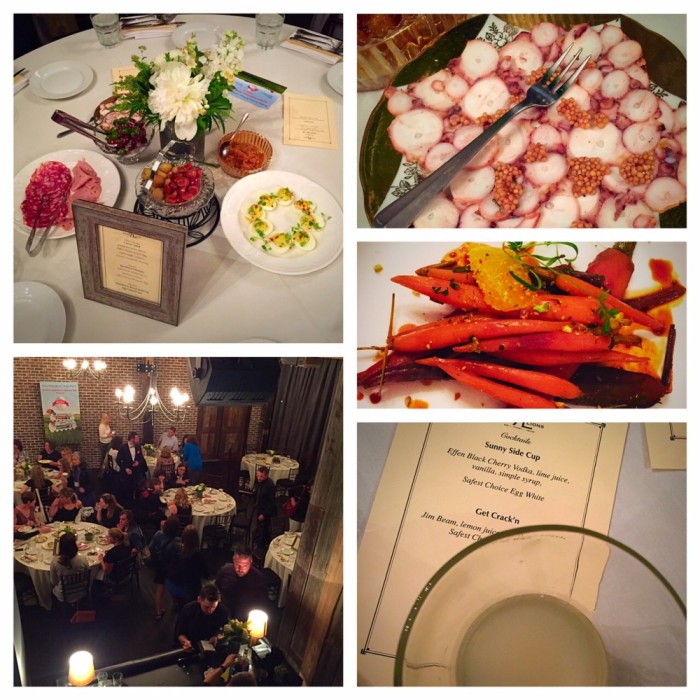 There were two signature cocktails of the night — the Sunny Side Cup, made with Effen black cherry vodka, lime, vanilla, simple syrup and Safest Choice Egg White, and the Get Crack'n made with Jim Beam, lemon juice, Angostura bitters and a Safest Choice egg white. Two options were available for dinner — the regular menu featured a Caeser salad and pasta carbonara, both made with Davidson's Safest Choice Eggs, and a vegan/gluten-free menu. I opted for that one since carbonara has bacon. We started with a bright and colorful Summer Salad with watermelon, radish, baby carrots and a mustard vinaigrette. The entree was a roasted cauliflower steak with romanesco puree and wild mushrooms — LOTS and LOTS of yummy mushrooms! Dessert was super refreshing — perfectly cold and creamy pineapple sorbet with fresh berries. So simple, and so tasty!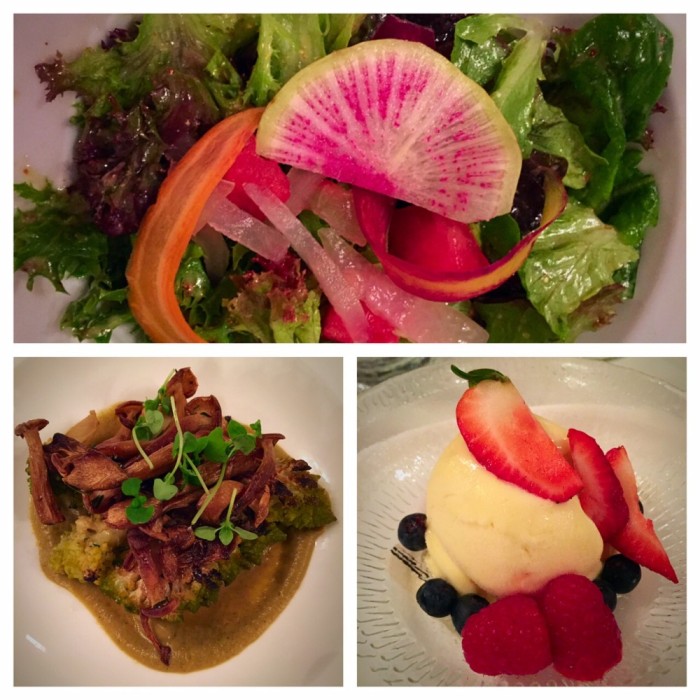 After dinner, a few of us decided to stay downtown and check out the rooftop bar over at the Chicago Athletic Association Hotel. We had a breathtaking view of the city and even got to see fireworks! Susan, Kitt, Alice, Amanda, Amber and I had an amazing time and I'm so glad we got to see the city lights from this angle.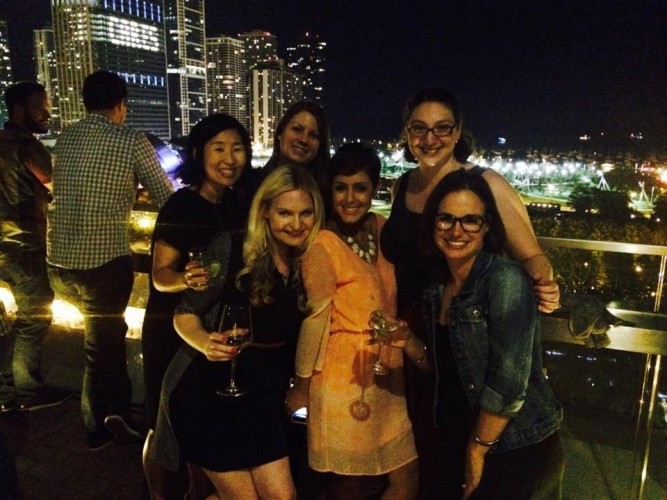 Sunday was a shorter day, but I felt it was the most rewarding and educating — at least for me. The morning started out with an incredible session on cookbook writing and publishing with Sally Ekus, Robyn Webb and Jason Logsdon. Sally is a literary agent and went over how to write a book proposal. Although I have no plans to write a cookbook, I found this extremely interesting since I have no prior knowledge on the subject. I had no idea how much goes into writing a proposal and found it pretty important to know. Robyn spoke about writing cookbooks, as this is her expertise, and proper ways to write recipe titles, head notes and actual recipe ingredients and instructions — all of which is great not just for cookbook writing, but for our blogs too. Jason's talk about self-publishing was very inspiring. He has had amazing success with his Sous Vide and Modernist Cooking series — with no prior experience! It was a kick in the pants for a lot of people, I'm sure.
We also had a session, with a lawyer, Patrice Perkins, on protecting your brand in cyberspace. She taught us about trademarks, copyright and what to do when someone infringes on your work. I learned a lot and am eager to start taking the necessary actions to make sure all of my content is protected!
Lunch on Sunday was awesome. A "Build Your Own Lunch" buffet, sponsored by Gourmet Garden, included grilled cheese (one with pesto and cheese and one with prosciutto) and tomato soup, a salad and pasta bar with all the trimmings including dressings and sauces made with Gourmet Garden Stir-In Pastes. The new Lightly Dried Herbs were available to sprinkle over the soup, mix into the pasta or add to the salad.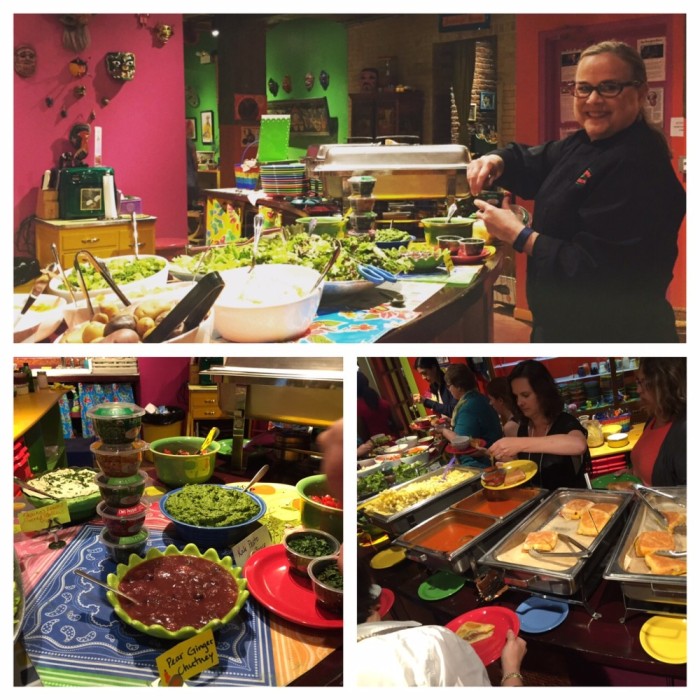 Thanks to my partnership with Gourmet Garden Herbs & Spices, I not only got to attend the conference as a representative of the brand, but I also had one of my own original recipes featured during this Sunday afternoon lunch! As you may know from previous posts, I love using Gourmet Garden products in my recipes, so it was super fun to create something new to showcase at the conference. My Roasted Almond and Parsley Dip was a HIT — I got tons of positive feedback from the other attendees. I was super nervous to have my recipe on display. What if no one likes it?! But my worries were completely thrown out the door. The dip is made with Gourmet Garden's parsley and garlic pastes, roasted Marcona almonds, Greek yogurt, butter beans and lemon juice.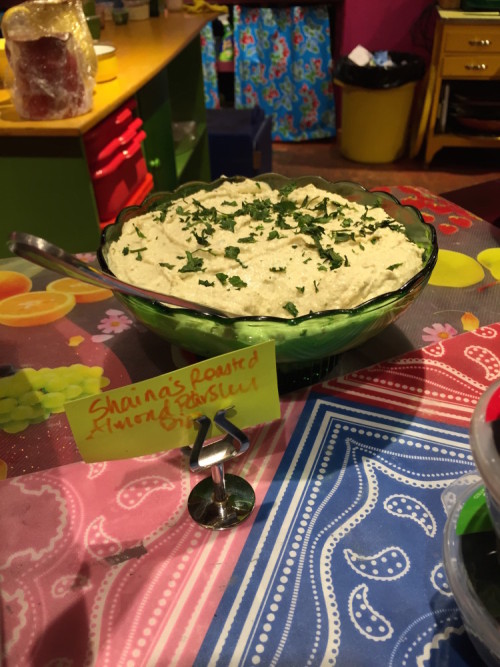 Thank you so much to Gourmet Garden for giving me the opportunity to experience Eat Write Retreat and to let me share my Roasted Almond and Parsley Dip with everyone! As promised to all, here is the recipe. Enjoy!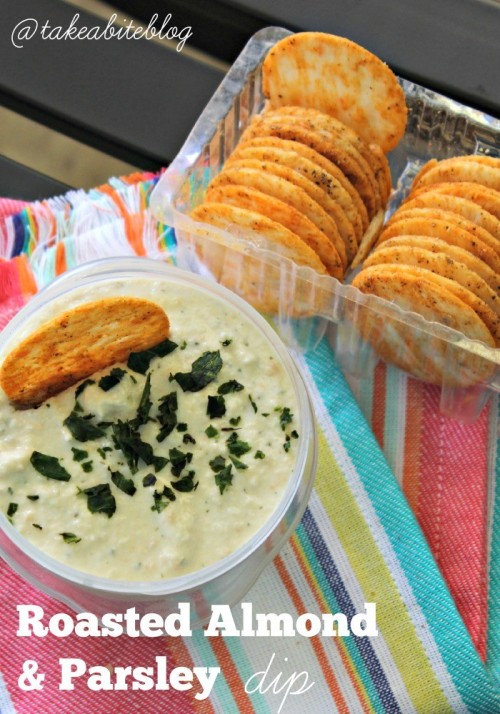 Roasted Almond and Parsley Dip
Author:
Ingredients
6 oz. whole roasted & salted Marcona Almonds
1 15.5 oz. can Butter Beans
the juice of 1 large lemon
1 cup nonfat plain Greek Yogurt
1 tbsp Gourmet Garden Parsley Stir-in Paste
1/2 tbsp Gourmet Garden Garlic Stir-in Paste
~1-2 tbsp extra virgin olive oil
salt and pepper
Gourmet Garden Lightly Dried Parsley
Instructions
Add almonds, beans, lemon juice, yogurt, parsley and garlic to a blender and pulse on low until combined.
Switch the blender to high and drizzle in olive oil while it's running, pulsing until you reach a creamy texture, about 2-3 minutes. Add more extra virgin olive oil as needed.
Season with salt and pepper to taste.
Top with Gourmet Garden Lightly Dried Parsley.
I could go on and on about how rewarding and memorable my time at Eat Write Retreat was, but your eyes may start to glaze over and words might start blending together. Let's just leave it at this — if I had to recommend a food blogger's conference to a new blogger, I'd definitely suggest Eat Write Retreat. The networking and social opportunity is incredible because of the smaller size, the sponsors and brands involved are wonderful and were so willing to talk with everyone, and the sessions were well thought out and informative.
Eat Write Retreat is heading to LA next April, so I'd advise marking your calendar now and start saving! It's well worth it…
Disclosure: This is a sponsored post on behalf of Gourmet Garden. I have an ongoing relationship with the brand in which I am provided with product and compensation to create original recipes. I attended Eat Write Retreat as a brand ambassador and have been reimbursed for my conference ticket and hotel accommodations.