I promised you more Miami food reviews, and of course, I wouldn't leave you hanging!
One of the best things about dating a fellow foodie is we are always looking for and discovering great new places to eat and drink. McKenzie has taken me to some really awesome places in Boca, Delray and even Ft. Lauderdale. He's got a whole list of other restaurants and bars we need to go to, and I'm pretty sure something new makes its way onto the list everyday…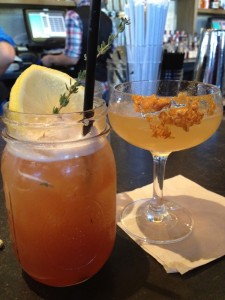 Southern Peach & Yam-Hattan
After our day full of eating our way through South Beach, we kept the party going and hit up a few more spots in Miami before heading home. We walked around Lincoln Road for a while since I've never been there. Well, I have, but I was little. The last time I visited South Beach was with my parents when I was probably like 10 or 11 years old. We walked to Yardbird Southern Table & Bar to get a drink. McKenzie raved about how good this place is the whole walk over. It's a very rustic-style restaurant/bar with a southern-inspired menu. Everything listed on the cocktail list includes bourbon and the menu has southern staples like fried green tomato, shrimp and grits and chicken biscuits. We met some pretty cool people while we were sitting at the bar too. They seriously ordered everything off the menu and eventually it led to us all starting up a conversation about the restaurant being so good. I also told them about my blog and they were nice enough to let me take some pictures of their food (pictured below). McKenzie and I tried some of their fancy-schmancy cocktails. I got the "southern revival" with bourbon, basil, passionfruit, lemon juice and ginger ale and the "southern peach" with bourbon, house-made peach preserves, aperol, lemon juice, thyme and sweet tea. He had the "kentucky mule" with bourbon, vodka, lime juice, ginger beer and orange bitters and "Yam-hattan," a twist on the classic Manhattan, but with sweet potato infused bouron, sweet vermouth and chocolate mole bitters. As you can see, their drinks are really unique. I like how risky some restaurants get with their drink lists — it shows so much creativity.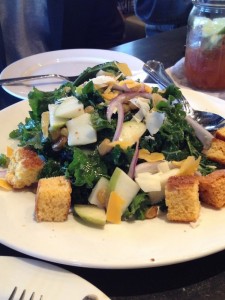 Kale salad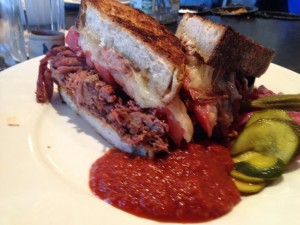 Smoked brisket sandwich
Time passed and eventually we worked up an appetite again. Next stop was Sugarcane in midtown Miami. This place is huuuuge, which an insane bar that is half inside the restaurant and half outside. It's mostly tapas style, with a sushi and raw bar as well. Just like Yardbird, they've got really interesting drinks, so we each ordered one of their signature cocktails. I got the "porch swing" with bourbon, fresh papaya, fresh ginger, ginger liqueur and lime (I've obviously been on a ginger kick lately) and McKenzie tried one of their beer cocktails. It was dinner time so we ordered a few things to share: edamame, roasted kale salad with beets, japanese eggplant from the robata grill and McKenzie also had the marinated olives, shishito peppers and the night crab roll. As you can see, there's a huge variety of things on their menu. The good thing about tapas style dishes is they aren't big at all, so we weren't eating as much as it seems. I ate the eggplant and edamame, had one piece of sushi and shared the salad; those peppers were way too hot for me, and I'm not a big olive fan. These served as our "appetizers," so we headed to one last spot for the night to have dinner.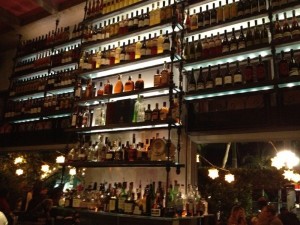 Sugarcane Raw Grill Bar
Earlier that day during the tour, the restaurant Gigi was recommended to us by Grace, the tour guide, as well as another girl Rebecca who was on the tour with us. I am so glad we stopped there before leaving Miami. Hands down, it was the best food we had all day, and we had a lot of really great food. It has a completely open kitchen, which is always a good sign of a restaurant being good. You have to respect a place that allows their kitchen to be seen at all times by their patrons. Again, the menu is all tapas style — this trend is popping up all over and I'm really liking it. I was so happy because my favorite food ever was listed on their menu: Octopus! I immediately knew what I wanted. I ordered the grilled octopus and the soy Brussels sprouts and cauliflower, which McKenzie shared too. He also got the steak chowfun noodle dish. We were just about to leave when we saw the desserts…and HAD to stick around to try the special of the day: white chocolate s'mores bread pudding. It was amazing; that bread pudding was good enough to make it's way into our completely full stomach without a tinge of guilt.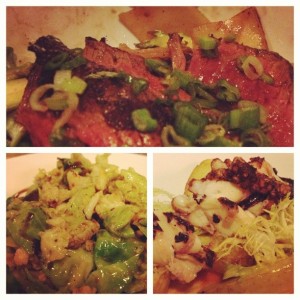 Top: Steak chowfun; Bottom left: broccoli & cauliflower in soy; Bottom Right: grilled octopus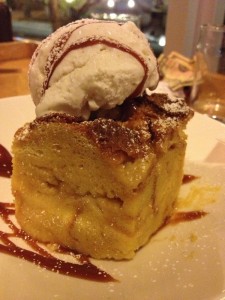 White chocolate banana bread pudding
Gigi was by far our favorite discovery of the day. We've probably bragged about the place to everyone we know. I still can't believe how much food we ate throughout the day. It was way more than we needed to, but it was spread out through the day…and we were just "taste testing" on the tour. And the dishes were tapas style. All of that makes it a little bit easier to accept.. Right? Right.