Never miss a bite! Sign up here to receive new recipes and reviews straight to your inbox.
Disclosure: I was invited to experience a spa treatment and lunch at Breeze Ocean Kitchen as a guest of Eau Palm Beach Resort & Spa. No monetary compensation has been received for this post. As always, all opinions are 100% my own.
Welcome home. That's the first thought I had as I walked through the doors of Eau Palm Beach Resort and Spa and entered the lobby, adorned with comfortable couches, chandeliers, and a calming color scheme. That is, if home is a chic, oceanfront resort with luxurious spa treatments, both fine and casual pool and beachside dining, and a view unlike any other in Palm Beach County. But this was the thought process that went into the design and decor of the entrance area — Eau Palm Beach wants its guests to feel warm and welcomed from the moment they arrive.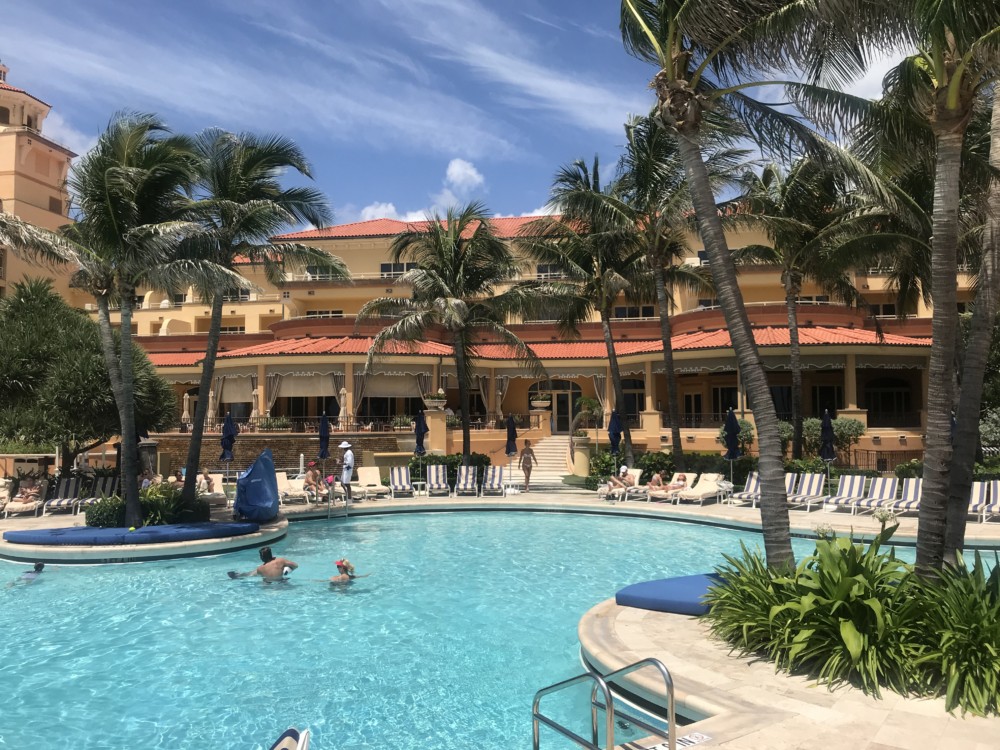 Despite its upscale location on the island of Palm Beach, there is nothing stuffy or pretentious about the resort. In fact, I felt completely comfortable wearing a super casual, lounge-y romper and almost no makeup or jewelry (I was hitting up the spa afterward, so I was in a relaxed, "stay"cay-style mood) to lunch at Breeze Ocean Kitchen, the resort's casual al fresco dining concept that has the best view and a delicious menu of Floridian flavors with Caribbean, Latin American and Asian inspiration, available daily from 11am-7pm. Chef de Cuisine Kevin Knieriemen does a beautiful job at creating dishes that while typical to Florida restaurant menus, still remain creative and unique to Eau Palm Beach.
On top of that killer combination of a view and food, Breeze Ocean Kitchen also offers guests (both those staying at the resort and locals) the option of a private Oceanfront Cabana Dining Experience, which includes a Veuve Clicquot Champagne toast, personal butler and selection of a three- to five-course dinner. There's also a Burger & Brew pairing special now through October 31st featuring the restaurant's double brisket beef burger, choice of side and 16 oz. draft beer for just $20.18. Speaking of beer, Breeze Ocean Kitchen pays homage to Florida's best breweries with a menu of local craft beers  that have been hand-selected by our in-house cicerone.
I'll never say no to lunch with a view, and that's exactly what I had while dining at Breeze. On my right was the gorgeous resort and one of its swimming pools, and on my left was the Atlantic Ocean. Does it get much better? Although I wasn't dressed for the part, I totally felt fancy and kicked things off with a glass of Veuve. Then we got right down to it and ordered some appetizers… Shrimp cocktail is on my list of go-to dishes, and Breeze's sounded especially delicious with a lime cocktail sauce. Clearly I had to have it. The shrimp was chilled and refreshing, perfect for the rather hot summer afternoon we were having. I loved the hint of lime in the sauce. It was subtle but definitely lent a noticeable and well-balanced acidic component.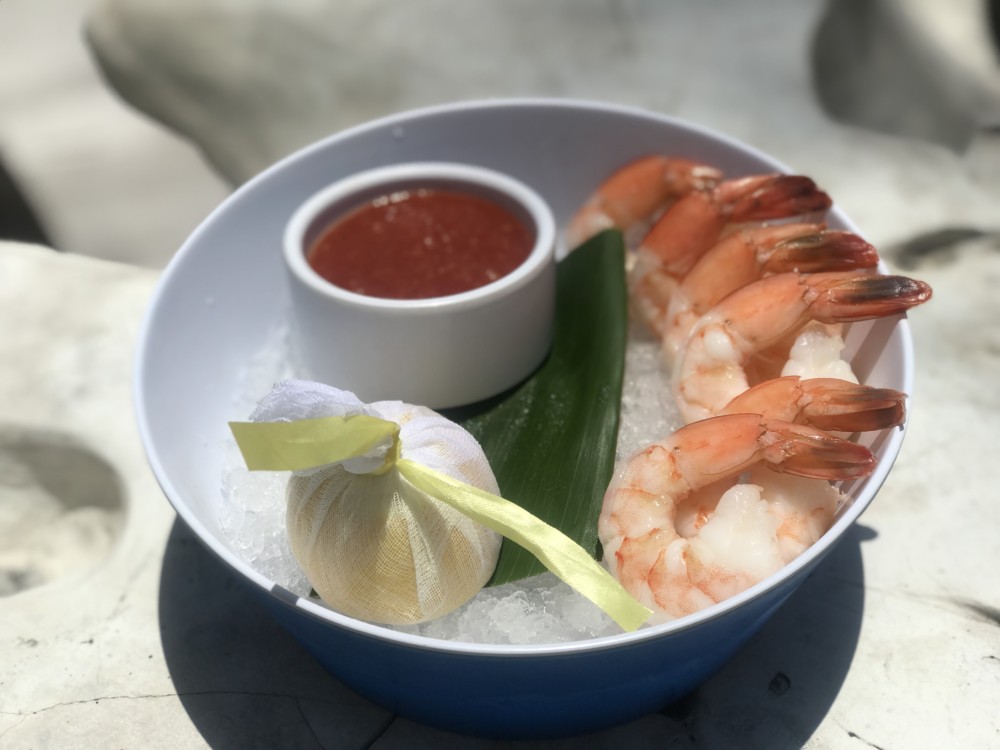 I highly recommend getting the Island Chips during your visit to Breeze Ocean Kitchen. It's super Florida-esque and will definitely help you get into the Island mindset. As a local, being at Eau Palm Beach really did make me feel like I was out of the state, on vacation somewhere tropical. The appetizer comes with plantain, taro root, boniato (a type of sweet potato) and tortilla chips, along with guacamole and a charred tomato salsa. These root vegetable chips are so on trend, and I'm extremely happy about it — I could eat them all day, every day!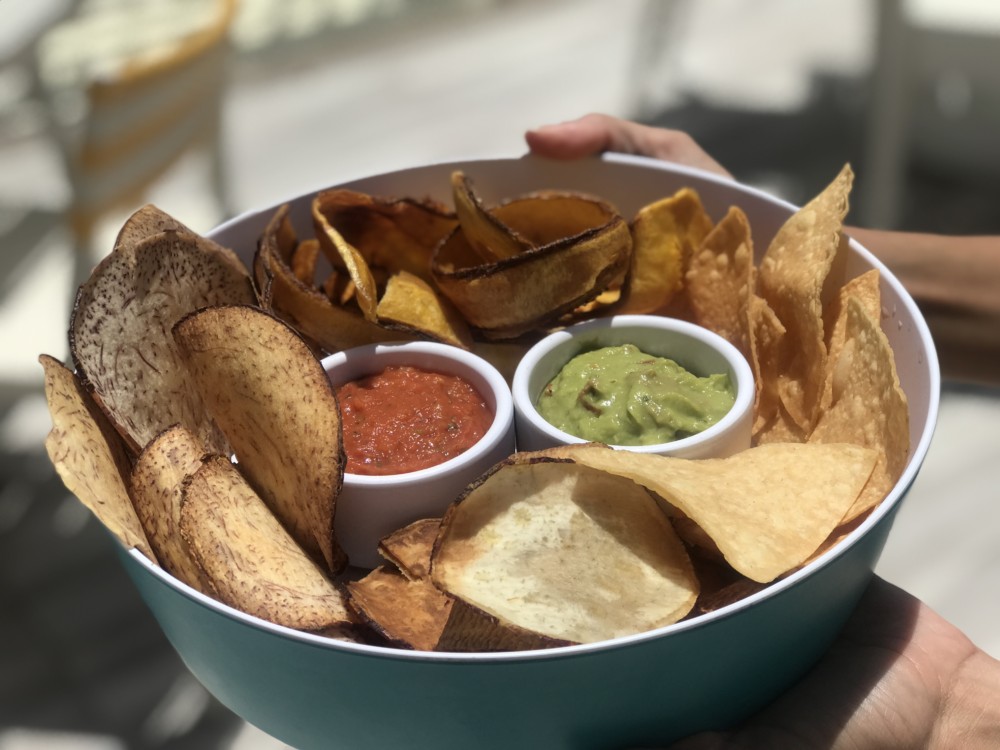 The spicy tuna nacho are a crowd favorite at Breeze, and rightfully so. Although I couldn't taste all of the elements of the dish, the presentation alone made my mouth water. Crispy wontons are topped with diced Ahi tuna, wakame (seaweed salad), lomi tomatoes, avocado and drizzled with Sriracha mayo. To be honest, I like the idea of this kind of nacho dish over the traditional tortilla chip, salsa, guac, cheese, black bean, etc.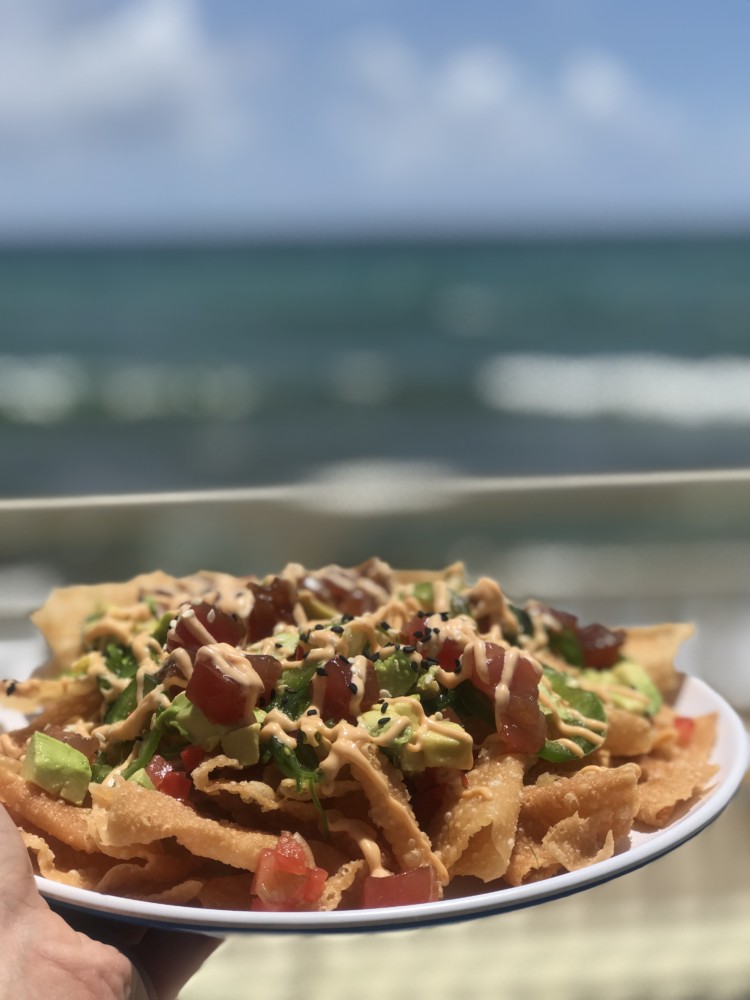 According to our server Michelle, who was super friendly and knowledgable about the entire menu, the tacos are the best thing on the menu. I couldn't pass up that recommendation, and Michelle was quick to note that the kitchen could make mine lettuce wraps, which made it an even easier decision. I got the grilled and blackened mahi, topped with chayote and mango slaw, avocado and jalapeño. It's also served with a chipotle aioli, which I passed on.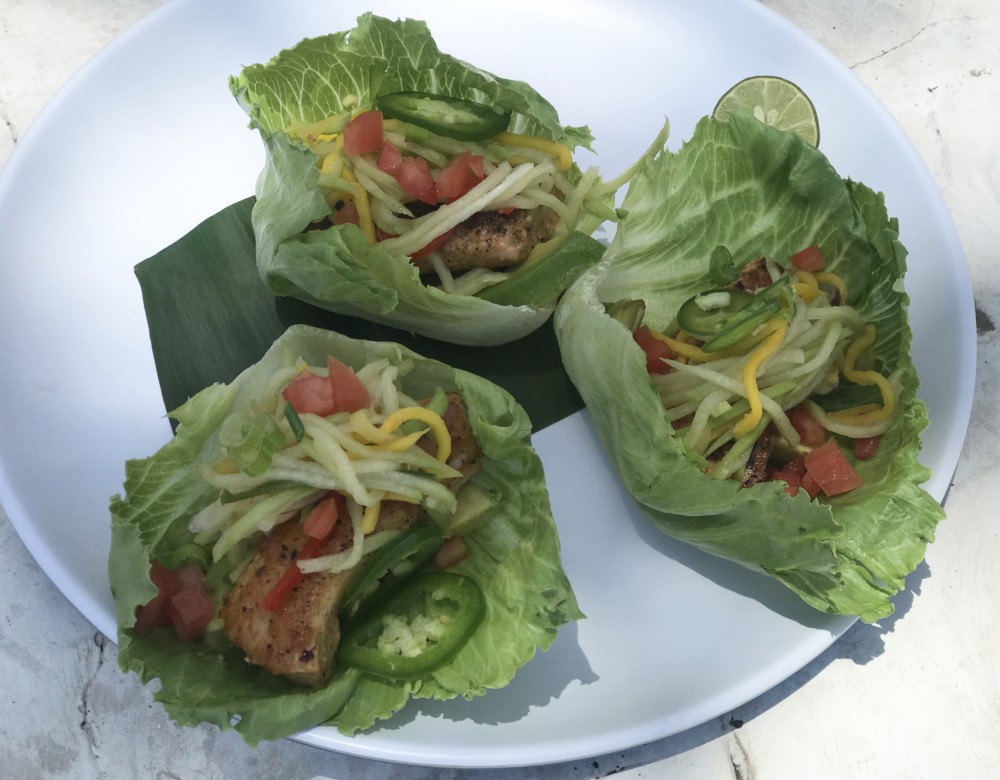 After Breeze Ocean Kitchen successfully filled and satisfied my belly, it was time to head over to Eau Spa to "Pause, Play and Perfect." That's the motto at this 42,000 square-foot Forbes Five-Star spa, where guests are invited to step out of reality and taking a "time out" to forget worries and treat yourself to some me-time, something we all need a little more of in life. Did you know that there are only 48 spas in the entire world that have received a Five-Star rating from Forbes Travel Guide? Yep — and Eau Spa is one of them. Each spa service includes a welcome glass of champagne and signature cupcakes in the waiting room, and access to the steam room, sauna, jacuzzis, and the Self-Centered Garden with dipping pools, hanging chairs, cabanas and massage bench. Eau Spa provides a truly unique and personalized sensorial experience, where guests are able to choose the scent, lighting and music during their treatment.
My Eau Spa signature massage was pure perfection. I've never been so relaxed during a massage treatment — in fact, I may have even drifted off into la-la land for a bit, only to wake up and realize it was almost closing time in my little slice of heaven. I chose the focus on the "Pause," with scents of lavender and mint, blue mood lighting, and a "chill out" playlist of music. These elements help guests to relax and day dream. The "Play" aspect includes scents of citrus and eucalyptus, red lighting and lounge/upbeat tunes, highlighting the energy and playfulness of our personalities. Rounding things out is "Perfect", featuring scents of ginger and vanilla, gold lighting and a mix of music that, as Eau Spa puts it, will make you feel beautiful.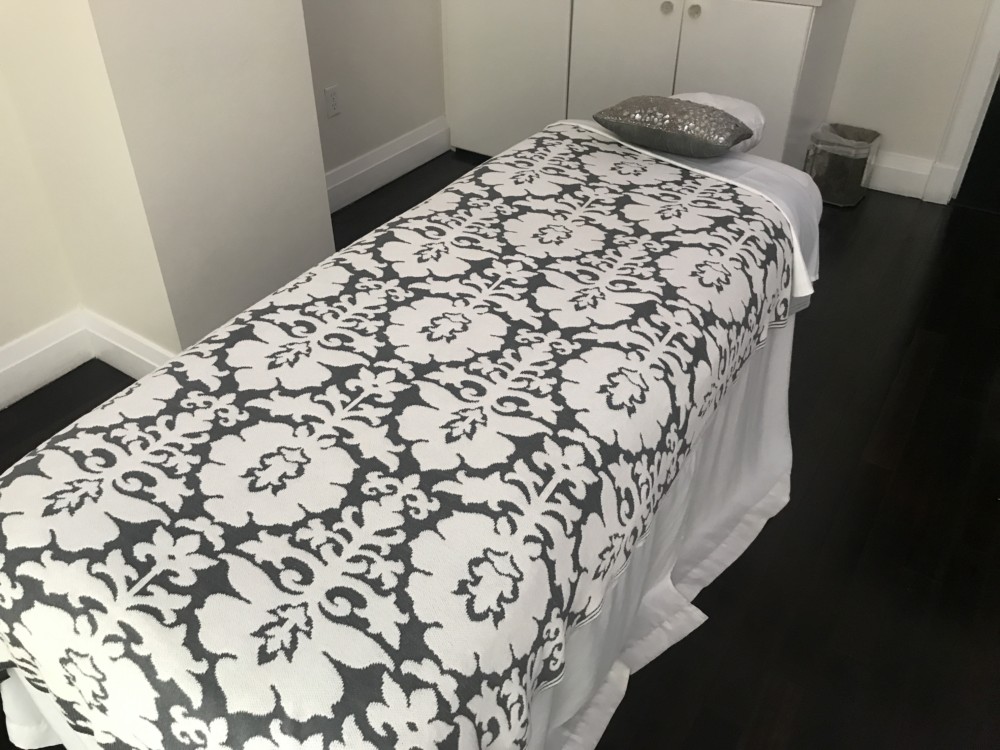 It was an afternoon well spent at Eau Palm Beach, one which I hope to replicate again soon. For locals, Eau Palm Beach can be the perfect "Stay"- or "Day"-cation. Even if you don't plan to stay overnight, it's worth it to visit for the day and enjoy lunch by the ocean, one of their Five-Star spa treatments, and lounge by the fire pit for an evening cocktail. Once you've experienced the beauty that resonates from this resort and all of its amenities, it's sure to become one of the first places you think of when looking for something out-of-the-ordinary to do with friends, family, or your significant other.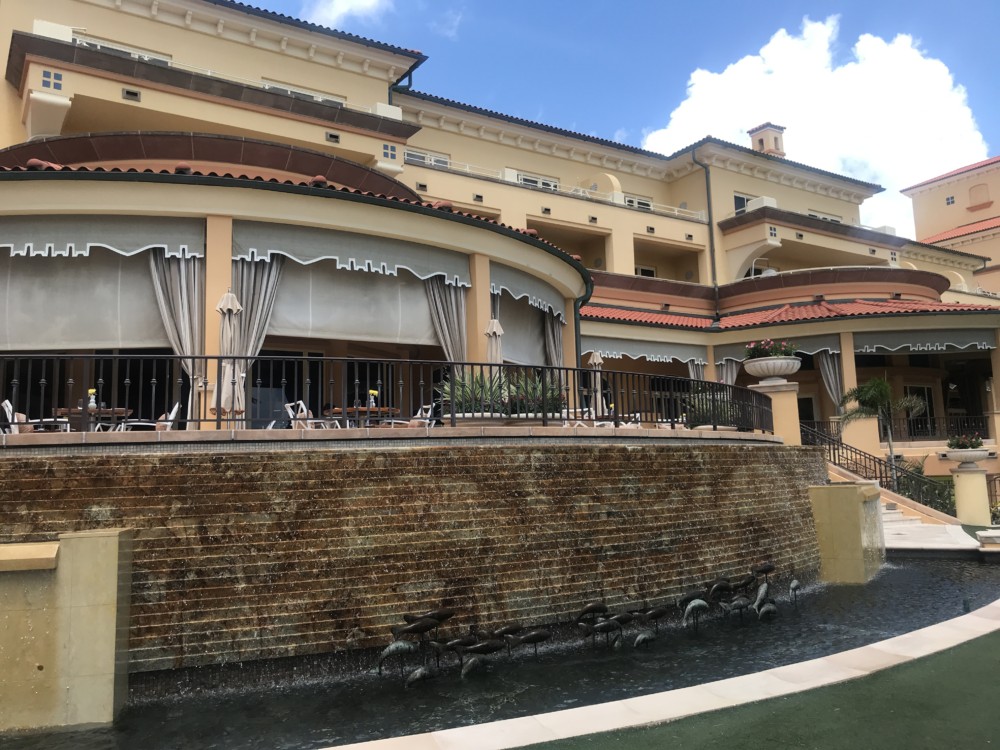 Eau Palm Beach Resort & Spa is located at 100 South Ocean Blvd., in Manalapan. Additional dining concepts include Angle, serving fine Modern American farm-to-fork cuisine for dinner (closed from August through October); the Mediterranean-inspired Temple Orange, open for breakfast, lunch and dinner; and Stir Bar & Terrace with craft cocktails and light bites. Eau Spa services include various skin care treatments, massages, and a full service salon. For a complete menu, visit Eau Spa.