We're three days into Hanukkah already! We all know the story we were taught in Sunday School about the miracle of the oil burning for eight days, so I figured it'd be appropriate to honor the "oil miracle" and use it in a recipe. Chocolate chip cookies using vegetable oil instead of butter — and some pumped up flavor with vanilla pudding mix!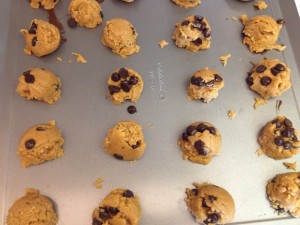 I still am not too savvy when it comes to knowing the measurements of ingredients for baking, so I always make sure to follow some kind of recipe when I do it. It's too technical to risk going it alone if I'm not 100% sure. Cooking is a whole other story; a pinch of this, a spoonful of this — you can experiment and try as you go, tasting along the way. With baking, it is much more rigid. So I used two recipes for reference (one from Cookie Madness and one from Two Peas and Their Pod) and came up with these chocolate chip cookies to give to some people for the holidays. I split the batch in half (of course leaving one for myself) and gave half to one of my neighbors who has been super helpful and friendly since I've moved in, and the other half to one of the families I babysit for every so often (a girl's gotta make some extra cash!).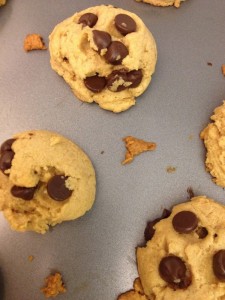 I wasn't sure how they were going to come out… The dough was SUPER crumbly and the chocolate chips weren't mixing in too well. But I held my breath and kept going, using my new OXO cookie scoop and plopped down each one onto the baking sheet, praying they held together and baked into an edible dessert. 10 minutes later, I took them out of the oven and WHEW — they looked good! They tasted SO good, too. I didn't miss the butter at all!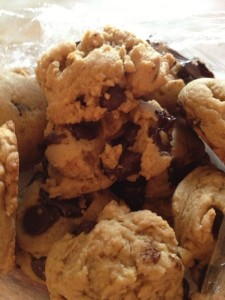 "Miracle Oil" Chocolate Chip Pudding Cookies
Makes approx. two dozen cookies
1 1/2 cups white whole wheat flour
1/2 cup packed light brown sugar
1/4 cup vanilla pudding mix
Preheat the oven to 350 degrees.
Combine the flour, baking soda and salt in a bowl and set side.
In a medium bowl, whisk together the sugars, oil, egg, vanilla and pudding mix. Add in the dry ingredients and mix until well combined. Stir in the chocolate chips.
Scoop cookies onto a baking sheet and bake for 8-10 minutes.