Time to pretend again. This is #8 of my Eight Nights of Hanukkah Baking. Shh, just pretend Hanukkah didn't end two days ago…
Lately, I've been obsessed with trail mixes and different kinds of nuts. I have a newfound love for cashews and I absolutely adore dried pineapple, cherries, cranberries, raisins, etc… Hands down, Trader Joe's makes the best trail mixes EVER. The closest one is in Naples, but fortunately I have a friend who lives out there! He's in Boca frequently to come to the Centre, so I asked him if he could pick me up a few things the next time he was planning to head this way. Mesquite smoked BBQ almonds just might be the most amazing thing ever. The sesame honey cashews are a pretty close second. I got three bags of trail mix too — Monkey Business (peanuts, banana chips, tart cherries and cocoa nibs), Peanut Butter Cup (peanut butter cups, obviously, almonds, cashews and dried cherries), and appropriately named, Simply the Best (cashews, almonds, dried pineapple, cranberries and tart cherries). That one was my favorite. But there wasn't enough of the pineapple. They were all gone after the first or second time I dug into the bag.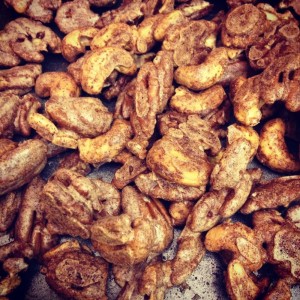 I'm totally digressing here. I didn't make trail mix if that's what you think I'm getting at. My point is that I wanted to do something with nuts. Candied nuts. Super sugary, covered in cinnamon — candied nuts are the perfect combination of sweet and salty.
I followed this recipe from Sally (she's been helping me out a lot lately!), but I used peanuts as the second nut in the recipe instead of almonds. The only thing that threw me was when I put the water and egg whites into the bowl and the recipe said to beat until "stiff peaks" form. Uhhh… what? My kitchen lingo is not completely where it should be, but at least she gave a time limit on how long you should beat for, so I just followed that. I googled what it means, and I don't really think I achieved what it's supposed to be — but it must have been ok because the sugar mixture still worked out just fine.
I like homemade gifts around the holidays, and these candied nuts are ideal. They look pretty, taste amazing, and can be made in big batches so you can gift them to a few different people. So if you're short on cash, or just don't know what to get someone, head to the kitchen and let your baking do the talking. Nothing says happy holidays better than homemade food! 🙂