Florida got a visit from Hurricane Isaac last weekend and I was lucky enough to escape before he arrived. It just so happened that the weekend I booked my flight home for my cousin's wedding was the very same weekend that Isaac decided it was a good time to grace South Florida with his presence. So I gladly high-tailed it outta there and went back to good ol' South Jersey for a nice little mini-vacation. 
I have been looking forward to this much needed break from work; not that I don't love my job and life in Florida, but sometimes you do need a break from reality. Coming back to my parents' house is just that — although it's always pretty chaotic and crazy in that household (one thing that will never change no matter how far I move), I still do love visiting, but a weekend is definitely all I can handle! People kept warning me that there's a good chance my flight home would be delayed or worse, cancelled, and I may end up having to stay in NJ a little longer than I planned for. I'm writing this entry from the Atlantic City airport, with my flight delayed an hour, hoping that is the worst of it. My friends have kept me updated on the weather in Boca and it seems that we were hit with tons of rain and wind, which led to some flooding. Hopefully all of my Florida friends stayed safe and as dry as possible throughout the weekend and didn't experience any damage!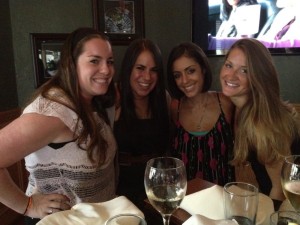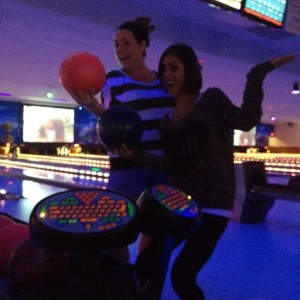 It was great to be back home and see my best friends. Friday night I met up with Leanne, Kelly and Jordan for happy hour at a bar in Somer's Point — a place that opened up sometime after I moved away —Clancy's. We all took advantage of the happy hour specials and got our drinks and ordered appetizers. We shared a platter of the homemade hummus and grilled pita and each got our own platter of mussels. The hummus was so good — it had big flavors of roasted red pepper and garlic and was topped with julienne cut cucumber and crumbled feta cheese. The mussels were delicious too; we all got them in the white wine sauce. That sauce was so good; if it wasn't so unladylike to use the empty mussel shells to scoop up the sauce and drink it, I totally would have done it. We hung for a while and then headed over to our friend Andrew's new house. He just bought the place and is completely renovating it before moving in. 
There is a ton of work to be done, but it's going to be awesome when it's all finished. The backyard is sick — definitely going to be a hot spot for cookouts and parties. I'm excited for him; it's a lot of work, but well worth it. 
By now we all had worked up an appetite for dessert so we headed over to the best local ice cream spot in SP, Custard Hut. We all got Chilly's — basically the same thing as a DQ Blizzard. I got vanilla frozen yogurt swirled with cookie dough bites and Reese's Peanut Butter Cups. Mmm mm, deeee-lish. After we all devoured our ice cream someone came up with the idea to go bowling. That's what I love about my friends; nothing is too random. So bowling, we went! A few of our other friends met up with us too, Anthony, Rico and Dana. We got there and to our surprise, it was GALACTIC BOWLING NIGHT! You know what that means: neon lights and 80's music videos on the big screen TVs! So awesome. I may not be the best bowler in the world, but I had so much fun and it was great to spend time with people I haven't seen in a while.