Saturday was my cousin Katie's wedding in Old City, Philadelphia. The wedding ceremony was in Old St. Joseph's Church, the oldest Roman Catholic Church in Philly. Katie looked absolutely stunning; her dress was gorgeous. I loved how different it was — white mermaid style bottom with a strapless silver glittery top, separated by a gorgeous belt. I loved seeing all of my dad's side of the family; it's been so long since I'd seen everybody.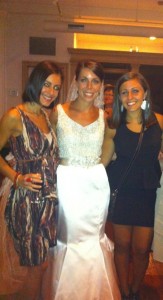 The ceremony was short and sweet, and the party continued at Trust, a beautiful old building used for all kinds of events. We were greeted with a full bar and lots of room for mingling, as well as a great spread of all kinds of food. Artichokes, zucchini and squash, chickpeas, mushrooms, roasted eggplant, tomato and mozzarella, tortellini and pesto, sautéed broccoli rabe, asparagus… There were also people walking around with hor d'oeuvres, too. Everything was delicious. All of the food was right up my alley — everything I love! There wasn't a sit-down dinner, which I thought was an interesting, but very cool way of catering the affair. When dinner was announced and the upstairs loft was opened up for dining, there were stations of food located throughout the area. But they weren't full meals, but appetizer-sized portions instead, so you could try one of everything without filling yourself up! The problem with a lot of wedding meals is just that — you eat so much without realizing it and pretty soon you're feeling uncomfortable and gross. This was the perfect way of doing it. The spread at "cocktail hour" plus the food at "dinner hour" all complemented each other very well and didn't result in button-popping, dress-splitting fullness. There was a station with two seafood dishes: a huge, plump scallop over a bed of Israeli cous-cous and the other was a shrimp dish. 
Another station had the bread basket, steak and mashed potatoes, and a good vegetable medley. There were drink stations too, one with wine and beer and another with all kinds of scotch, but it also had bacon-grilled cheese sandwiches and seasoned potato chips. I was very upset with this station because I couldn't request a bacon-free sandwich. =(  I ate both seafood dishes, the mashed potatoes and veggies and still stole a few potato chips even after being told I couldn't have my sandwich sans bacon. Then came the best part: the cake. A beautiful black and white 3-tiered cake, adorned with a ribbon-like decoration cascading downward. It was gorgeous, and freakin' delicious. I'm pretty sure I housed 3 huge pieces. Wine makes me want sweets, and I had a lot of wine, so I wanted a lot of sweet.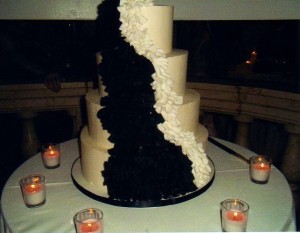 Aside from the food being great, the speeches and time on the dance floor were just as good, if not better. Katie's dad, my Uncle Mike, gave a great father-of-the-bride speech; he had everyone cracking up at his stories of Katie throughout the years. Emily, Katie's sister, kept us laughing with her speech, and then Ed's best man made our cheeks hurt because we were still laughing during his. The band was really good and we all had so much fun for the rest of the night. Now, one thing you need to know about me is that I have a pretty outgoing mother, especially when it comes to anything involving a dance floor and music. If you don't know my mom at the beginning of the night at any kind of event like this, you WILL know her by the time you leave. There is no question about this. You probably even will dance with her. You'll probably be in at least 5 or 6 pictures on her camera, too. This is not an exaggeration. She is one with the dance floor no matter where she is or who she's around. You're bound to have a good time, because if you aren't, she will make you. Needless to say, I was dancing for most of the night. I think my sister still gets embarrassed by her craziness, but I'm past it — you've gotta embrace the crazy and roll with it!