Being that I've gotten to be this crazy baker/chef/food fanatic, my family wanted to see what I could do. My sister and one of her best friends requested I bake something, so I had to come up with something good to impress them. I decided on a banana-Nutella bread, loaded with chocolate chips and topped with a cinnamon-sugar glaze. My sister LOVES Nutella, and we're all big banana lover's…there's also never a shortage of chocolate chips in the house, either. Since the Nutella and chocolate chips would do the job of making this dessert decadent, I wanted the rest to be on the healthier side. I used whole wheat flour, subbed in unsweetened applesauce for the oil and used a no-calorie sweetener. I would have loved to have my stand mixer for this, but I don't think it would have fit in my suitcase. Good thing my parents had a hand mixer I could use or I would have been seriously distraught. It's one thing to use a hand mixer after getting used to a stand mixer, but going back to stirring by hand would not have been ok! I had my little helpers in the kitchen, my sister Rebecca and her best friend Heidi. I taught them a few things about baking. For example, they had no idea you can sub applesauce for butter or oil. I let them mash the bananas, pour some of the ingredients and do a little stirring. I hope they had as much fun preparing the dish as I know they did eating it…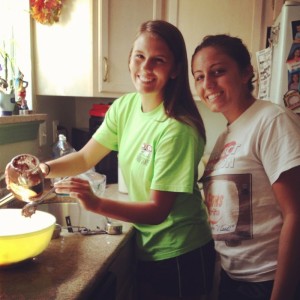 I am not kidding you when I tell you this was one of the best things I have EVER made. My dad had the idea to top it with some cool whip — genius. He said it was more of a cake than a bread, but I don't think the consistency was as fluffy as a cake's would be. Bread, cake, whatever — it doesn't matter what you call it, as long as you cut a piece, top it with cool whip and stuff your face while telling me how amazing it tastes.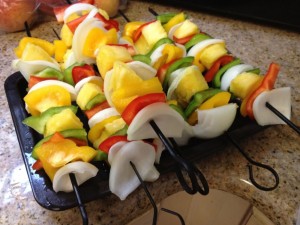 I was also in charge of putting together our menu for dinner that night. My mom came up with the idea to grill shrimp and scallops with a good tropical marinade and I worked off that for the rest. One of my favorite things to put on the grill is pineapple, so we put together skewers of red, green and yellow pepper, pineapple, and onions. I also made a simple side salad with romaine, carrots, and mushrooms, and a tomato appetizer to top the salad. The tomatoes were coated in olive oil and topped with a little dill, salt and pepper, and sprinkled with parmesan. My mom, dad and I all worked together to come up with an great dinner. It was full of bright, vibrant colors and that charred taste from the grill gave everything on those skewers amazing flavor. This was a perfect summer dinner and I was happy to have shared it with my family — preparing and enjoying it as a family was special, especially when you have an awesome dessert to follow. 


1 cup no-calorie sweetener
1/2 cup unsweetened applesauce
1/2 cup no-calorie sweetener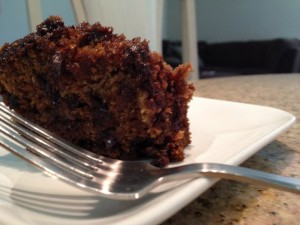 Preheat the oven to 350 degrees. In a medium bowl, whisk together the flour, baking soda and cinnamon and set aside. In a large bowl, mash the bananas and stir in the sweetener, eggs, applesauce, vanilla and Nutella. Mix until everything is well-combined. Stir in the chocolate chips. Pour the batter into a greased 8×8 pan. In a smaller bowl, whisk together the brown sugar, cinnamon and sweetener and sprinkle generously over top of the batter. Bake for 50-55 minutes.