Never miss a bite! Sign up here to receive new recipes and reviews straight to your inbox.
NOTE: This location has since closed and reopened as Even Keel Fish Shack in Lauderdale-By-The-Sea.
Disclosure: I was invited to dine as a guest of Even Keel Fish & Oyster and received a complimentary meal in exchange for this post. As always, all opinions are 100% my own.
Even Keeled (adjective): characterized by stability or consistency. When I think of Chef Dean James Max and his company, DJM Restaurants, that specializes in restaurant concept development and ongoing management, stability and consistency are definitely two words that come to mind.
Chef Max is well known in the culinary world, with restaurant experience in South Florida and beyond. His most recent venture being Even Keel, what he calls a "modern coastal Floridian" restaurant that highlights pristine seafood classics, focused on  localism and sustainability. For Chef Max, seafood has always been his jam. He's a total man-of-the-ocean, and understands how to show off a piece of fish and really make it shine.
Even Keel is a joint partnership between Chef Max and his fellow chef/owners David Maclennan and Brad Miller. The three guys have known each other for years, and have worked together in many different capacities. They have the same vision when it comes to owning a restaurant, and are excited to be back together again in South Florida. With the creativity of bar manager, 'Bootleg Greg' Genias, and the 25+ years of experience of general manager Rick Hamilton, Even Keel has a pretty solid — read: stable and consistent — team backing it up.
I recently had such an incredible night with a group of local influencers (most from FTL/Miami that I don't get to see too often), catching up over Bootleg Greg's cocktails and enjoying a wide variety of dishes from the menu. We kicked things off with fruity drinks on the breezy, outside patio. Although it overlooks Federal Highway, the surrounding decor does a good job of blocking that view and gives you a sense of being outside somewhere kind of tropical and beachy. You don't want to miss out on one of this guy's drinks — he knows what he's doing behind the bar!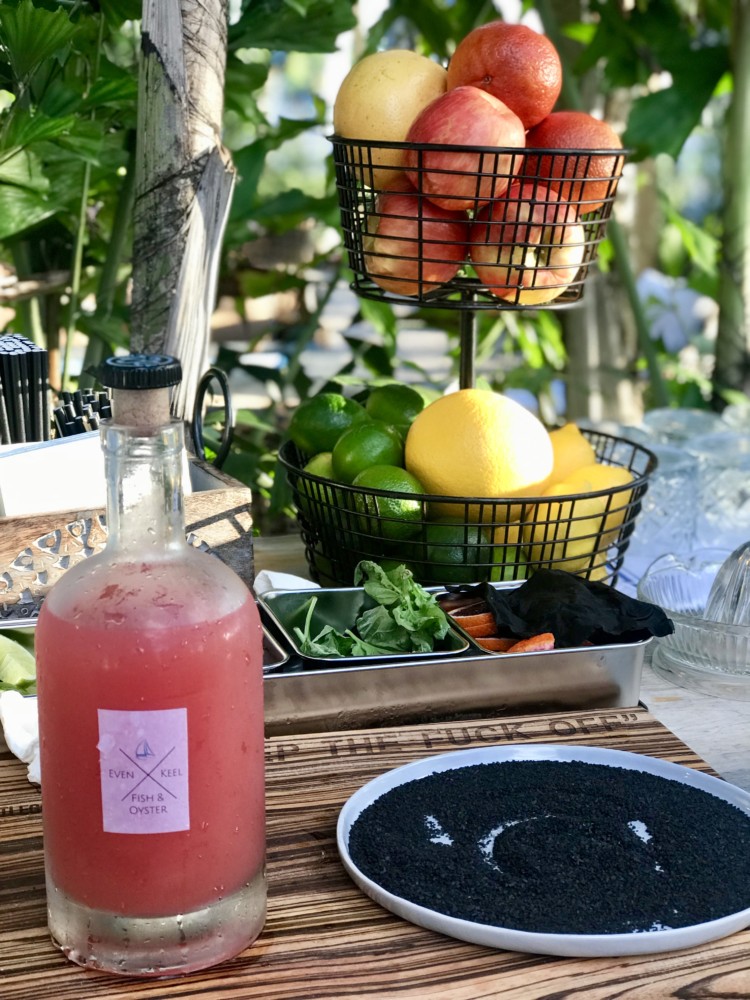 The dinner menu changes daily, depending on what is fresh and available for the chefs to work with and what ingredients are in season. While it's heavily focused on seafood, there is a vegan/vegetarian menu available and plenty of meat dishes too.
Clearly, a seafood tower was inevitably happening, and this one was no joke. We got a little taste of most of the raw bar offerings — oysters and clams with tarragon mignonette, cocktail sauce, and house-made hot sauce, as well as the house-smoked local fish dip (made with mackerel), shrimp ceviche, and ahi tuna poke.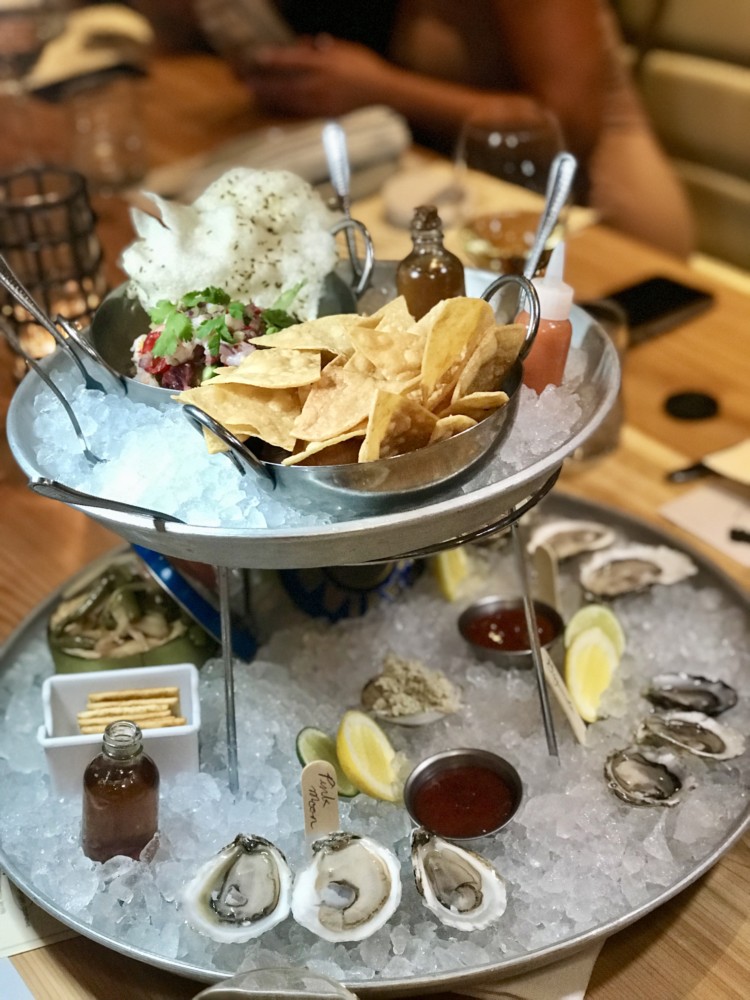 The ceviche was so fresh and flavorful — made with royal red shrimp, blood orange, jalapeño, radish and celery. It had a perfect balance of sweet and heat, and I loved the crunchy texture that the radish and celery added. The poke, a favorite at the table, was made with hijiki, cucumber, sesame chili, yuzu, ginger, and cashews. Unfortunately, there was regular soy sauce in it so I wasn't able to taste, but aside from this, Even Keel does have a pretty gluten-free-friendly menu, for the most part.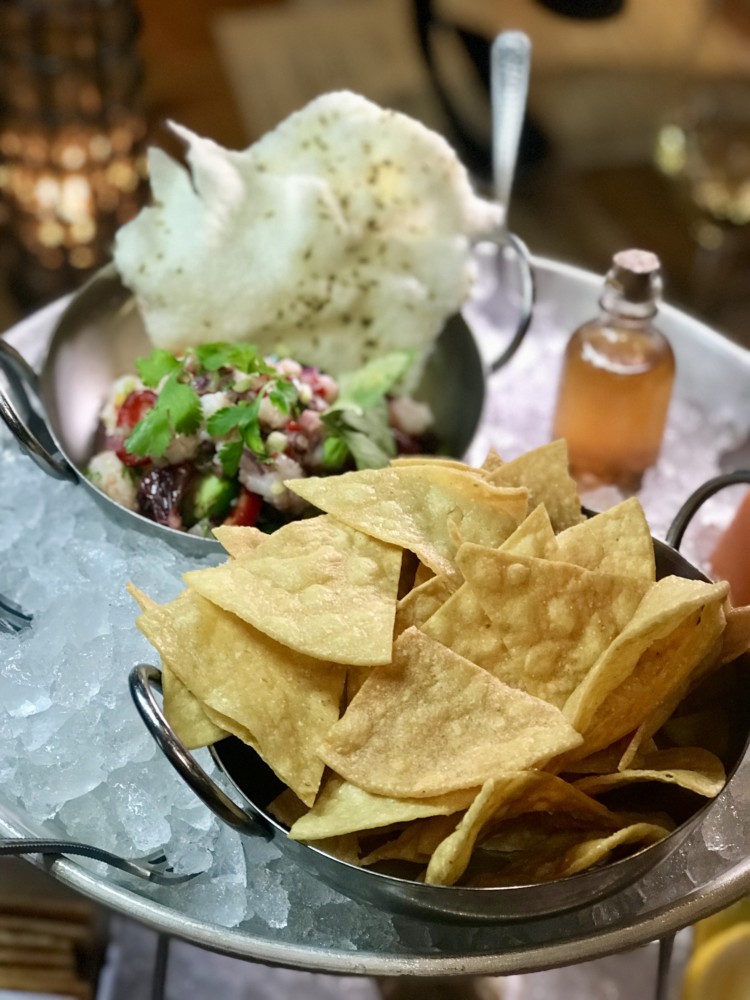 Next up was a whole slew of small, sharing plates… my personal favorite was the crispy Brussels sprouts. I could have devoured the entire bowl if given the chance. The roasted sprouts are mixed with lime, cilantro, scallion, and cashews. Sprouts prepared this way are seriously addicting! The crispy cauliflower came in as a close second, made with blue crab, red pepper sauce, raisins, and an apple salad. Not only was it visually appealing, but all of the flavors and textures worked so well together. These two appetizers are must-tries, and lucky for you, they are both pretty much mainstays of the menu.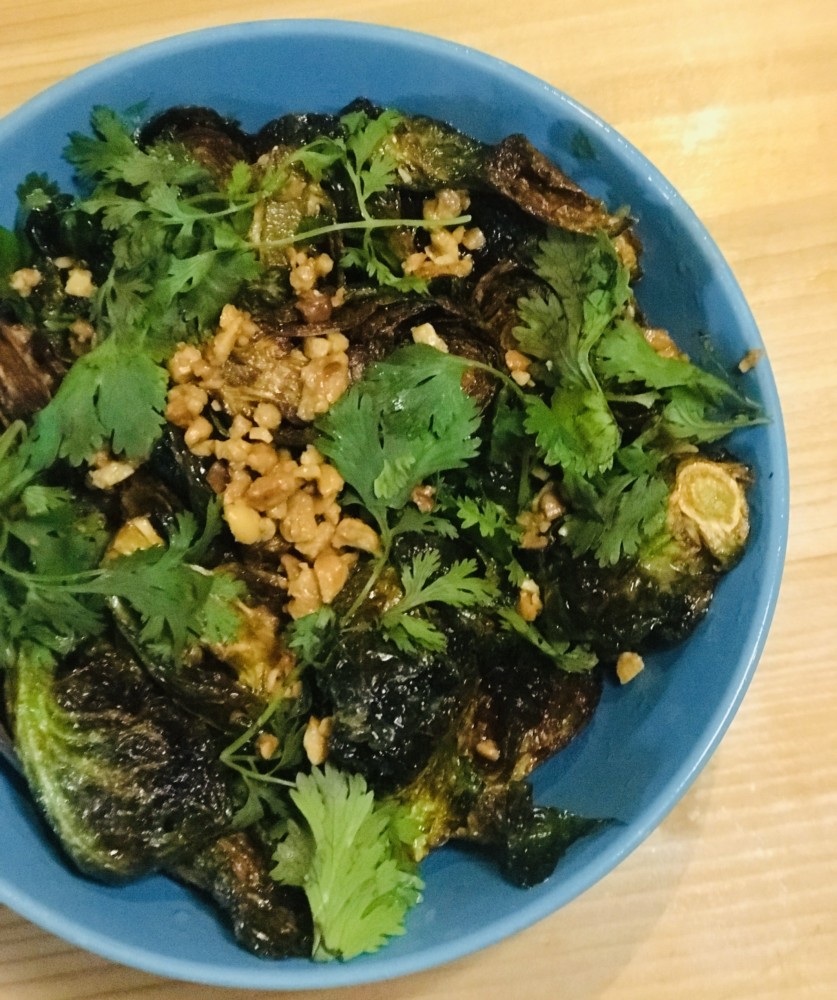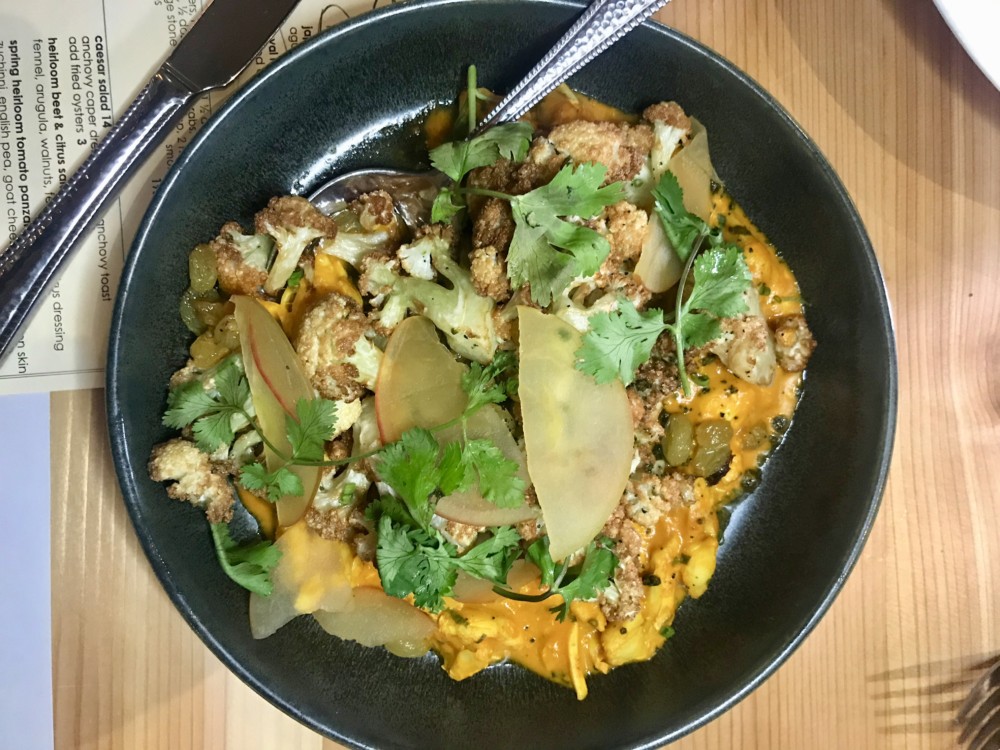 Another standout dish for me were the wood-fired prawns, served on a bed of romesco sauce and topped with salsa verde, lemon, and chili flake.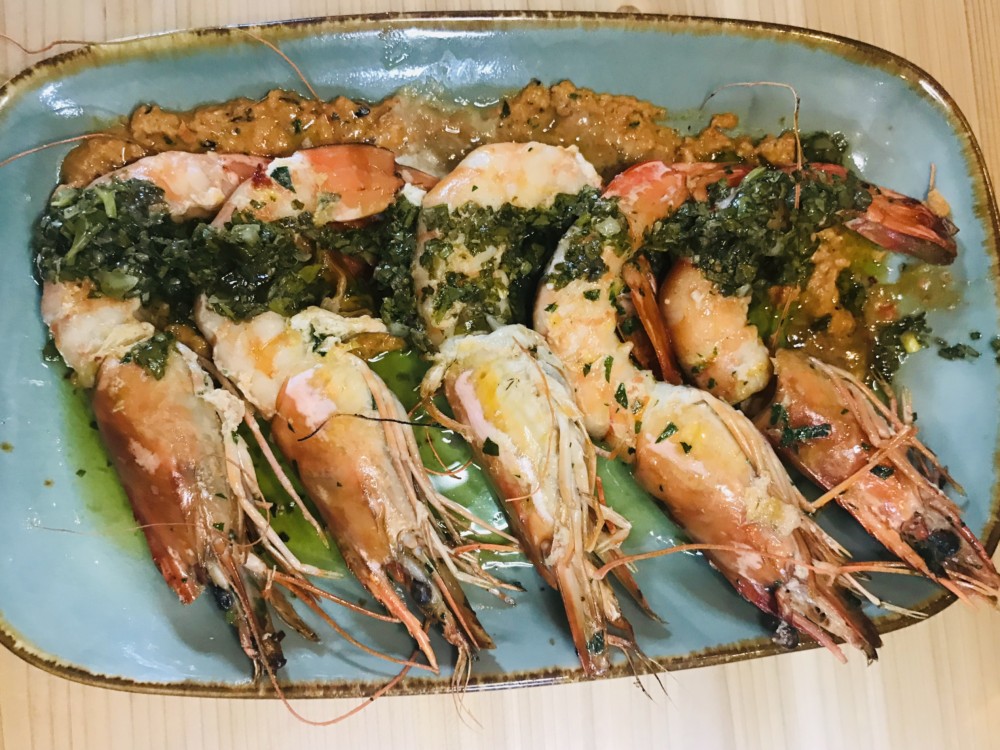 Then it came time for the entrée course. First up was one of the most beautifully plated dishes I've ever seen — the Maine scallops with corn pudding, grilled baby gem, warm white balsamic and mustard vinaigrette, parmesan snow, and crisp little pieces of bacon. Thankfully, I was able to safely enjoy one of the scallops that hadn't touched the corn pudding, and I snuck in a few pieces of bacon while I was at it. Scallops + bacon are a match made in heaven, and I now want this combination to happen in my life way more often.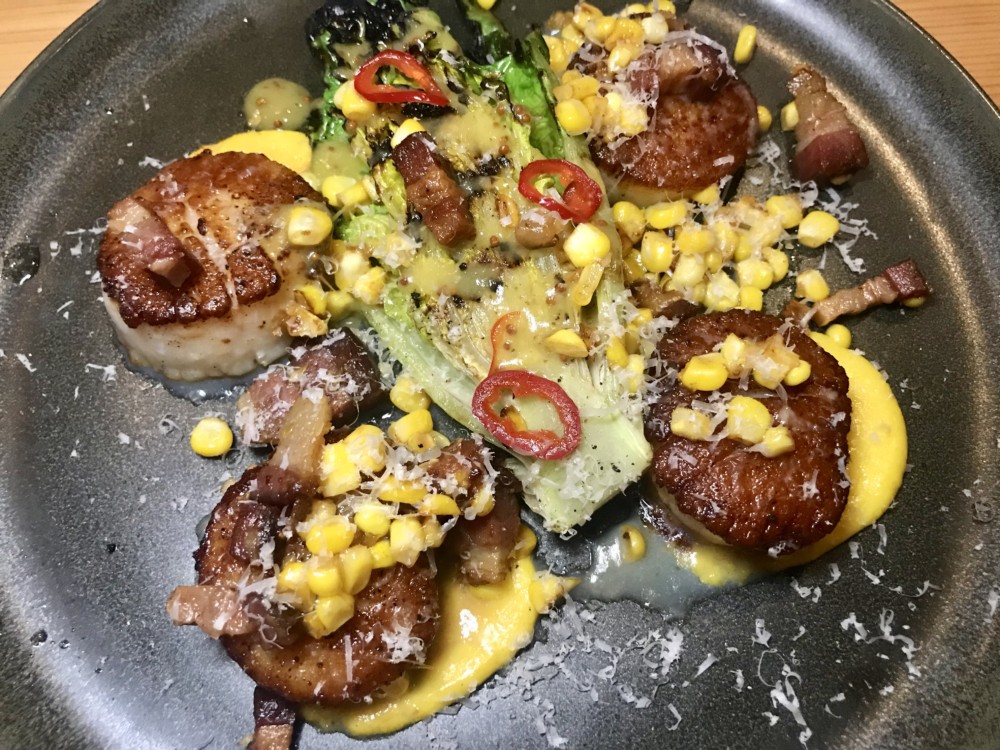 The fish entrées continued with a local red snapper served with a sunchoke puree, English peas, baby shiitake mushrooms, sunchoke chips, and drizzled with lemon oil. Another gorgeous dish with so many bright colors on the plate — and it tasted just as amazing as it looked. I feel so lucky to live in Florida where fresh, locally caught fish is readily available for us all year long. Even Keel's dedication to serving and supporting local is a huge draw for me, and one that will keep me coming back for more.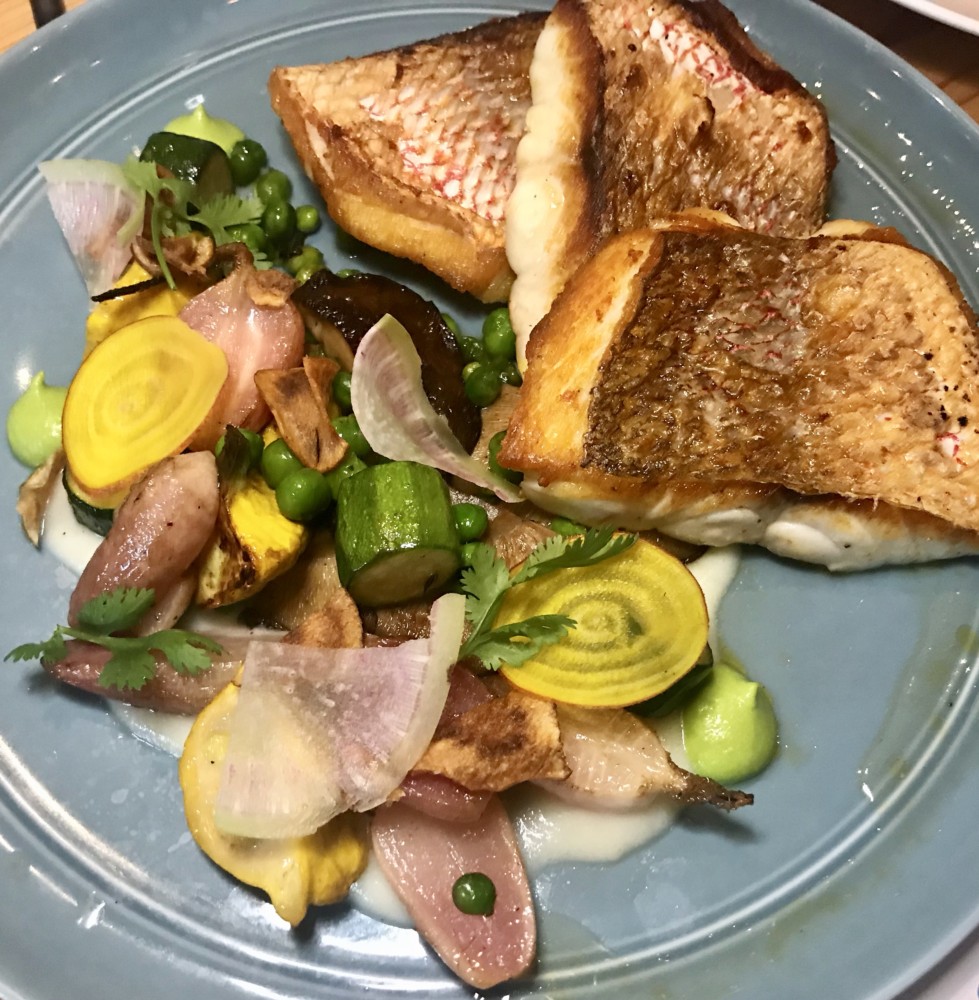 And because we couldn't leave without at least trying a little bit of the meat offered, we were served the 8 oz. hanger steak, which came with a generous helping of insanely delicious chimichurri, and parmesan french fries.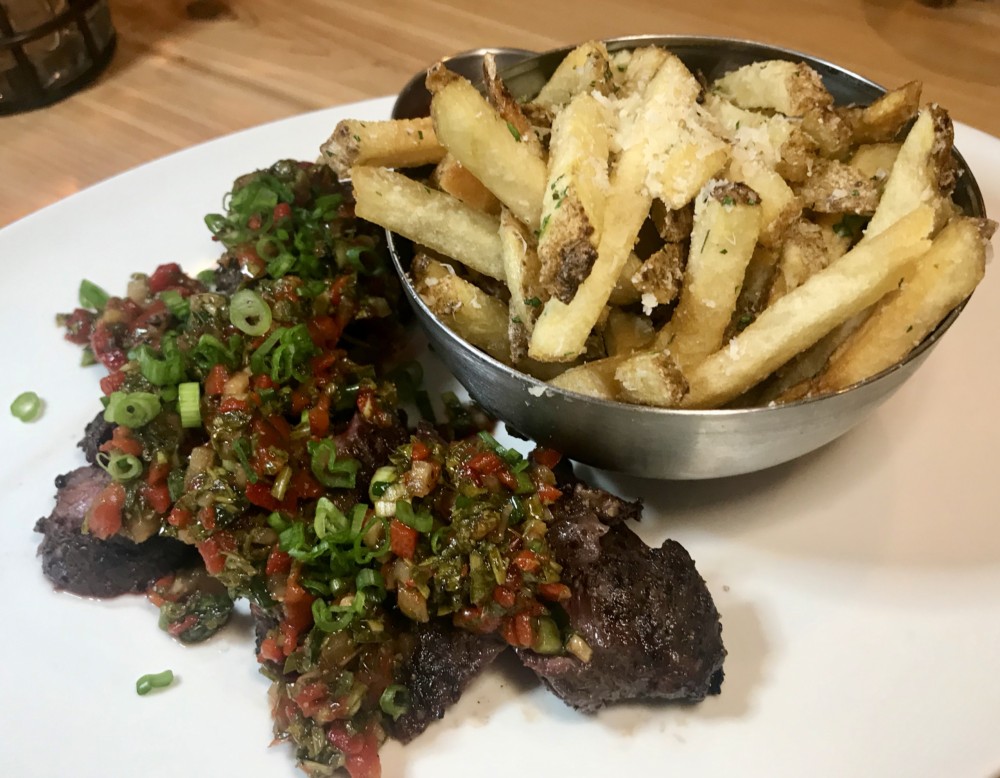 Our group was seriously impressed with everything about our experience at Even Keel — the cocktails, the staff and service, the atmosphere and vibe, and above all else, the food.
Even Keel is located at 4100 North Federal Highway in Fort Lauderdale. The restaurant is open for dinner Tuesday through Sunday (closed on Monday during the summer) starting at 5pm. Happy hour is available Tuesday through Sunday from 4-7pm in the bar and patio areas, and brunch is served on Sunday from 11am-3pm, with $15 bottomless mimosas.
Weekly specials include $2 oysters all night on Tuesday, all-you-can-eat mussels for $19 and "Vino on the Veranda" featuring $5 entry level wines all night every Wednesday, and lobster night on Thursday, with 1 1/4-pound lobsters available for $29.