Never miss a bite! Sign up here to receive new recipes and reviews straight to your inbox.
Disclosure: I was invited to dine as a guest of Harvest Seasonal Grill & Wine Bar. No monetary compensation has been received for this post. As always, all opinions are 100% my own.
As the name suggests, Harvest Seasonal Grill & Wine Bar's menu changes along with the seasons — and its current fall menu is available now until December 13th, so get it while it's still here!
It's not secret that I've enjoyed my experiences at Harvest Seasonal Grill & Wine Bar. I was there for its Grand Opening Celebration around this time last year and enjoyed a delicious dinner not long after. Then, this past summer I was invited back again for a summer menu tasting, and now I'm bringing you even more yumminess…
When it comes to flavors and ingredients, fall is my favorite time of year. Bring on aaaaall the butternut squash, pumpkin and warm spices like cinnamon and nutmeg! The fall menu at Harvest Seasonal Grill & Wine Bar is full of your favorite things about fall — even the drinks feature the tastes of the season, like the Vanilla Fig Mule and Spiced Red Apple Sangria. Speaking of which, let's kick things off with a cocktail, shall we? Although both of the above sounded delicious, I was drawn to the gingery-ness of the Black Cherry Ginger Mojito. Ginger might not be the most traditional fall flavor, but there's something about it's innate spiciness that makes me feel all warm and fuzzy inside and reminds me of cooler nights spent back in my Jersey hometown. This mojito is made with Bacardi Black rum, Domaine de Canton ginger liqueur, fresh lime, black cherry, muddled ginger & mint. I wasn't expecting this to be as strong as it was, but believe me — it's not for the faint of heart! The ginger is very strong, and almost completely masks the black cherry. The cherry, which does manage to peek through a bit, provides a hint of sweetness.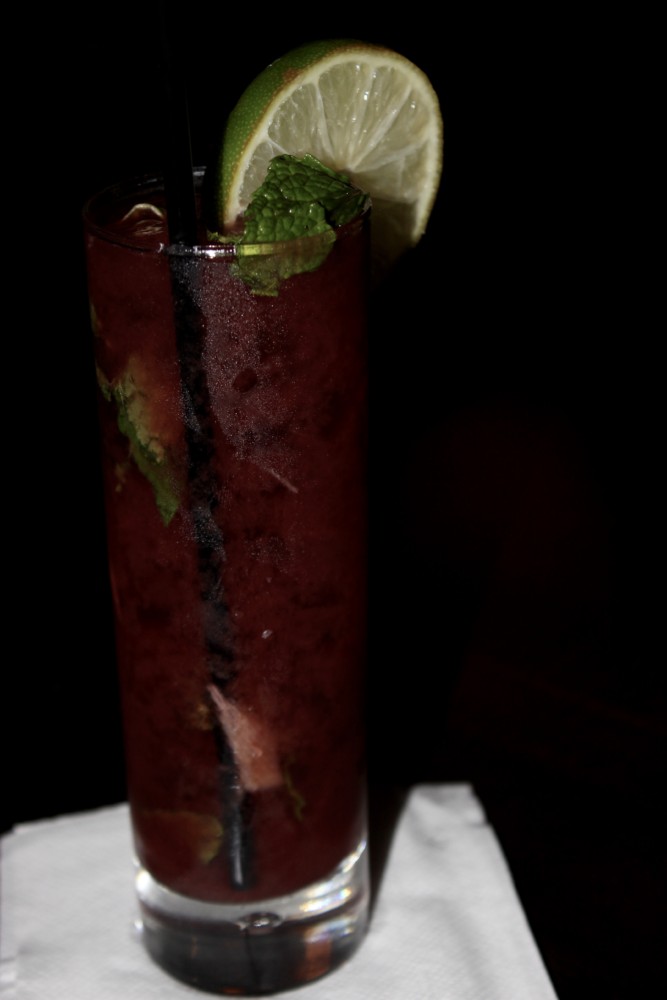 You can't visit Harvest Seasonal Grill & Wine Bar during the fall months without trying the butternut squash soup. It's everyone's favorite dish, and is highly recommended by owner Dave Magrogan and executive chef Bill Ring — who can say no to the owner and chef's recommendations?! Jill and I ordered a bowl to share, and within seconds we were begging our server for more to take home. (Side note: we were so happy and full by the end of dinner that we totally forgot to get our take-home containers of soup. I've never been more sad to not have leftovers.) This soup is by far the most delicious butternut squash soup I have ever tasted. It's super thick and creamy without feeling too heavy. It's exactly what you want to eat on a chilly night while curled up on the couch watching This Is Us. Nothing like a bowl full of comfort to help get you through those tear-inducing episodes…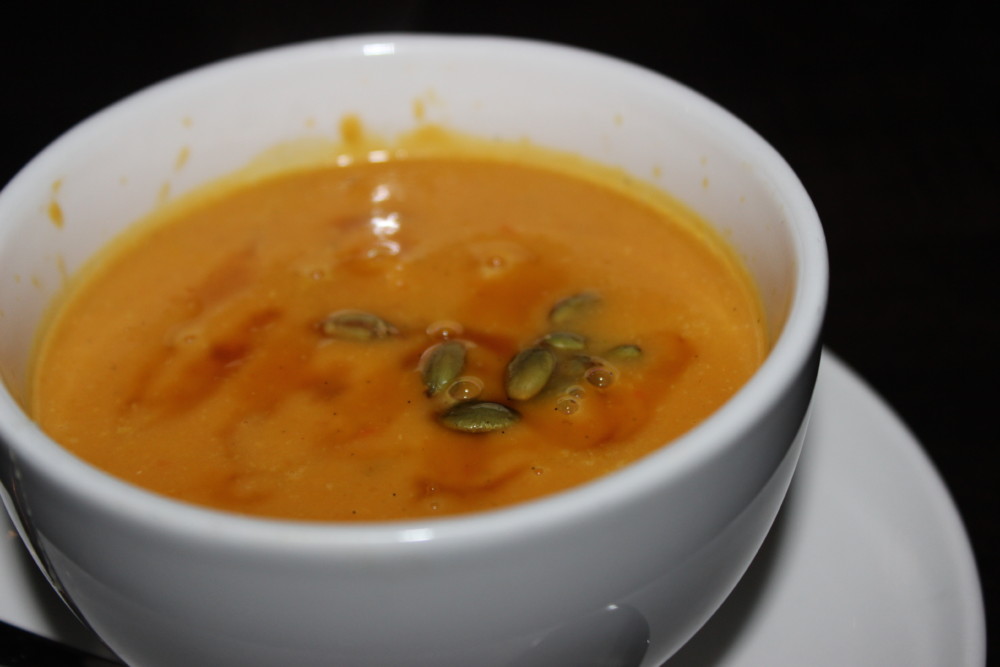 Next up we tried the fall version of Harvest's tuna poke. This seems to be a menu staple, with ingredients swapping out as the seasons change. Back during my summer visit, we had the tuna tartare with lots of delicious summer flavors like watermelon and basil. This time around, Ahi tuna is combined with Asian pear, sweet onion, ginger soy sauce, macadamia dust, blood orange vinaigrette, roasted nori, Hawaiian Black Lava salt and garnished with pea tendrils. What we loved most about this dish was the huge chunks of tuna that stood as the ultimate star of the dish. Not one other ingredient tried to steal the spotlight — instead, everything worked extremely well together to put on one hell of a show. The roasted nori (strips of seaweed) served as the perfect vehicle for shoving spoonful after spoonful of this deliciousness into our mouths. But a fork was even better.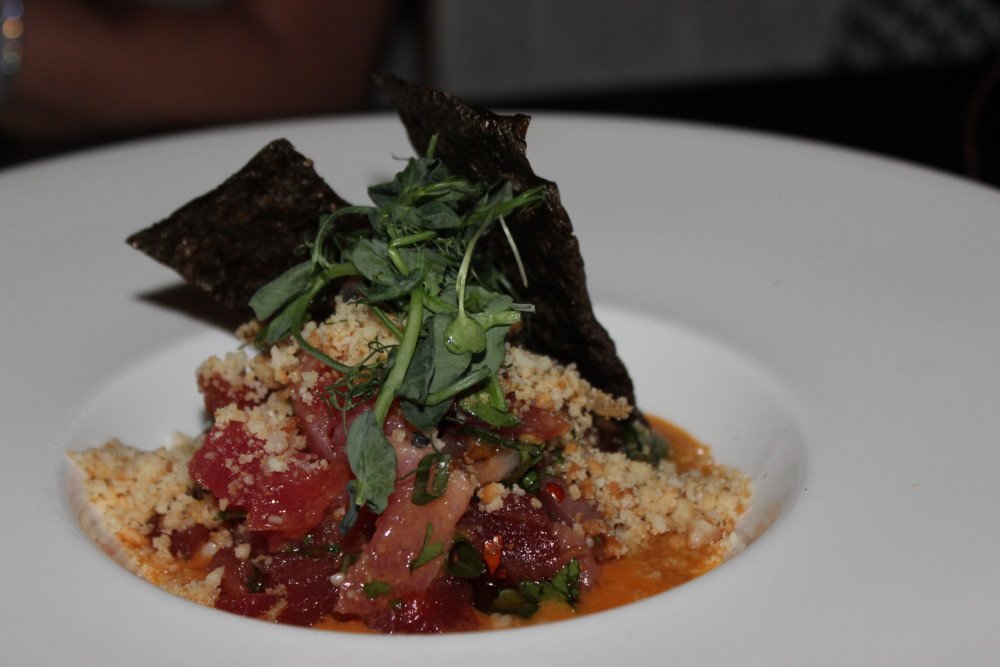 While I absolutely loved the appetizers we devoured, I was super intrigued by the seafood and vegetarian entrée options. So, for probably the first time ever — we ordered FOUR different entrees because we just could not choose. The horseradish-pumpkin seed pesto that came with the pan-seared rainbow trout had us both drooling, so that was a must. Along with a perfectly cooked piece of fish (and one of my favorites at that) was a beautiful combination of fennel-spiced mushrooms, Israeli apple-celery slaw and a cauliflower purée. My only complaint? There was not enough of that velvety smooth purée on the plate. That was delish. Surprisingly, I also really enjoyed the spice on the mushrooms. I'm not normally into fennel, but in the right context it totally works.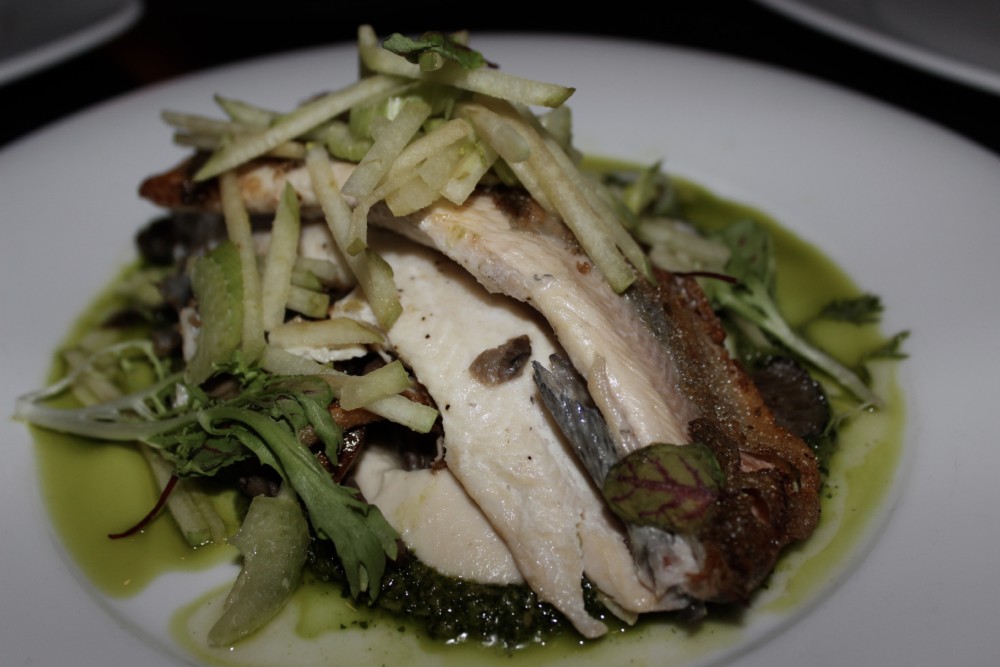 The vegetarian menu section at Harvest Seasonal Grill & Wine Bar is filled with super creative and unique takes on traditional items, like the portobello "cheesesteak" and the seared roasted beet "scallops." The beet dish sounded extra interesting, and it was another dish that was highly recommended to me by the owner. Case in point: we ordered it. Large red and yellow beets, seared off as though you would scallops, sit atop ribbons of spiced squash and kale tossed in a pistachio butter and goat cheese crema. Um…the drool that started over the horseradish-pumpkin seed pesto definitely continued when this dish hit the table. Not only is it something I've never seen on any menu before, but the presentation was just gorgeous. The bright colors, the precise plating — I couldn't get enough of this!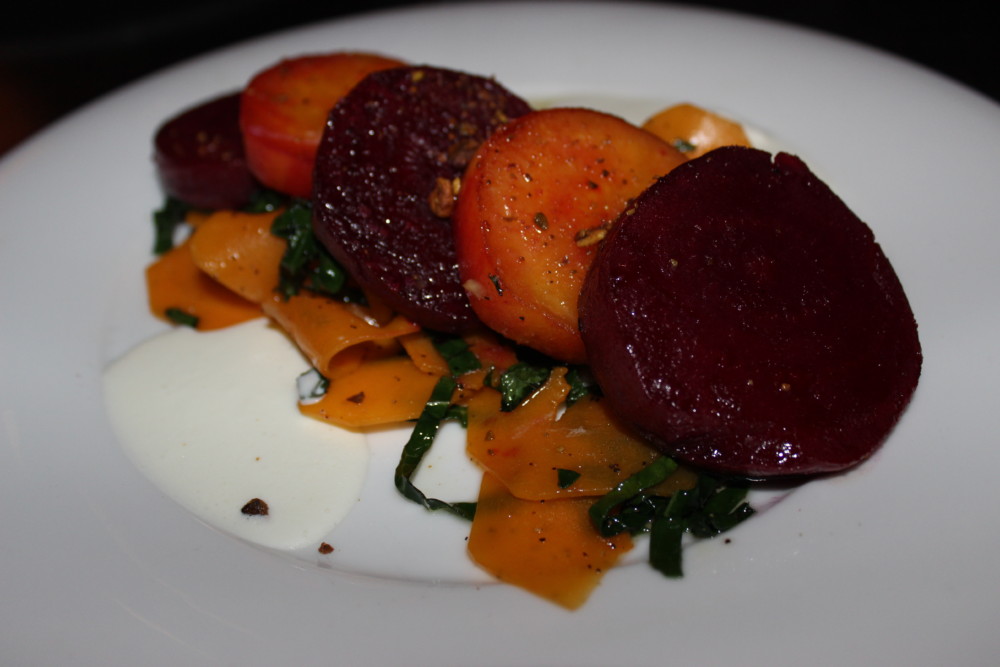 Back to the seafood… Jill and I are both big fans of Indian flavors so the striped bass Tikka Masala was a must. This dish had tons of flavor — pumpkin curry, Kashrimi peppers, toasted chickpeas, baby spinach and coconut-infused jasmine rice. The aroma coming from that plate was truly intoxicating. If you enjoy Indian cuisine, this is a super fresh and original take on traditional Tikka Masala that does not disappoint. At all.
We had one last entrée coming — the roasted spaghetti squash "pasta." I love using spaghetti squash as an alternative for pasta, especially since it's one of the things I have to cut out of my diet. This dish is on the smaller side, which was good, because, let's be honest, by this time we were pretty full. But not too full to completely inhale the entire bowl of squash with roasted cremini mushrooms, fresh sage, toasted pistachios, garlic, truffle oil and freshly grated manchego cheese. So many incredible flavors swirling around together, dancing right into our mouths. What a way to end an incredible meal!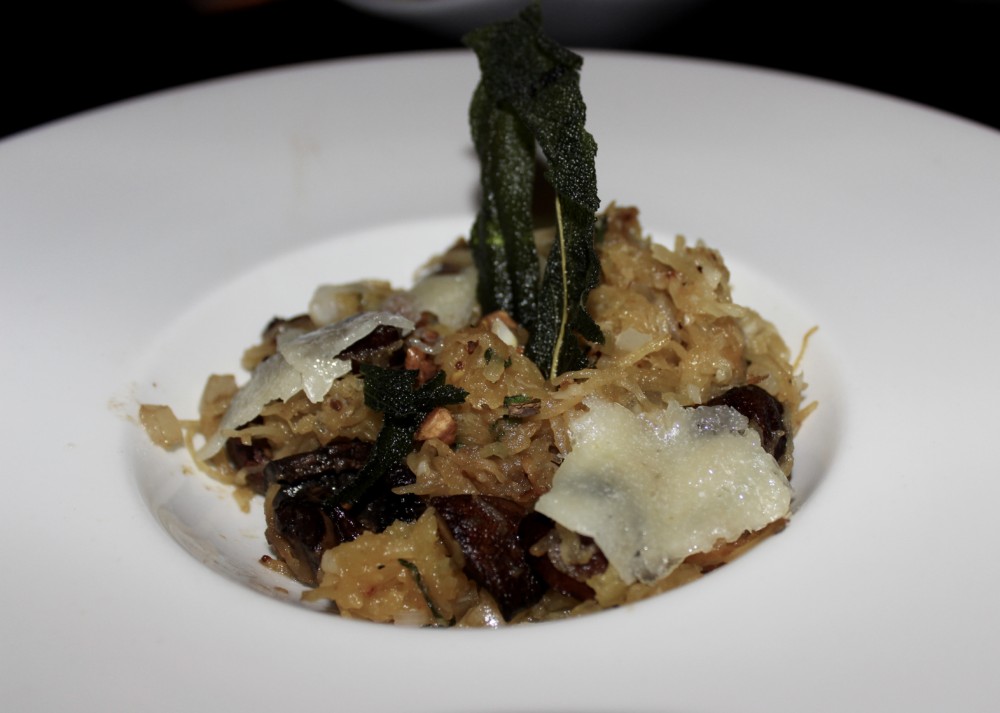 Except wait… We weren't finished yet! At Harvest Seasonal Grill & Wine Bar, you can't leave without trying one of their adorable and delicious mini desserts! There are always rotating flavors, along with the staples like chocolate cake and peanut butter pie. We figured, what the heck, let's try all three of the seasonal fare — pumpkin pie with cream cheese icing and a whoopie pie cookie on top; gingerbread pear cake with more of that yummy cream cheese icing, and apple crisp with a hint of cayenne. All three just scream fall. I'd be happy with any of these (or all three!) at my holiday dinners.
Moral of the story? You need to act fast and get over to Harvest Seasonal Grill & Wine Bar while the fall menu is still available!
Grab a seat at the bar and enjoy happy hour daily from 3-6pm and 9pm-close, featuring $5 flatbreads, well drinks and seasonal sangria, $4 house wine and $3 select draft beer. The restaurant is open Monday through Thursday from 11am to 10pm, Friday from 11am to 11pm, Saturday from 10am to 11pm and Sunday from 10am to 10pm. Brunch is served Saturdays & Sundays 10am to 3pm. Harvest Seasonal Grill & Wine Bar is located at 1841 S Federal Highway, #402 in Delray Beach.