Never miss a bite! Sign up here to receive new recipes and reviews straight to your inbox.
Disclosure: I was invited to dine as a guest of Farmer's Table and received complementary catering. No monetary compensation has been received for this post. As always, all opinions are 100% my own. 
Boca Raton's most popular healthy dining destination, Farmer's Table, has launched its biggest menu change yet, with even more vegan and gluten-free options than before.
Three things you will never ever find inside Farmer's Table: butter, a deep-fryer, and high-fructose corn syrup. For the health-conscious foodie, Farmer's Table is the ideal choice. The restaurant uses two-thirds less salt in their dishes than other restaurants, they never cook with cream or butter — sunflower seed oil is their weapon of choice, and they never deep fat-fry or microwave a thing. Even the cocktails use house-made juices and organic syrups, and the pastry chef specializes in cholesterol-free vegan desserts.
The menu has essentially been the same since it's inception, with a few tweaks here and there, but nothing catastrophic. Fan favorites like the Florida 77 salad (greens, avocado, oranges, carrots, hearts of palm, candied cashews and Mile Marker 77 vinaigrette) and Spasta & Meatballs (spaghetti squash, organic spinach, tomato-basil sauce, choice of chicken or vegan meatballs, choice of house-made cheddar or vegan mozzarella cheese) will never leave the premises, but after years of choosing from the same dishes, people want something fresh and exciting. And that's where executive chef Michael Schenk comes in. His culinary career began in Germany, made its way to New York and then down to Florida where he led the teams at the Polo Club of Boca Raton Wycliffe Golf & Country Club in Wellington. With 34 years under his belt and a similar outlook on sustainability and healthy cuisine, it's no wonder that Farmer's Table co-owners Mitchell Robbins and Joey Giannuzzi decided to bring him on. His emphasis on conscious cooking is evident in everything he has put on the new menu, which caters to all types of dietary restrictions including clean eating, vegan, gluten-free, vegetarian, low sodium and low fat — and still has plenty of variety for all.
Chef Michael has quickly become one of my favorite chefs in town. I've had the chance to taste just about every new menu item at the restaurant, and even got to bring some of that deliciousness home to share with friends during a recent dinner party I hosted for my book club. While I love dining in at Farmer's Table, knowing that the food is available for catering and take-out is a huge relief. When you're stricken with food allergies, party-planning can be rough when it comes to the food. With Farmer's Table leading the way, you can be sure that everyone is taken care of, no matter what kind of diet they keep. Even those with no restrictions at all will still be just as satisfied, as evidenced by my party. Not one person in attendance was vegan or gluten-free (except for me), and everyone's favorite dish was the vegan and gluten-free samosa adasha scramble — a new brunch item that Chef Michael was super excited to share with us. Adashah is a lentil-based vegan protein source that was created by a woman in Miami. It's 100% organic, preservative-free, soy-free, gluten-free and nut-free. In this particular dish, it's used as an alternative to a scrambled egg, and combined with chickpeas, spinach, potatoes, onions, peppers and sprouts. The flavors are inspired by the popular Indian samosa, and it is a true winner. I could eat it for breakfast, lunch or dinner. It's extremely hearty without being heavy, filled with fragrance and flavor, and entirely unique to Farmer's Table. It might not be the prettiest or easiest to photograph, but it is well worth getting.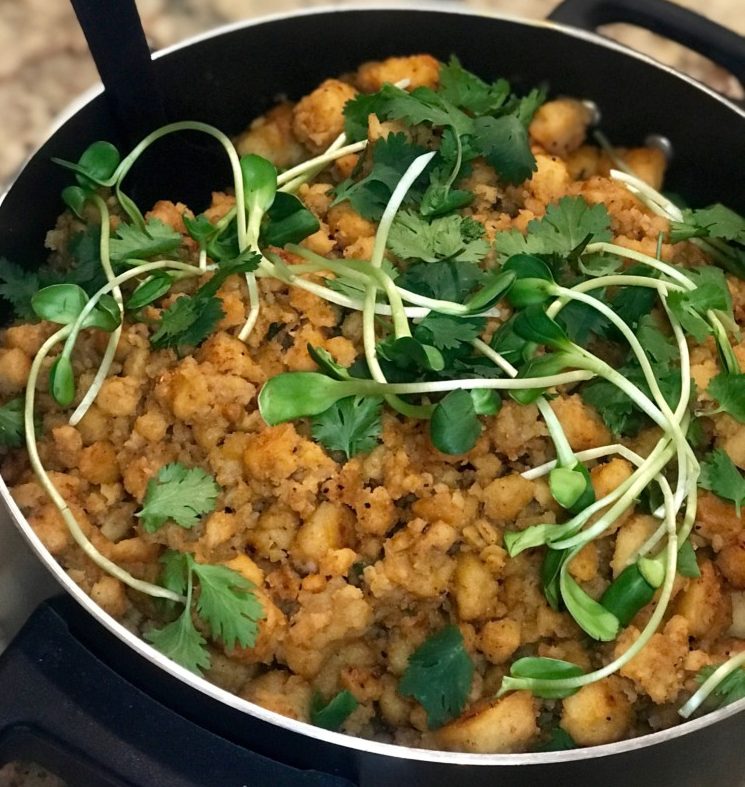 New appetizers that I can't get enough of include the vegan hummus and Ajvar (Serbian roasted pepper "baba ghanoush") — a creative and extremely delicious twist on the typical hummus platter that was also perfect for my catering order; the Boca poke tuna with sesame Tamari sauce and a rice noodle salad, making it totally gluten-free and something I'd go back for over and over again; and the vegan and gluten-free buffalo cauliflower "drumettes" with vegan ranch dressing, which has become my latest obsession. The vegan ranch absolutely blew my mind. It tastes no different than regular ranch, and was the perfect cool, refreshing complement to the heat from the buffalo sauce smothering the roasted cauliflower.
Farmer's Table had a solid grouping of salads, but the new additions are even better — specifically the Root to Stem. The presentation of organic oakleaf greens, quinoa, Brussels sprouts tabbouleh, compressed watermelon, roasted butternut squash, fig vinaigrette and pumpkin seed crunch is gorgeous. It allows you to see each ingredient for what it is, and forces you to make a decision about how you want to approach the dish, figuring out which ingredients you want to combine for that perfect bite. Don't miss that vinaigrette though — it's out-of-this-world.
There are several new entrées that are must-tries — especially the seafood, including the spice-seared Atlantic tuna with cauliflower-quinoa "fried rice", peas and corn and yuzu-ginger vinaigrette; and the rainbow trout with lemon-scented crushed boniato potatoes, parsley-roasted garlic emulsion and maple-cider carrots. But it's the yellowtail snapper that won me over. Served with a chickpea and pepper tikka masala, lime-coconut sauce and papaya salsa, it may look large enough to share, but once you dig in and take in all its glory, you're going to want to keep the plate all for yourself. This is another Indian-inspired dish on the menu that has me all sorts of excited. Plus, I can't say no to a perfectly cooked piece of snapper, and papaya is a total buzz word for me.
There are twelve vegan/vegetarian and gluten-free side dishes on the menu, many of which are seen in the entrées. Having them available a la carte allows guests to create their own dish — something like roasted spaghetti squash with chickpea and pepper tikka masala and maple-whipped sweet potato; Tuscan bean and vegetable ragout with organic steamed spinach and baked Yukon Gold steak fries; or cauliflower-quinoa "fried rice" with roasted Brussels sprouts and lemon boniato potato. The are so many ways to mix and match the sides, or even as an additional complement to a salad or entrée.
You can't leave Farmer's Table without dessert — especially when they feel so guilt-free! Those who are both vegan and gluten-free can indulge their sweet tooth in a slice of chocolate fudge cake with mousse filling and dark chocolate ganache, peanut butter fudge ice cream pie with chocolate crumb pie crust and dairy-free ice cream, a brownie sundae with dairy-free ice cream and topped with chocolate or caramel; or keep it simple with house-made ice cream and sorbet. Other dessert options include the classic French opera cake a la mode (vegan), pecan coffee cake (vegan), key lime pie, chocolate pudding (always gluten-free, with a vegan option upon request), strawberry shortcake, and apple crisp. Also available are vegan blueberry or chocolate chip scones, and vegan gingersnap cookies. Seriously — have you ever seen such a comprehensive list of dietary restriction friendly desserts?! I was impressed by the menu, and even more so by the flavor of everything. Nothing tasted out of the ordinary, and the textures were no different.
I will continue to frequent Farmer's Table for as long as it's here, and when I need a catering menu to fit the dietary needs of multiple guests, there's nowhere else I'd turn. Farmer's Table is located at 1901 North Military Trail in Boca Raton. Breakfast is served Monday through Friday from 7-11am and Saturday and Sunday from 8-10am, followed by brunch from 10am-3pm. The lunch menu is available Monday through Friday from 11am-3pm, with a "Mid-Day" menu offered from 3-5pm. Dinner is Monday through Thursday from 5-10pm, Friday from 5-11pm, and Saturday and Sunday from 5-9pm.