Never miss a bite! Sign up here to receive new recipes and reviews straight to your inbox.
Disclosure: I was invited to dine as a guest of Farmhouse Kitchen in Boca Raton. No monetary compensation has been received for this post. As always, all opinions are 100% my own. 
Farmhouse Kitchen's motto, Just Good Food, highlights the fact that what's coming out of the kitchen is exactly that. Nothing fancy-schmancy, nothing that will make you roll out feeling overly stuffed or regretful of your dinner choice, and nothing that doesn't have a positive impact on our environment. FHK offers the eco-friendly Vero water program, is involved with charities, and helps to build awareness of sustainability in our community. Another bonus? The restaurant doesn't cook with any butter, cream or excess fat — hallelujah!
Farmhouse Kitchen, part of the Gary Rack Restaurant Management Group, has another location in Downtown Delray Beach, but the one in Boca was the first. I often stop by Farmhouse Kitchen Delray for happy hour or brunch, so it was time to head over to Boca and give it a shot. The menus are pretty much the same, but the vibes are a little different. Farmhouse Kitchen Boca is bigger and brighter, and located right in the center of the popular dining/shopping destination, Royal Palm Place. Executive Chef Matthew Danaher's menu (at both locations) features an array of dishes with seasonal, sustainable, locally sourced ingredients, and lots of vegan, vegetarian and gluten-free options.
Everyone's favorite Farmhouse appetizer is the buffalo cauliflower — myself included. I've had it many times before finding out about my food sensitivities (it has dairy and gluten). It's a bit on the spicy side, but seriously delicious. Thankfully, there are other options that are just as tasty, starting with the charred octopus with hummus, cucumber, tomato, onion and chili oil. It's one of the more appealing octopus presentations I've seen, with lots of color and texture on the plate. The cook on the octopus is on point, and the flavor profile delicious. I might miss that cauliflower, but as long as I've got this octopus, I'll be okay.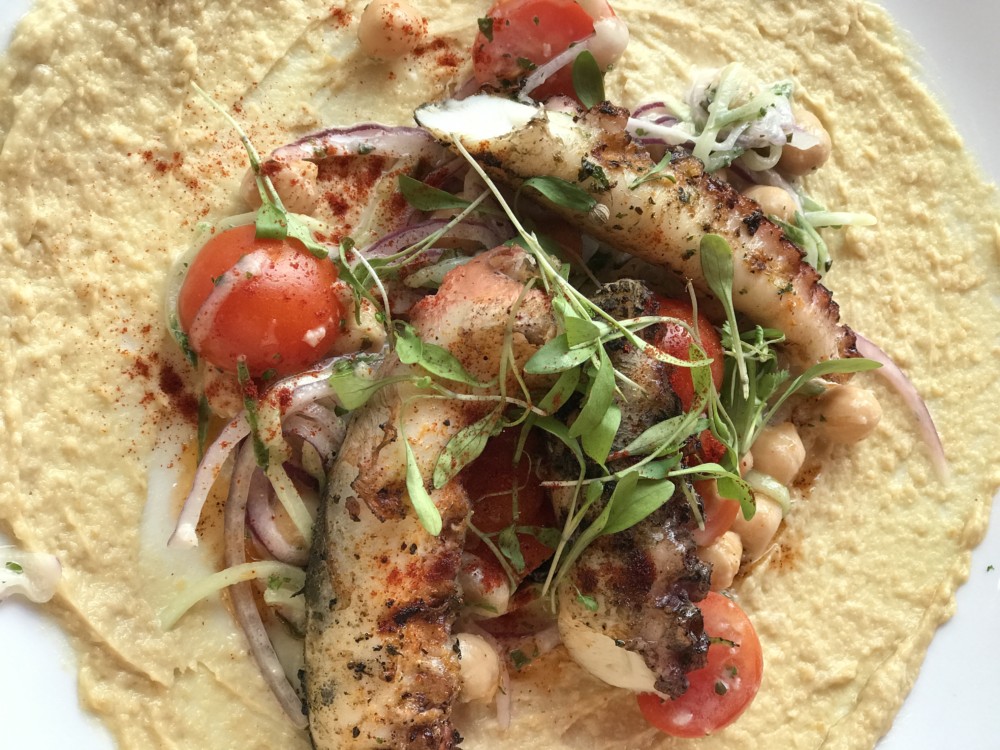 The lettuce wraps are another great choice. Keep 'em vegetarian, or add bison or chicken to the mix of butternut squash, cabbage, cilantro, lentils and pickled onions. It comes with a side of guacamole and a yogurt-based sauce, so it's not vegan per se, but you can sub more guacamole, regular hummus, or the crazy-good roasted red pepper hummus for the other sauce to make it so. This is such a perfect combination of ingredients — all of the flavors mixed so well together. The only problem? Not enough lettuce cups to wrap up all that deliciousness! But it's ok — that's why we have forks, right? Totally okay with me!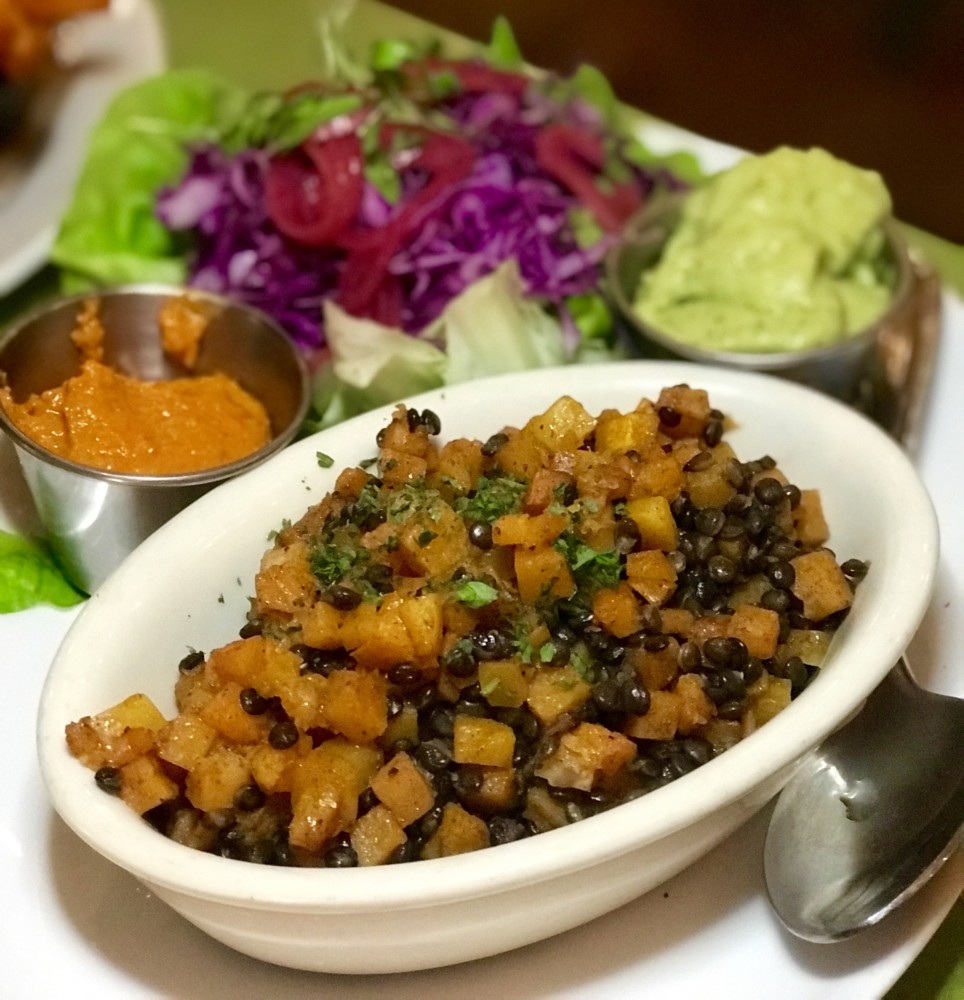 I've been on such a sweet potato fry kick lately, and Farmhouse Kitchen's fries are definitely one of my favorites. They come with a maple-balsamic dip which smells incredible, like the holiday season, but unfortunately, I'm not able to have it. If you like your fries extra crispy, make sure to ask for them well-done. I've never been asked "how I like my fries" before but when our server, Amber, explained what she meant, I wanted to get up and hug her. YES, I love my fries crispy! These were done just right — nice and crisp on the outside, but still pillow-soft on the inside. The best of both worlds. By the way, ask for Amber when you visit Farmhouse Kitchen in Boca. She was one of the most attentive, personable and fun servers I've had during one of these media visits.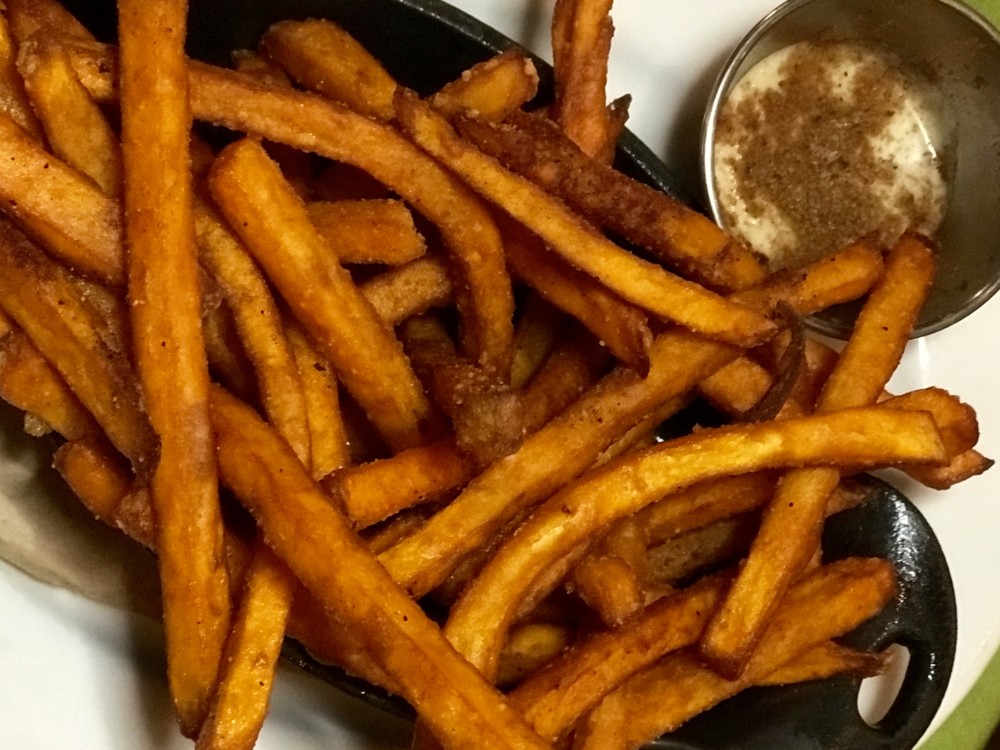 There are so many healthy options at Farmhouse Kitchen, making even the most food-filled night out there not so bad. No guilt when what you're eating is full of good-for-you ingredients. The Farm Flats are made with whole grain organic flour and topped with seeds, the Handwiches are served on whole grain artisan breads, and the salads are filled with organic greens hand-picked by local purveyors; the chicken and steak are grass-fed, the shrimp is all-natural, and the burgers are made with buffalo meat (for those who don't know, buffalo meat has a lower fat content than regular beef). Even the wine list is filled with biodynamic, organic, environmentally friendly choices. Speaking of the wine list, before you check it out, give one of the cocktails a try. I almost always order the Hugo, a sweet and refreshing combination of prosecco, elderflower liqueur, mint and lime.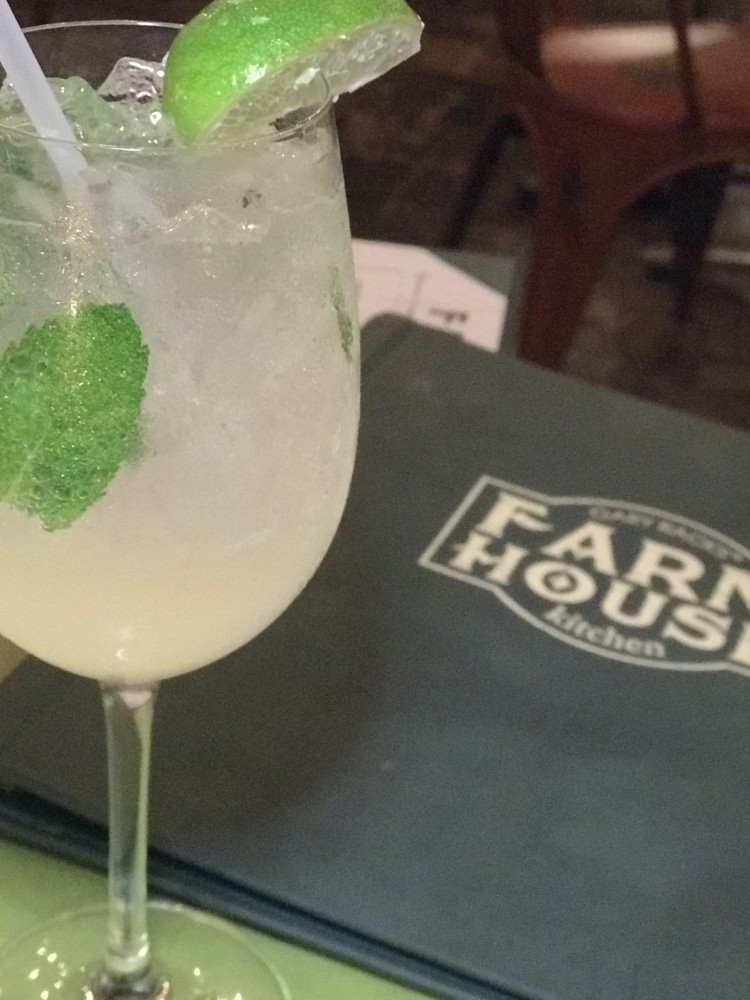 One of my favorite things about the menu at Farmhouse Kitchen is their "build-your-own" style entrée section. There are signature dishes such as the spaghetti squash casserole, nut- and seed-crusted chicken, or bison meatloaf, and always a special or two, but it's fun to create your own dish — especially if you're someone like me with lots of restrictions. You get a choice of protein and sauce, and then can dress it up with a side dish. I chose the snapper with vegan and gluten-free soy ginger sauce. (Side note: because it's Boca, the sauces are automatically served on the side — if you know Boca, you understand why this needs to be done.) The fish was beautifully cooked, tender and flaky and the sauce was a perfect pairing.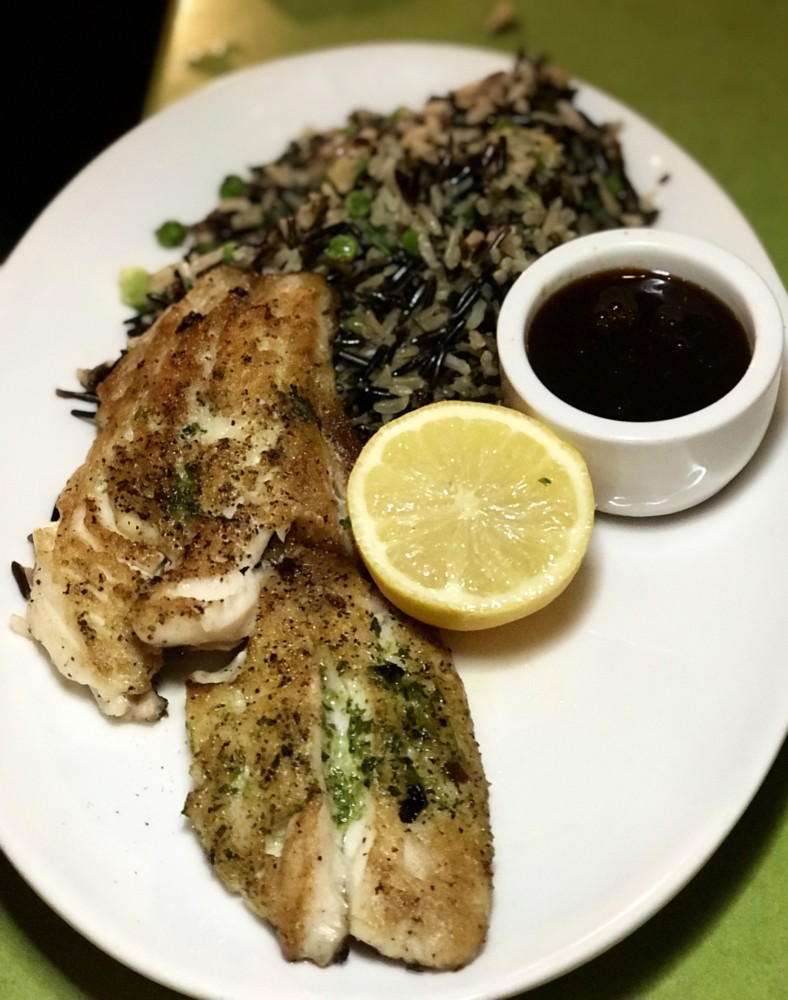 For my side, I chose the wild rice pilaf with scallions, peas and shallots, and also added on the wild mushrooms with balsamic onions and herbs. I'm so glad I got those mushrooms because I could not stop eating them. The flavor was perfection. I'd even order it as an appetizer!
My roommate and dining guest for the evening, Brandi, created her own entrée too. She also chose salmon, but went with the lemon-herb yogurt sauce and cauliflower mash on the side. The cauliflower is made with gouda, boursin and parmesan cheeses — I just had to take her word for it, it tasted just as good as it sounds.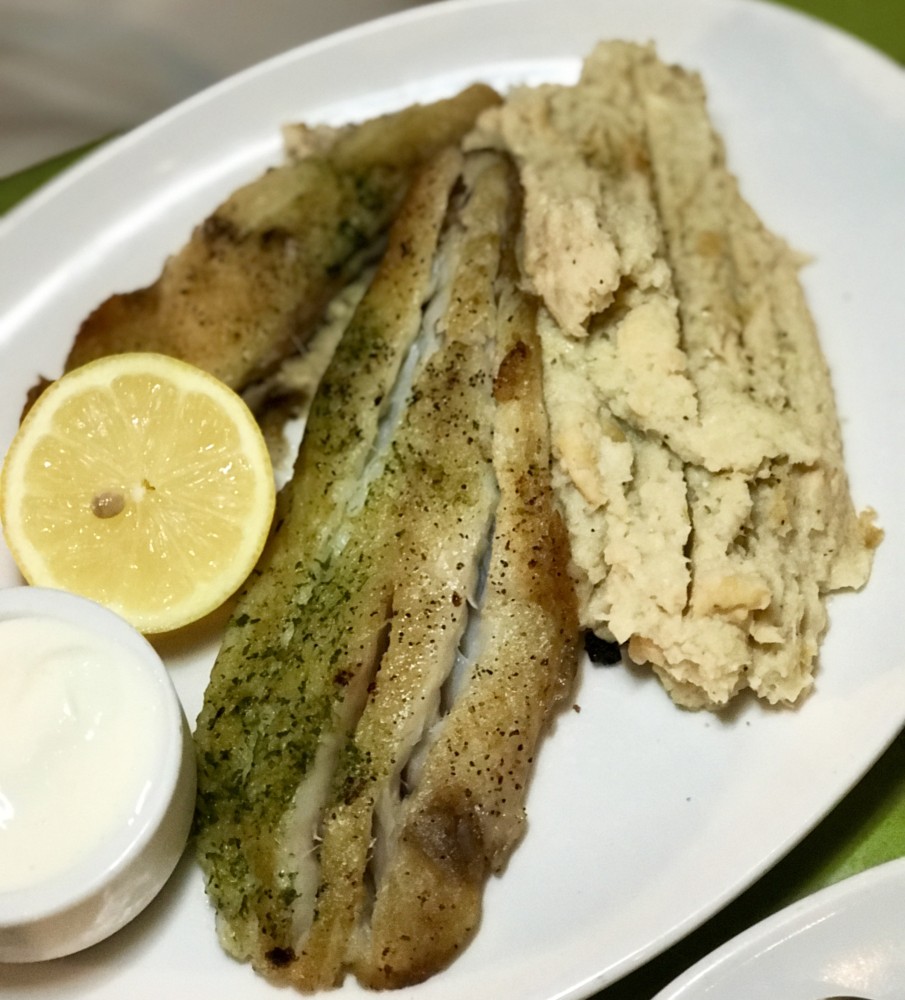 Remember how great I told you our server was? Well, Amber went above and beyond when it came to dessert. She made sure to have the kitchen create a gluten-free version of their apple-blackberry crisp so Brandi and I could end the night on a sweet note. And sweet it was! Soon a skillet filled with cooked apples in a blackberry compote and topped with spiced pecans appeared before us, and was gone within minutes. All that was changed from the original dessert to make it gluten-free was omitting the crumble topping, but it was still an excellent way to finish off an even more excellent meal.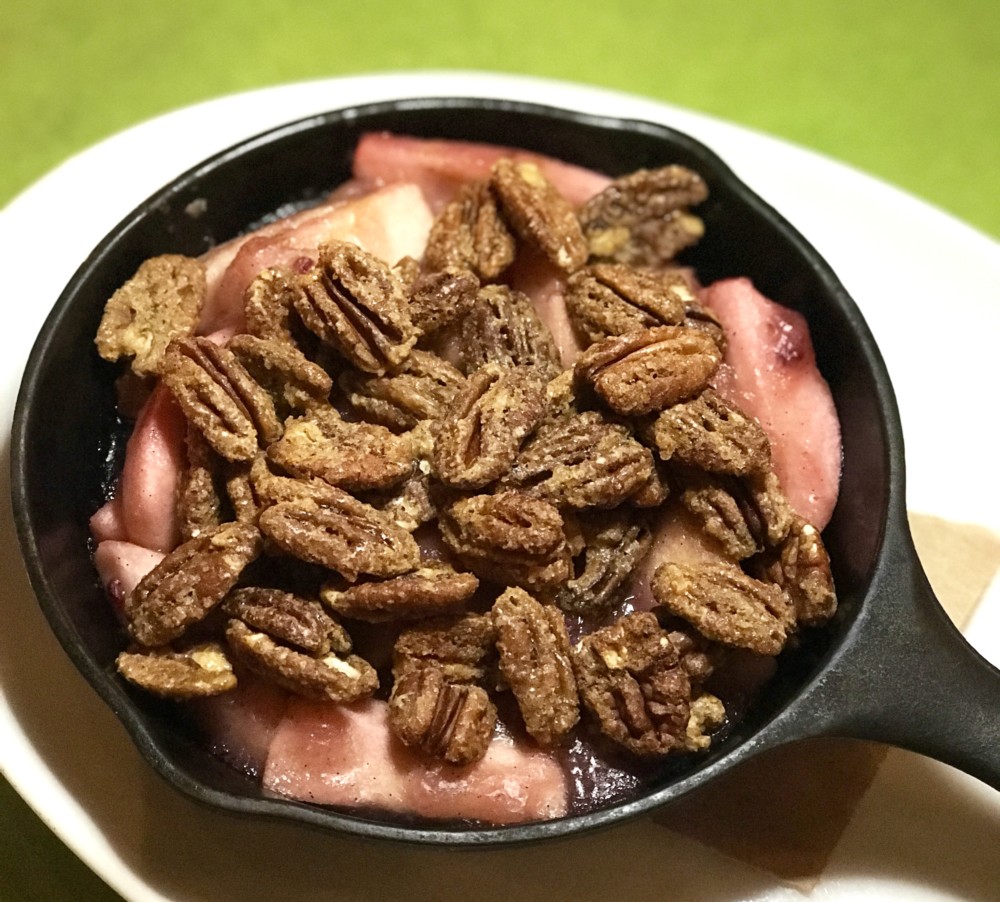 Farmhouse Kitchen Boca Raton is located in Royal Palm Place at 399 Southeast Mizner Blvd. The restaurant is open for lunch and dinner Monday through Friday from 11:30am-10pm and dinner on Saturday and Sunday from 3-10pm. Brunch is served on Saturday and Sunday from 10:30am-3pm. Happy Hour is every day from 3-7pm in the bar and east-side patio, and features $4 bottled beers, half-priced wines by the glass and all liqueur, and half-priced appetizers. All bottles of wine and champagne are 50% off every Monday from open to close, and on Wednesdays, enjoy $10 martinis all day and night.