One of the coolest things about working for Publix is constantly walking through the aisles of the stores and discovering new products and brands. As a food blogger, this is a lot more exciting than it sounds. It means inspiration for new recipes, ingredients to swap in old recipes, ideas for what to make for dinner, or just something different to snack on throughout the day.
I recently found Harvest Snaps Snappea Crisps on the end of the Greenwise Aisle — theaisle full of all healthy snacks, organic and gluten-free products, and other similar items. (Sidenote: If you aren't familiar with Publix, there is another store called Publix Greenwise which carries products like the ones I've listed; most stores have a section dedicated to these products, but Greenwise is a whole store full of them). I was intrigued – baked snap peas?!? The flavors on the shelf were Caesar and Lightly-salted. I had to try these out, so I grabbed the Caesar ones. They definitely had the parmesan flavor down pat. I must not have been paying attention while I was snacking because after a little while, I went to grab more out of the bag and came back empty-handed. Addictive little things…
Not only do these taste really good, they aren't bad for you either! Harvest Snaps wants to offer a healthy snacking option without sacrificing taste. I love finding healthy foods to snack on, because, let's face it, we all know snack foods are always the best. Harvest Snaps Sneappea Crisps are made with naturally dried peas. Harvest Snaps makes Lentil Crips too, which are made from, yep — you guessed it — lentils. Each contains 5% protein and 13% of your daily fiber. There are some awesome flavors too. Snappea Crisps come in the two mentioned above, as well as black pepper and wasabi ranch. The Lentil Crisps come in onion-thyme and tomato-basil.
All of these flavors had me spinning with ideas for recipes, so after much deliberation trying to decide what to make, I finally figured it out. I've been itching to make stuffed…something lately, and had some whole Baby Bella mushrooms in the fridge. They were the perfect size to make little stuffed mushrooms, so there we go — the itch was scratched!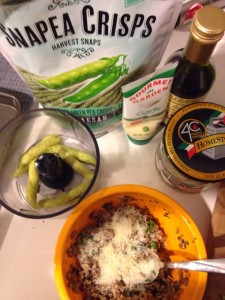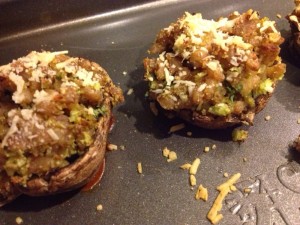 Farro Stuffed Mushrooms with Harvest Snaps Snappea Crips
½ cup farro, cooked according to package instructions
1 tbsp Gourmet Garden garlic paste
1 tbsp chopped fresh basil
¼ cup grated Parmesan cheese
½ cup crushed Harvest Snaps Caesar Snappea Crips
8 medium whole Baby Bella mushrooms, stems and gulls removed
Preheat oven to 400 degrees. Combine cooked farro, garlic paste, basil, Parmesan and Snappea Crips in a small bowl and mix well. Scoop about 2 tbsp of the mixture into the hollowed-out mushroom caps. Sprinkle a little more Parmesan on top. Bake for 10-15 minutes or until the bottoms of the mushrooms start to bubble.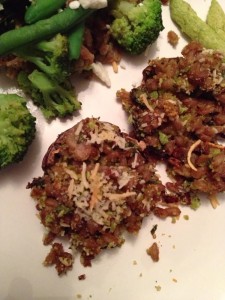 Disclaimer: I won a photo contest hosted by Harvest Snaps and was sent free product, but I also reached out to them as a blogger and in turn was sent one bag of each of their flavors. I was not compensated for this post nor was I required to write it or any kind of review. I developed the recipe on my own using their product. As always, all opinions are my own.

Posted with Blogsy