Never miss a bite! Sign up here to receive new recipes and reviews straight to your inbox.
Feast of the Sea returns to downtown West Palm Beach for its second year on October 24th. Attendees will be able to enjoy seafood dishes from some of Palm Beach County's best restaurants and chefs. Last year over 15,000 guests joined the festivities and the festival expects an even bigger and better crowd this time around. Guests can expect over 35 seafood vendors, 60 art vendors, an interactive family area presented by south Florida Science Center & Aquarium, live music, and plenty of refreshing beverages to keep you cool all day long. Feast of the Sea is a community-driven festival that supports several south Florida non-profit organizations — its main goal is to provide unique and memorable action sports experiences for children with special needs or that are currently in at-risk situations.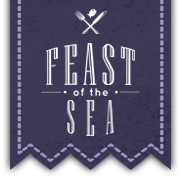 Leading up to the October 24th event are four special Chef Challenges hosted at various venues around South Florida. This series of challenges kicks off Wednesday, June 24th at Wine Scene in West Palm Beach. I will be there for all the action! Feast of the Sea is right up my alley — so much seafood!! I cannot wait to watch the chefs battle it out and I'm even more excited to taste their creations!
The competition is Iron-Chef style. The chefs will have no idea what their secret ingredient will be. They'll also be provided a selection of ingredients courtesy of Whole Foods. The chefs have 60 minutes to create their best seafood dish for a panel of judges.
The upcoming Chef Challenges and the participating chefs are as follows:
Challenge 1: June 24th — Wine Scene, West Palm Beach
Chef Fritz Cassel of Hullabaloo
Chef Robert Mauro of Whole Foods of West Palm Beach
Chef Roberto Villegas of Table 427
Chef Joe Ferro of Table 26
Challenge 2: July 22nd — International Polo Club, Wellington
Chef Clay Carnes of Grille Fashion Cuisine
Chef William from Mallet Grille
Chef Bret Hauser (Celebrity chef)
Chef Elmer Saravia of BICE Ristorante 
Challenge 3: August 26th — Saltwater Brewery, Delray
Chef Blake Malatesta of 50 Ocean
Chef Kelley of The Office in Delray
Chef Dane of Potions in Motions
Chef Jarod Higgins of CUT 432
 Challenge 4: September 27th — Williams Sonoma, Gardens Mall
Chef Adam Brown of The Cooper
Chef Eric Grutka of Ian's Tropical Grill
Chef Yvon Coty of Brio Tuscan Grill
Chef Michael Mollor of Wyndham Grand Jupiter
General admission tickets for the first Chef Challenge are $35. For a limited time, all other challenges are on sale for $30! The ticket includes entrance to the event, a commemorative catalog, samples from each restaurant, and beverages, including wine, beer, and cocktails. Purchase your tickets here!
Disclosure: This is not a sponsored post. I received a media pass to attend the event but there has been no monetary compensation for this post. As always, all opinions are my own.