A free afternoon can only mean one thing: more time to make use of the kitchen. I haven't baked since my Eight Days of Hanukkah posts and I was starting to get antsy. Pretty soon I may not have much time to cook or bake often so I figure I'd better get in as much as I can this week. I had a few ideas in mind, but ended up going with a recipe inspired by Dashing Dish: Cranberry Crumble Bars. Bubby made a cranberry-apple sauce the other day and there was plenty left over in the refrigerator that was just begging to be used up. The original recipe calls for cranberries, mandarin oranges, and orange jello mix, but instead of the oranges & jello, I decided to simply use this already made cranberry-apple mixture. This is very similar to the Apple Cranberry Crumble I made during my Eight Days of Hanukkah Cook-a-Thon, except for a few key differences. This dish is cut into bars rather than served by the spoonful, and the portions of the two main ingredients are switched. The bars have more cranberries than apple, and the crumble had more apples than cranberries. 
Preheat the oven to 350 degrees. 
In a bowl, mix 1 1/2 cup of rolled oats (instant oatmeal would work too) with 2/3 cup of flour, 1/2 cup packed brown sugar. and 1/4 cup butter, softened. Set aside about half of this mixture.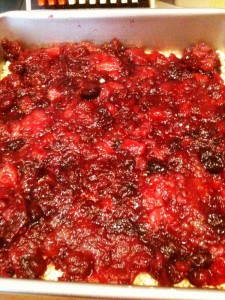 Since my filling was already made, I didn't have to do much else, but for the rest of you… First, decide what you want your filling to be. Check out the recipe on Dashing Dish (link is above) if you like the sound of a cranberry-orange filling, or maybe you want to try something different. Whatever you decide on, place your chosen ingredients along with a sweetener (I use Stevia) into a saucepan and cook over medium heat, stirring often, for 20-25 minutes or until the mixture has thickened. 
Spray a 9×9 baking dish with cooking spray and pour in half of your oatmeal mixture, covering the entire dish. Press it down firmly since this is the base of your dish. Pour the filling and cover completely. Cover the filling with the rest of the mix. Optional: Sprinkle cinnamon over top. Bake for about 40 minutes. Let it cool for 10 minutes or so before cutting it into squares.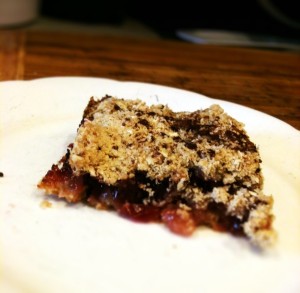 The verdict? Delicious! Crispy edges, sweet and tangy filling, and a crumbly crunch on both top and bottom. I really liked the tangy & tart taste that came from the mix of the cranberries and apples.
Any combination of fruit flavor would make for a delicious filling for these bars. Use fresh or frozen varieties of the fruit, or even jams, preserves, or jello mixes (like Dashing Dish suggests).  
Some recommendations:
Blueberries, strawberries, raspberries, and blackberries; strawberry rhubarb; apricot-peach; lemon-cherry; strawberry banana; apples & pears…
It's weird that I've been making so many fruity desserts lately when I've always been such a chocaholic. Pretty soon I'll have some chocolate on here. Lately, I've been on a fruit kick, but I recently found some really delicious-looking dessert recipes that must be made soon. I haven't fallen out of love with you, Chocolate, I promise! Food is amazing and there are so many different things to try. Can't wait to get back into the kitchen and bake up something delicious!