Never miss a bite! Sign up here to receive new recipes and reviews straight to your inbox.
Disclosure: I was invited to dine as a guest of the restaurant. No monetary compensation has been received for this post. As always, all opinions are 100% my own.
In addition to its already delicious menu of Northern Italian cuisine, Brio Tuscan Grille now offers guests a featured menu that changes regularly.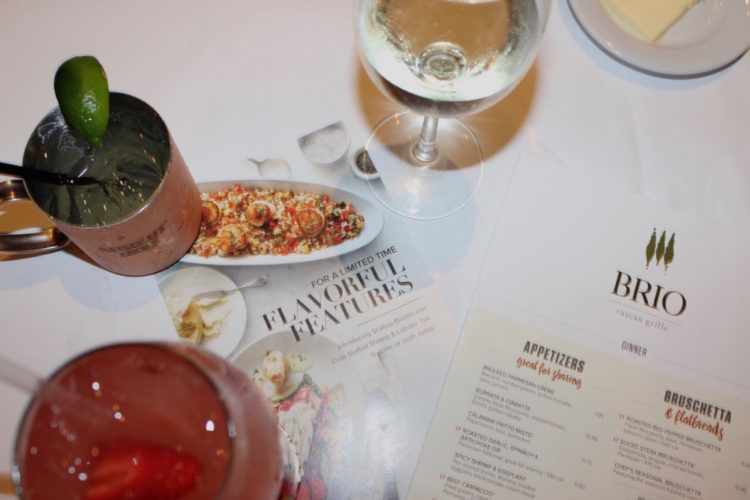 I've been to Brio quite a few times, but this most recent experience was extra special. It just so happened that both Jill's mom and mine were in town at the same time, so we thought it'd be fun to give them a taste of life as a Food Blogger. In between all of their oohing and aahing over the food, they commented on how they couldn't believe we get to do this on a regular basis. We had so much fun treating them to a special night out with an absolutely delicious Italian dinner.
We started with two appetizers, the spicy shrimp and eggplant and the brûléed parmesan créme with balsamic roasted grapes and grilled ciabatta. While the shrimp dish was a bit too spicy for the moms, Jill and I were happy to take care of their portions. Pan-seared shrimp and romano-crusted eggplant are swimming in a thick and creamy black pepper sauce. Yes, it's got a kick — a pretty big one — but if you can handle the heat, you definitely want to try this. And it's on the current featured menu too! Now through April 15th, the "A Variety of Flavor" lunch and dinner menus include this shrimp and eggplant dish, as well as a calamari fritto misto with pepperoncini, aioli and pomodoro sauce.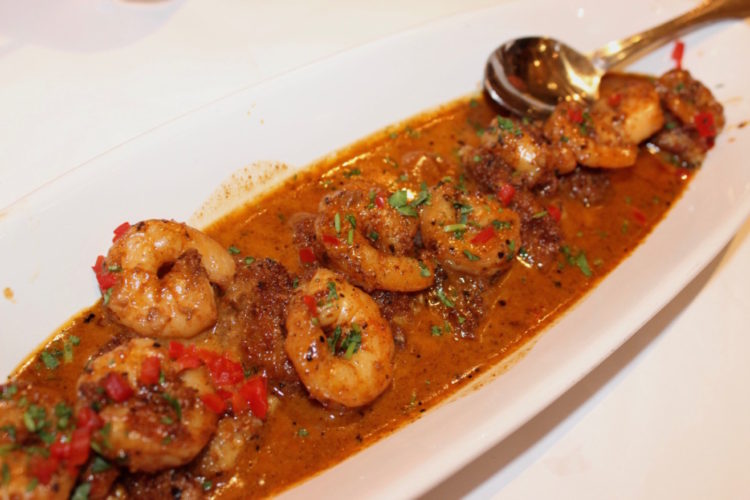 Jill and I had our eyes on the brûléed parmesan créme during our last dinner here, but opted for other dishes instead. This time, we had to have it. It's basically a creamy parmesan dip with a caramelized topping, just like créme brûlée. Spread it onto a piece of the grilled ciabatta and top with a spoonful of balsamic roasted grapes and you've got an appetizer that could almost double as dessert. Roasting grapes is a genius idea — one that I fully intend to bring into my own kitchen. And paired with that sweet, velvety smooth parmesan créme, it's just incredible. Our moms might not have had the palate for the shrimp and eggplant, but they were big fans of this.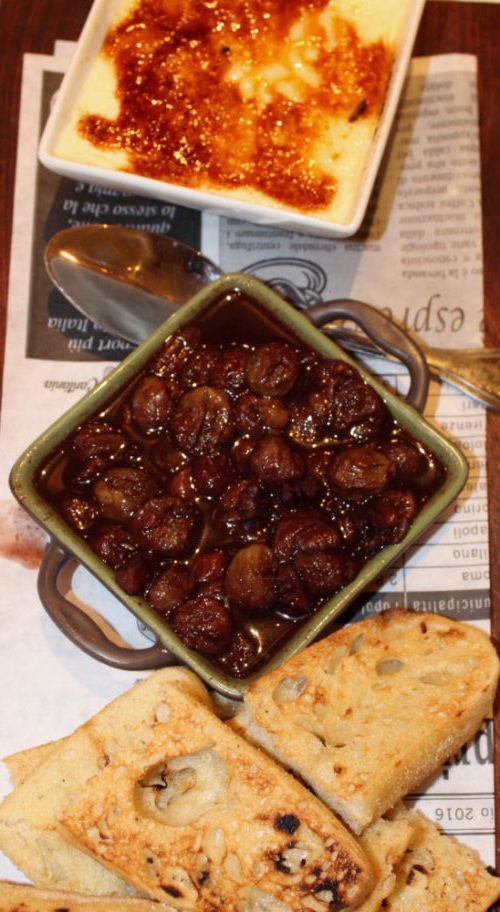 Before moving onto the entrees, we were craving some greens. The grilled salmon salad is a beautiful combination of mixed greens, tomatoes, grilled asparagus, Feta cheese, crispy shoestring potatoes and balsamic vinaigrette. The salmon was cooked perfectly and the shoestring potatoes added a great textural element that really brought it home. Much to my liking, the dressing was very light. There's nothing worse than an overdressed salad. It was a wonderfully balanced salad, but the highlight was for sure the cook on that fish.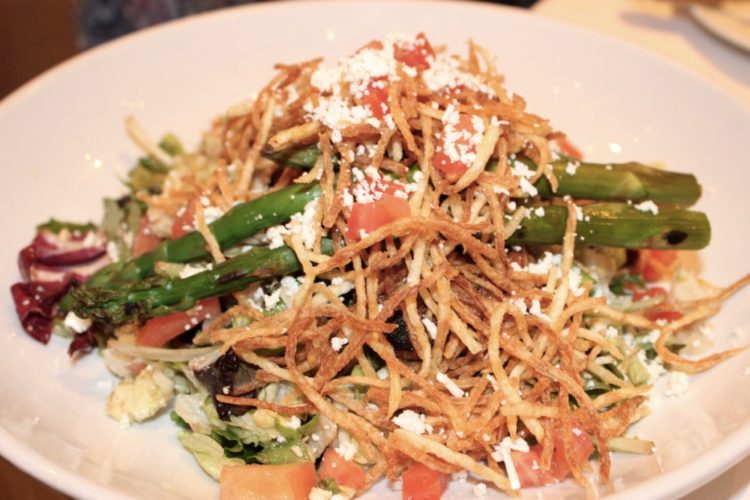 Our entrees came from the night's featured menu — crab-stuffed shrimp and broiled Maile lobster tail with orzo, farro, roasted vegetables and lemon-butter sauce; and the chicken saltimbocca with provolone, crispy pancetta, fried sage and butternut squash risotto. Obviously I did not participate in the chicken-eating, but I was all over that shrimp and lobster. I'll be honest — I was worried that the lobster might be overcooked since this is not primarily a seafood restaurant, but I was pleasantly surprised. It had good flavor and was cooked well. I enjoyed the shrimp stuffed with a yummy crab mixture as well. Jill and our moms really loved the chicken. They all said it was their favorite dish of the night.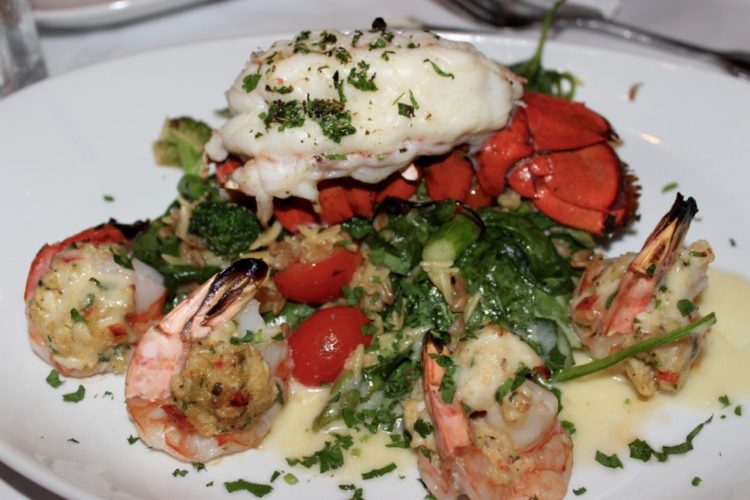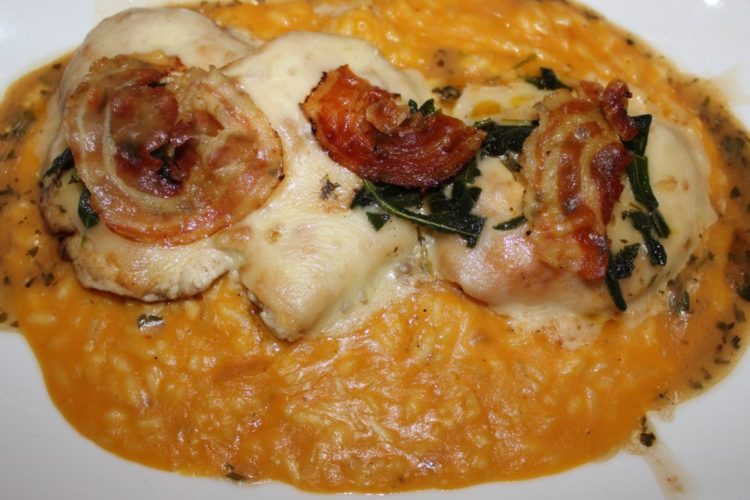 My favorite? The side dish. Yep! Sicilian cauliflower with pepperoncini, lemon-garlic-caper sauce, breadcrumbs and parmesan. I couldn't put my fork down. And since I wasn't having the chicken, I used that as my excuse to finish off the rest of the cauliflower with no regret.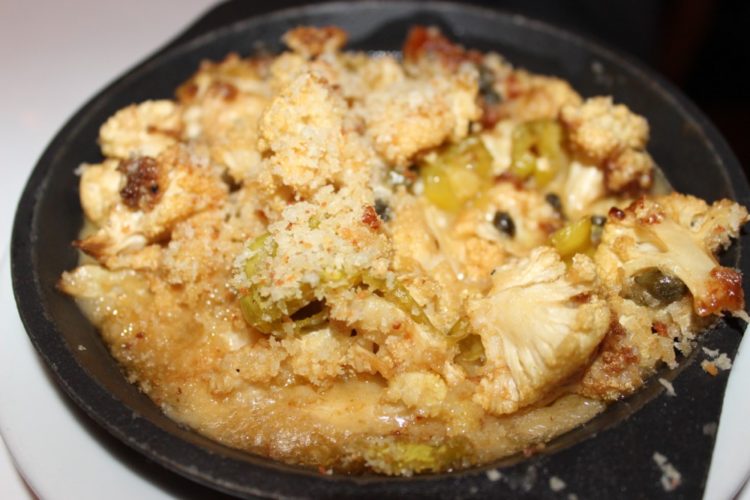 Now, the entrees mentioned above are no longer available, but you've got some pretty great choices on the featured menu out now: Peroni beer-battered fish & chips with french fries and Brussels sprout slaw, lobster & black pepper shrimp ravioli with spinach and grape tomatoes, and braised beef pappardelle with rosemary, crimini mushrooms, roasted carrots, red onion and tomato-porcini sauce.
The featured dessert is butterscotch budino, (Italian for pudding.) It comes with marcona almonds, caramel and vanilla whipped cream. As amazing as that sounds, we were pretty smitten with the idea of a New York-style cheesecake. Brio's cheesecake sits on a bed of anglaise sauce and it topped with caramelized sugar and fresh strawberries. Thank God I've learned from my nutritionist that I can have small amounts of sugar, so long as I make sure to take the enzyme solution along with it. I savored those few spoonfuls like it was the first and last time I'd ever have the dessert. It was so good. Although it was a little on the dense side, the texture was smooth and luxurious and the flavor was spot on. The anglaise sauce complemented it beautifully. I would have liked more berries to give more color to the plate, but all in all — Brio's cheesecake is a winner!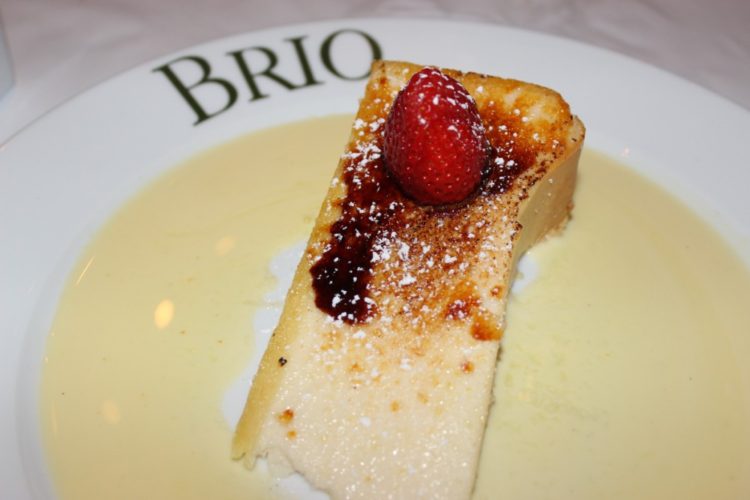 Brio Tuscan Grille is located inside The Shops of Boca Raton at  5050 Town Center Circle. Other South Florida locations include City Place in West Palm Beach, the Palm Beach Gardens Mall, Plantation, The Village at Gulfstream Park in Hallandale Beach, The Shops at Pembroke Gardens in Pembroke Pines, Dolphin Mall in Sweetwater and The Falls in Miami.