Exploring Lymphatic Drainage and Its Benefits
Disclosure: I received 10 complimentary sessions in exchange for social media and blog coverage. All opinions are 100% my own. I am not a health professional, so please be sure to consult with your own preferred healthcare provider before making any decisions to try something based on my posting of personal opinions or experiences.

As you may know, I am always on the lookout for new and innovative health and wellness modalities. At a recent networking event, I met Lexi Lopez, a licensed holistic massage and body-mind therapist at Florida Lymph Drainage. She introduced me to the world of lymphatic drainage therapy.
I had heard about lymphatic drainage before, and read a little bit about it online, but had never tried it nor did I realize how beneficial it can be for the body. Through my sessions with Lexi at Florida Lymph Drainage, she taught me so much about this particular type of massage technique, and other supplemental techniques like dry brushing and cupping, that help to reduce inflammation and swelling, detoxify the body, and boost the immune system. She also taught me how to dry brush at home, and gave me tips for relieving pain on my own.
Lexi is offering a special discount for all Take A Bite Out of Boca followers: 40% off ANY treatment (package or individual) for first time customers, now through June 30th. To claim this offer and book an appointment, call or text 561-325-9554.
What is Lymphatic Drainage?
If you have never heard of lymphatic drainage therapy, understand that this is a very slow, gentle technique. Even though it is sometimes referred to as lymphatic massage, it does not involve the deep tissue or even Swedish massage techniques that come to mind when you hear the word "massage."
As Lexi explained to me and we talked about during each of our sessions, this therapy technique is used to stimulate the proper flow of lymph fluid throughout the body, reduce swelling, alleviate pain, and promote overall well-being. The benefits of lymphatic drainage include the removal of toxins and waste products from the body, improved immune system function, and enhanced circulation. By supporting the body's natural detoxification process, lymphatic drainage therapy can contribute to a healthier, more balanced state of being.
I wasn't sure what to expect during my first session, but was happy to find that I left feeling super relaxed and zen, but at the same time, also had a renewed sense of energy. This was a consistent feeling after every session moving forward as well.
Personal Results from Florida Lymph Drainage Sessions
After a series of 10 sessions over the course of about 6 weeks, there were significant positive changes seen. Lexi took detailed notes, and I filled out a form at the beginning of each session rating how I was feeling that particular day on a scale of 1-10. Categories included things like brain fog, achey/sore, irregular digestion, skin breakouts and more.
We also took measurements and photos at the beginning and end of each session to see the immediate changes in inflammation or bloating. Pictures were taken of my abdomen and armpit/shoulder area where I was experiencing inflammation.
Some of the before-and-after photos of my stomach absolutely blew my mind. Abdominal massage was included in a lot of my sessions, which feels incredible and helped immensely on days when I was feeling bloated.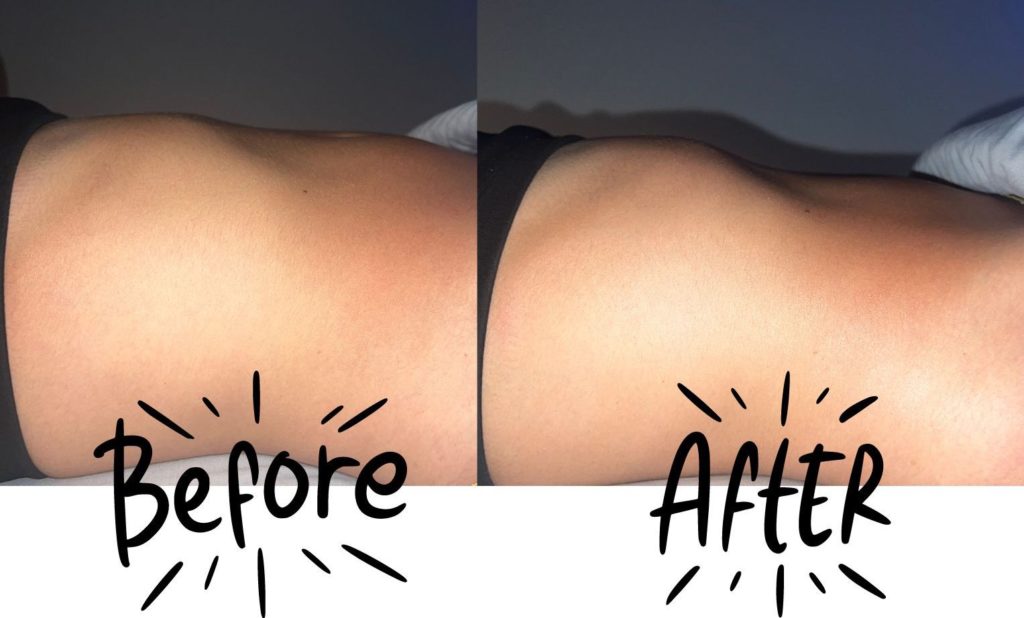 Here are some of the findings Lexi included in her report for me:
"On the first visit, there was fluid build up around her right shoulder and the front of her left leg. The area under her ribcage was not very open. The congestion caused the lymphatic fluid to re-route towards the back of the body rather than drain up under the ribs. The texture of her skin along this area which was along the bra line was also bumpy, indicating stagnant lymphatic flow. Over the next 3 visits this fluid buildup dissipated, at first becoming stagnant but without buildup and finally free flowing by the 4th visit. This did not return.
As part of her homework, I had her dry brush daily and apply the castor oil topically over the rough patches of skin under her arms, breasts and behind her upper thighs. This too improved greatly over the course of the first 5 sessions and did not return.
Body Measurements were taken on almost every visit and measured in inches at the following locations: upper arms (widest area), under ribs (narrowest area), waistline (narrowest area), hips (widest area), upper thighs (widest area), above knee caps, calves (widest area) and ankles.
The results of the right upper arm measurements over time showed great improvement. On her first visit she was experiencing tendinitis pain on her right shoulder and upper arm area. We started with a measurement of 11.5 inches. This dropped to 10.5 on the third and fourth visit and then fluctuated over time but never again went up to 11.5. The pain of the tendinitis improved but never completely went away. The left upper arm measurements also fluctuated over the 10 weeks but never again went up to 11.25 where we started. Same was true for her waist measurements."
What Other Treatments Does Florida Lymph Drainage Offer?
Aside from lymphatic drainage therapy, Florida Lymph Drainage also offers a variety of other body treatments including therapeutic massage, lymphatic drainage, or the use of specialized tools such as vacuum cupping, regular cupping, scraping, and Fasciablasting™.
Treatments are personalized for each individual, as we all have different bodies, different health goals and needs — and Lexi reads the body in a way that can help her determine what is going to be the best option for you to achieve the results you're looking for.
Treatments are available in various formats. You can purchase as a series or come in on an individual basis. There is also an option to add extra services like castor oil packs, dry brushing, and detoxifying clay treatments.
Treat Yourself with Wellness
Florida Lymph Drainage is located at 370 W. Camino Gardens Blvd., Suite #112, in Boca Raton. Don't forget to take advantage of the special offer for all Take A Bite Out of Boca followers: 40% off ANY treatment (package or individual) for first time customers, now through June 30th. To claim this offer and book an appointment, call or text 561-325-9554.