Guide to Food and Drink in Florida's Space Coast
Florida's Space Coast is a 72-mile stretch about 45 minutes east of Orlando, known for its beautiful beaches, family-friendly attractions and, of course, Kennedy Space Center experiences, and rocket launches that can be seen anywhere from the beach. On top of all this, there are some pretty cool bars and restaurants in the area too!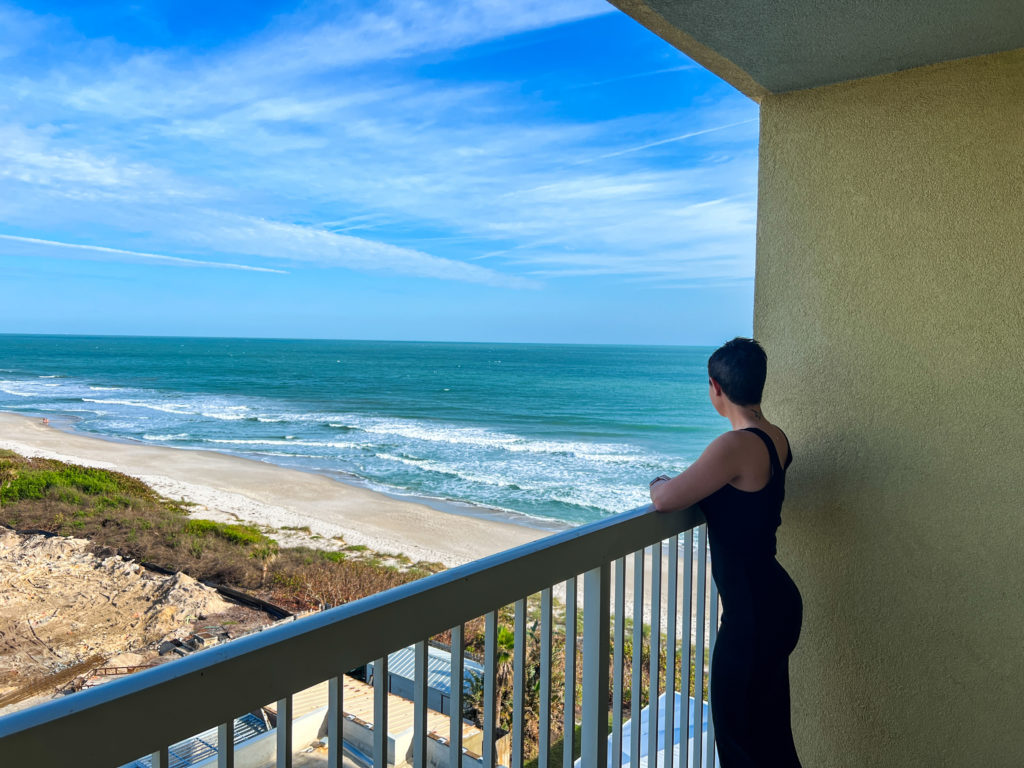 The Florida Space Coast is made up of 12 towns, each offering its own unique charm. These cities include Cocoa Beach, Port Canaveral, Titusville, Viera, Melbourne and The Beaches, Palm Bay, Cocoa, Cape Canaveral, Rockledge, Mims, Merritt Island and West Melbourne.
I recently had the opportunity to spend a weekend visiting the Space Coast, eating and drinking my way though Cocoa Beach and Melbourne. I wish I could have checked out all of the cities, but that would take way longer than one weekend. Just means I need to go back! For reference, it's about a 3-hour drive north from the Delray/Boca area.
Where To Stay in Florida's Space Coast
If you're vacationing at the beach, an oceanfront hotel with beach access is a must!
We stayed at the Crowne Plaza Melbourne-Oceanfront, which is only about 15 minutes from Cocoa Beach, and 30 minutes from Kennedy Space Center and Port Canaveral. The hotel's outdoor bar and grill, Longboards Oceanfront Grille, is just footsteps from the sand. Overall, it's a great centrally located hotel option for your trip to Florida's Space Coast!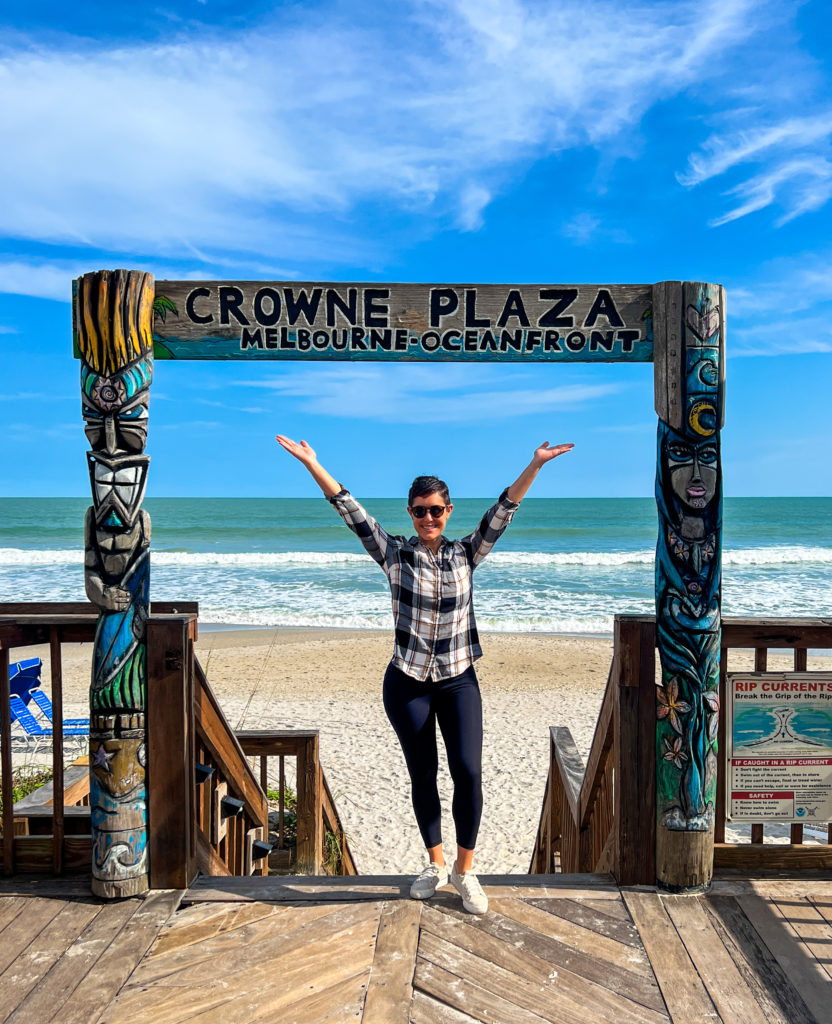 There's a 24-hour fitness center, spa, outdoor heated pool, and my favorite amenity: a complimentary local shuttle! Guests can take advantage of the hotel shuttle up to a 5 mile radius. It's perfect if you want to go explore the nearby Historic Downtown Melbourne — which is exactly what we did! The shuttle also can be used for airport transfer to the nearby Melbourne Orlando International Airport (MLB).
The Crowne Plaza Melbourne-Oceanfront offers a Florida and Georgia resident discount, and features 290 guest rooms with 24 suites, including a quiet zone as part of the Crowne Plaza Sleep Advantage Program.
Where To Start Your Morning in Florida's Space Coast
Most mornings in Florida's Space Coast probably start at the beach, right? Because of this, it's a good thing there are some super cute little beachside breakfast cafés like Wicked Pineapple in Satellite Beach and Cafe Surfinista, with locations in both Indialantic and Cocoa Beach.
Wicked Pineapple is owned by a husband-and-wife duo — his specialization is the house-made nitro cold brew and coffee drinks, and hers is the delicious selection of homemade cookies, cupcakes, donuts, muffins and cinnamon rolls. The menu also includes bagels and a variety of açaí bowls and shakes, with plenty of gluten- and dairy-free options.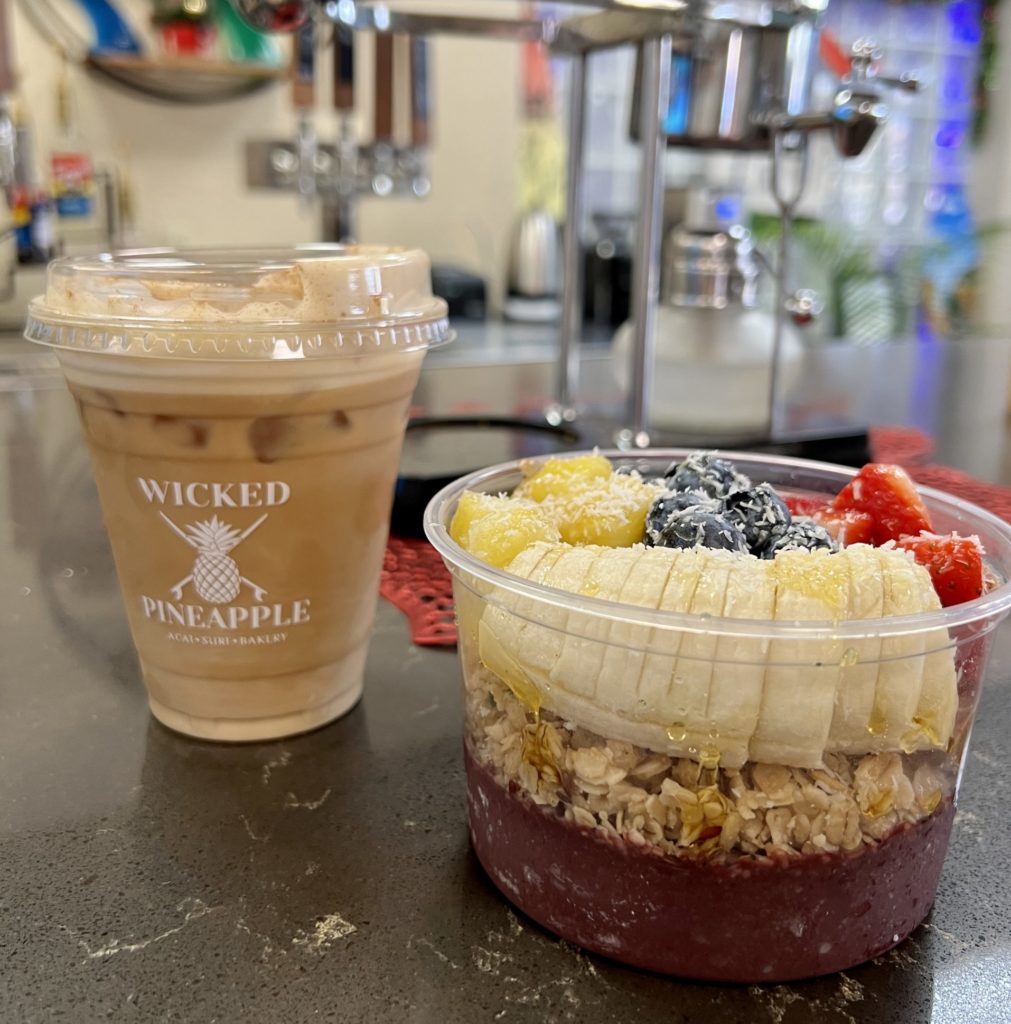 It's a total surf hangout, and there's even a Wicked Pineapple mobile truck available for local events.
Another spot for a yummy, healthy, gluten-free and vegan breakfast by the beach is Cafe Surfinista. The OG spot is in Cocoa Beach, but we visited the second location in Indialantic, just down the road from the Crowne Plaza Melbourne. It has açaí bowls, smoothies, cold-pressed juices, coffee, bagels, avocado toast, wraps, bowls and sweet treats too.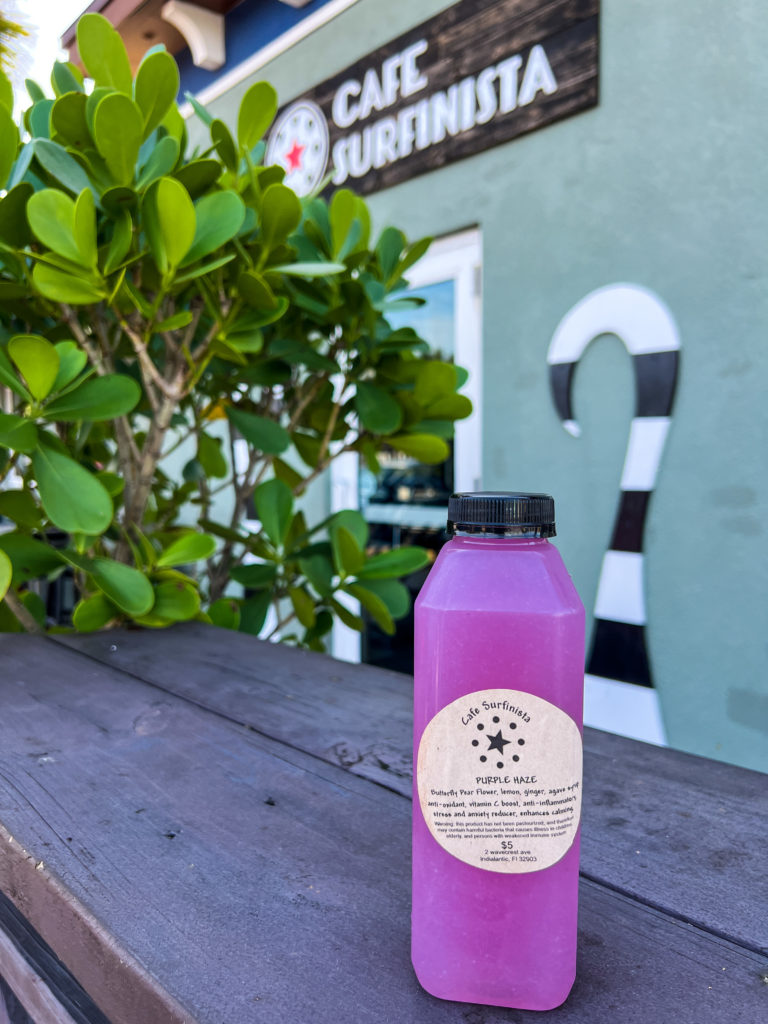 Where to Go for Lunch and Dinner in Florida's Space Coast
Historic Downtown Melbourne is filled with lively bars and restaurants, but one of the best has got to be Meg O'Malley's Irish Pub, a staple that has been around for 22 years! This local favorite is huge, with both indoor and outdoor (covered) seating. The atmosphere at Meg O'Malley's is fun and casual. There's live music on the weekends, and the menu has tons of options — including an entirely gluten-friendly section — so there is definitely something for everyone, kids included.
For my gluten-free friends, the chicken wings with Irish whiskey BBQ sauce are a must, and if you're in the mood for a burger or sandwich, do it! The gluten-free bun did not disappoint.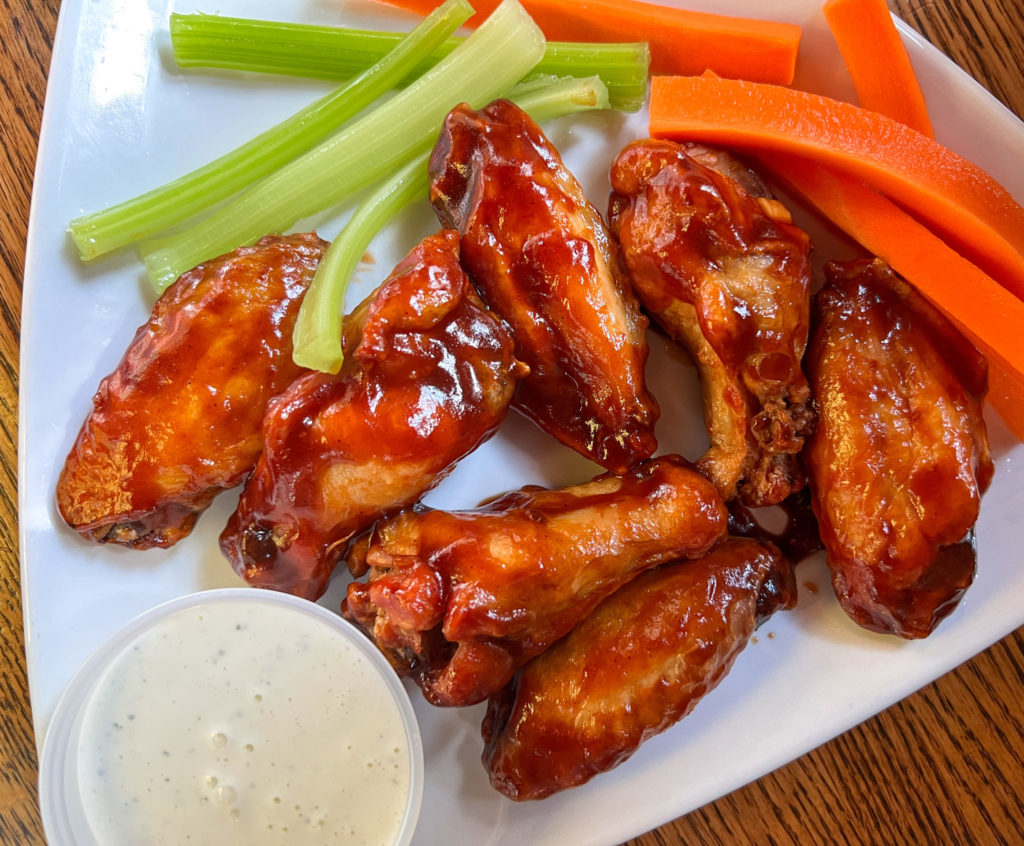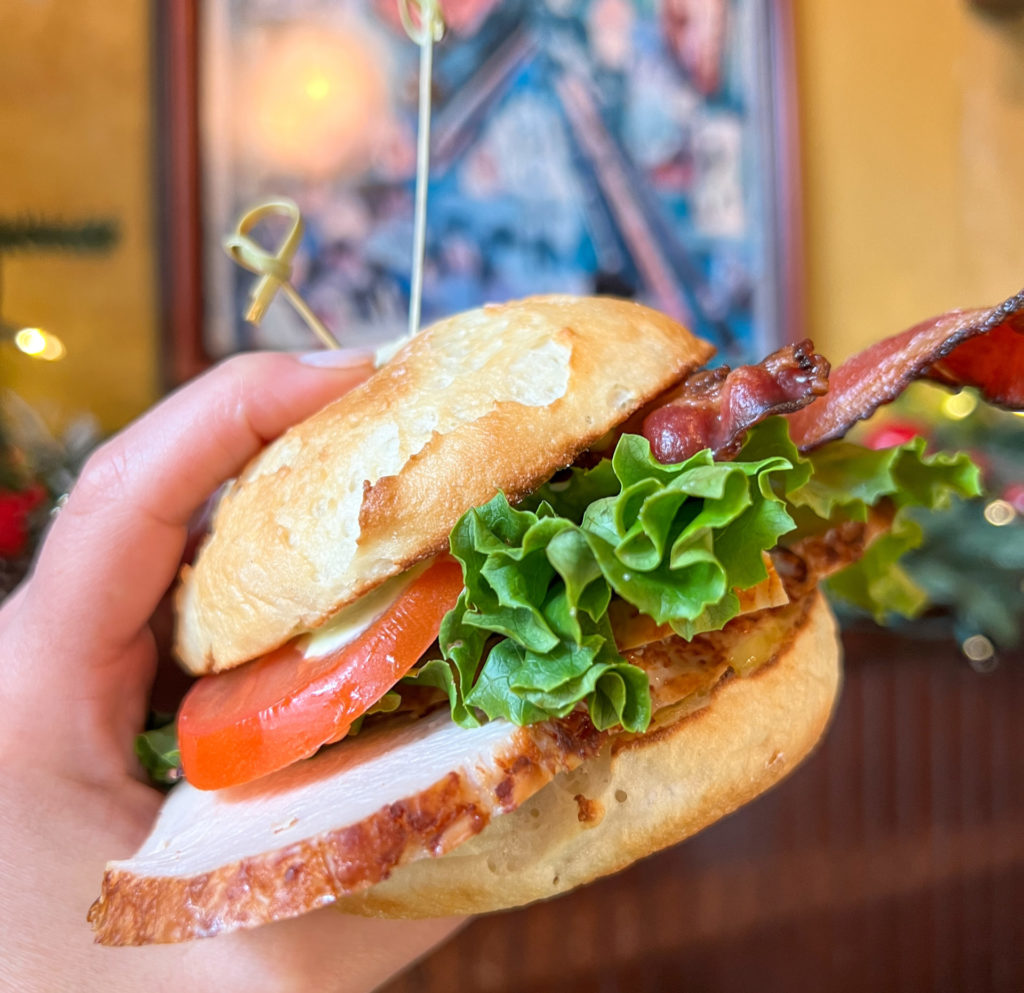 I'm definitely more a casual-lunch-but-let's-dress-up-for-dinner kind of girl, so I wanted something a little bit more high end. We headed a little further north to Cocoa Beach and visited family-owned Pompano Grill, a casual fine dining restaurant located right in the heart of town, a couple blocks from the beach. The restaurant specializes in fresh caught seafood, steaks, house-made pasta and desserts, and Kelly Slater's favorite fries, aptly named "Slater's Taters" that we obviously had to get.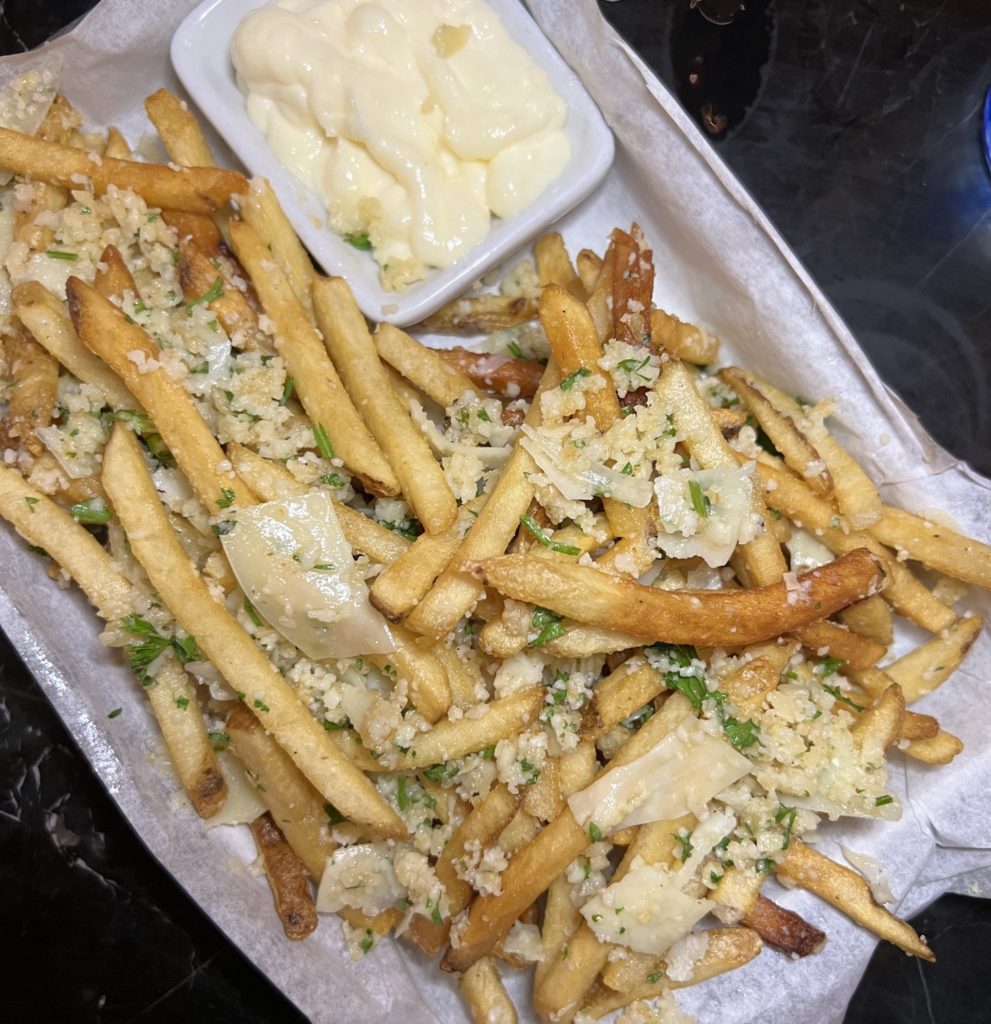 Along with a great menu of creative dishes is an even better menu of wine. Roger and I were excited to see Gundlach Bundschu Merlot on the list, which was our favorite winery we visited while in Sonoma this past summer.
Our service at Pompano Grill was outstanding. Our server's name was Austin, and he was super knowledgable about the menu, ingredients, wine, etc. The restaurant is small, which means so is the kitchen and the menu, which also meant my options were kind of limited — but everything I got was delicious.
For my main course, I got the simple pan-roasted preparation of local grouper with asparagus and wild rice, and while that might sound boring and plain on paper, it was amazing. The fish melted in my mouth, the asparagus was roasted to perfection, and the wild rice had the most incredibly balanced texture: creamy without being too mushy and still had a nice bite to it.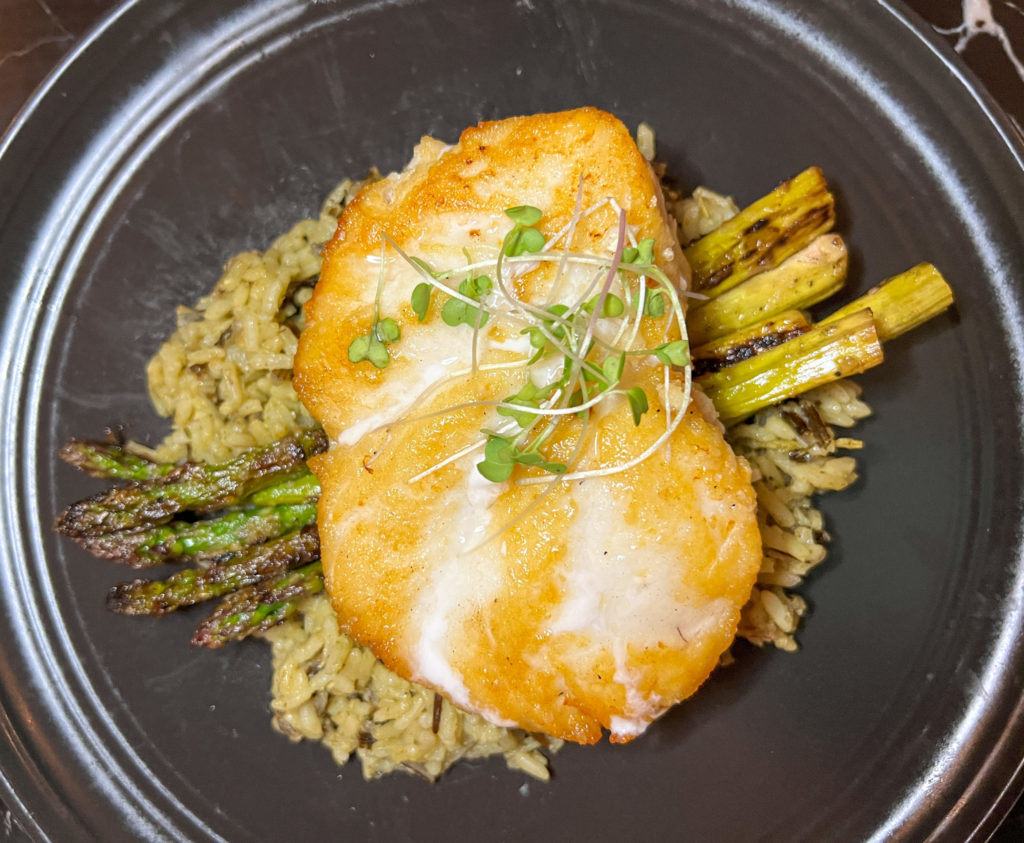 Another great option for either lunch or dinner — or to shop for lunch or dinner to bring home — is Djon's Village Market in Indialantic. There are lots of options at Djon's Village Market, which opened recently in July of 2020. On the first floor, there is a gourmet market with local produce, lots of vegan and allergy-friendly products and grab-'n-go items, as well as a coffee and juice bar, butcher, bakery, deli, sushi and noodle bar, brick oven pizza, fish market, wine and cigar shop, and catering is also available.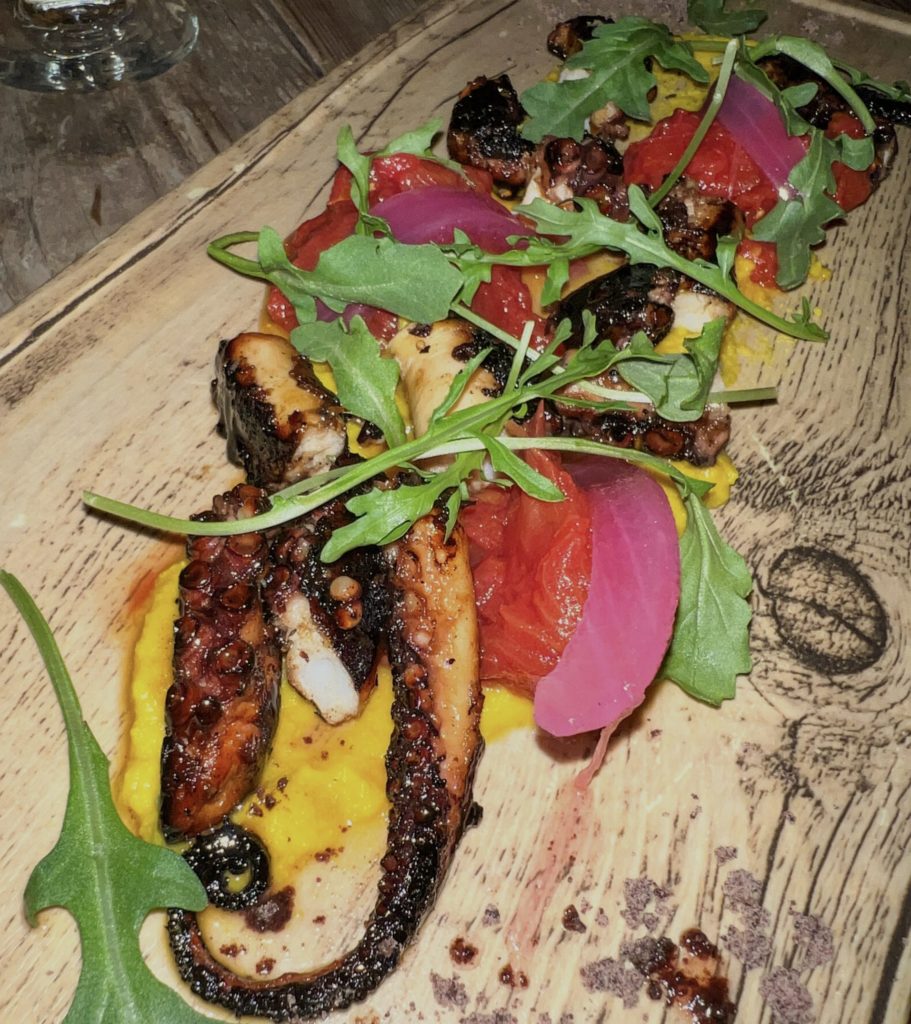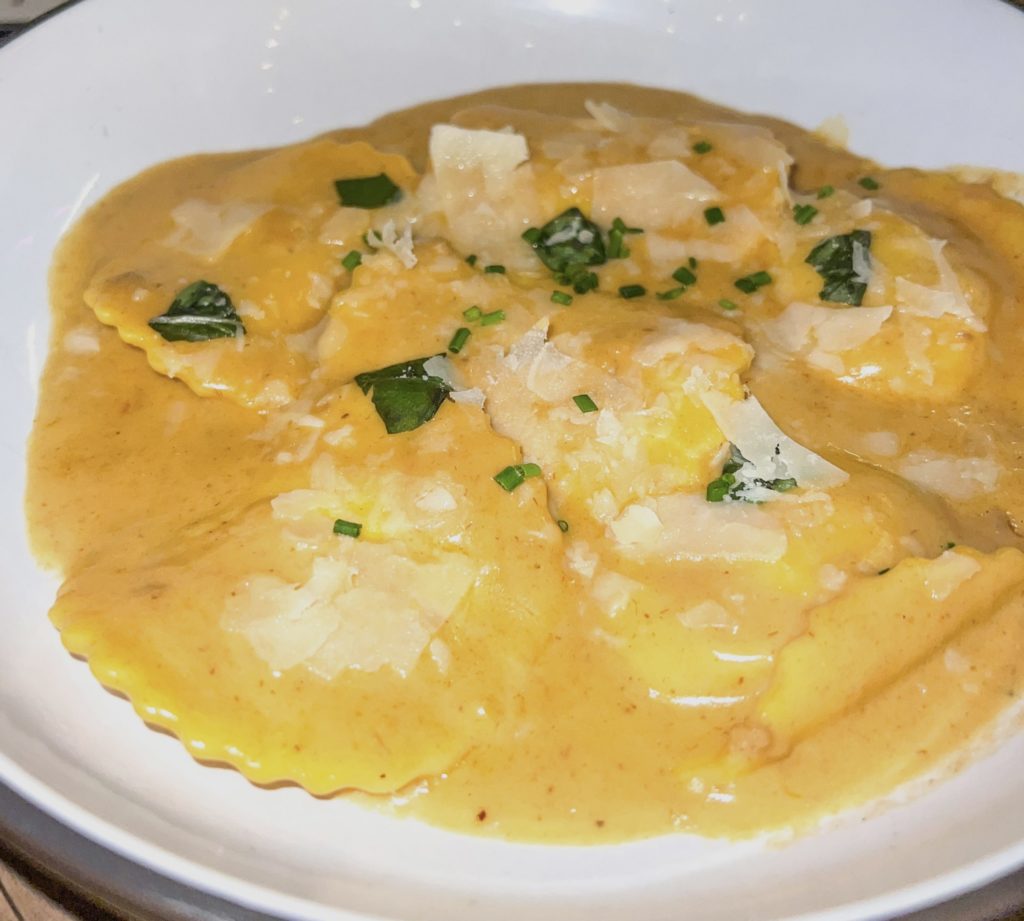 Aside from all of those options, there is also The Farmhouse Kitchen, a restaurant offering seasonally inspired dishes using responsibly sourced ingredients from local and family-owned farms; and an open-air rooftop bar and lounge (21+ only) on the second floor deck that overlooks the ocean and Melbourne Bridge. You can also order food while at the bar, including options from The Farmhouse Kitchen and the sushi bar.
Where To Drink in Florida's Space Coast
The rooftop bar at Djon's Village Market is very sexy at night. Dim lights, music, beautiful scenic view…it is definitely a great spot for drinks, especially for a nightcap after dinner.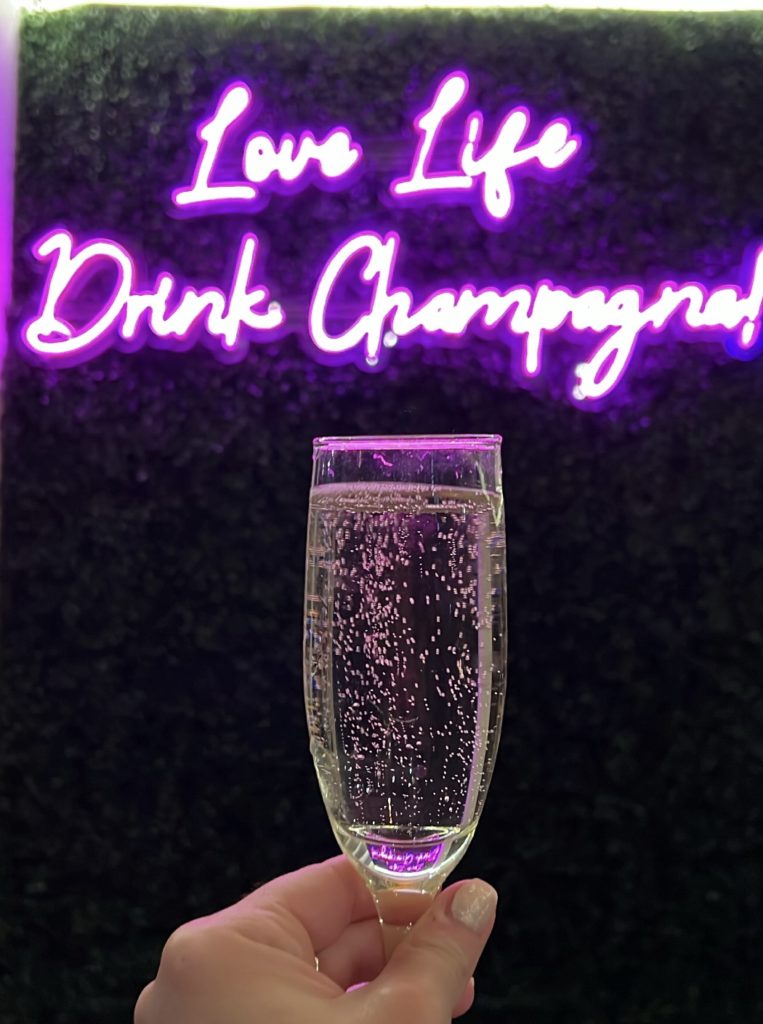 Head back over the bridge to Historic Downtown Melbourne, though, and pop into Hell'n Blazes Brewing Co. for a more low-key setting. The brewery opened in 2016 in a 120-year-old historic building that has been home to a hardware and farm supply store, a funeral parlor, a bank, a television studio and, most recently, the Christmas Cottage and La Petite Boutiques. The original walk-in bank safe still remains in the back of the space, now used as a private tasting room available for parties, meetings and events. Hell'n Blazes also has a game room, and offers a full liquor bar and food menu for both lunch and dinner.
If you are looking for a vibrant beach bar, Tropics Cocktail Bar in Cocoa Beach is a must! You will feel like you are on vacation in Hawaii or the Caribbean with all of the tropical cocktails, bright colors and energetic music. Tropics Cocktail Bar offers a weekday happy hour from 2-6pm, featuring specials on drinks and snacks, which is perfect for your pre- or post-beach days!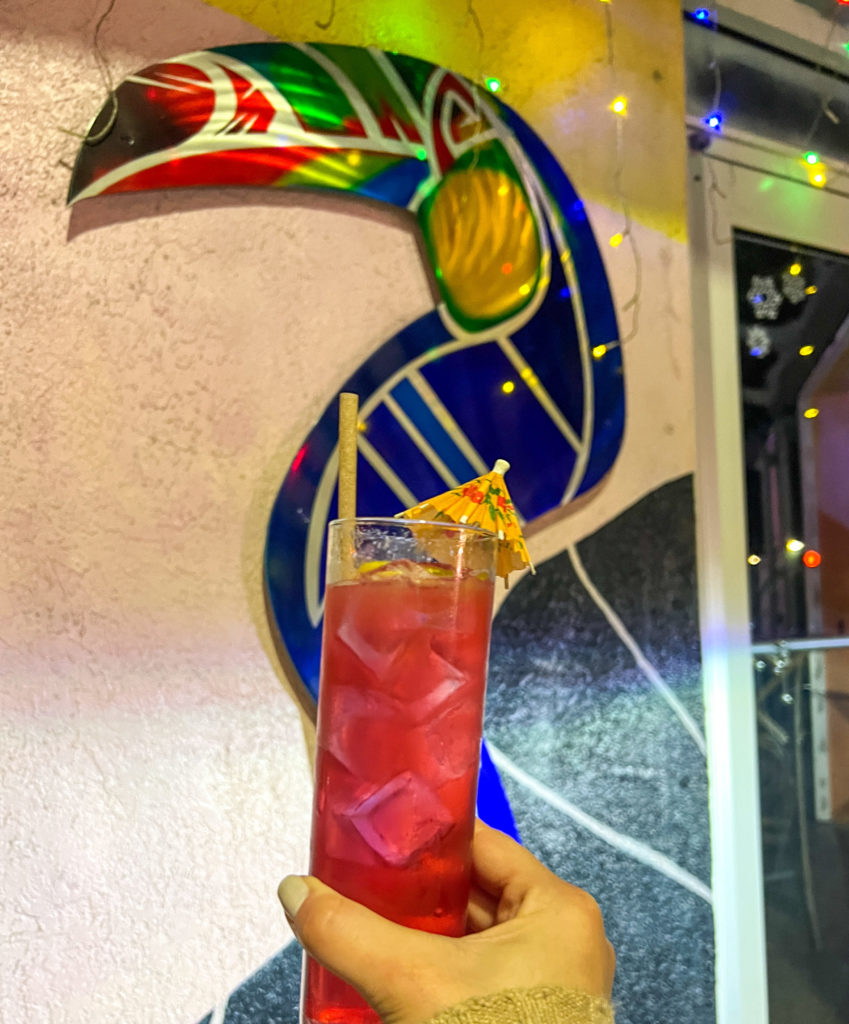 For my bar-hopping fanatics, Tropics is a great starting point — there are lots of other small, local beach bars right around that area of Cocoa Beach, many with live music and totally chill vibes.
Visit Florida's Space Coast
A visit to Florida's Space Coast is worth planning! I can't believe this was the first time I spent time in this area of Florida, and it most certainly will not be the last. If you go, I hope you will use this guide to get started on your itinerary. Enjoy!
Crowne Plaza Melbourne-Oceanfront is located at 2605 N Hwy A1A in Melbourne.
Wicked Pineapple is located at 1296 Florida A1A in Satellite Beach. Opening Hours are Tuesday-Saturday 8am-4:30pm, and Sunday 8am-4pm. Closed Monday.
Cafe Surfinista is located at 2 Wave Crest Ave in Indialantic, and 86 N Orlando Ave in Cocoa Beach. Opening Hours for Indialantic are daily 7am-5pm, and for Cocoa Beach, Monday-Saturday 7am-4pm and Sunday 8am-4pm.
Meg O'Malleys is located at 812 E. New Haven Ave in Melbourne. Opening Hours are Sunday-Wednesday 10:30am-11pm, and Thursday-Saturday 10:30am-1am.
Pompano Grill is located at 110 N Brevard Ave in Cocoa Beach. Opening Hours are Tuesday-Saturday 5:30-9pm.
Djon's Village Market is located at 249 5th Ave in Indialantic. Opening Hours for the market are Monday-Thursday 8am-8pm and Friday-Sunday 8am-9pm; for The Farmhouse Kitchen, Monday-Saturday 11am-9pm and Sunday 10am-9pm; and for the Rooftop Bar, Monday-Thursday 11am-10pm, Friday-Saturday 11am-12am, and Sunday 10am-9pm.
Hell'n Blazes Brewing Co. is located at 1002 E. New Haven Ave in Melbourne. Opening Hours are Monday-Tuesday 4-11pm; Wednesday-Friday 12-11pm; and Saturday-Sunday 12pm-2am.
Tropics Cocktail Bar is located at 1s N Atlantic Ave in Cocoa Beach. Opening Hours are Monday-Friday 12pm-12am and Saturday-Sunday 12pm-12:30am.
Disclosure: This is a sponsored post by the Florida Space Coast. As always, all opinions are 100% my own.