Never miss a bite! Sign up here to receive new recipes and reviews straight to your inbox.
This Flourless Chocolate Coconut Cake is the answer to your gluten-free dessert prayers. No cake has ever been so fudgy and delicious, you're sure to go back for seconds!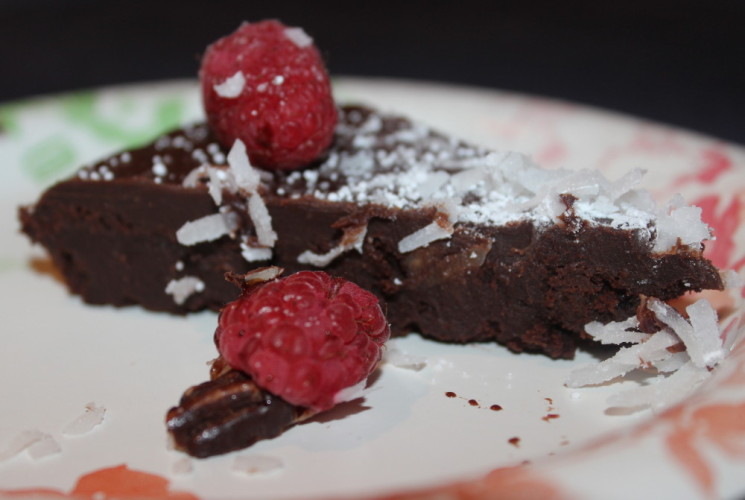 Imagine biting into a rich, dense dessert so fudgy it sticks to your teeth, so chocolatey it makes your tastebuds scream and so flavorful you quickly find yourself slicing another piece. Yep, that's exactly what you get with this Flourless Chocolate Coconut Cake. Not only was this chocolate dessert my contribution to last week's Passover seder and 90th birthday celebration for Bubby, but it's also my entry for this year's Dixie Crystals Chocolate Dessert Recipe Contest.
The Food and Wine Conference is coming up and once again, participating bloggers are able to enter this fun recipe contest to win full reimbursement of their conference ticket and a chance to have their dessert featured at the conference. How freaking cool would it be to watch everyone's heart melt as they bite into a slice of my Flourless Chocolate Coconut Cake?! I'm pretty sure it'd be a hit, especially because even those bloggers on a gluten-free diet can enjoy it! No one has to miss out on this Flourless Chocolate Coconut Cake — thank God. My family loved it. It was the perfect dessert to end our Passover Seder with, and the perfect dessert to celebrate the most incredible woman ever as she turned 90-years-old.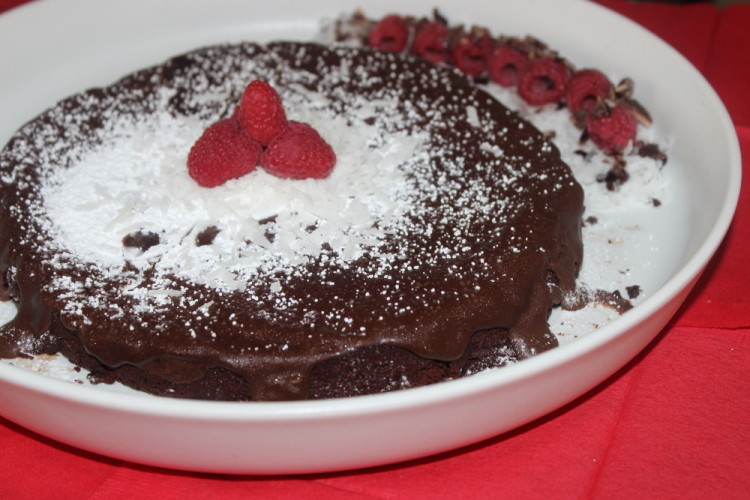 This cake is super rich. You may not even be able to eat an entire slice. I only ate a small sliver and was completely satisfied. The intense flavor of 60% organic dark chocolate and unsweetened dark cocoa powder help to keep the cake from being overly sweet. That's why I like using dark chocolate when I bake — not everyone is a fan of it, but I'd choose dark chocolate over milk any day.
And ganache. I'll always choose ganache. So of course I added it here. Who doesn't love a silky smooth coating of dark chocolate over an already super chocolatey cake?!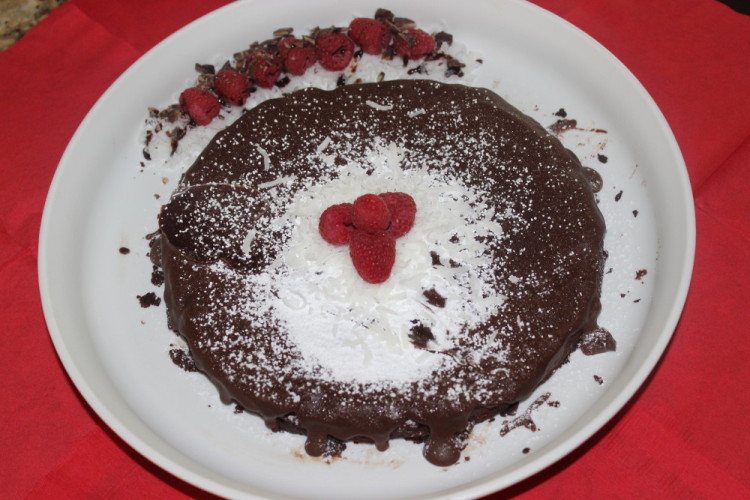 Does it get any more indulgent? I think not.
I'm super excited about the Food and Wine Conference this summer. It's at the Rosen Shingle Creek in Orlando, and is the perfect opportunity for bloggers, small business owners, winemakers, chefs, public relations professionals, media, authors and brands to all connect with one another and make lasting relationships. Last year's conference was truly an unforgettable experience. I learned so much and met so many amazing people, and can't wait to spend another weekend with them in a couple months. It's worth every penny to purchase a ticket for the 3-day event, and I've even got a promo code for you if you'd like to join us! Register using the code FWC15wizos and you can save $50!
Wish me luck entering the Dixie Crystals Chocolate Dessert Contest! You can enter too, just click here to read through the rules and find out how!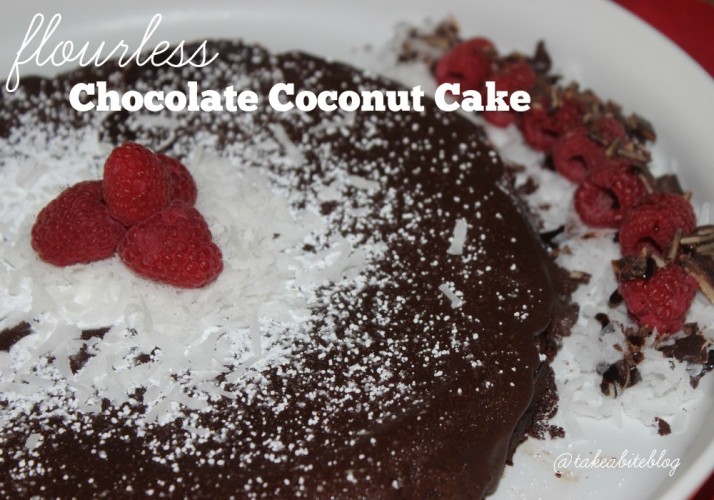 Flourless Chocolate Coconut Cake
Author:
Serves:
10-12 small slices
This Flourless Chocolate Coconut Cake is the answer to your gluten-free dessert prayers. No cake has ever been so fudgy and delicious, you're sure to go back for seconds!
Ingredients
For the cake:
12 oz. 60% dark chocolate
1 stick unsalted butter
1 cup Dixie Crystals granulated white sugar
5 large eggs
1 1/2 tsp coconut extract
1/4 cup unsweetened dark cocoa powder
toppings: powdered sugar, shredded coconut, raspberries
For the ganache:
1/4 cup unsalted butter
1 cup dark chocolate melting wafers or dark chocolate chips
Instructions
Preheat the oven to 375 degrees and grease an 8-inch cake pan with cooking spray or butter.
ut the chocolate and butter in a large microwavable bowl.
Heat for 30 seconds at a time, stirring each time, until completely melted and smooth. This should take no longer than 2 minutes.
Add sugar, eggs and coconut extract and whisk until fully incorporated.
Sift in the cocoa powder and mix well.
Pour the batter into prepared cake pan and bake on the center rack of the oven for 25 minutes or until the edges have started to pull away from the pan and you see a thin crust start to appear on top.
Allow to cool slightly and then invert the cake from the pan and let cool completely on a wire rack.
While the cake is cooling, prepare the ganache by melting the butter and chocolate wafers together in a small microwavable bowl.
Whisk until a smooth, creamy consistency is achieved.
Once the cake is completely cooled, place it on your serving platter and pour the ganache over top.
Refrigerate immediately for at least 1-2 hours to allow the ganache to fully set.
Add powdered sugar, shredded coconut and raspberries just before serving.
Disclosure: I am a brand ambassador and part of the committee for the 2015 Food and Wine Conference. I will receive a commission if you use the above promo code to purchase your ticket. Entrance into the dessert contest is an equal opportunity for all conference participants and I receive no advantage from being on the committee.