Never miss a bite! Sign up here to receive new recipes and reviews straight to your inbox.
Forget candy — I want these Flourless Peanut Butter Pumpkin Spice Cookies in my Trick or Treat bag!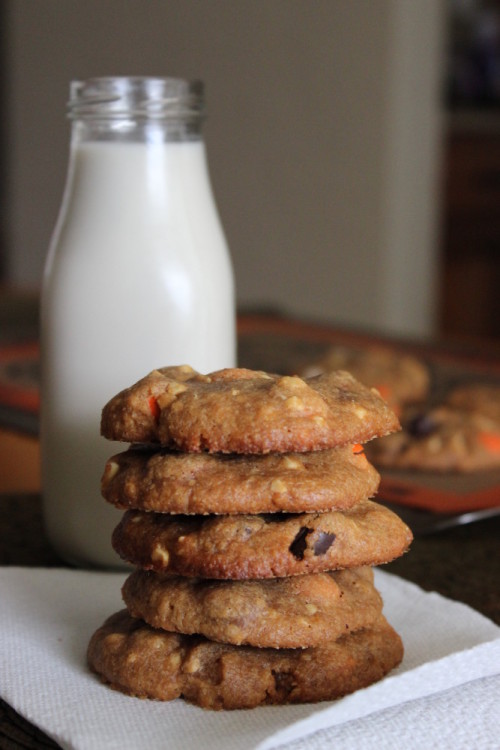 Once we hit fall, pumpkin is everywhere. You can go sweet or savory with this versatile ingredient, using the actual pumpkin itself, puree, or the super popular spice mix, Pumpkin Pie Spice. Big time brands totally jump on the bandwagon too. A certain cookie recently released a pumpkin pie spiced version, and one of my favorite chocolate candy companies released pumpkin spice LATTE after the oh-so-popular coffee drink. I'm in pumpkin heaven, as I'm sure you are too.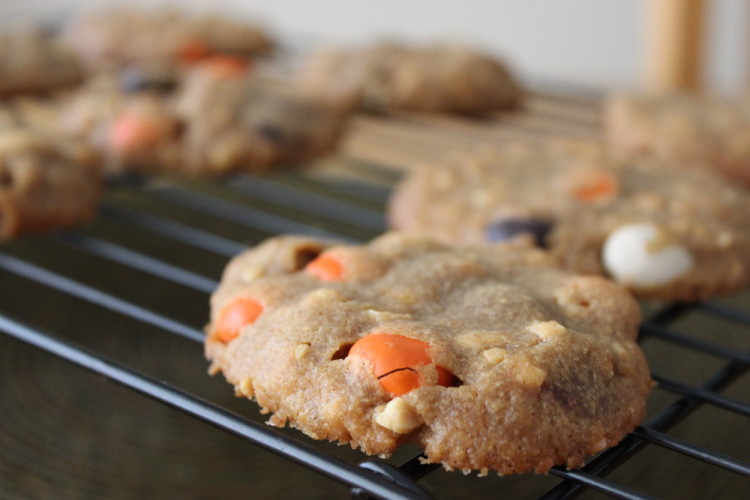 My friends in the #LeftoversClub decided to make this month's theme Halloween, and what's more Halloween-ish than a pumpkin?! I wanted to pair the holiday symbol with yummy flavor — peanut butter! One of my favorite Halloween candies has always been Reese's Peanut Butter Cups. I can remember dumping out my Trick or Treat bag (an oversized pillowcase) and picking out all the Reese's. I gave a lot of my Halloween candy to my dad for his sweet tooth, but he was not allowed to touch the Reese's! To keep with this month's Halloween theme, I combined my love of pumpkin and peanut butter — and those freaking amazing Pumpkin Spice Latte M&M's — into one super delicious (and flourless!) batch of Flourless Peanut Butter Pumpkin Spice Cookies.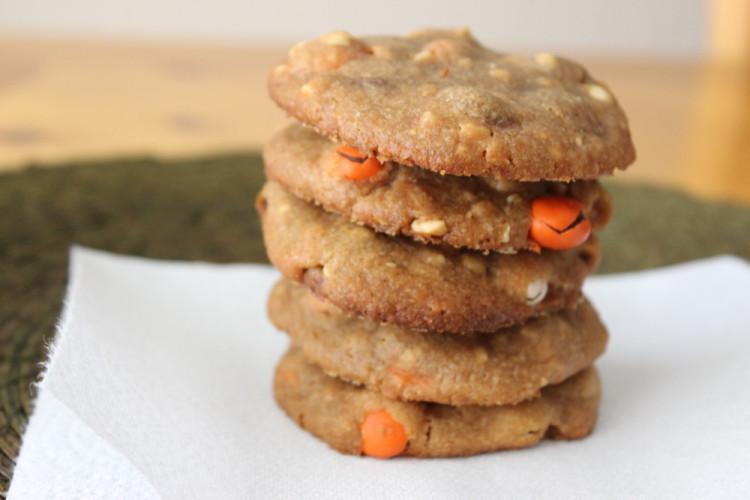 My #LeftoversClub partner this month is Myeshia of InsideMaddiesKitchen. I hope she enjoys these Flourless Peanut Butter Pumpkin Spice Cookies as much as I did. As a side note, these would totally freeze well if you wanted to make them ahead of time to give out to your Trick or Treaters instead of those boring old candy bars. 😉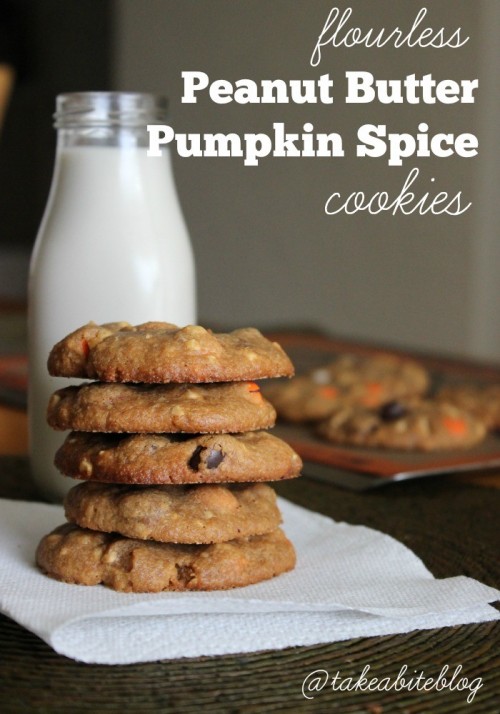 Flourless Peanut Butter Pumpkin Spice Cookies
Author:
Ingredients
1 cup light brown sugar, packed
1 large egg
1 cup chunky peanut butter
1 tsp pumpkin pie spice
1/2 cup Pumpkin Spice Latte M&M's
Instructions
Preheat oven to 350 degrees. Line a baking sheet with parchment paper or a silicone baking mat.
Combine sugar, egg, peanut butter and pumpkin pie spice in a bowl and mix well.
Stir in the M&Ms.
Use your hands to roll out medium-large size balls and arrange on the prepared baking sheet. Flatten each ball with your hand or the back of a fork.
Bake for 12-14 minutes.
Allow to cool for 5 minutes before transferring to a wire rack to completely cool.
Check out what the rest of the #LeftoversClub made today!