Last weekend I was lucky enough to experience the Food Blog Forum 2012 held in Orlando. The weekend-long conference was sponsored by Walt Disney World, who really went above and beyond with accommodations for all of the participants. We stayed at Polynesian Resort right on the Disney property and were given 4-day hopper passes to all of the parks! It was quite the event. I learned so much, met amazing people, and walked away with some seriously awesome prizes. Spending time in Disney World made me feel like a little kid again, filled with excitement and happiness  — pair those feelings with impeccably made food, genius blogging advice, and fun foodie friends and therein lies one amazing weekend.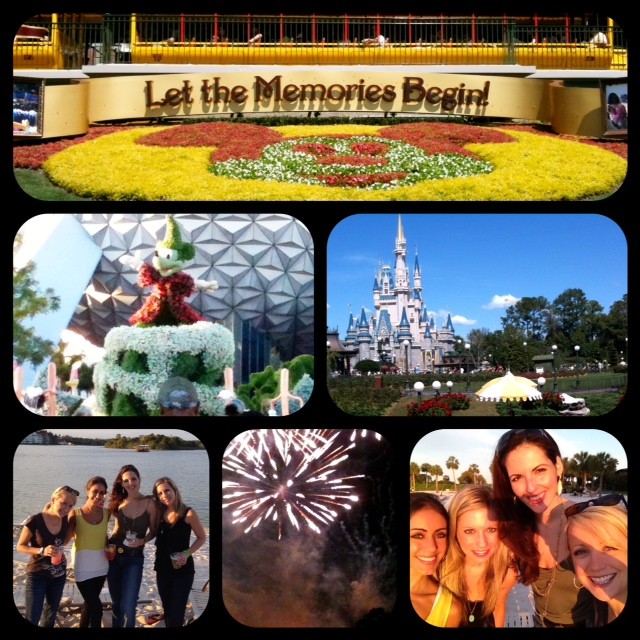 I was lucky enough to be paired with Hollywood, FL's own Grill Girl as my roommate. Robyn took me under her wing as soon as I arrived on Friday night and introduced me to the other girls she'd met earlier that evening at the welcome reception. Unfortunately, my work schedule didn't allow me to attend the reception, so I had to miss out on what I was told was a beautiful cocktail party outside at the neighboring hotel, the Grand Floridian Resort & Spa. I am so glad to have met Robyn, as well as Alessandra of Food Cookture and Sarah, who works for Land 'o Lakes. I was really excited to meet other bloggers at the conference as well. Some of them I had been following already and couldn't wait to meet in person. But there were also a lot of new friends to be made and blogs that I couldn't wait to check out as soon as I got home.
Saturday's conference was held at the Odyssey Pavilion in Epcot. We started the morning out with a breakfast spread fit for St. Patty's Day. There was a cheddar egg-white frittata, bangers & mash, boxty & eggs, various scones and an enormous colorful bowl of fruit. Of course, I piled my plate high with fruit and the frittata and apricot scone. The Food Blog Forum would not have been possible without all the amazing speakers and organizers. Big thanks to Julie of The Little Kitchen for putting together such an amazing event!
The first session of the day, led by Diane and Todd of White on Rice Couple, taught us all about photography and styling. This is something I am really lacking on my blog and I can't wait to take all that I learned from Diane and Todd and apply it to my posts. The biggest lesson I took away from this session is to always tell a story with your photos. Don't just show the food; inspire & encourage with the storybehind the food!
Now it was time to learn about the PR behind food blogging. Jaden of Steamy Kitchen, Rachel of Kitchen Aid, Arianna of OXO , and Disney's social media director, Thomas Smith, gave some great insight into working with different brands. Lessons learned: 1) Brands want to work with you, so don't be afraid to approach them and ask; 2) Make sure the brand makes sense in your blog. Don't agree to blog about something if it doesn't feel right; and 3) The content of your blog matters more than the statistics.
David Leite gave us his cardinal rules on "how to write a bigger, better, more badass" blog post. I found his session to be extremely informative and helpful. Although I do think I'm a pretty good writer, it never hurts to get advice from someone who has been in the game much longer than you have. Here's a short version of his tips:
1) Learn how to write first person – and learn how to do it well!
2) Tell a story in each post.
3) Don't be boring!
4) It's okay to use strong language, and DO NOT use the words "delicious" or "yummy" anymore — this makes me think I need to invest in a good thesaurus.
5) Stay consistent in how you present yourself in each post.
6) The more specific a post, the more universal it is.
7) Think fiction — write nonfiction.
8) Watch your grammar.
9) Think of the other people mentioned in your posts as characters — give them a voice.
10) Having a copyeditor and copyrighting your work is very important. DO NOT put someone else's recipe onto your blog. Share your own story and link to the recipe instead.
Food writer and research chef Dawn Viola spoke about making your hobby into a profession. She advised us to write for someone else as a way to get your name out there. Listening to her helped me realize that I need to make blogging more of a priority and to work on finding my own personal voice and niche. She was hilarious and a very entertaining speaker. I liked listening to her, not only because she gave great advice, but because she was fun and really seems to love what she does.
After the morning sessions were over, we went for a walk through Epcot to the World Showplace where lunch was to be served buffet style from some of the Disney chefs. The food was so good. There was so much to choose from and each dish had its own unique flavor and presentation. Not one thing was alike in anyway. There was everything from seared salmon to an Indian-inspired assortment of dips and spreads. One of my favorites was the zucchini and eggplant ratatouille with roasted mushrooms, lentils and sun-dried tomato puree. The desserts were superb, especially the chocolate ravioli filled with cognac. This tiny bubble of sweetness was packed with more flavor than any of the other desserts (but they were all still great!) The other two desserts I enjoyed most, pictured below, were the berry Gateau wrapped in white chocolate with port wine foam and the Peruvian chocolate cylinder with St. Germain glaze. The little balls you see on the plate with the chocolate are caramel caviar. Who knew caviar could be used as a dessert!
I wish I had gotten better pictures of the food, but the lighting and my iPhone camera just didn't mesh well. Two hours later (yes, food bloggers need that long for lunch — an hour to eat and an hour to marvel over how amazing the food looks and take pictures), we headed back for the second part of the conference: Round table sessions. These sessions were a lot more intimate, as there were no more than about 10 people per session at a time.
I went to WordPress/Blog design with Lindsay of love and olive oil, Recipe Development & Writing with Kelly of Just A Taste and Jennifer of  In Jennie's Kitchen. I also sat in on another session on blog writing with David Leite and a more in-depth look into working brands with Rachel and Arianna.
I learned a lot from Kelly and Jennifer's session. Kelly is one of the bloggers I had been following online and was really excited to meet. I can't wait for her book, Food Blogging for Dummies, coming out next month! They gave great advice on how to include recipes in your blog posts and cleared up a few misconceptions that people had about things such as the difference between recipes that are "adapted from," "inspired by," and "original." Most of the time I am either making a recipe inspired by or adapted by another, but I hope to be able to develop some original recipes of my own soon!
When the conference ended, Robyn, Alessandra, Sarah and I headed back to the Polynesian to drop off our prizes, change into something a little more comfortable and get ready for the rest of our night. We went outside to the pool bar for some drinks before heading back to Epcot for the fireworks and private dessert reception. The Food Blog Forum had a roped off section right on the water where the fireworks were being displayed. There was a delicious assortment of desserts inspired by St. Patty's Day, including Irish potatoes, Bailey's bon bons and Irish Car Bomb parfaits. The Guinness ice cream was a hit to some, but I wasn't a fan. It was pretty awesome to have front row seats to an amazing fireworks and light show.
Lots of prizes were given out throughout the day thanks to amazing sponsors such as Land 'o Lakes, OXO, Kitchen Aid, Whole Foods, Le Crucet and more. I never win anything, so I wasn't expecting to hear my name called for any of the giveaways. One of the biggest prizes of the day came toward the end of the day. The package include a Le Crucet panini grill and cookbook, an adorable apron from Anthropologie, cute kitchen towels, and a $200 Visa gift card. Ten of these prize packages were given away…and guess what! I was one of the ten! When I heard my name, I jumped out of my seat and yelled "That's me!" I was so excited. For not having the best luck when it comes to winning things, this was a pretty big surprise. I found out a day after the conference that I had won something else as well. The Kitchen Aid table held a Foursquare giveaway. You had to check it on Foursquare and take a picture of their table and a winner would be chosen after the weekend was over and announced on Twitter. Sure enough, when I got out of work Monday night I saw I had been tweeted by Kitchen Aid and was the winner of a 7-quart stand mixer, which will be mailed to me in a couple weeks. I can't wait to use it!
Sunday morning I took some time to myself to enjoy the scenery around the Polynesian. I went for a walk along the lake and to the gym. The lake is surrounded by beautiful white sand and being pretty early in the morning, the area was very quiet and calm. It was a good way to start out the day.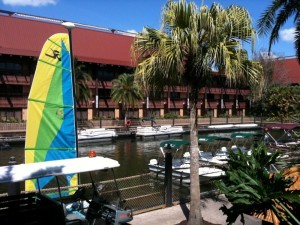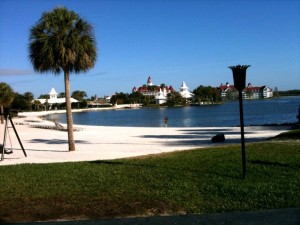 Alessandra and I decided to spend our remaining hours in Orlando at the Magic Kingdom on Sunday afternoon. We rode on It's A Small World and watched the parade down Main Street. We ate Pineapple Dole Whip and snapped pictures of the characters. It was a great afternoon. There is no happier place than Disney World!
Great prizes, great advice and great friends are the things I took away from the weekend's events. I can't wait to participate in more food blogging events, and I especially can't wait for this conference again next year — hopefully they bring it back to Florida!