I'm finally ready to sit down and tell you all about BlogHer Food..
Words cannot describe how motivated I felt when I got home from Miami. I spent four days with bloggers I have been following since I started, women I admire and go to for recipe ideas, advice, and when I want to salivate over beautiful-looking food. I met bloggers from all over the country, even some from Canada. I roomed with Julie from Savvy Eats and Arah, who works for Zaycon Foods — a company focused on providing fresh farm-to-table foods through mail-order subscriptions. These ladies were great, and while we probably never spent more than 5 minutes in our room at a time (except while sleeping…) we wound up in the same sessions, at the same parties, or just stumbling upon each other while wandering around at some point or another.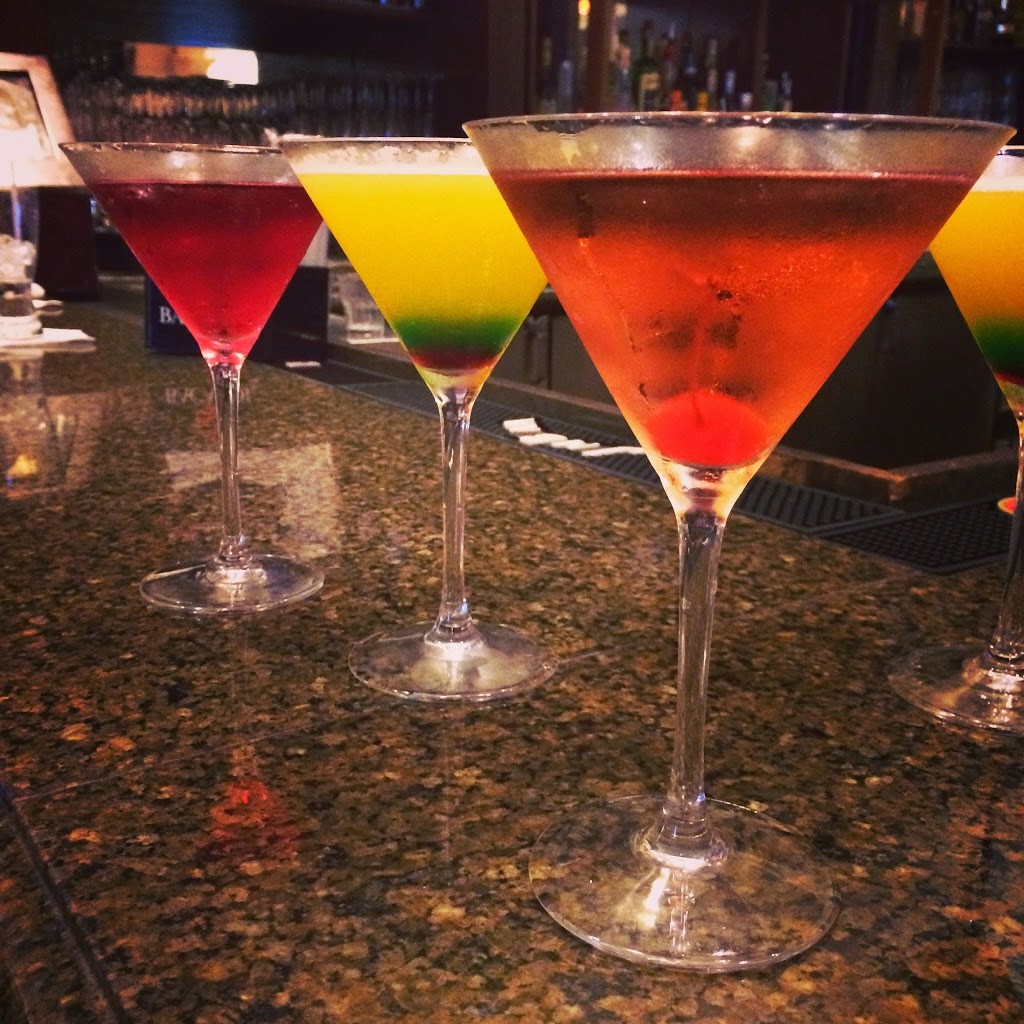 I met my first new friend before even getting to the conference — Katie from The Hill Country Cook. I picked her up from the airport and we headed down to Miami together, chatting nonstop along the way. She's great…and lives right around Austin, Texas which is on my list of cities to visit, so I will definitely have to plan a trip! Since Katie had volunteer training, I wandered around the lobby and ended up meeting a fellow Florida food blogger, Taylor from Food Faith Fitness, who is pretty much my soul mate. I'm already planning a weekend getaway to her place out in Tampa. Pretty soon Brianne from Cupcakes and Kale Chips and Lauren from Lauren Kelly Nutrition joined the party and we officially started the weekend with some yummy martinis.

I attended a cocktail party with Stonyfield Organic and Applegate Farms later that night at Essensia Restaurant and Lounge. We were met with a beautiful spread of roasted veggies, meat and cheese, crackers, and dried fruit during a champagne toast. Then we were moved into the dining room where signature cocktails (Thai Basil and Jalapeño Martini = love!) were passed around and hot food was served buffet style. There was also a panel discussion on organic and sustainable farming with Nutritionist Silvia Abel-Caines, Applegate Co-founder Chris Ely and Organic Valley farmer/owner, Maureen Knapp.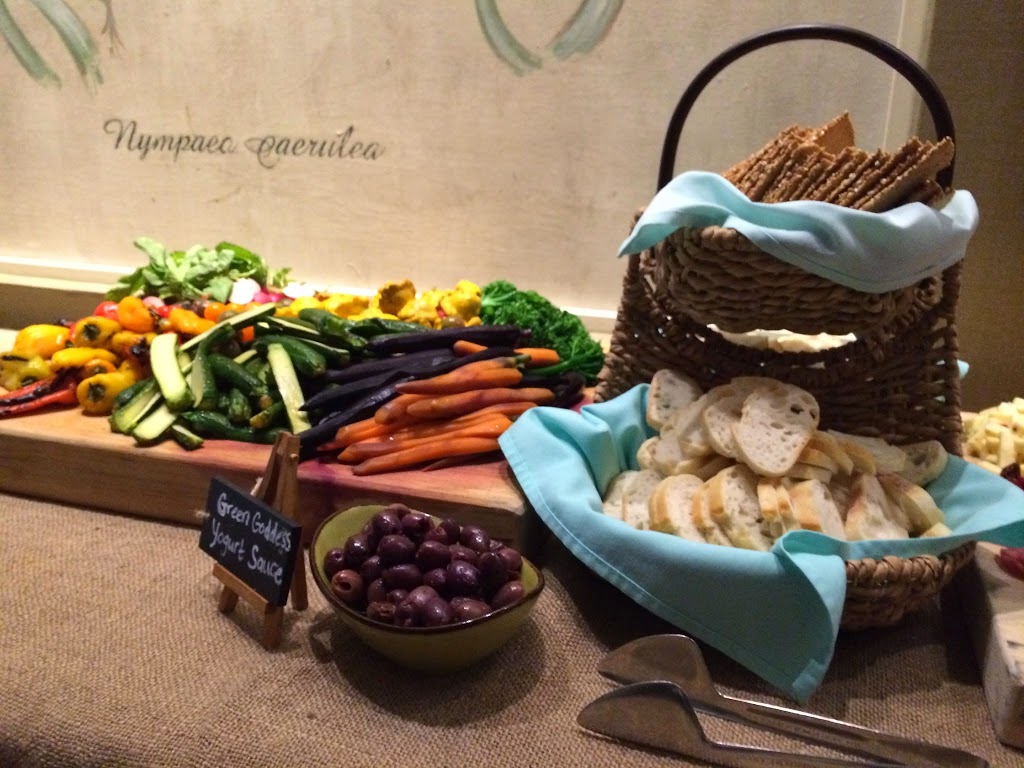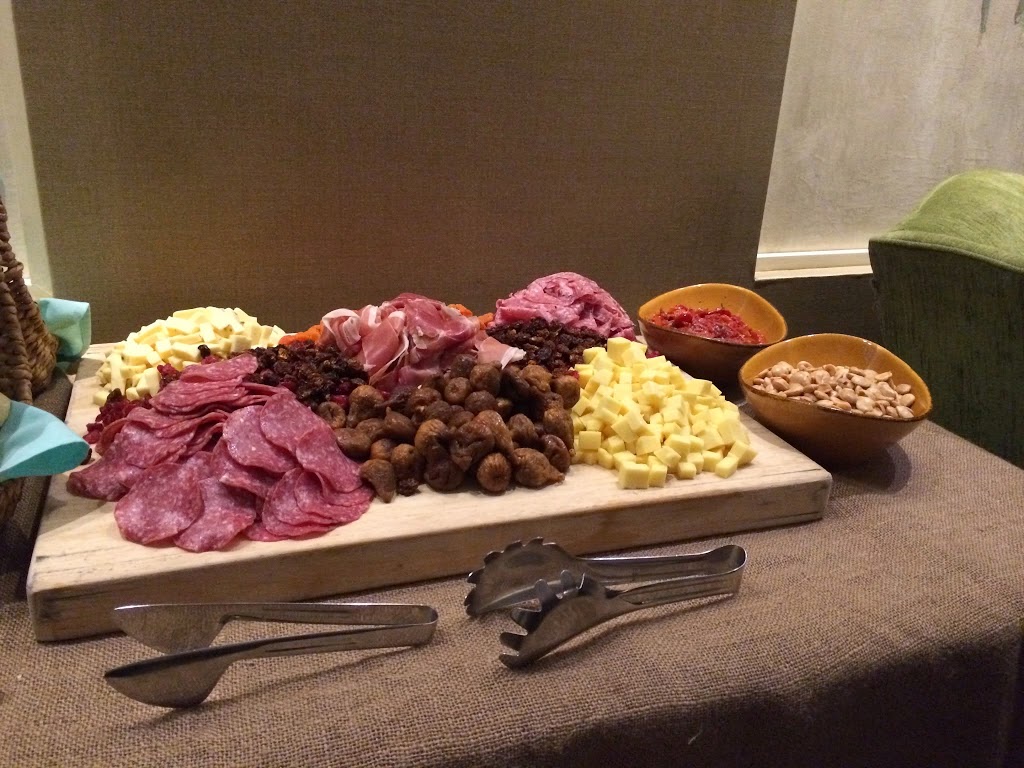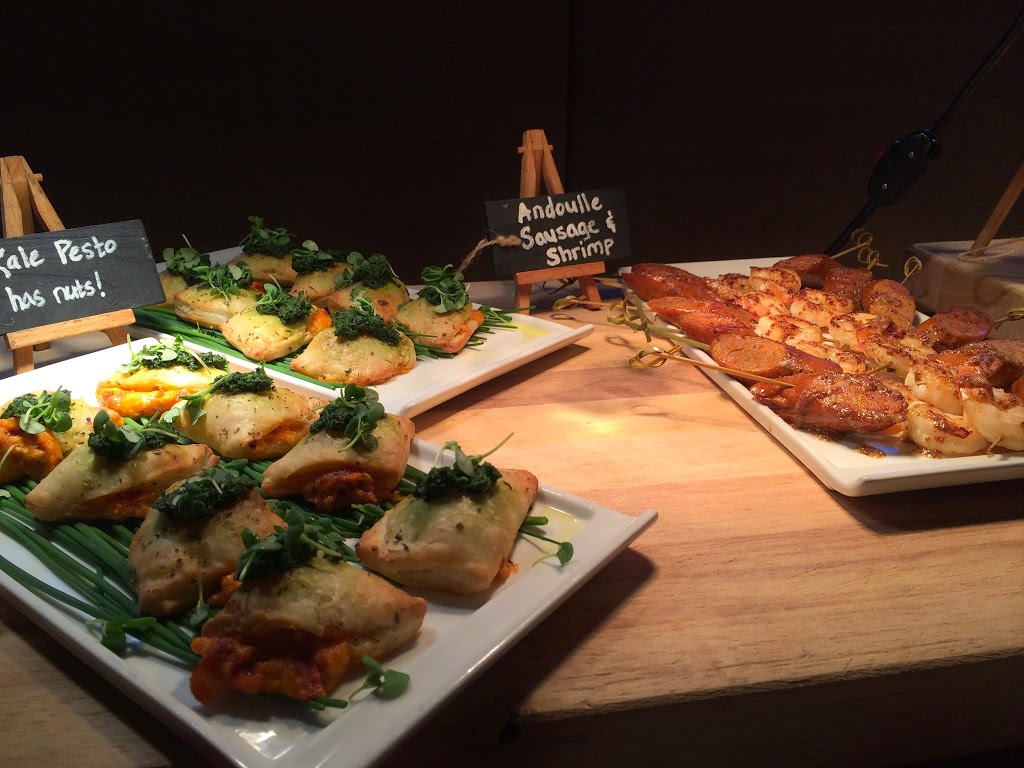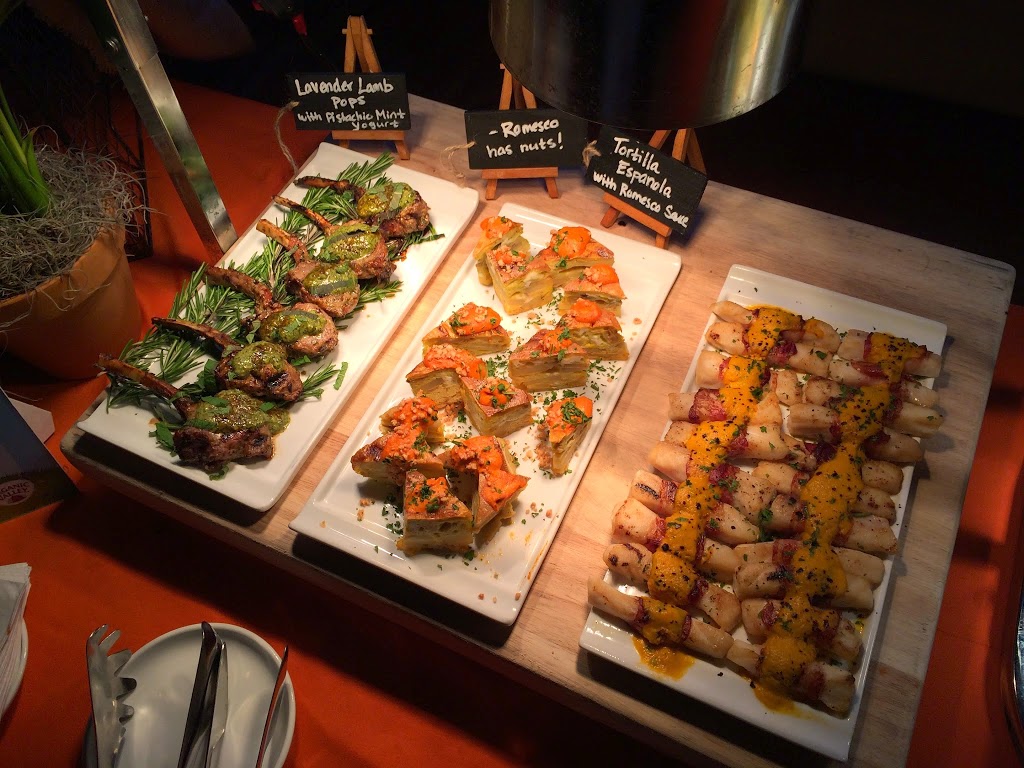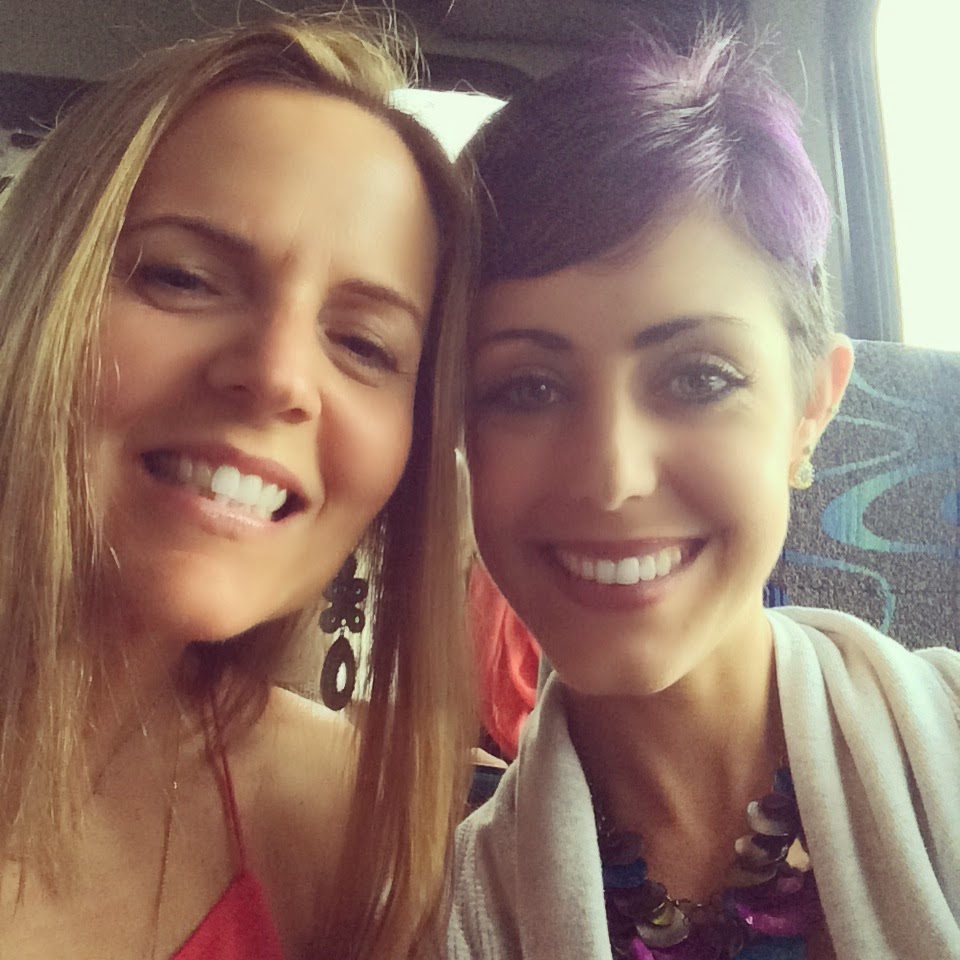 Lauren and I instantly hit it off as soon as we realized what we had in common
Jersey Girls!!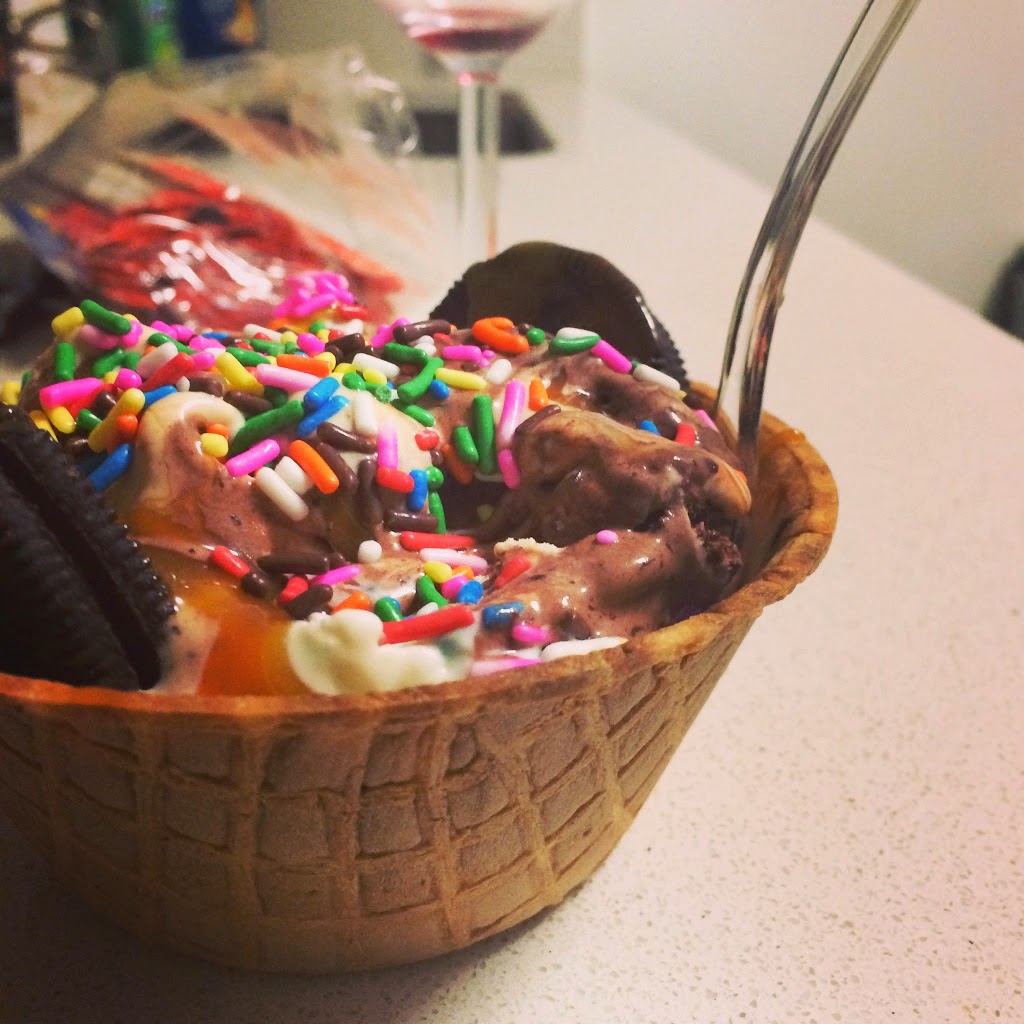 The rest of the evening was spent bouncing around from party to party. I ended up going to Jenny (Picky Palate) and Amanda's (Kevin and Amanda) penthouse party sponsored by Clique Me. There was never a shortage of food at any point throughout the whole weekend. There was a bounty of sushi at the party, and a full ice cream sundae bar with five different ice cream flavors and lots of sprinkles and other fun toppings. Obviously I had to take advantage…
I finally hung out with Christine from Cook the Story, which was long overdue. Christine and I have been blogging buddies since we started around the same time almost three years ago. We both live in Florida, but haven't been able to connect until now. It's about time we met! We were the last to leave the party — too much fun hanging with Jenny and Amanda!

Friday was a lot of breakout sessions, interesting seminars, and lots of schmoozing and mingling with all our amazing sponsors at their booths — Baileys Coffee Creamers, Kitchen Aid, Cascade Ice Water, Sheila G's Brownie Brittle and their new sister-company Pasta Chips, Kerrygold, Jamba Juice, South Walton, CVS, Anolon, Applegate and Stonyfield Farms, Colgate, Hamilton Beach, Babybel, Pompeian, Ohio Dairy Farmers, and more.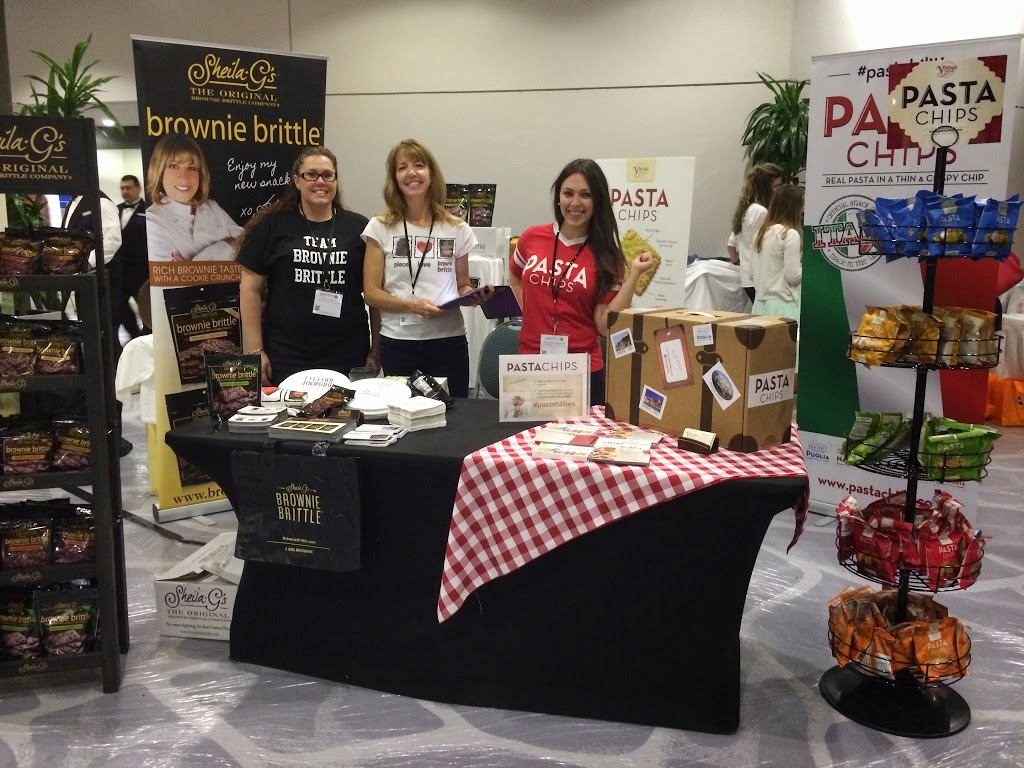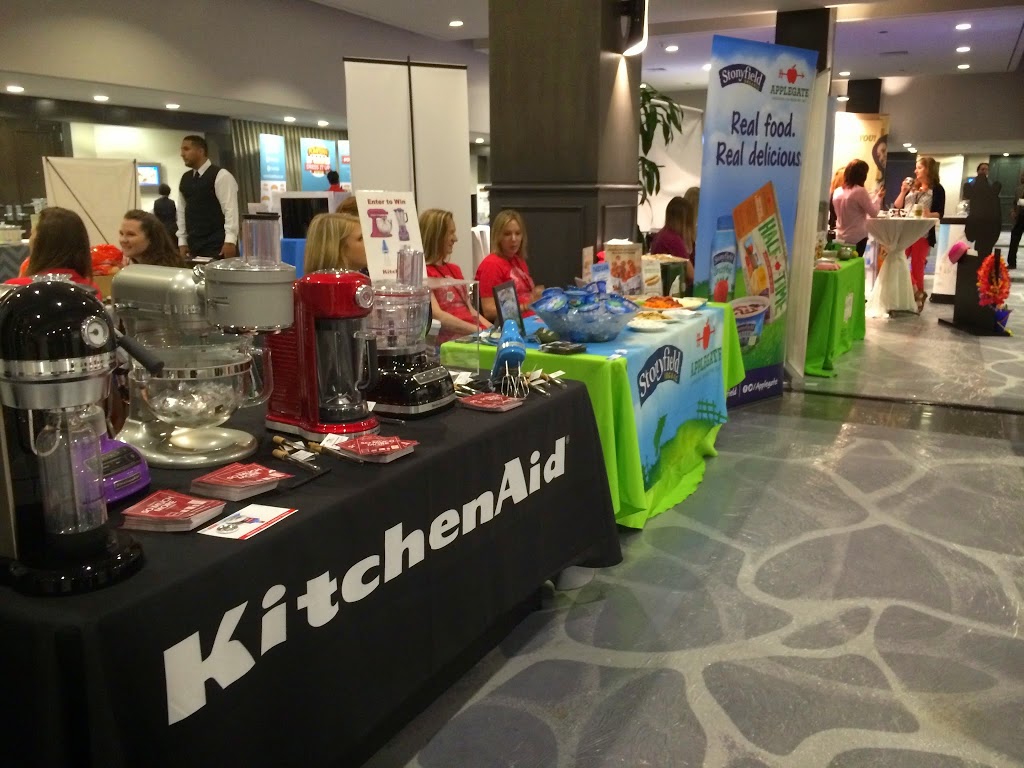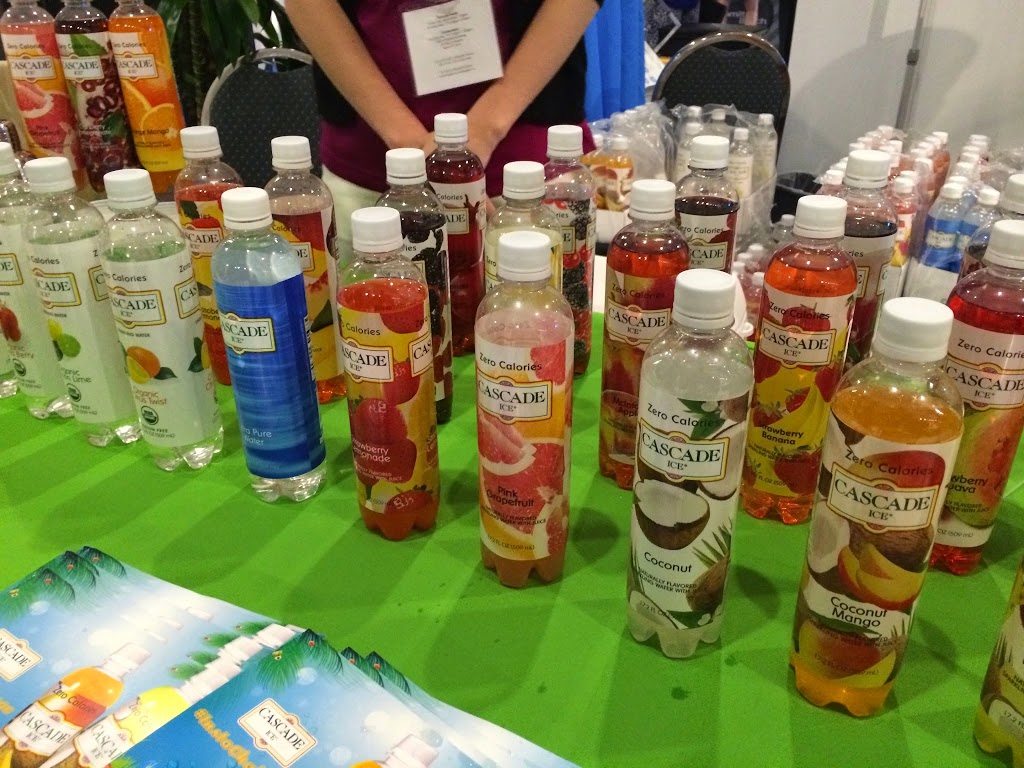 New product find… Love this zero-calorie flavored water from Cascade. They have an organic line, too.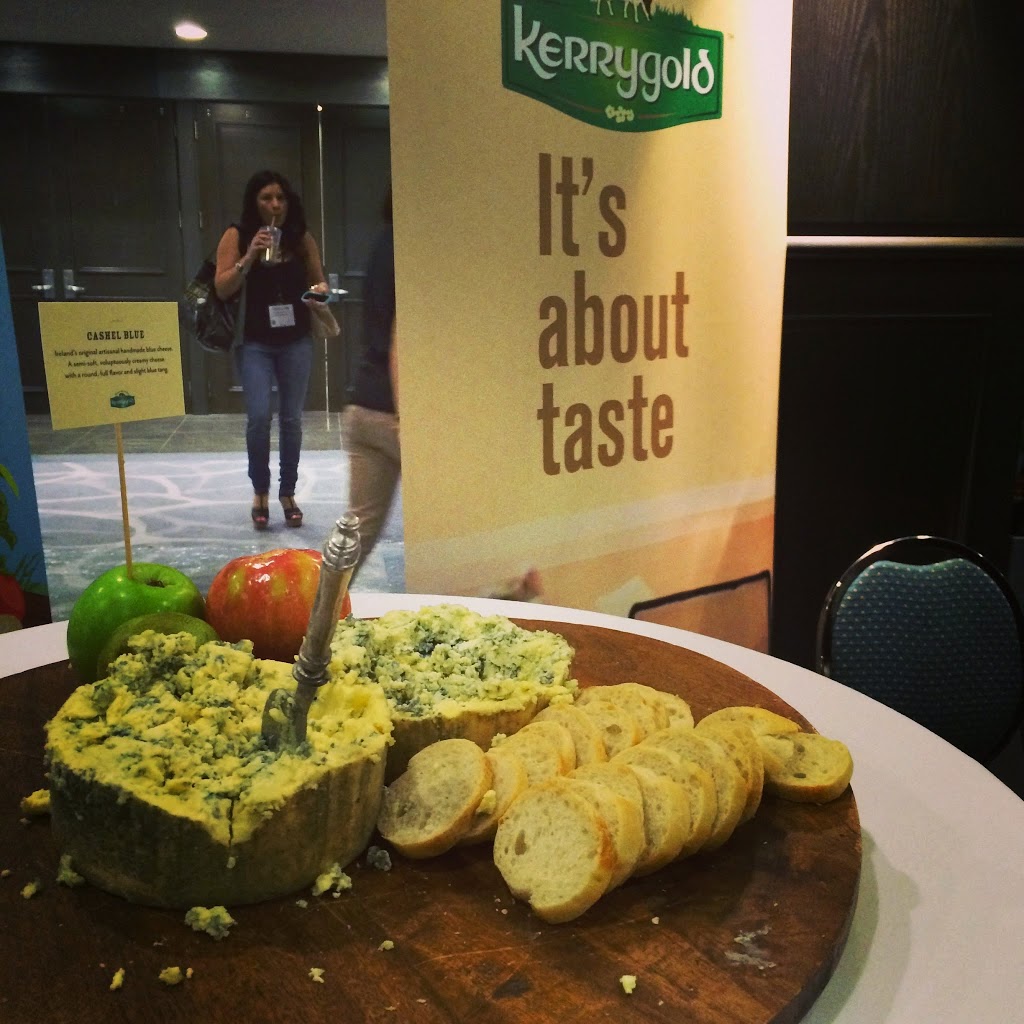 Yum! The most delicious blue cheese from Kerry Gold.

Lunch was sponsored by McCormick — Indian cuisine using lots of McCormick spices: Grilled Paneer Cheese with Mango Tomato Chutney and Curry Vinaigrette, Roasted Chickpeas and Spinach, Curry Roasted Cauliflower with Piquillo Peppers, and Grilled Moroccan Spice Chicken with Roasted Red pepper and Honey Harissa Sauce (I didn't eat this obviously, there was a portobello mushroom option for vegetarians, but I preferred to just make my lunch out of the sides.) Dessert with a Three-Chile Mole Fondue served with fresh fruit and churros. The fondue was a blend of guajilo, chiles de arbor and chipotle combined with chocolate, peanut butter, toasted sesame and cinnamon.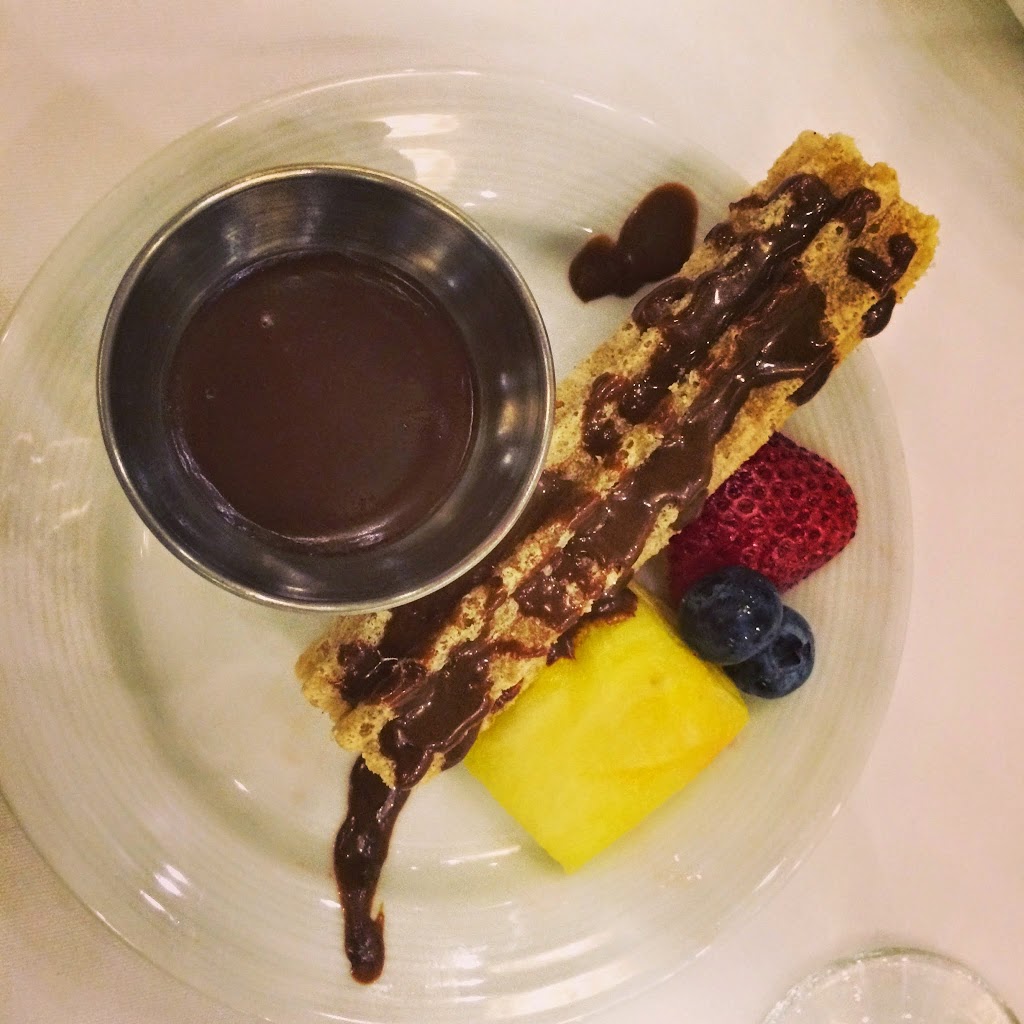 There was more to do on Friday night than all three nights combined, and with me being the social butterfly that I am, I wanted to find a way to go to as many things as I could! I sat in on David Lebowitz's keynote, then spent a little time at the Welcome Reception where we were fed delicious bites and had a chance to purchase books. I bought Dianne Jacob's "Will Write For Food" and am so excited to dig in! There was a ton of appetizers served at the reception, but my favorite was this little grilled shrimp salad with watermelon and feta!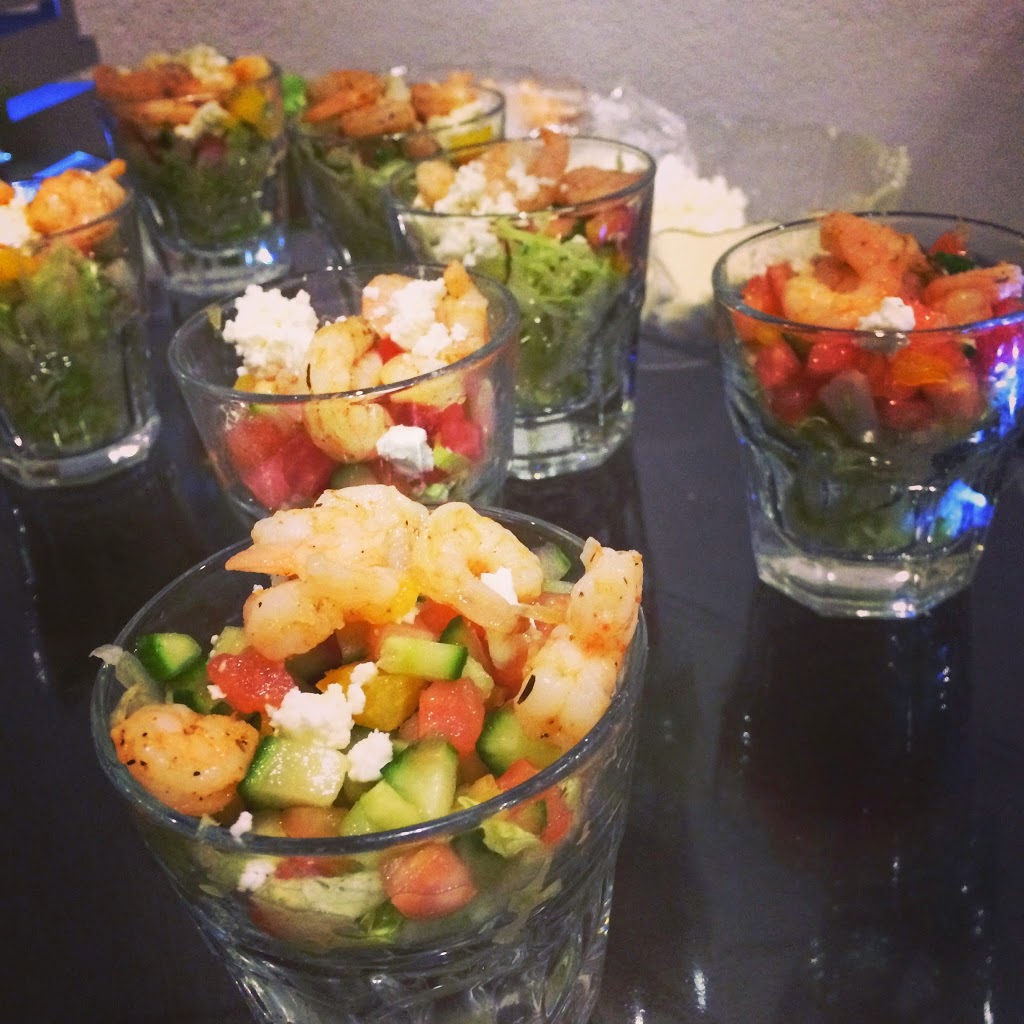 After the reception, I headed off to a little happy hour gathering in the hotel sponsored by GoVeggie, then I went to the Epic Hotel for the Miami Crunch Pak and Duda Farms sponsored party. The Epic is right on the marina, and there was a beautiful yacht parked outside. We enjoyed the gorgeous Miami weather and hung outside for most the night while we sipped on cocktails and indulged on Key Lime Pie, Mini Apple Tarts, and other delicious desserts. I headed back to the hotel with Katie (Ruffles and Truffles) and the amazing mother of all things #SundaySupper, Isabel (Family Foodie), put on our PJs and spent some girltime together hanging out for a while.

After the day I had on Friday, I couldn't even imagine what was in store for the rest of the weekend. Come back tomorrow for Part 2 of my recap!