Never miss a bite! Sign up here to receive new recipes and reviews straight to your inbox.
NOTE: This restaurant has since closed.
It's been a while since the last time I attended one of Denise's Foodie Events — you know, the super awesome tasting dinners she puts together at local restaurants where guests are able to try various items off the menu and meet lots of other food-lovers who are looking to try something new. It's a great way to familiarize yourself with a new restaurant in town, especially if their menu has you singing eenie meenie minie mo when it's your turn to order.
What better way to experience a restaurant than by trying the chef's signature dishes and best-selling items all in one night? That's what Savor Our City Culinary Tours does on its tours with multiple restaurants, and that's what it's doing with special tasting dinners at great restaurants all over town.
Off The Hook Seafood Restaurant is barely 2 months old. It's located in the Fifth Avenue Shops, where the Tutti-Frutti frozen yogurt shop used to be. This shopping plaza may look like a complete mess because of all the construction going on at Pubix, but don't worry — the doors to all of the stores are open, especially Off The Hook's.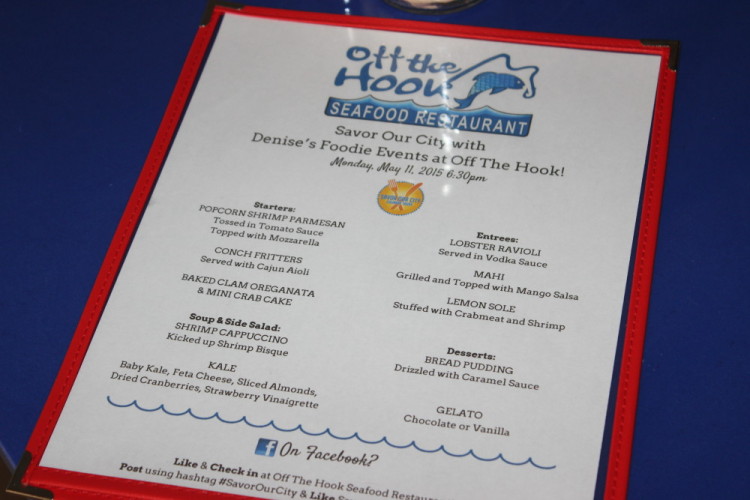 The menu is heavy on the seafood and packed with all of your favorites — albeit with a little twist. Take, for instance, the popcorn shrimp prepared parmesan-style, smothered in gooey mozzarella and oozing with tomato sauce, the shrimp "cappuccino," a kicked-up version of the classic bisque soup and the crispy conch fritters and their spicy counterpart, a Cajun aioli. These are just three of the menu items we got to try at Savor Our City's most recent tasting dinner at Off The Hook.
Being a huge seafood fan, Off The Hook is just the kind of restaurant I like to see come to Boca. I went once before when my mom and dad were in town. We met with Bub and my aunt and uncle, who had been there before and really enjoyed the food. My dinner that night was good, but nothing memorable. I did try my dad's dish and thought it was pretty tasty, but perhaps I just wasn't in the right mood to be "wowed" that night. I was eager to come back and give it a second shot.
The atmosphere at Off The Hook is extremely inviting. Bright colors, modern nautical décor, and a fun boat-shaped bar give it some real character. As guests wandered in and took their seats, you could tell everyone was pleased with the setting and anxious to try the food.
Our meal started with a gorgeous plate full of appetizers served family-style to each table. The popcorn shrimp parmesan and conch fritters were there, along with mini crab cakes and baked clams oreganata. I went right for the crab cake — one of my favorite foods — and was happy to find its crab-to-filling ratio was on-point. While I don't typically like such a crispy exterior (assuming this was from frying, while I prefer baked), it still gets a thumbs up from me. The clam was tasty, but there was only enough for each of us to have one and they were pretty tiny.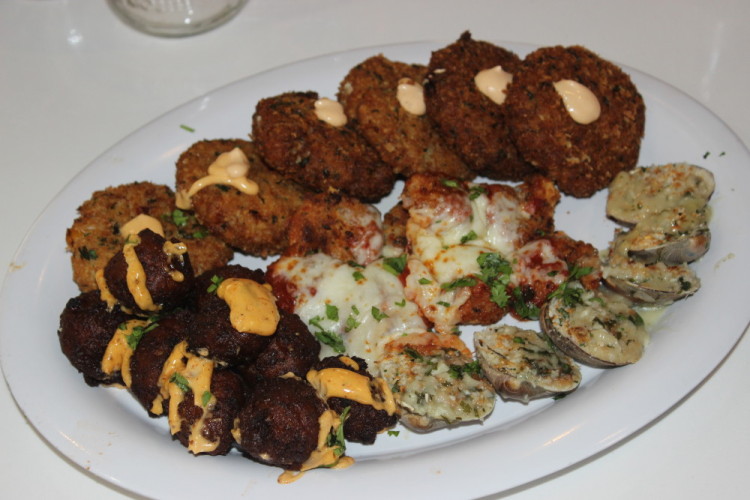 I have never tried a conch fritter before and was pretty pumped for that one. I have nothing to compare it to, but I really liked it — especially with the little kick of heat from that Cajun aioli drizzle over top. It wasn't really that spicy, but lent just the right amount and zing to the bite-sized appetizer. The popcorn shrimp was cooked well, and certainly was not lacking in the mozzarella and tomato sauce department. Is it just me or is it hard to really detect the protein in any parmesan-style dish? I can only taste the tomato sauce and mozzarella! Not that it's a bad thing. Because, well… cheese = yum.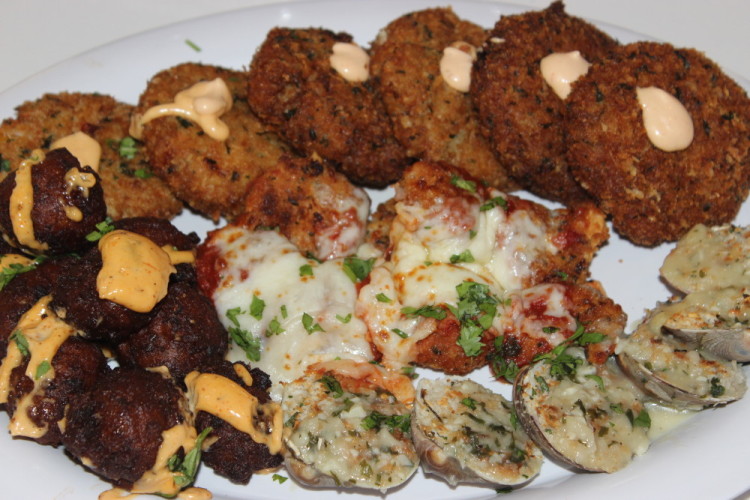 Next up was the Kale Salad, which consisted of fresh baby kale leaves, sliced almonds, dried cranberries and feta cheese dressed in a strawberry vinaigrette. I loved that vinaigrette! It was sweet and tangy and complemented the salad ingredients very nicely. After the salad came that kicked-up shrimp bisque. Now, kicked up doesn't mean spicy — this soup was not spicy. I'm not sure why they call it Shrimp Cappuccino to be honest. Caffeine-infused soup?! Nah… Maybe just because it's so good it gives you a big jolt of energy and knocks you awake (as if you could be sleeping during a yummy meal!). Whatever it means, I don't really care — I'm a fan.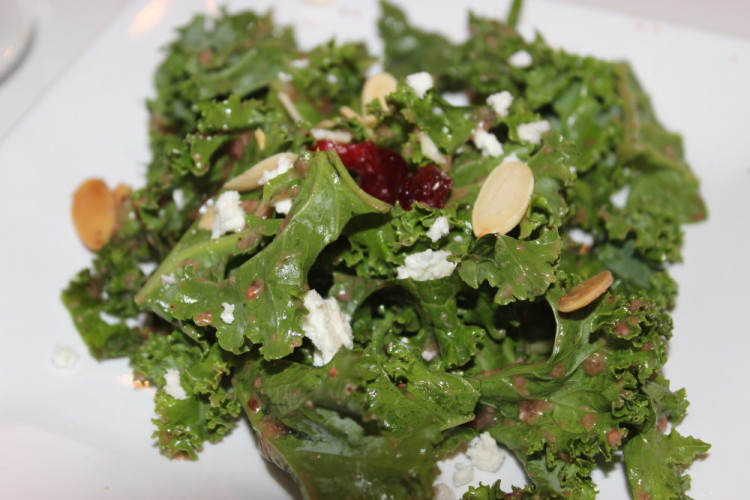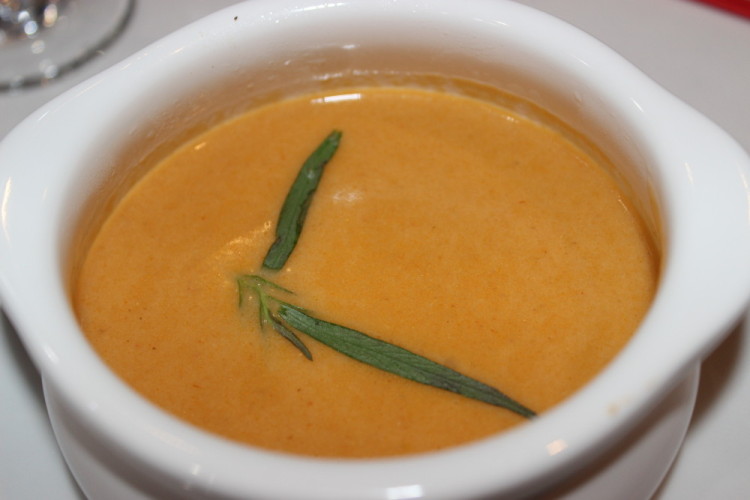 The entrees came out next. There were two side dishes served family-style — lemon pepper risotto and the vegetable of the day, peas. I'm not one to eat peas by themselves, but I swirled mine into the risotto and it became one super delicious accompaniment to the main dish, a small portion of lobster ravioli in a vodka cream sauce, grilled mahi with mango salsa, and the star of the night — baked sole covered in a luscious lemon beurre blanc. That sole was cooked to absolute perfection. A gorgeous flake, beautiful flavor in the sauce, and the lemon pepper risotto complemented it just perfectly. That risotto — I wanted to steal the whole plate of it all for myself! I love, love, love risotto. The first time I went to Off The Hook and tried some of dad's dinner, he had tomato basil risotto and I really did enjoy that. This risotto wasn't too creamy nor was it too al dente; it wasn't too peppery nor was there too much lemon. It was well-balanced and had a very pleasant texture. I know what I'll be ordering when I go back to Off The Hook — lemon sole and lemon pepper risotto!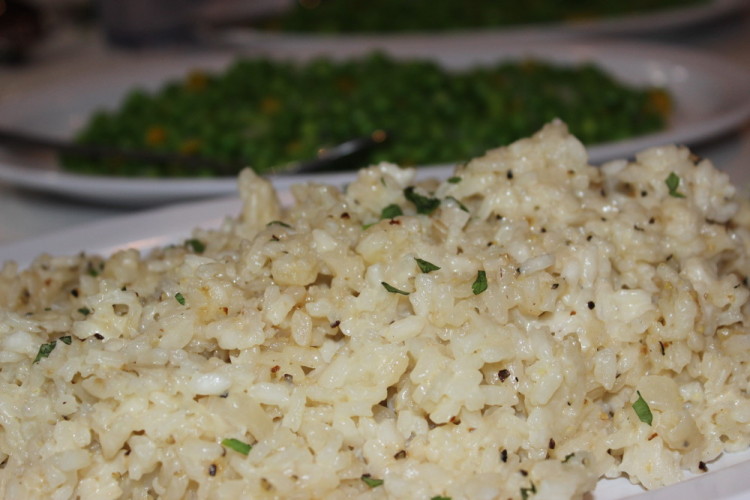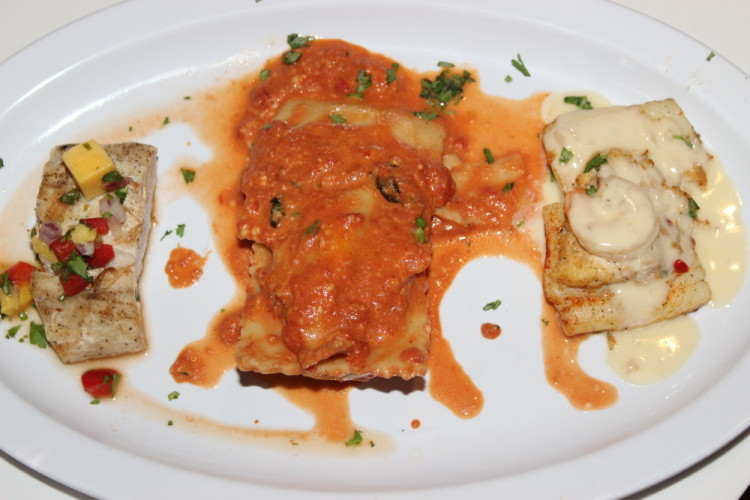 Dessert was bread pudding drizzled in caramel sauce and a side of either vanilla or chocolate gelato. I went for the vanilla, but after trying a taste of Denise's chocolate (there were chocolate chips in it!!), sorta kinda wished I had gone for that one instead. Oh well, the vanilla was smooth and creamy and hit the spot.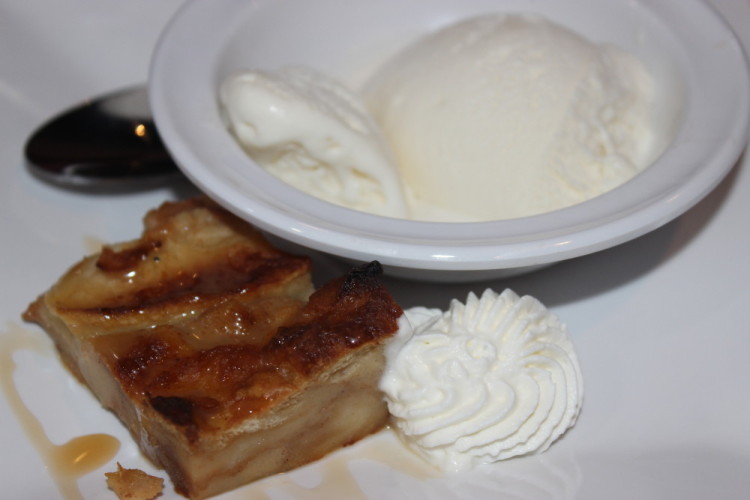 Off The Hook Seafood Restaurant is located at 1956 NE 5th Avenue in Boca Raton.
If you like to fish, check out their new 'You Hook It, We Cook It' program — bring in your fresh catch and they will cook, prepare and serve it to you for a nominal fee. The restaurant owner, Anthony, is extremely friendly and zealous about fishing and seafood. He's excited to be able to offer this deal to locals since in Florida, fishing is a pretty popular hobby. Check them out on Facebook too and sign up for their mailing list to stay up to date on specials and promotions!