Never miss a bite! Sign up here to receive new recipes and reviews straight to your inbox.
Piñon Grill is modern American cuisine with fresh, seasonal, locally grown and sourced ingredients — a trend that most restaurants are taking to heart. I recently attended one of my friend Denise's Foodie Events here, and I have to say it was the best dinner she has put together since I started going to them earlier this year. Even Denise said that in her five years of putting together these tasting dinners, this was one of the most successful.
I have been to Piñon Grill once before with Bubby and we shared a few different appetizers, all of which were incredible. Our favorite was the grilled artichoke, so when I saw Denise had included this on the menu for the night, I was super excited. But grilled artichokes were definitely not the only thing we were served. The amount of food served on these dinners is crazy — you definitely will leave with leftovers to take home. Piñon Grill was especially gracious to us, bringing out multiple dishes of the three appetizers served, individual plates of salad (rather than family style like some past Foodie Events), generous portions of three different entree items for each person, a slice of each of their two best desserts, and a never-leave-a-glass-unfilled mindset when it came to the wine pouring.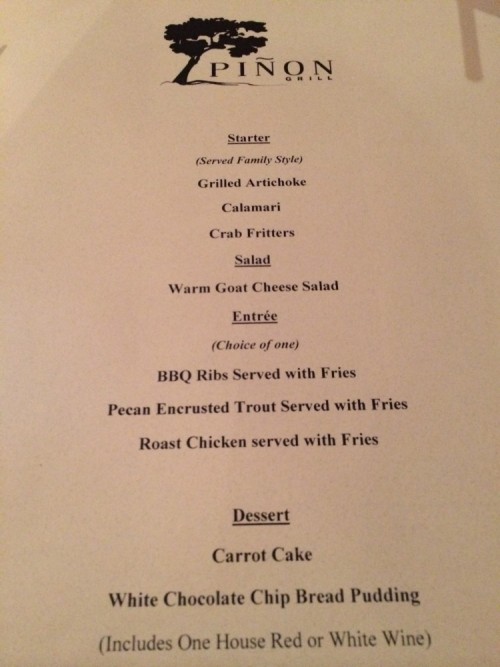 I mentioned the grilled artichokes — perfectly charred artichoke leaves served with a flavorful remoulade sauce. I like dipping the leaves in the sauce and sucking them dry, but what I really love is that meaty center of the artichoke. Ugh, I'm hungry again just thinking about it.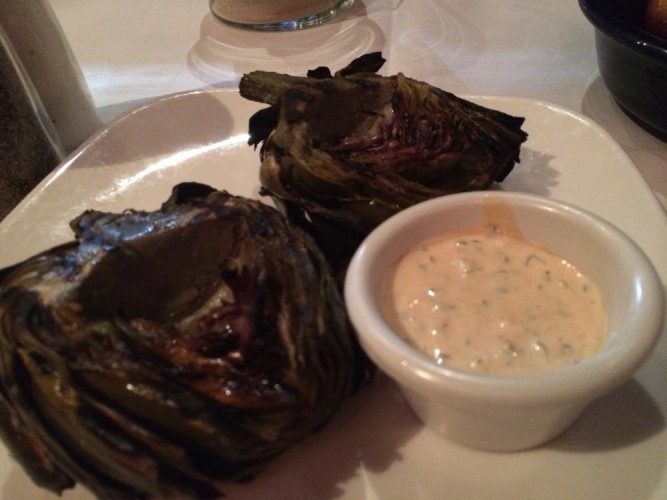 We also got to taste their Crispy Crab Fritters, a crab and shrimp risotto ball wrapped in shredded phyllo dough, on top a bed of lobster ginger sauce and corn salsa. I think these fritters should be called Crab Haystacks because of that phyllo! Hey Piñon Grill…name change, perhaps? Despite a name that doesn't really prepare you for the outrageous looking dish, it is tasty. There was an overwhelming amount of shredded phyllo, so it took a few bites before actually get to the fritters but when I did — YUM! Especially when you get also get a fork full of the corn salsa and crazy-delicious sauce.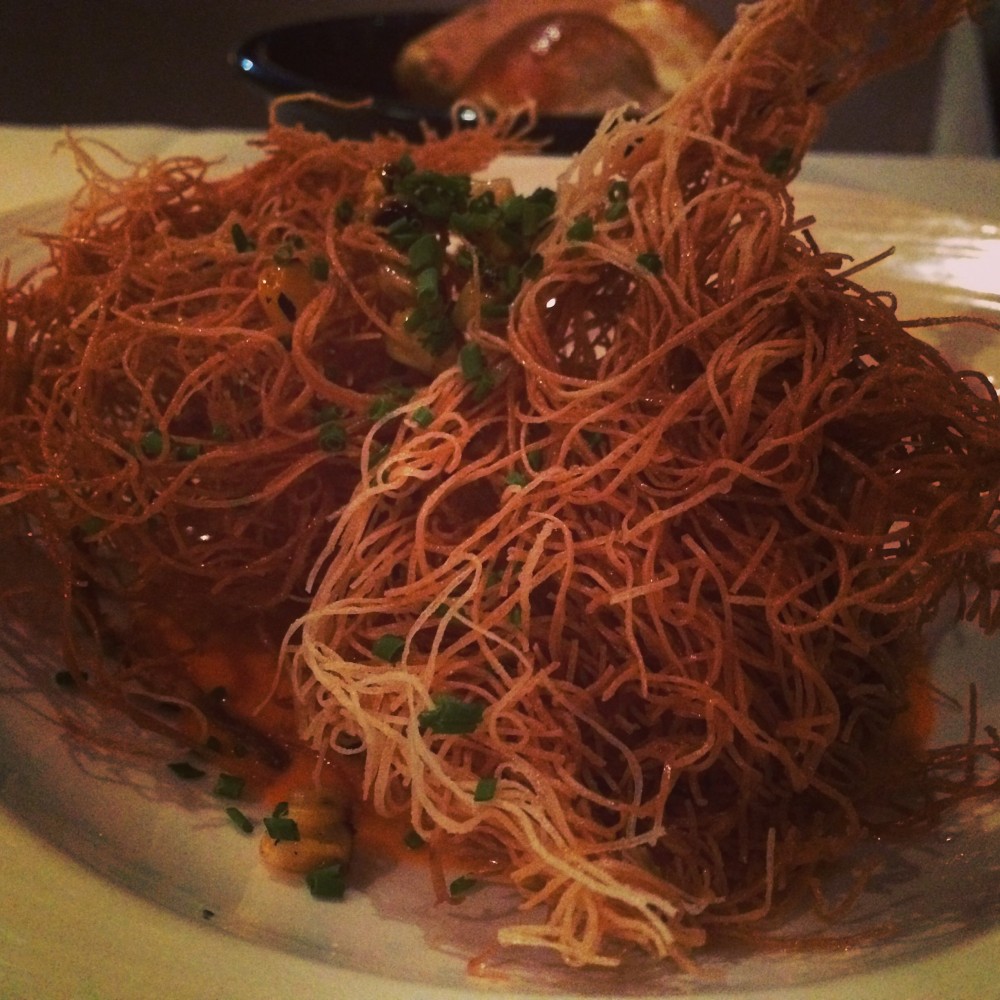 But my favorite appetizer of the night? The Kung Pow Calamari! The sauce was the best part — crispy calamari rings smothered in this sweet and spicy Asian-inspired sauce and garnished with crushed peanuts, scallions and cilantro. Fried calamari is not usually something I rave about — usually it's just an overwhelming amount of….fried-ness, for lack of a better term, and the calamari doesn't really shine as much as it deserves. But this was very lightly fried so the coating didn't overpower the other flavors. I was loving these, bite after bite, and would go back to the restaurant solely for this appetizer. Sounds like the perfect happy hour to me — a glass of sweet white wine and spicy Kung Pow Calamari. Who's with me?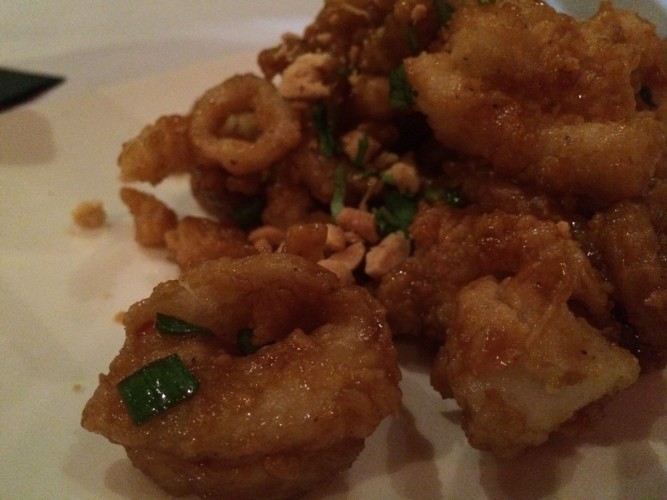 I probably could have stopped eating at this point and been happy, but we had a warm goat cheese salad to nosh on next! Mixed greens, oranges, spiced pecans, dried cranberries and panko-crusted goat cheese tossed in the house vinaigrette — yuuuuuum! You all know about my love affair with goat cheese. I am powerless.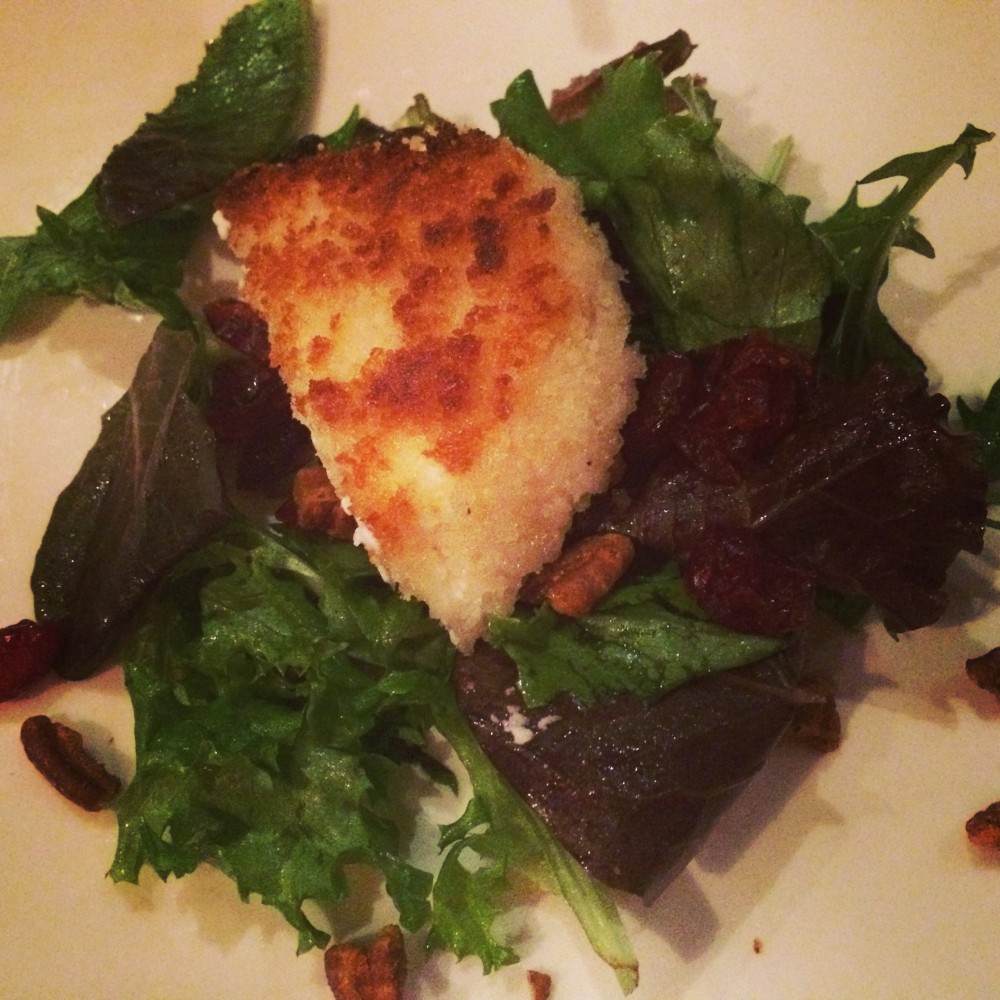 Originally we were asked to choose one entree out of three listed. My choice was easy — baby back ribs, roasted chicken, and pecan-crusted trout. Our extremely friendly waiter (who also happened to be from exactly the same place in Jersey as me!) decided he wanted everyone to be able to try a taste of each. So everyone (except me, since I only eat the seafood) got a portion of all three items on their plate. The chicken was also served with a cilantro-key lime sauce, and the trout came with a citrus-chardonnay sauce. I may have only gotten to try one dish, but it was a fantastic one! I thoroughly enjoyed that trout and did not mind one bit that I didn't have chicken and ribs to eat. But I knew they were good simply from all of the mmm's coming every from every mouth at the table.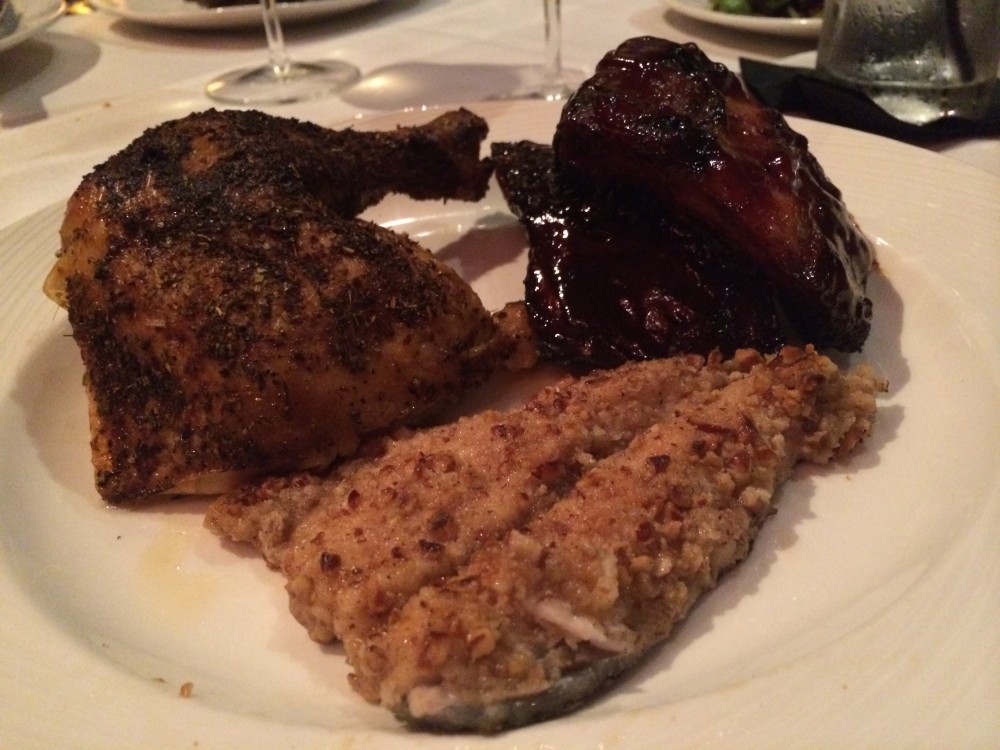 There is always room for dessert! The best part of the night was having a plate of sweet treats set down in front of us, begging us to indulge. We got to taste two of the restaurant's most popular desserts on the menu — the house-made carrot cake with cream cheese frosting and white chocolate bread pudding, a blend of a brioche bread, white chocolate and vanilla custard, baked and topped with brown sugar served with mixed berry compote and whipped cream. There's no word to describe these desserts. My plate was clean. Not a crumb in site. I think that says enough.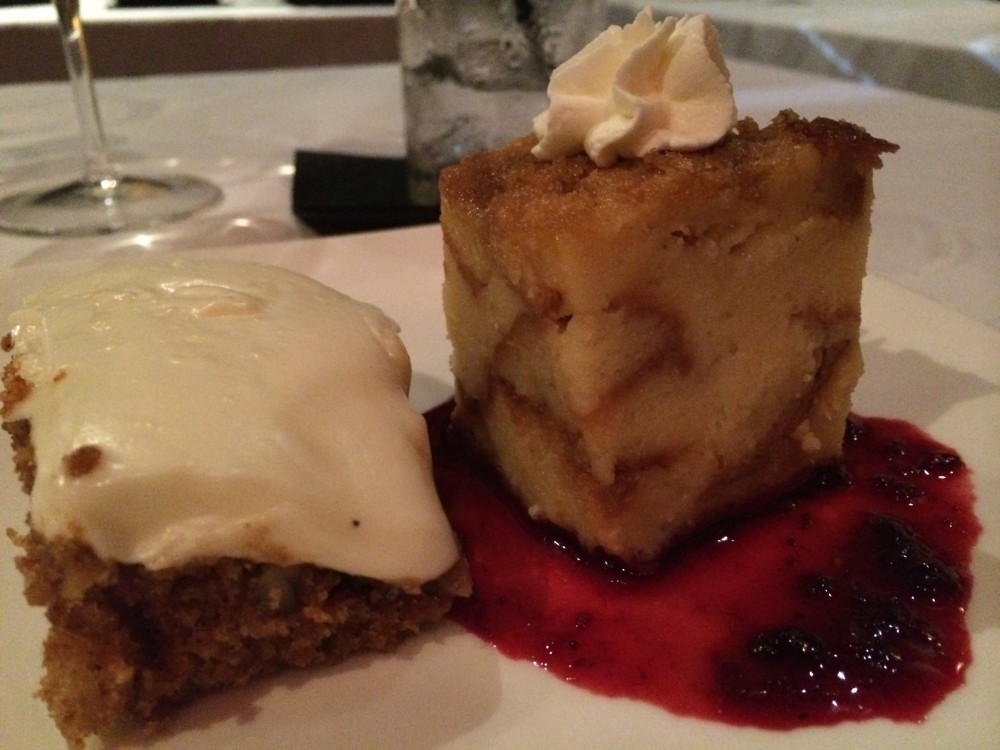 The staff totally outdid themselves with the food, and they were just as on point with their service too. I would recommend Piñon Grill to anyone who likes classic American food with a contemporary twist. Piñon Grill is located at 6000 Glades Road, Suite 1390 in Boca Raton (Town Center Mall).