Never miss a bite! Sign up here to receive new recipes and reviews straight to your inbox.
As I sit here and try to gather my thoughts about the Food and Wine Conference, I realize how hard it is to put into words what an incredible experience it was. Bloggers just may be the only people in the world who have "Internet-friends" that they actually do consider friends. Some of us may never meet, but those of us who get the chance to, absolutely relish in all its glory. Not everyone understands what it is we do. There's a belief that we sit around on Facebook and Twitter all day, and yes — that may be true, but there are a zillion and one other things we also have to do at the same time. Being surrounded by people who truly understand you and what you go through on a daily basis is extremely comfortable, liberating and motivating. That's exactly how I felt at the Food and Wine Conference. I spent a weekend with people who have become very close friends and met many new ones whom I felt I had known for years. The blogging community is one of the most accepting, inspirational and loving communities, and I'm so grateful to be part of it — especially the Food and Wine Conference/Sunday Supper Movement group!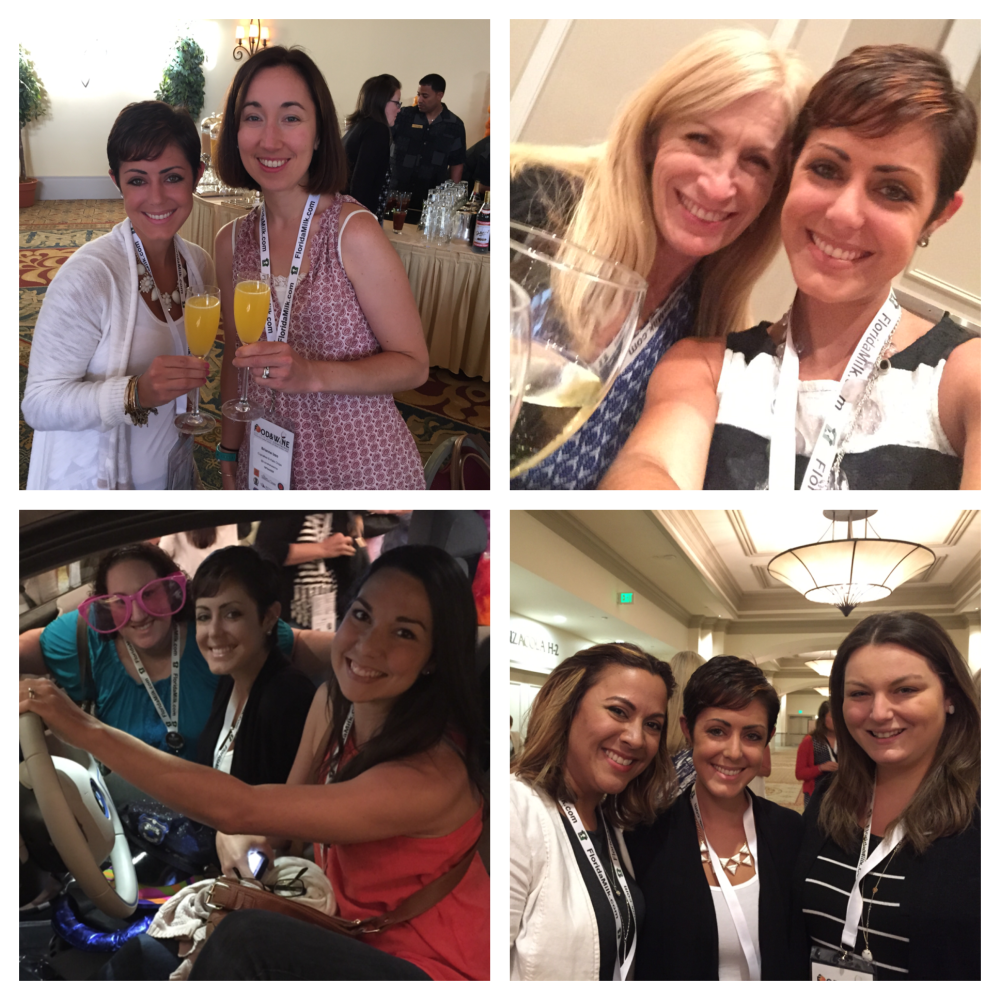 As a member of the planning committee and a Brand Ambassador, I felt privileged to be able to give my two cents when organizing speaker panels, session topics, and mealtime events. I also had the honor of representing a brand that I was already familiar with from various other South Florida food and wine events. Premier Beverages was the exclusive beverage provider for our entire week of foodie fun — from welcoming us Friday night with a Strawberry Shortcake Martini featuring St. Augustine Distillery vodka to closing out with a cheese and wine pairing with The Hess Collection Wines on Sunday and everything in between.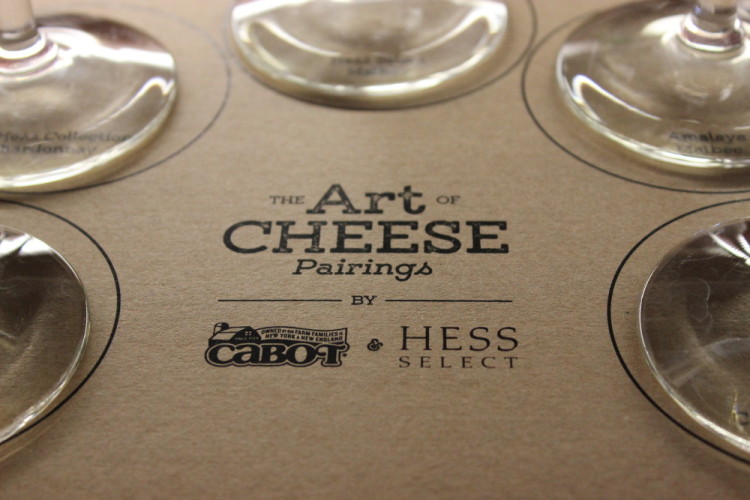 The Food and Wine Conference is held at the Rosen Shingle Creek, one of the most beautiful resorts I've ever stayed at. The conference center is huge, but perfect for our Friday and Saturday schedule. On Sunday, we scooted on over to the UCF Rosen College of Hospitality for a full day of break-out sessions including everything from photography to social media to publishing a cookbook, cooking demonstrations from Certified Angus Beef and Idaho Potatoes, and as previously mentioned, a cheese and wine pairing with Cabot Cheese and The Hess Collection Wines.
We kicked off the weekend with a Sweet Retreat and Welcome Reception! Homemade sugar scrub-making with Dixie Crystals, a dessert-inspired martini from St. Augustine Distillery, and amazing chocolates from renowned pastry chef, David Ramirez.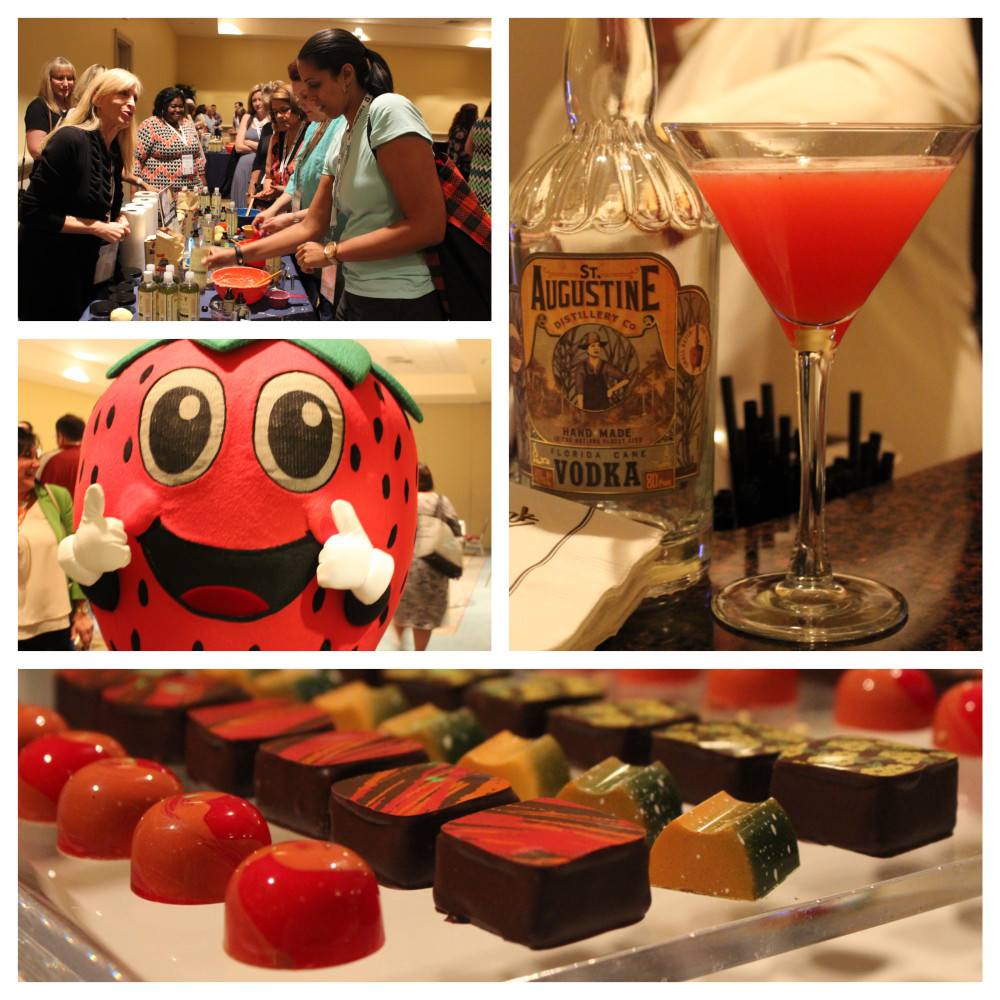 After a little pre-dinner cocktails, chocolates and popcorn, we headed over for our Taste of Rosen Shingle Creek dinner. Not only was there the most incredible cheese display — that I pretty much inhaled #sorrynotsorry — but there were plenty of bites from the restaurants located inside the resort, A Land Remembered, Cala Bella, Mi Casa Tequila Taqueria, Banrai Sushi, Tobias Flats Watering Home, Cafe Osceola and 18 Monroe Street Market Deli. There was sushi and sashimi, lobster pie, mushroom crepe, edamame and pork dumplings, oyster shooters, and plenty of desserts to go around! Premier Beverages provided Hess Collection wine and two signature cocktails — The Aviation with Bombay Sapphire Gin, St. Germaine Elderflower Liquor, simple syrup and lemon juice, and the Tequila & Grapes with Milagro Barrel Select Tequila, lime juice, agave and basil, topped with champagne. Both were very unique and super flavorful. I'd order each of 'em again!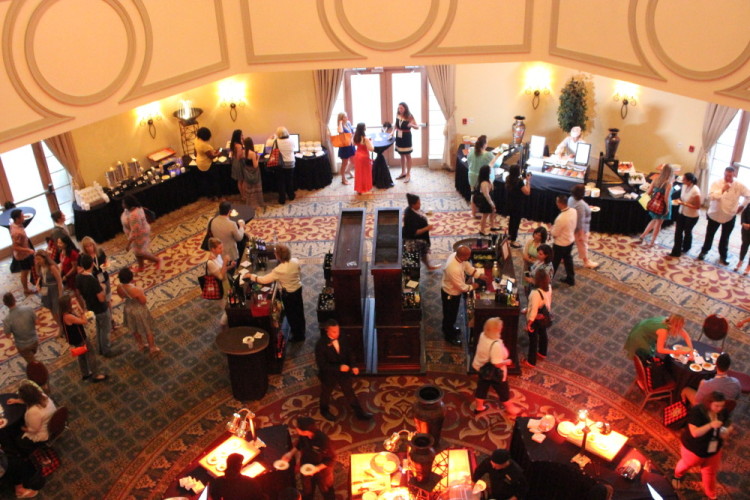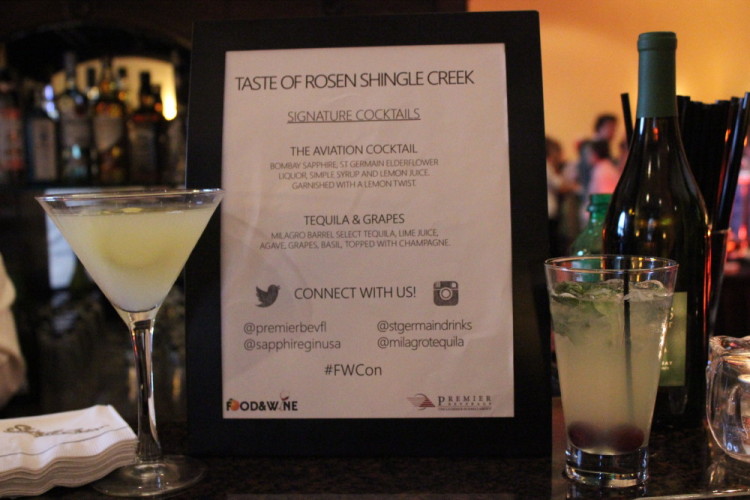 Saturday morning we heard from Keynote speakers Monica Bhide and Andrew Wilder, two extremely impressive individuals who spoke about how "everything is subject to change." Then bloggers Liz and Stephanie talked about how to build a successful business out of your blog. I found this session extremely helpful as it focused heavily on the financial aspects of blogging and how to stay organized and on top of things. I also really enjoyed listening to my friends Brianne, Brenda, T.R., Danielle and Jenny discuss "the balancing act" of juggling your blog, business, work, family and life — it's not easy!
As much as we all loved the morning sessions, I know what we all were waiting for…
LUNCHTIME! Know why? Because we were having POUTINE! Yes, our lunch spread was a poutine bar. You know, the traditional Canadian dish of fresh fries, cheese curds and gravy. I've never had this before, but um…french fries are my one true guilty pleasure, so an excuse to eat them for lunch was more than welcome — thank you, Idaho Potatoes and Wisconsin Cheese! Of course the classic poutine was available, but there were a variety of other choices too. The "Hippie Dippie" station had the only two options I could eat, as the rest all had some kind of meat — but those two were deeeeelicious. I absolutely loved the one with braised kale and spinach and a roasted mushroom gravy.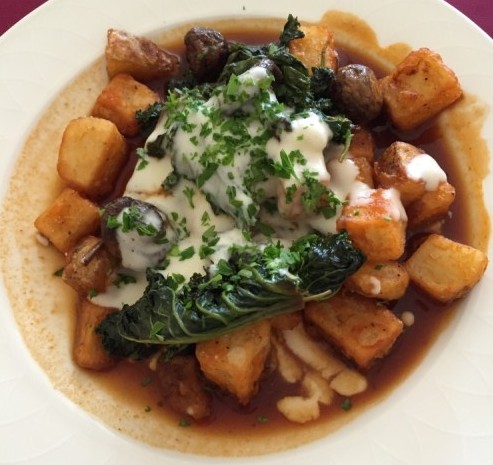 Even if we were stuffed from potatoes and cheese, no one could resist the incredible dessert display sponsored by Fields Auto Group! Pineapple upside cake, macadamia nut pie, chocolate cake, tuxedo cake and more… What can I say? You will never go hungry at a food blogger conference!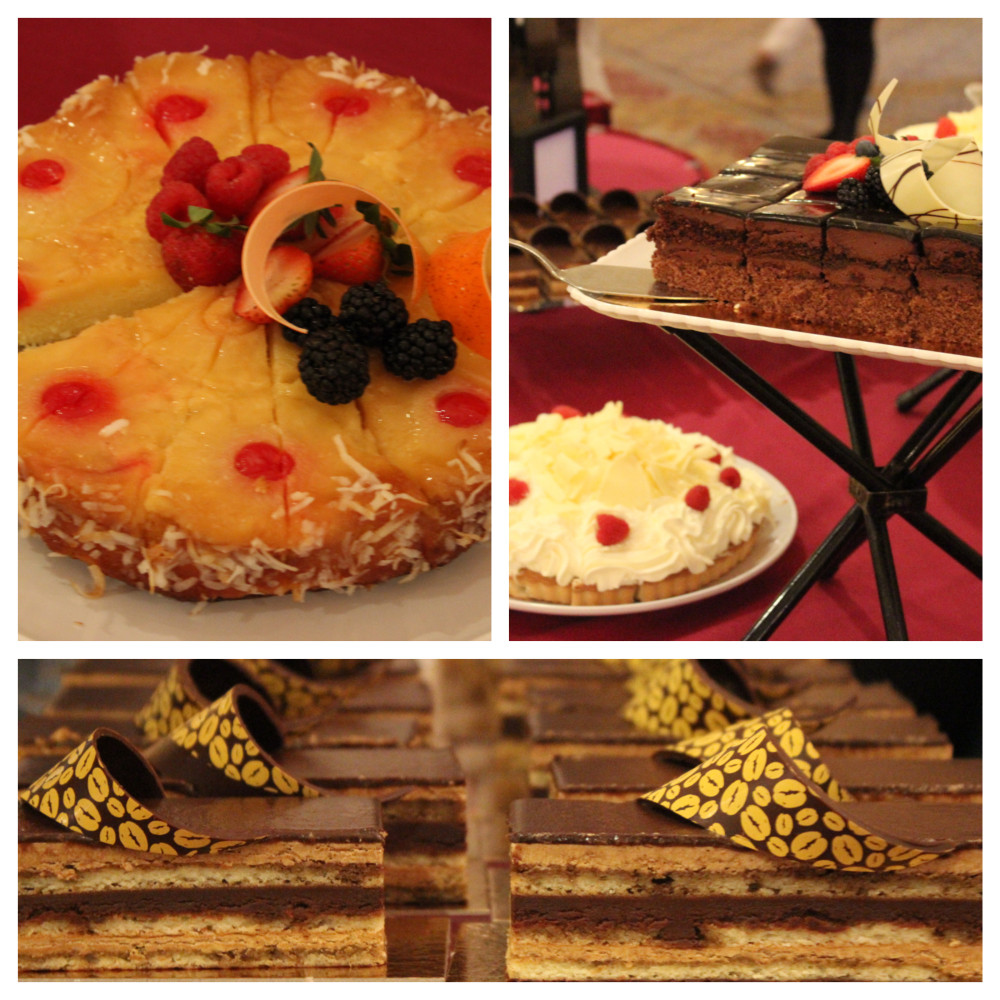 We heard from various brand representations on how to approach them for collaborations, talked social media strategy, and learned about the travel side of blogging. Then we played an exciting game of The Price is Right where some bloggers got to take home some pretty amazing prizes! (Krayl and Dianna, I'm lookin' at you!).
The most anticipated event of all happened Saturday night — the Around the "Sunday Supper" Table Dinner. Certified Angus Beef provided one pretty rockin' spread of food (and a vegetarian option as well!) and Premier Beverages served three different varieties of Hess Collection Wines at dinner, a Sauvignon Blanc, a red blend, and a Pinot Noir.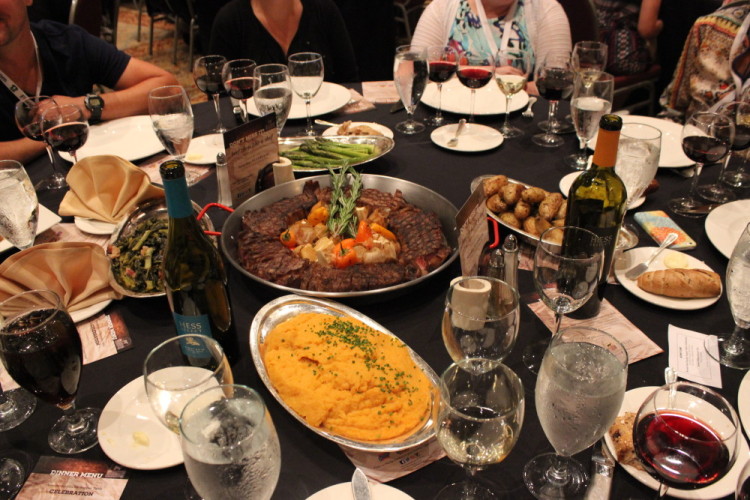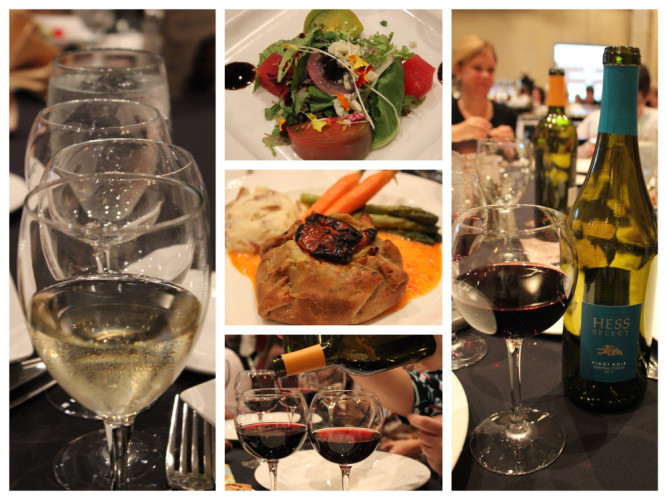 Sunday morning we were treated to an extra special brunch complete with mimosas, a gorgeous display of citrus skewers, a spinach strata, stuffed tomatoes, lemon tarts, coffeecake and all your traditional breakfast favorites. It was a perfect way to start our day — which, as I said already, was seriously jam-packed. Remember I told you there was a cooking demo with Certified Angus Beef? Well, I was sitting front and center during this demonstration, inhaling the intoxicating aromas of garlic, rosemary and pepper… It wasn't long before I completely gave in. Yes — I tried a bite of the steak medallions, and it tasted just as amazing as it smelled.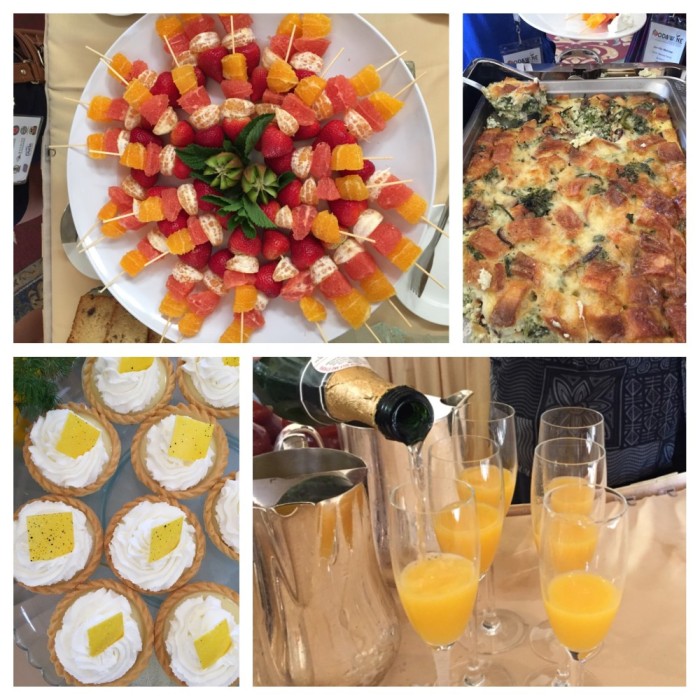 Another highlight of Sunday afternoon was the wine and cheese pairing with Hess Collection Wines and Cabot Cheese. The Sauvignon Blanc from Saturday night's dinner made another appearance, which turned out to be my favorite. I especially loved it paired with the Vermont Creamery Bonne Bouche — a buttery, creamy cheese much like goat cheese. We also tried Cabot's Seriously Sharp Cheddar, White Oak Cheddar, Farmhouse Cheddar and Alpine Cheddar. The other wines included a Hess Collection Chardonnay, Cabernet Sauvignon, and two different varieties of Malbecs. It was left up to us to test each of the wines with the cheese and decide what we liked and what we didn't. It was fun to try the different pairings and learn about the different sensory notes when it comes to cheese and wine.
There is so much more I could say about the weekend, but I think I've talked your ear off enough already! To put it bluntly, if you're a blogger and haven't yet attended the Food and Wine Conference, you absolutely must plan to come out next year. The planning has already begun, and I promise you — each year just keeps getting better and better!
A huge shout-out goes to the woman who does it all — Isabel. Without her, the Food and Wine Conference wouldn't exist and none of us would have the incredible opportunity to experience all that we do during this weekend of food, wine and fun. Thank you so much to the committee members and all of our sponsors for helping to put on the best food weekend ever!